Happy Chinese New Year! We handpicked 38 Tested Chinese New Year Recipes and Lunar new year recipes for you!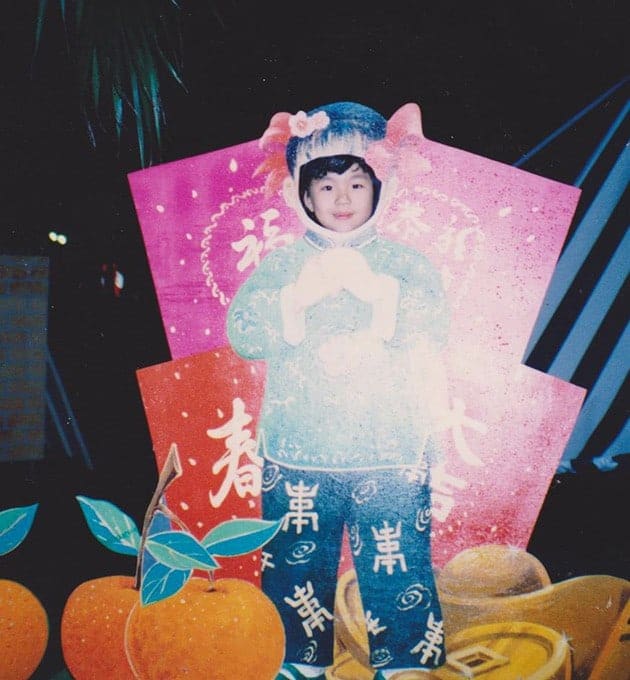 Chinese New Year Recipes
A big part of Chinese New Year is about food! If you're looking for Chinese New Year food ideas, or what to cook to celebrate Lunar New Year, you're in the right place.
A feast with an abundant table spread of meat, seafood, appetizers, sides, and desserts is definitely a must on Chinese New Year's Eve and the first week of the Lunar New Year!
Families from different regions have their own unique customs and holiday food. Northern families make jiaozi (dumplings), while Southern families make and gift Nian Gao (Lunar New Year Sweet Rice Cake).
We handpicked 38 easy Chinese New Year recipes, traditional Chinese New Year recipes, and authentic Cantonese recipes you can make with your Instant Pot, Pressure Cooker, or on the stovetop. Enjoy~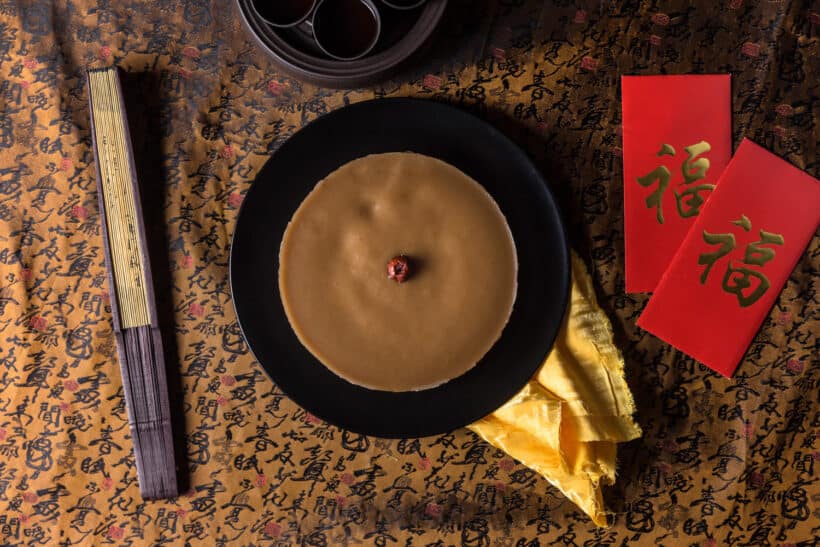 Traditional Chinese New Year Recipes
Traditional Chinese New Year food usually carries symbolic meanings. Each dish is coined a beautiful poetic name, carefully chosen to bring blessings for a better year. 
Nian Gao (Lunar New Year Sweet Rice Cake 年糕). This sweet glutinous sticky rice cake is a must every Chinese New Year! In Cantonese, it's pronounced "Nin Gou" which sounds like "higher year". Which symbolizes progress and a better year ahead.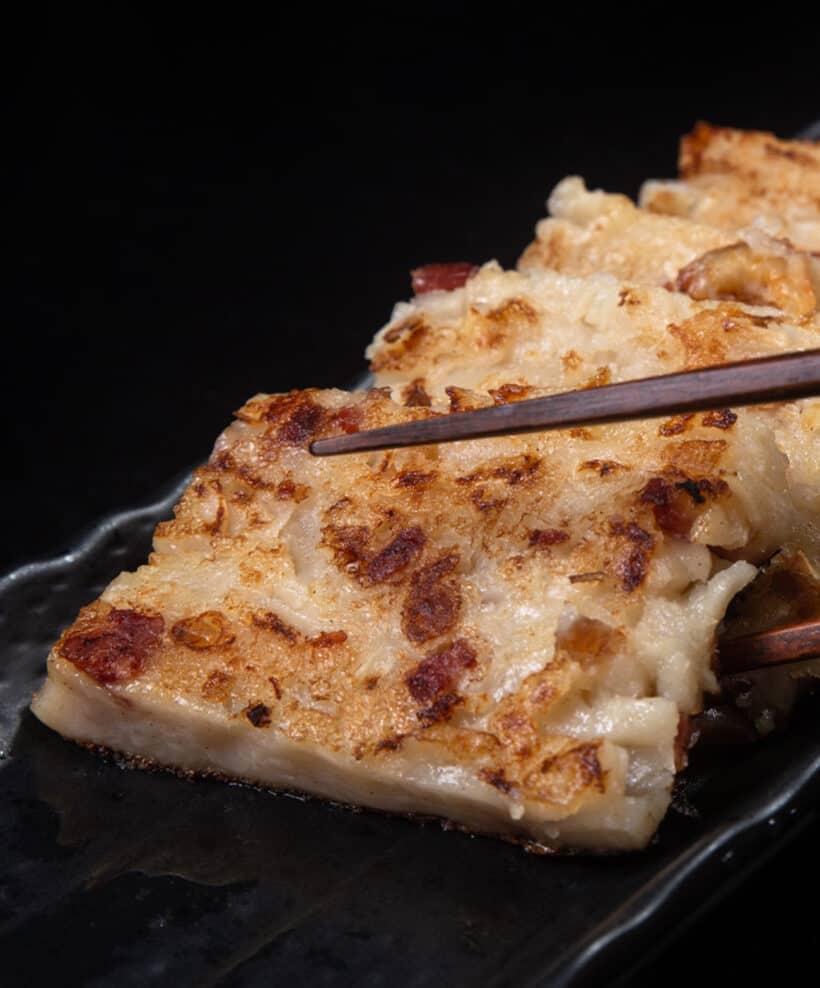 Turnip Cake (Lo Bak Go 蘿蔔糕). This Chinese Radish Cake is a traditional Chinese New Year Food that symbolizes "good fortune". Also a dim sum favorite! Fragrant umami bite that's slightly crisp on the outside and creamy soft on the inside.
Chinese Sticky Rice (Lo Mai Fan 臘味糯米飯). The ultimate Chinese comfort food! A flavor-bursting rice dish packed with many textures. Sticky-chewy rice, caramelized Chinese sausage, umami shrimp, aromatic mushrooms, refreshing green onions, with fragrant scrambled eggs.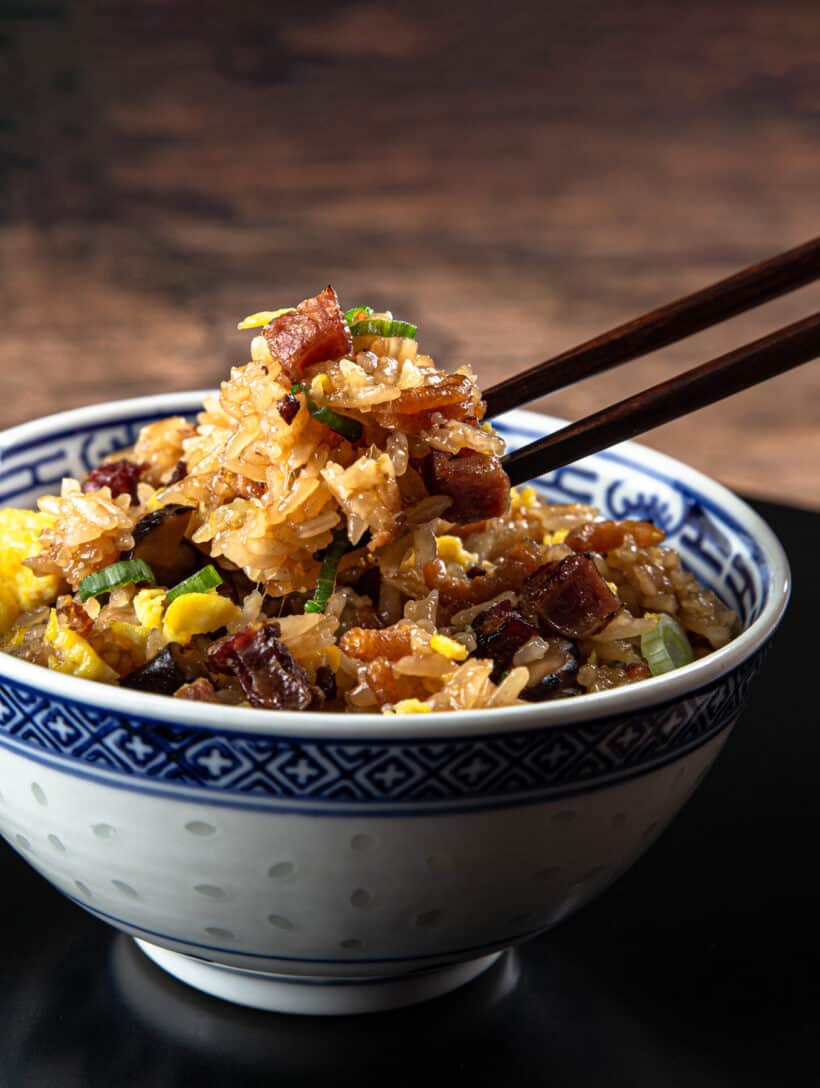 Cantonese BBQ Meat Recipes
Cantonese Roasted Meat (Siu Mei 燒味) is a popular food to enjoy throughout the year. But it's especially popular during holidays like Chinese New Year and special occasions.
Char Siu (Chinese BBQ Pork 叉燒). Making Char Siu at home is much easier than you'd think! Tender and juicy meat bursting with sweet-savory flavors.
Crispy Cantonese Roast Pork (Siu Yuk 燒肉)

. After many experiments, we developed this easy to make Ultra Crispy Cantonese Roast Pork. One bite with 3 satisfying layers of mouthfeel. 

Soy Sauce Chicken (豉油雞). Easy to make tender juicy whole chicken packed with delicious soya flavors and aroma. No need for extra dipping sauce.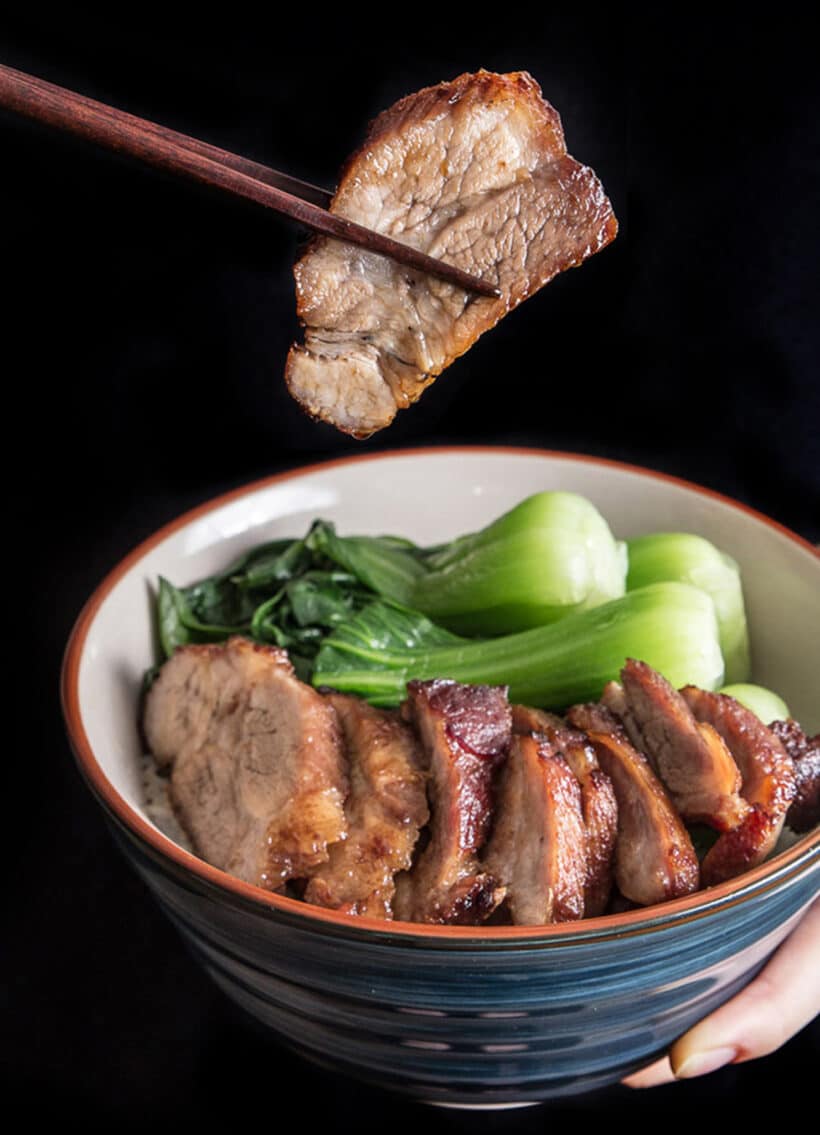 White Cut Chicken (白切雞). Classic Cantonese Poached Chicken with Ginger Scallion Sauce is another favorite for Chinese New Year celebrations. Easy to make with 5 real, whole food ingredients and done in an hour!
Honey Garlic Ribs

(蒜子蜜汁骨). One of my favorite ribs to order at Chinese restaurants. Tender juicy ribs glazed with sticky caramelized sweet-savory honey garlic sauce. Easy to make with a few pantry ingredients.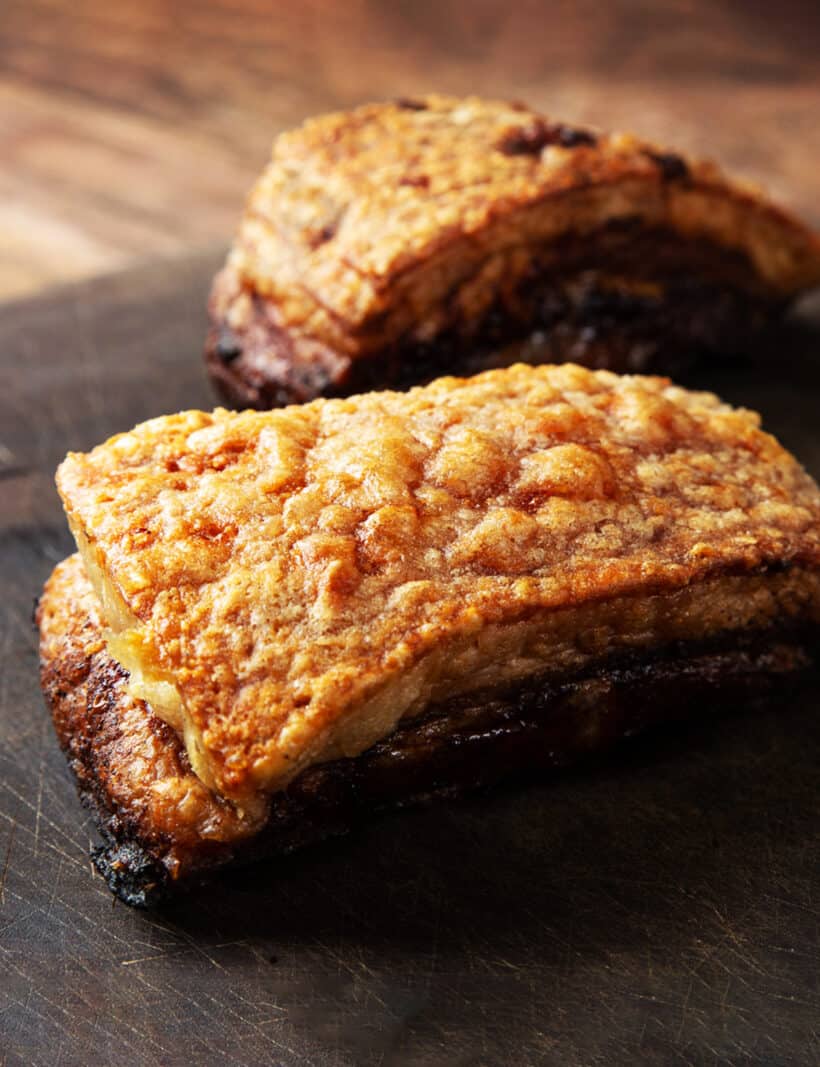 Chinese Stew Recipes
Chinese stews are another popular type of dish to serve at Chinese New Year feasts. Comforting, deliciously flavorful, and satisfying to eat.
Chinese Beef Stew (柱侯蘿蔔牛筋腩). This flavorful beef stew with tendon and daikon is a popular Hong Kong comfort food.
Chinese Lamb Stew

(枝竹羊腩煲). Many people's favorite Hong Kong stew! This heartwarming stew is especially popular during cold winter days. Tender juicy lamb bursting with deep savory-umami-sweet flavors, dipped in the killer sauce. 

Chinese Chicken Stew

(Dapanji 新疆大盤鷄). A classic Xinjiang chicken stew. Dapanji literally means "Big Plate Chicken". This spicy hot chicken and potatoes are often served with thick noodles and or central Asian nan.

Buttery Rich Oxtail. Buttery rich beefy flavors paired with satisfying gelatin-rich and tender beef.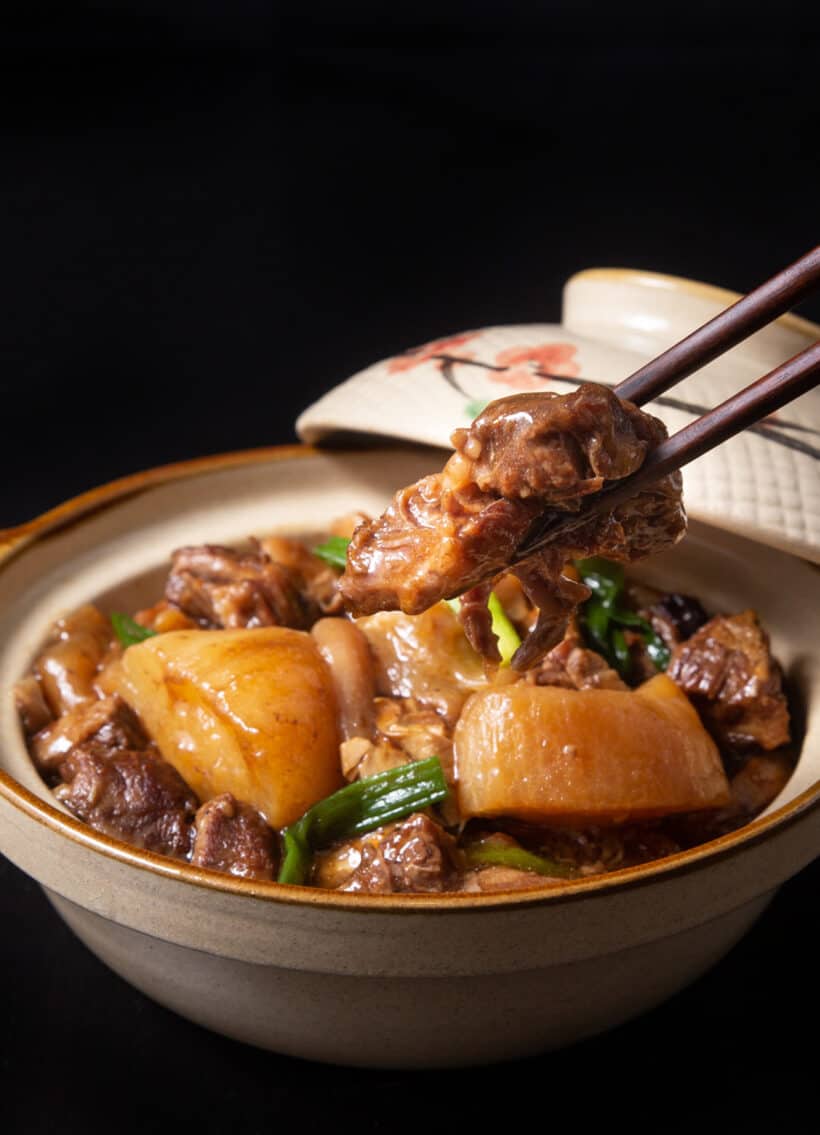 Chinese Takeout Recipes
These delicious North-American Chinese favorites may not be traditional Chinese New Year food, but they have a special place in many people's hearts and tummies.
Lemon Chicken. Inspired by my dad's restaurant with our healthy yet tasty twists. Not the ordinary Chinese lemon garlic chicken. Tender juicy chicken glossed with a caramelized zesty honey lemon garlic glaze. 
Orange Chicken. A simplified yet tasty twist on classic Chinese orange chicken with healthier ingredients. Tender juicy chicken glossed with a caramelized honey orange garlic glaze.
Beef and Broccoli. Crunchy broccoli with tender, juicy beef drowned in deep garlicky fragrance and lingering savory flavors.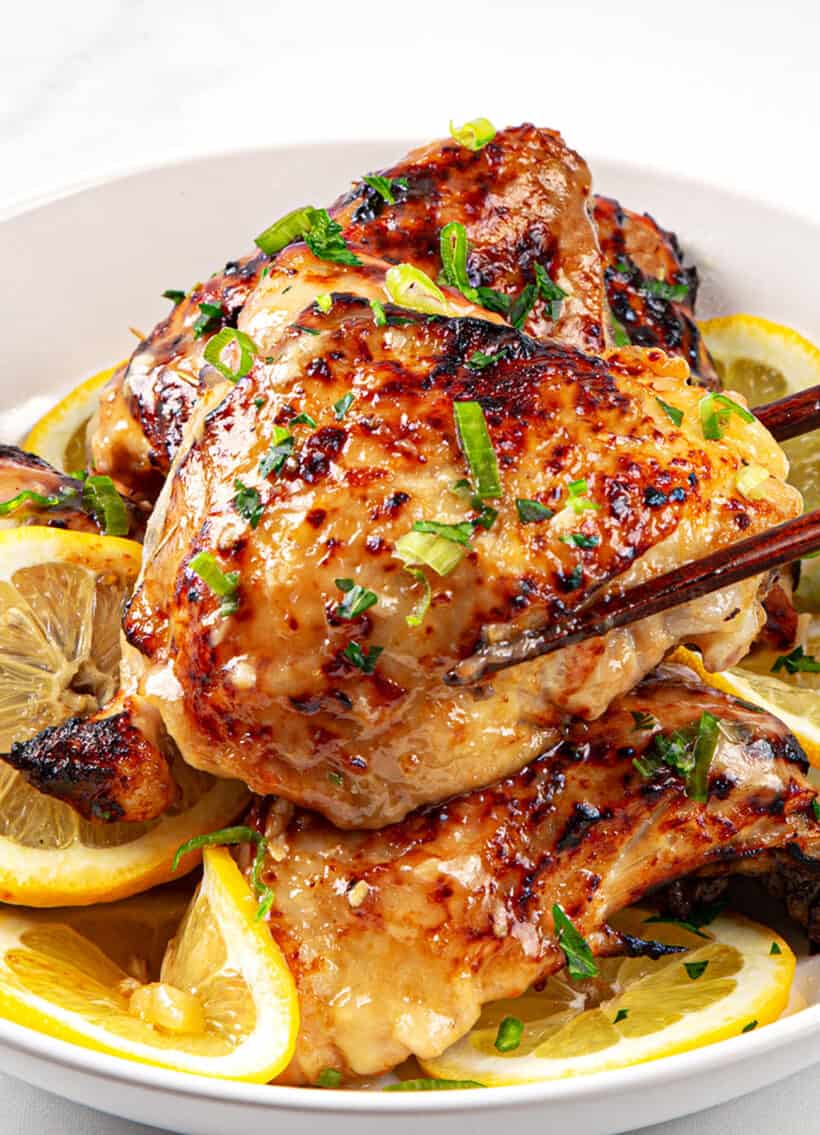 General Tso Chicken (左宗棠手撕鷄生菜包). We gave the original lightly battered, sweet-sour-spicy deep-fried chicken a creative twist by using shredded chicken cooked in General Tso Sauce. Add a crunch by serving it as a lettuce wrap.
Mongolian Beef (蒙古牛肉). Tender, juicy beef bathe in ginger-garlicky sweet-savory sauce with a spicy kick. Very appetizing to eat with rice.
Sweet and Sour Pork Chops (菠蘿咕嚕肉排). Tender, juicy, meaty pork chops drenched in a deliciously appetizing sweet and sour pineapple sauce.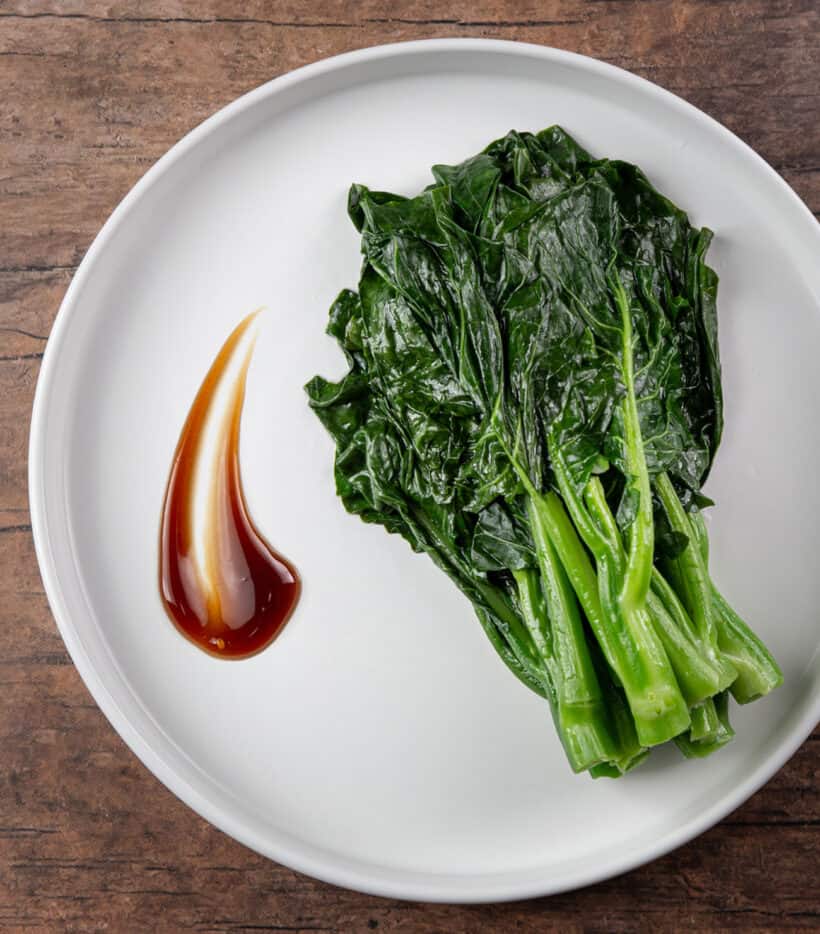 Easy Chinese New Year Recipes
Chinese Broccoli with Oyster Sauce (Gai Lan 蠔油芥蘭). Popular nutritious vegetable dish served in many Chinese restaurants. 4 simple ingredients to cook this juicy Chinese Broccoli with the satisfying crunch.
Toasted Garlic Butter Shrimp. Quick and easy to make with 4 simple pantry ingredients. Crunchy-bouncy shrimp pack with buttery-garlicky, sweet-savory-umami flavors with caramelized garlic bits.
Chinese Braised Beef Shank (五香滷水牛展). A popular party or banquet chilled appetizer you can make with homemade master stock. You can also serve this flavorful tender beef with noodles or rice.
Hong Kong Style Pork Chops with Onion Sauce (港式洋葱豬扒). A classic Cha Chaan Teng (Hong Kong-style cafes) dish. We kicked it up a notch by adding more complexity and boosting the depth of flavors of these tender juicy pork chops.
Sauteed Green Beans with Garlic. Simple and quick yet tasty vegetable side dish you can make with a few healthy ingredients.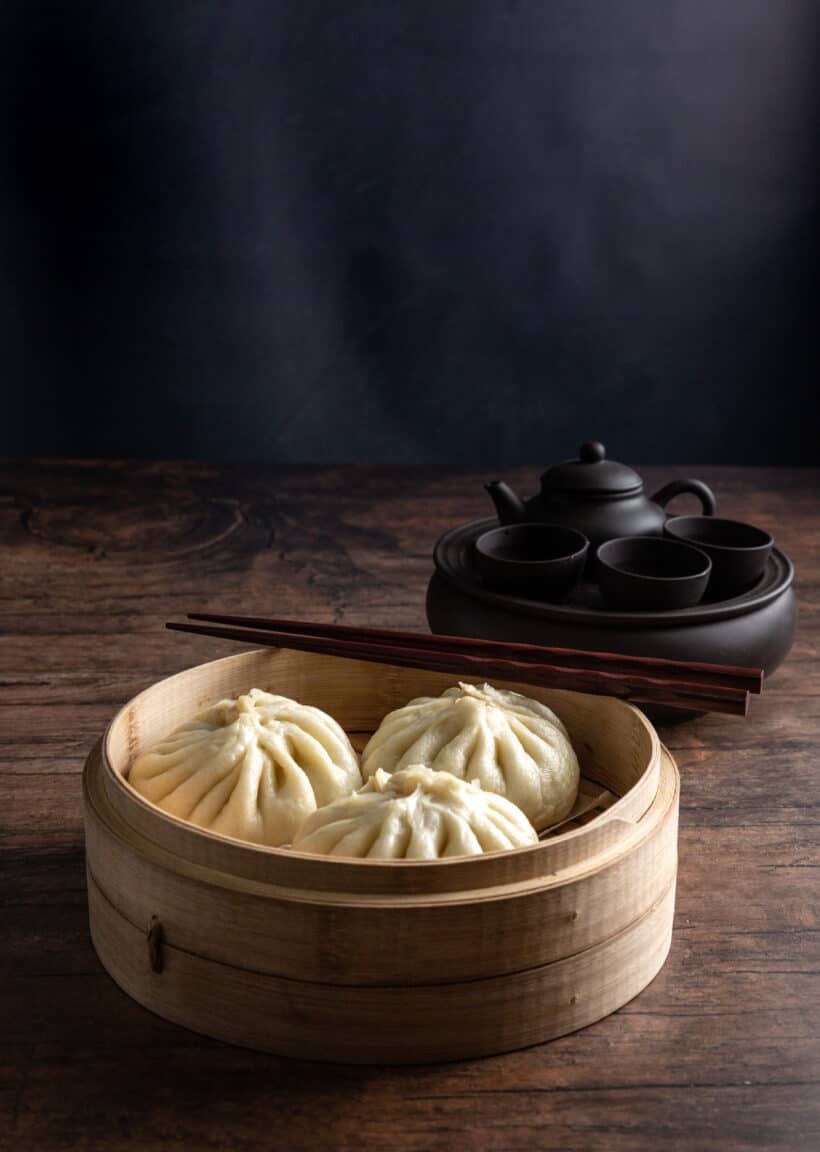 Appetizers or Snacks
Steamed Buns (Bao) (鮮肉包子). Fluffy, soft, and slightly sweet bao buns wrapped with aromatic, juicy, and flavorful filling. We crafted this Chinese steamed buns recipe with your choice of pork or beef fillings. You can host a fun bao-making New Year party with family and friends!
Shumai (燒賣). Popular dim sum Siu Mai (pork and shrimp dumplings) are also fun to make and tasty to eat. Growing up, I'd love making them from scratch with my dad!
Chinese Tea Eggs (茶葉蛋). Perfectly cooked hard boiled eggs richly infused with the tea master stock flavors. A popular homemade snack for celebrations.
Soy Sauce Eggs (鹵水蛋). Flavorful eggs with perfectly cooked egg yolks and smooth egg whites, deeply infused with homemade Chinese Master Stock.
Sesame Shredded Chicken (芝麻手撕雞). A tasty chilled appetizer you can mix with sweet & sour pickled vegetables (甜酸菜), pickled carrots, pickled daikon, and jellyfish (海蜇).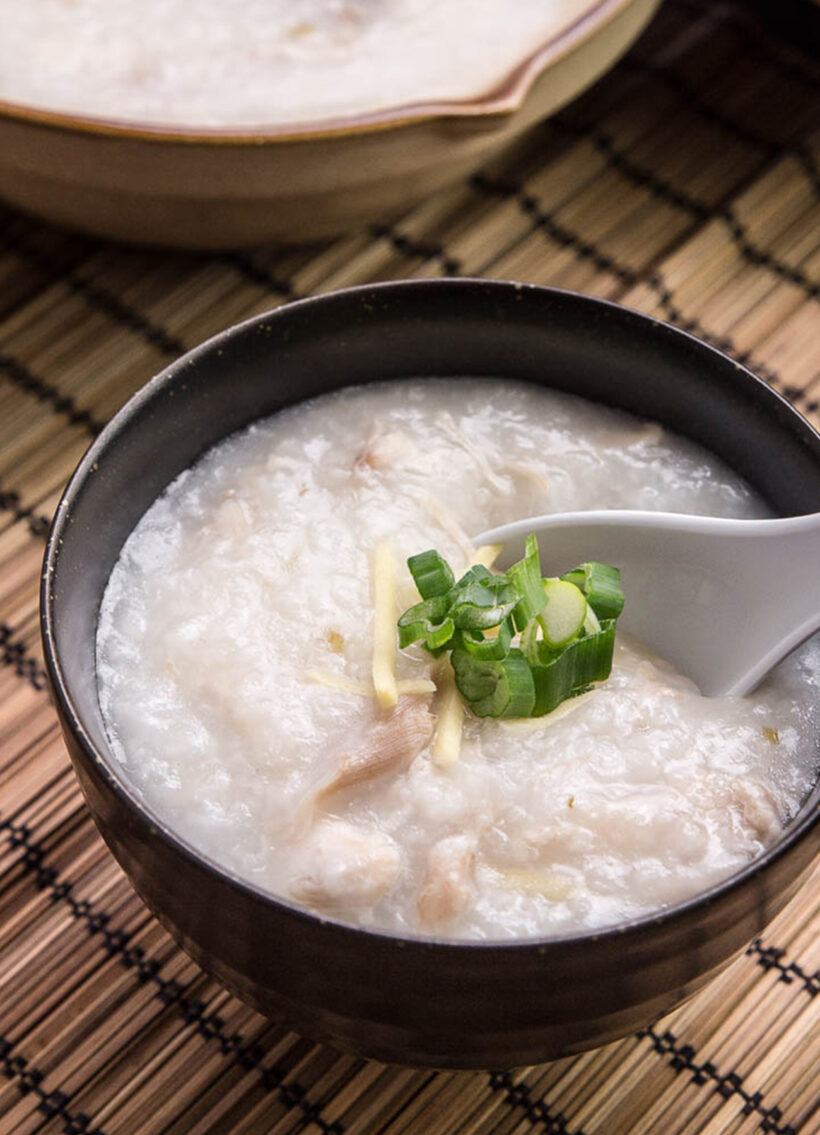 Side Dishes
Jasmine Rice. Rice is a must to go with the abundant of dishes during Chinese New Year dinners, feasts, or parties. Foolproof method to cook fragrant and fluffy rice. No more uncooked, burnt, or mushy rice!
Chinese Egg Fried Rice. You can serve this simple yet fragrant egg fried rice as an alternative to plain rice or the last course to wrap up a feast before desserts.
Chicken Congee (滑鷄粥). The ultimate heartwarming comfort food! You can enjoy this for breakfast or lunch during the Chinese New Year. It's especially comforting to eat after enjoying all the big delicious meals.
Pork Congee with Chinese Century Egg

(皮蛋瘦肉粥). Creamy rice porridge with shredded pork with Chinese preserved duck eggs.

Beef Congee with Spinach (碎牛粥). Deliciously nourishing Congee with Minced Beef and Spinach.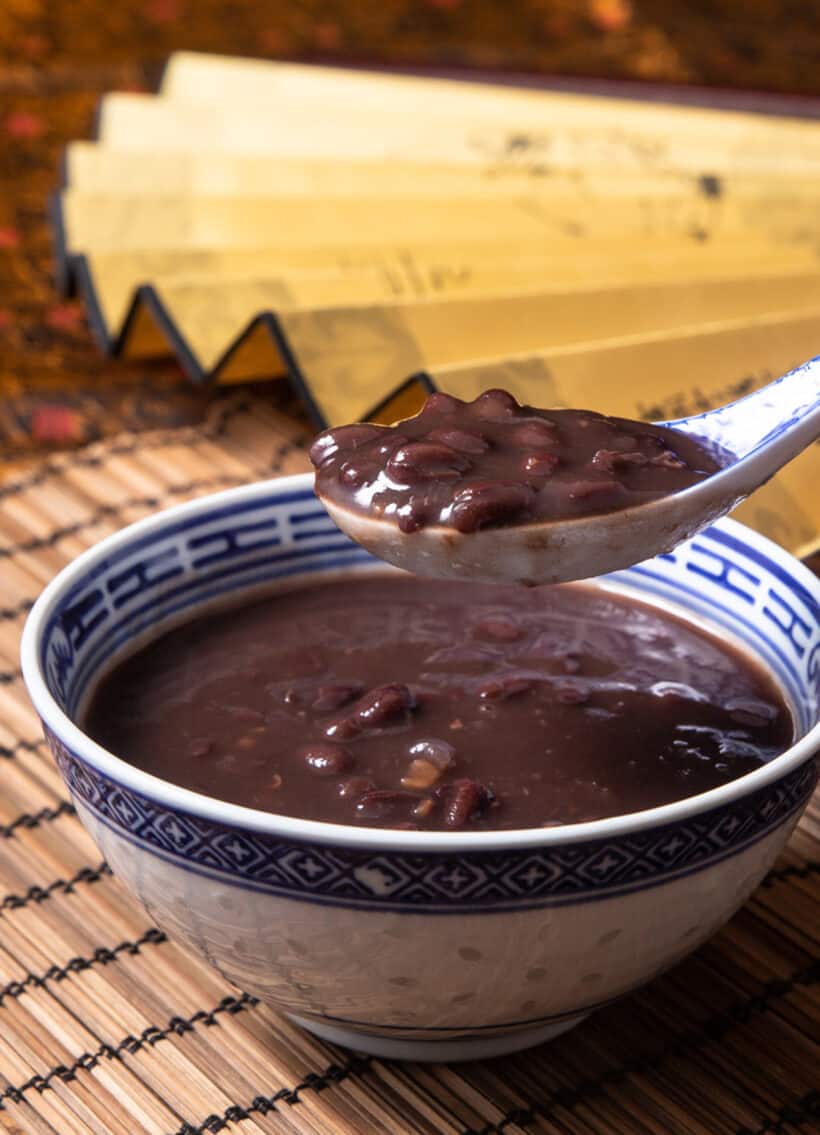 Chinese New Year Dessert
There are many delicious Chinese New Year desserts you can easily make at home. From Cantonese sweet dessert soups (糖水) to tang yuan (湯圓), sesame balls (煎堆), puddings, and many more!
Red Bean Soup (陳皮紅豆沙). One of the most popular sweet dessert soups served in North American Chinese restaurants and banquets. Easy to make with a few ingredients. You can enjoy this nourishing dessert hot, warm, or cold.
Tofu Pudding (Dou Hua, 免石膏粉豆腐花). This fresh melt-in-the-mouth Soy Pudding drizzled with sweet ginger syrup is a popular Chinese dessert among many Asian countries! You can serve it with a mix of Black Sesame Soup.
Black Sesame Soup (香滑芝麻糊). A wholesome and nutritious traditional Chinese dessert soup. Deliciously aromatic and creamy smooth roasted black sesame soup that warms your heart.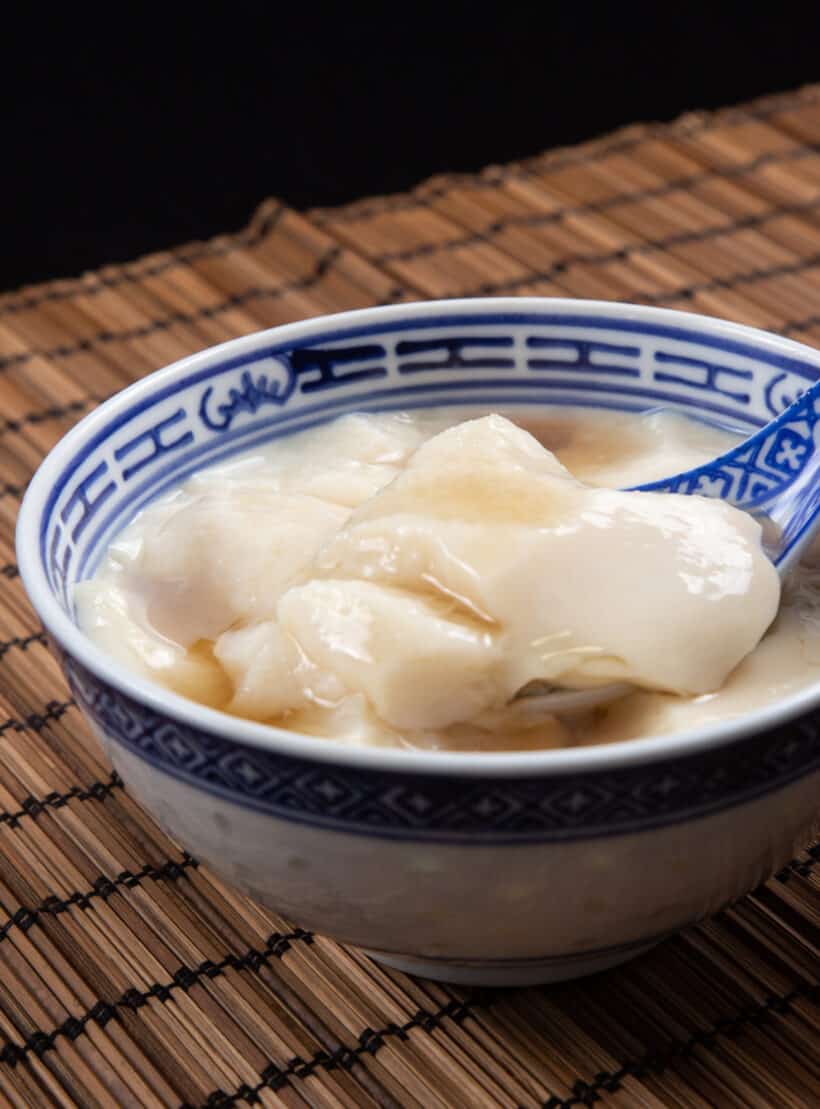 Hong Kong-style Egg Custard (超滑鮮奶燉蛋). Wrap up your Chinese New Year meal with this deliciously silky smooth HK Egg Custard. 4 simple ingredients and 4 easy steps to make.
Chinese Sweet Potato Soup (番薯糖水). Another popular traditional Hong Kong dessert soup that's nourishing and heartwarming to consume. Easy to make with 5 budget-friendly pantry ingredients. Smooth, light, sweet-gingery soup that's satisfyingly delicious.
Which Chinese New Year Recipes are you going to try?
Amy + Jacky wishes you a Happy Lunar New Year! 祝您新年蒙福! 福臨安康!
Some Useful Tips & Resources
All Our Pressure Cooker Recipes
*Disclosure: We are an Amazon Influencer/Amazon Associate. This means that if you decide to purchase items or services on Amazon through our links on Pressure Cook Recipes to Amazon, Amazon will send a small commission to us at no additional costs to you. Thank you!