Make this Tender & Juicy Instant Pot HK Onion Pork Chops. Flavorful pork chops soaked in rich sweet-savory umami onion sauce. An easy meal your family (including kids) will love.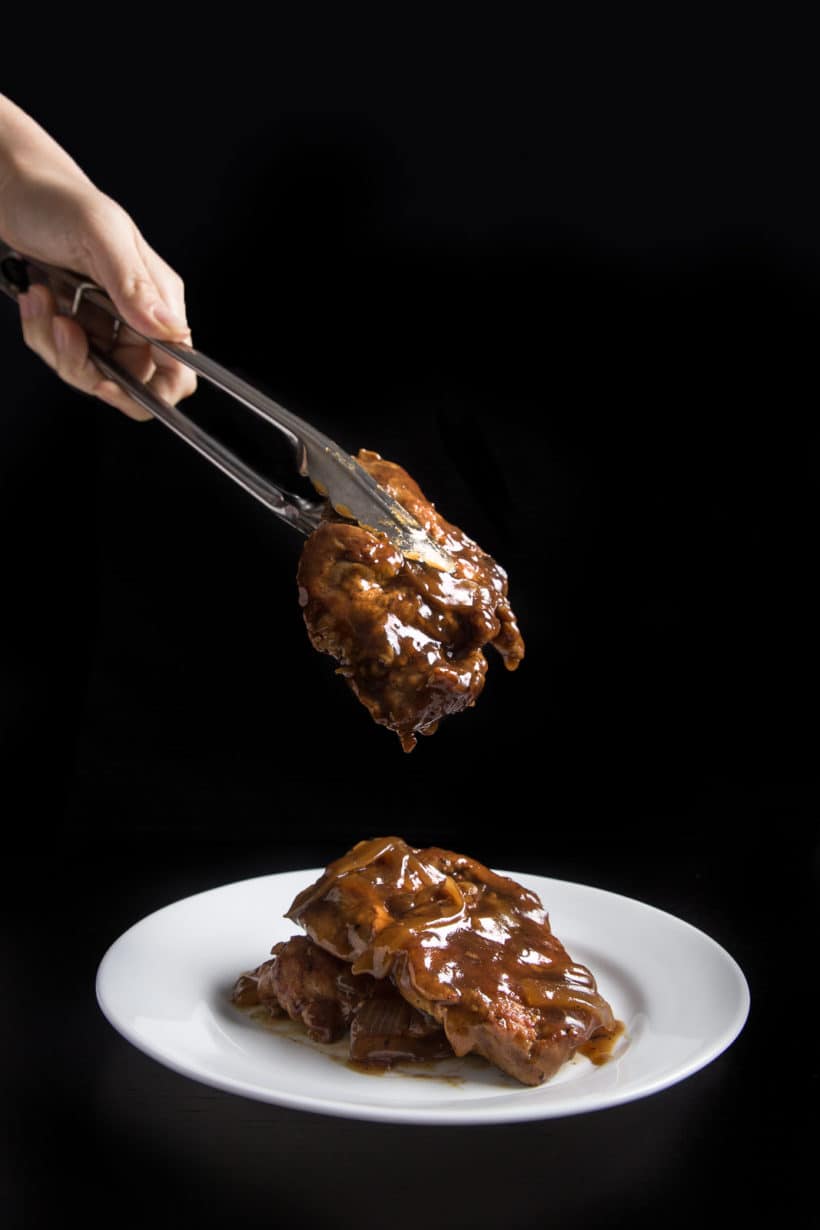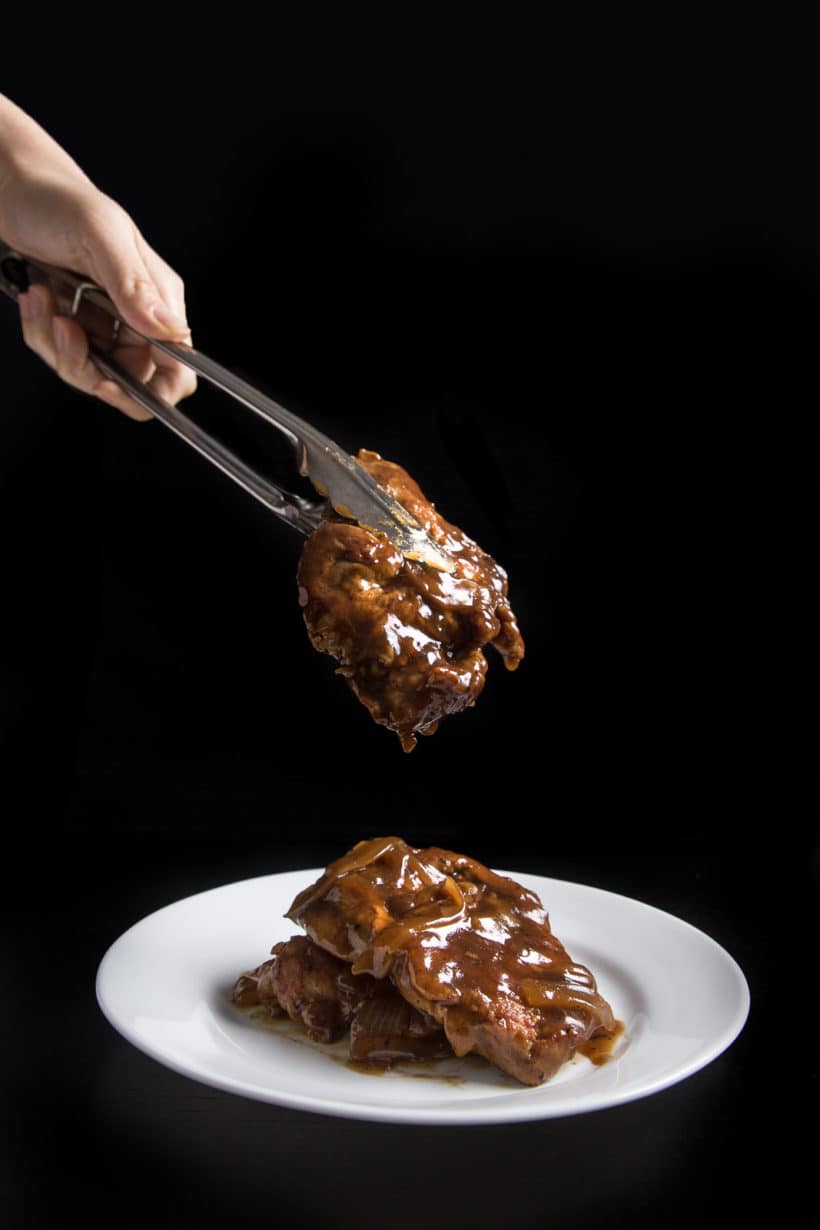 Mommy! This is so yummy! Can you teach me?
Jacky's mom taught him how to make this Hong Kong Style Pork Chops with Onion Sauce when he was 9!
After receiving lots of fan love for our Pork Chops with HK Tomato Sauce, we decided to recreate a second classic dish for our Cha Chaan Teng 港式茶餐廳 (Hong Kong style cafes) series.
This recipe is inspired by another classic favorite – Hong Kong Style Pork Chops with Onion Sauce 港式洋葱豬扒, hence the name "HK Onion Sauce". 🙂
We wanted to kick it up a notch by adding more complexity and boosting the depth of flavors. So, we made some modifications to the ones you'd normally get from Cha Chaan Tengs.
These flavor-boosting ingredients complement well with the original sauce and help intensify the umami flavors.
Try these tender & juicy Instant Pot Pork Chops – you'll love the umami onion sauce!! Enjoy~ 😀
Time for cooking Instant Pot HK Onion Pork Chops!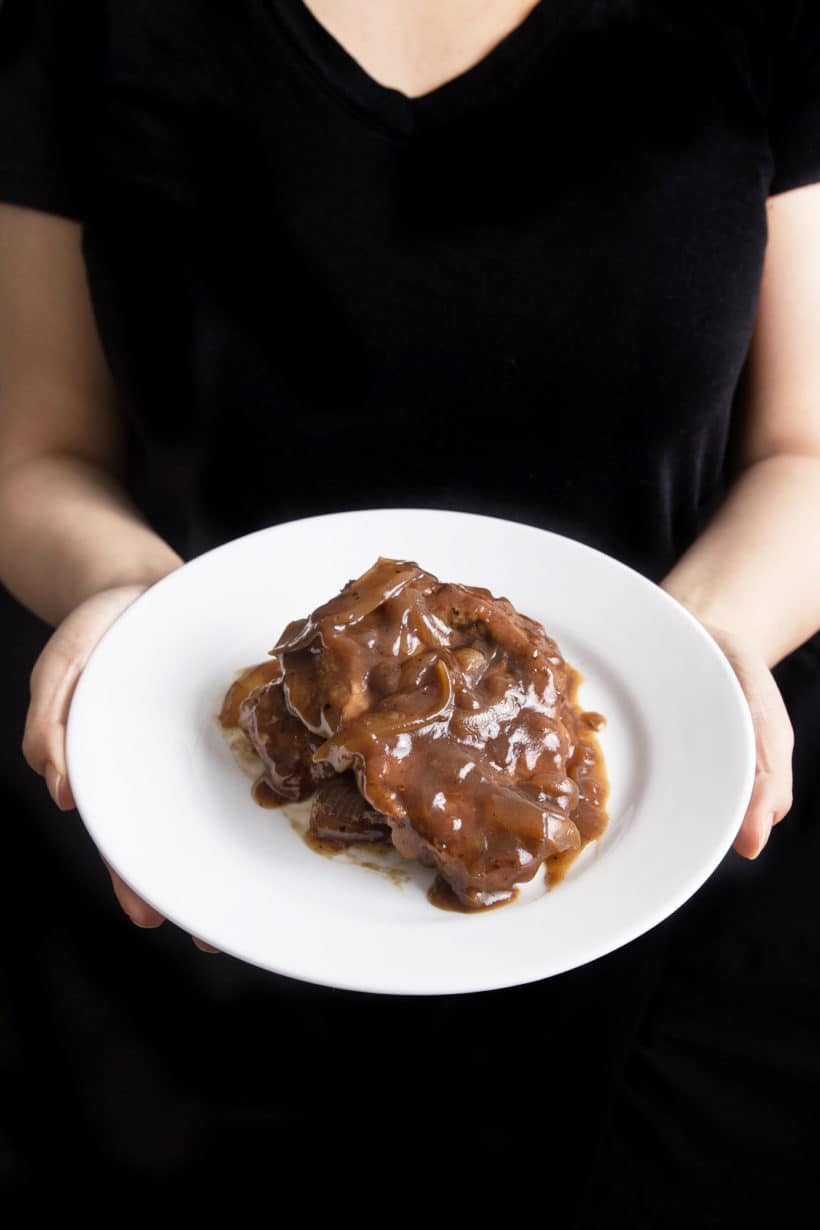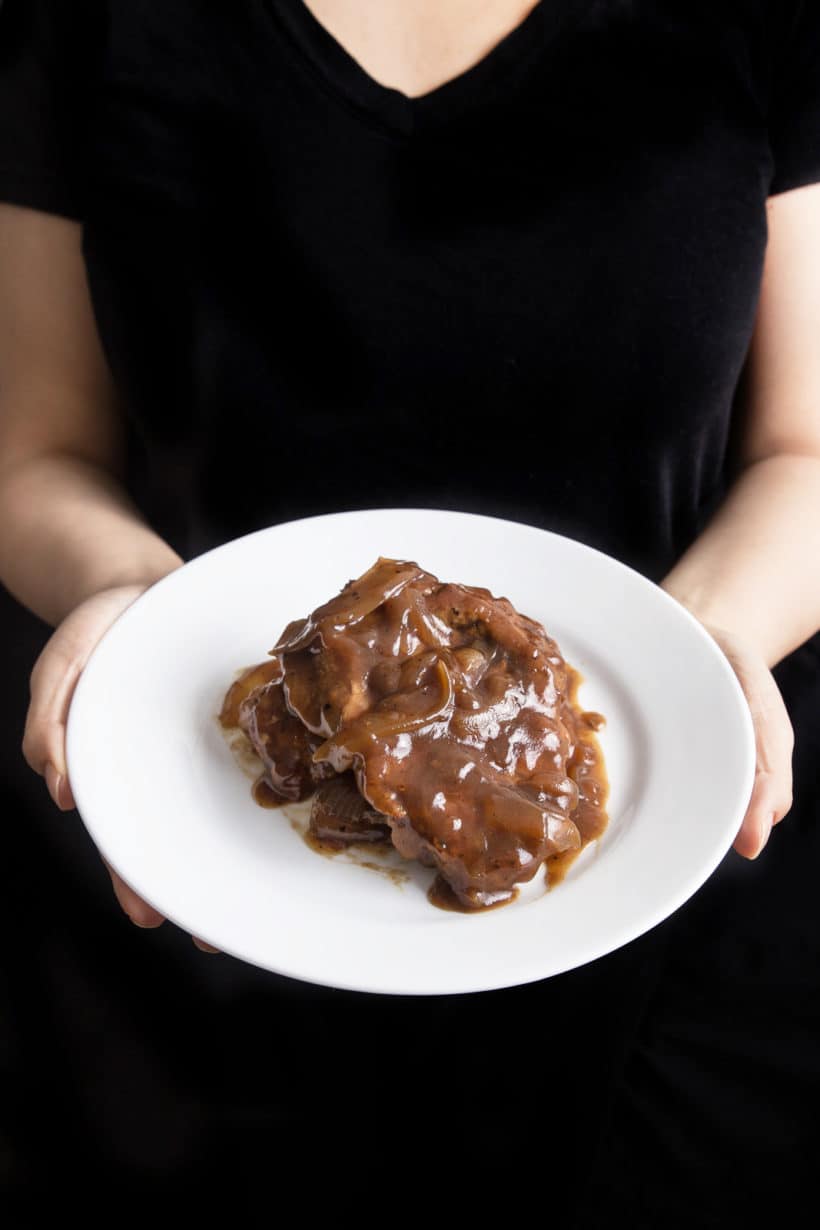 Tools for Instant Pot Pork Chops
---
Tips for Instant Pot Pork Chops
---
1. Purchasing Pork Chops: 
Try to choose pork chops with some fat marbling.
The pork chops we used for testing this Instant Pot Recipe were roughly 1.25 inches thick.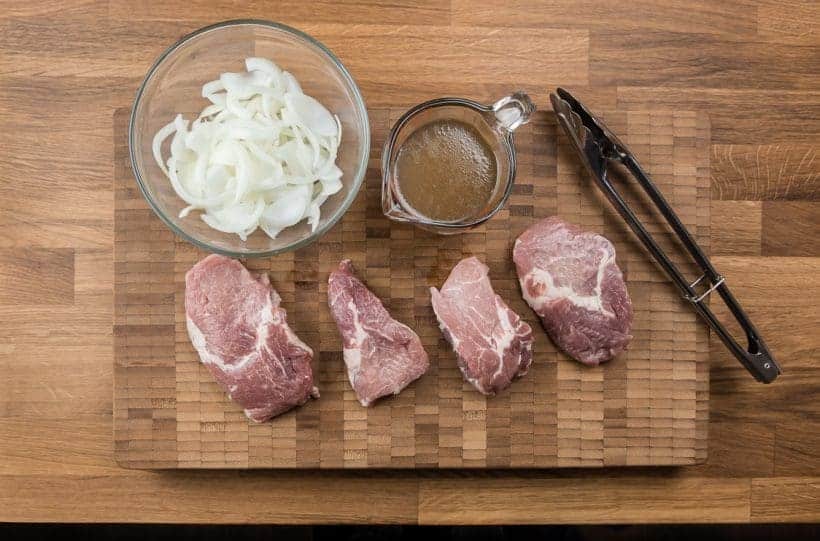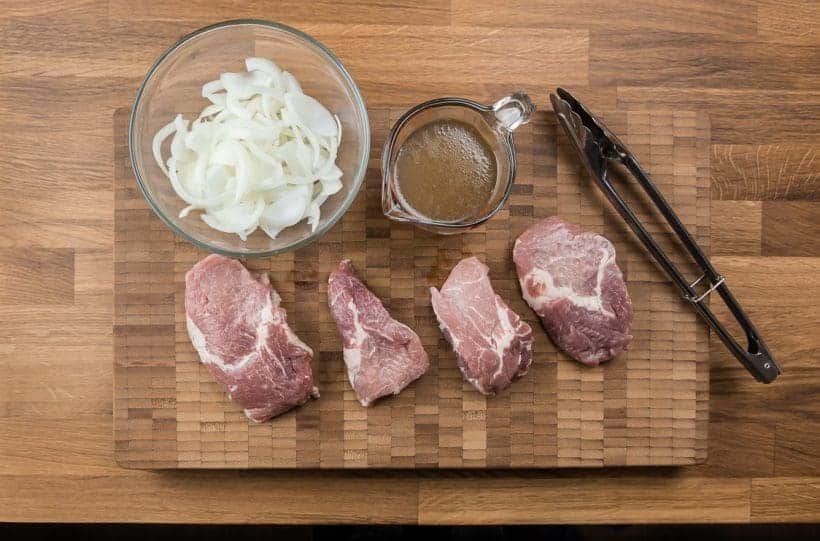 2. Best Cooking Time for Pork Chops in Instant Pot?
Many people have a love-hate relationship with pork chops because when they're perfectly cooked, they're deliciously tender & juicy; but when they're overcooked, they become tough & dry. 🙁
So, we did a Pork Chops Experiment to find the best cooking time to make perfectly cooked pressure cooker pork chops.
After testing with 5 batches of tenderized pork chops, we found cooking at High Pressure for 1 minute, then Natural Release gave the most satisfying results.
3. How to Tenderize Pork Chops?
Tenderizing the pork chops is a very important step!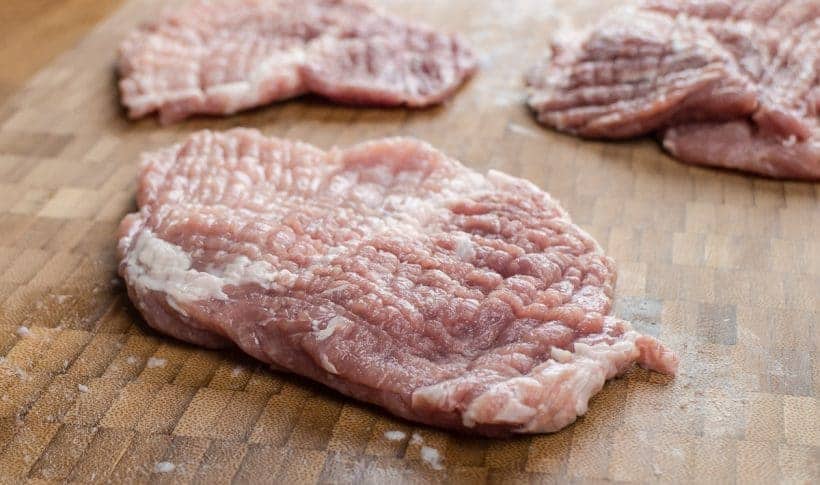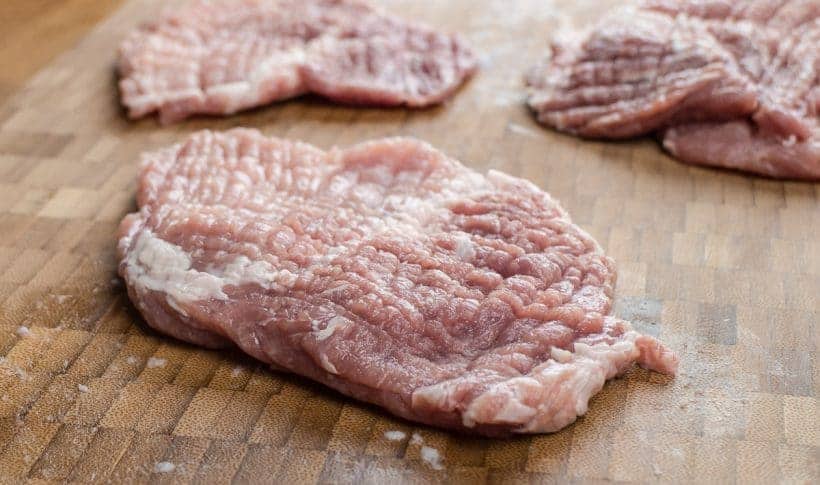 To tenderize, use the back-end of a heavy knife or meat tenderizer (see above recipe video) and pound on the pork chops with all your might.
Make the cross patterns as shown in the above photo and do the same for both sides.
Don't worry about using too much power as pork chops are very resilient to force. The pounding will break up the meat fibers just enough.
We inherited this traditional Chinese method from our grandparents. 🙂
Now it's YOUR turn to take out your pressure cooker and make some Instant Pot HK Onion Pork Chops!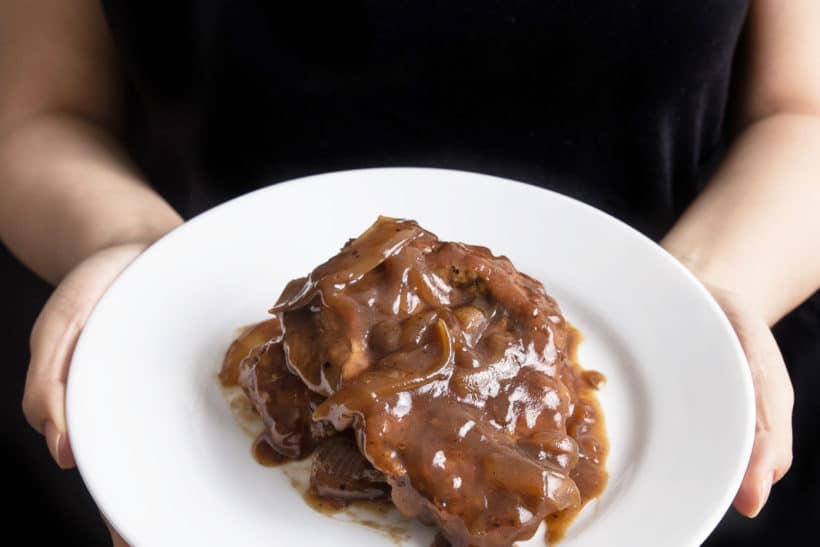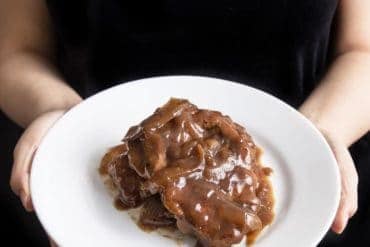 Instant Pot HK Onion Pork Chops
Make this Tender & Juicy Instant Pot HK Onion Pork Chops. Delicious pressure cooker pork chops with a rich sweet-savory umami sauce. Easy meal your family will love!
Subscribe for Free Recipes & Tips
♥ Share this Recipe so We can create more yummy recipes for you.  Thank you 🙂
Instructions
Tenderize Pork Chops: Use the backend of a heavy knife and pound both sides of the pork chops to tenderize the meat.

Marinate Pork Chops: Marinate the tenderized pork chops for 20 minutes with ½ tsp sugar, ¼ tsp salt, ¼ tsp sesame oil, ¼ tsp ground white pepper, 1 tbsp regular soy sauce, and 1 tbsp Shaoxing wine.

Prepare Instant Pot: Heat up your pressure cooker (Instant Pot: press Sauté). Ensure your pot is as hot as it can be when you add the pork chops (Instant Pot: wait until indicator says HOT). This prevents pork chops from sticking to the pot.

Sauté Pork Chops: Add 1 tbsp olive oil in the pot. Ensure to coat the oil over the whole bottom of the pot. Add in marinated pork chops, then let it brown for roughly 1 – 1.5 minutes on each side (don't need to constantly flip). Don't let it burn. Remove and set aside.

Sauté Onions: Add in sliced onions. Add a pinch of kosher salt + ground black pepper to season if you like. Cook the onions for roughly 1 minute until softened.

Deglaze: Add in 1 tbsp balsamic vinegar and partially deglaze the bottom of the pot with a wooden spoon.

Make HK Onion Sauce: Add in ¾ cup (188 ml) unsalted chicken stock, 1 tbsp Worcestershire sauce, 1 tbsp regular soy sauce, 1 tsp sugar. Mix well and fully deglaze. Taste the seasoning and adjust with kosher salt if necessary.

Pressure Cook Pork Chops: Place pork chops with all the meat juice in the pot. Pressure cook at High Pressure for 1 minute, then Full Natural Release (roughly 10 minutes).

Taste & Thicken HK Onion Sauce: Remove pork chops and set aside. Turn heat to medium (Instant Pot: Press sauté button). Taste the seasoning and add more salt if desired. Mix the cornstarch with water, then mix it into the onion sauce one third at a time until desired thickness.

Serve Pork Chops: Drizzle the yummy HK Onion Sauce over the pork chops and serve immediately! Enjoy~ 🙂
Video
Notes
Tenderize Pork Chops: Ensure to tenderize the pork chops before marinating them. Don't skip this step! Total Cooking Time: total cooking time stated in the recipe does not include inactive time (i.e. time for marinating). Rate Amy + Jacky's Recipe: If you've tried our recipe, don't forget to rate the recipe in the Comments section. Thank you!
Nutrition
Calories:
294
kcal
|
Carbohydrates:
9
g
|
Protein:
31
g
|
Fat:
13
g
|
Saturated Fat:
3
g
|
Cholesterol:
89
mg
|
Sodium:
769
mg
|
Potassium:
634
mg
|
Sugar:
4
g
|
Vitamin C:
2.8
mg
|
Calcium:
21
mg
|
Iron:
1.3
mg
Some Useful Tips & Resources
All Our Pressure Cooker Recipes
*Disclosure: We are an Amazon Influencer/Amazon Associate. This means that if you decide to purchase items or services on Amazon through our links on Pressure Cook Recipes to Amazon, Amazon will send a small commission to us at no additional costs to you. Thank you!