Make this Chinese dim sum Shumai Recipe! Shumai is also known as Siu Mai 燒賣, Shaomai, or Siomai. Pork Dumplings made with crunchy shrimps, flavorful bouncy pork & fragrant shiitake mushrooms give a deliciously satisfying mouthfeel. Great make ahead freezer meals! 😀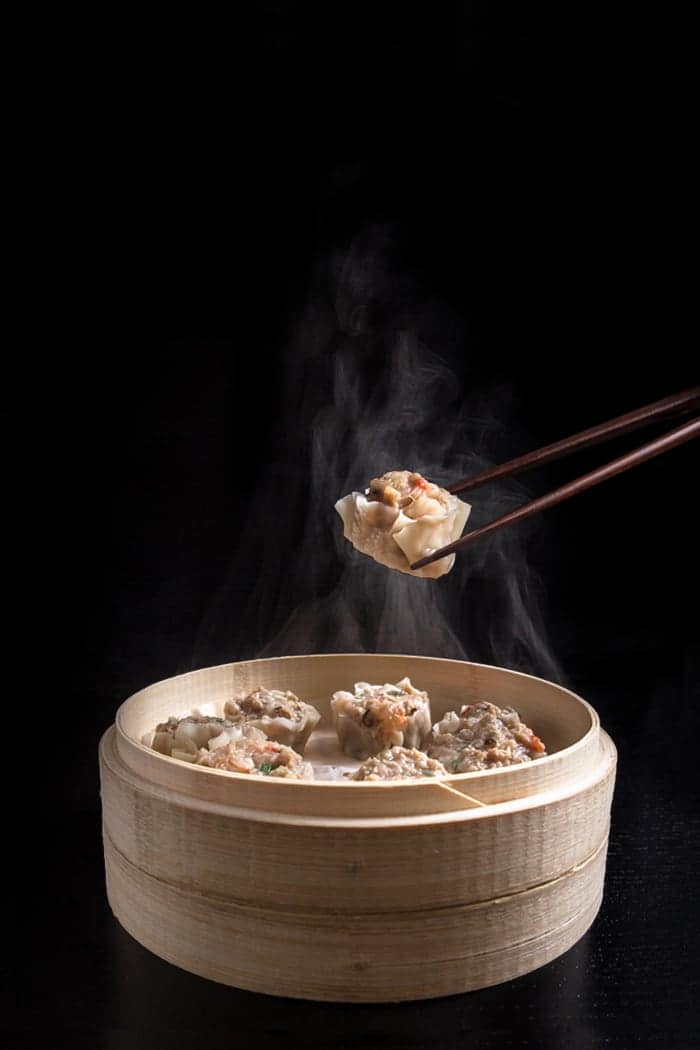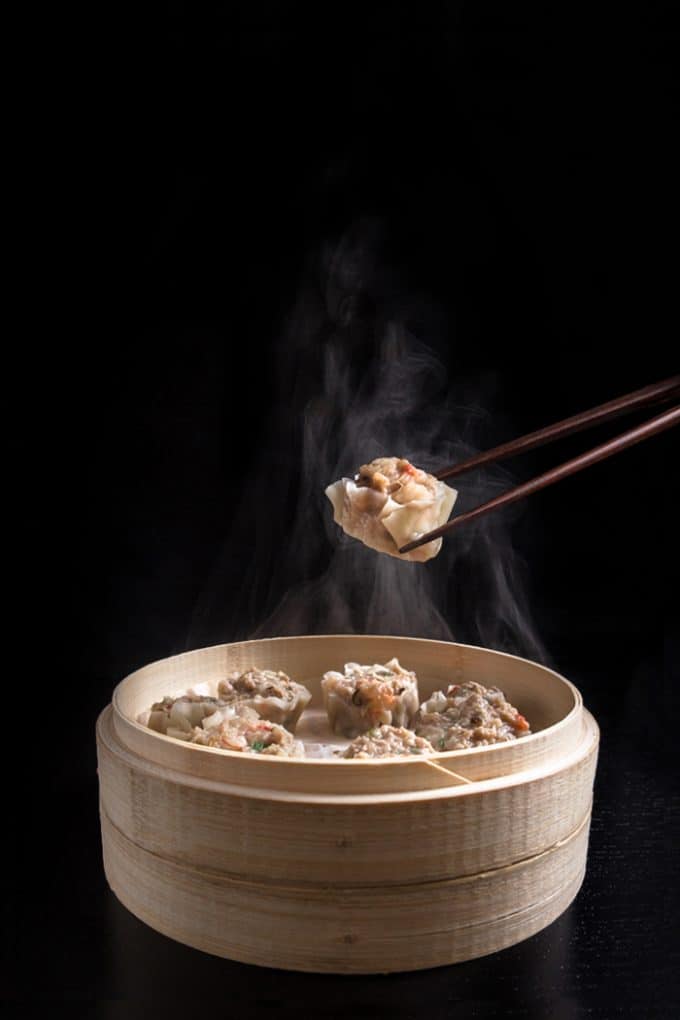 Every bite of Shumai reminds me of my dad.
He began his culinary journey when I was 9. He started learning how to make food like Chinese doughnut (油炸鬼 Youtiao), Egg Tart 蛋撻, and Moon Cake 月餅. Then, he began recreating dishes from his childhood one by one without recipes, just by memory.
But, he didn't want to stop there. He wanted to cook restaurant-quality Chinese food. So, he applied for Chinese culinary school.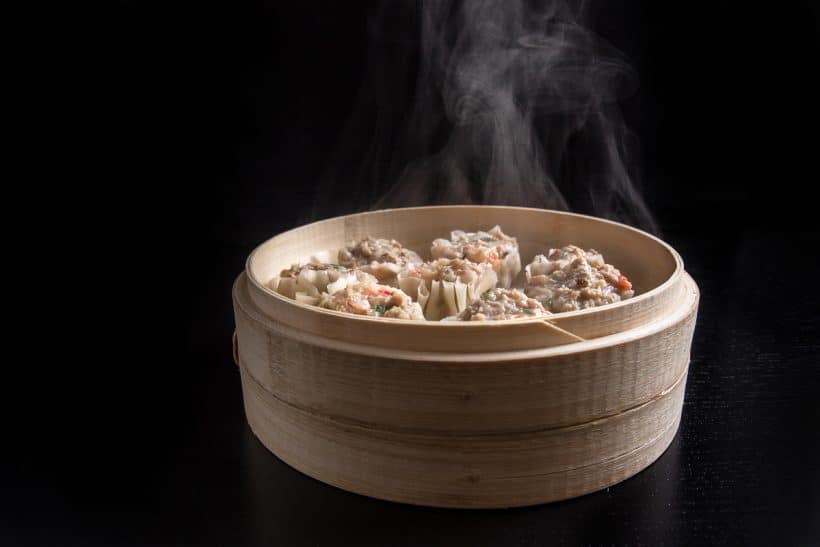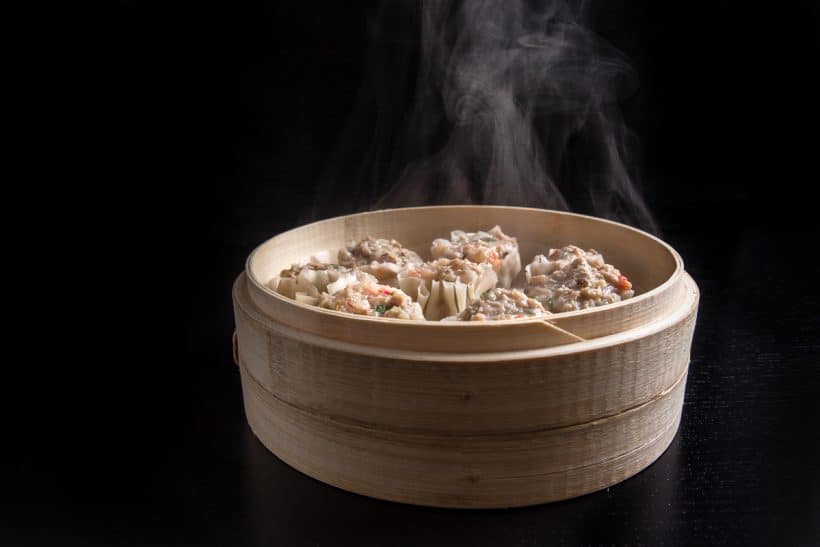 It was tough. I still remember the long strips of red burns on his arms from the splattering hot oil as he learns to use the commercial wok. New scars would form before the old ones heal. I still remember how his wrist would be so sore from all the tossing and how exhausted he was from cooking for the whole day in the hot kitchen. But, he never gave up.
During culinary school, one of his assignments were to perfect Shumai. So, he kept practicing and made dozens after dozens after dozens…ENDLESS dozens of Shumai!!! I had them for breakfast, packed them for lunch, ate them after-school, and added some on the side for dinner. My dad and I still laugh every time we mention "Shumai". LOL~
My dad always say that I was his biggest fan. Yes, I will always be your biggest fan, Dad! 😀
Time for some Shumai!!!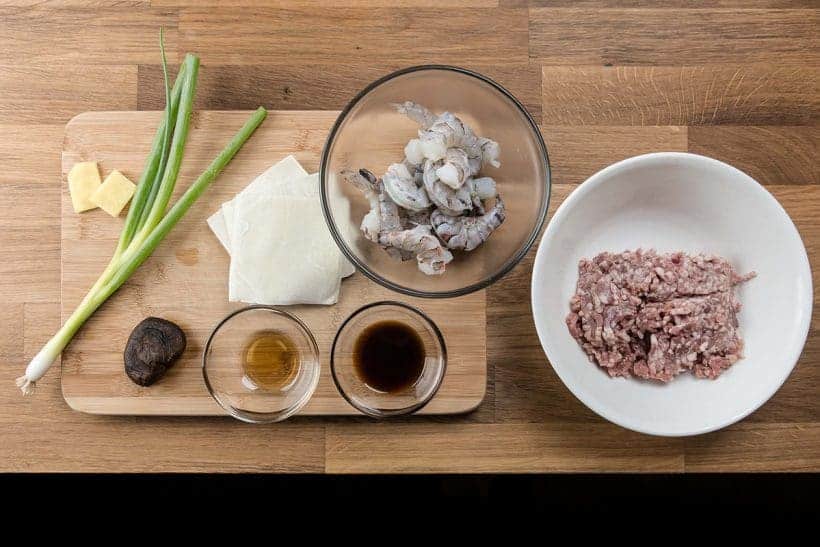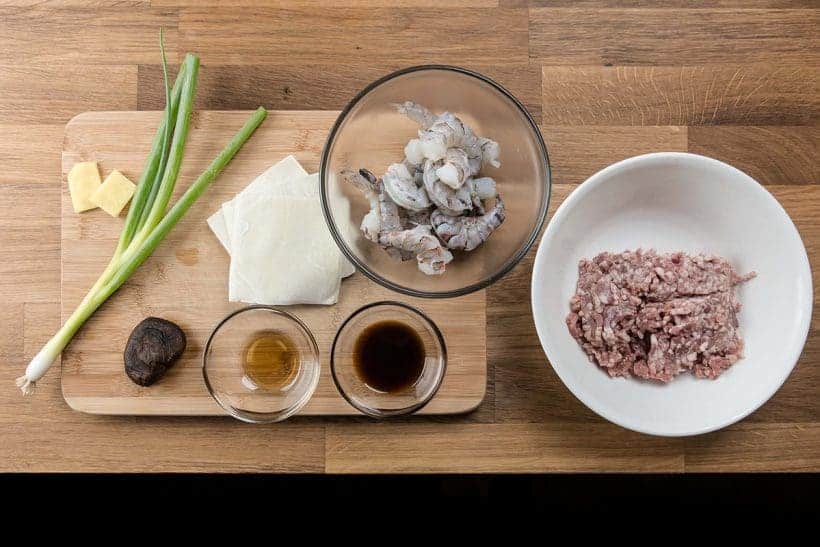 Ingredients for Shumai Dumplings
Wonton wrappers
Tiger prawns or Shrimps
Ground pork
Green onions
Ginger
Cornstarch
Sugar
Salt
Optional: oil
The picture below shows what the ingredients look like right before Step 5: mixing all ingredients.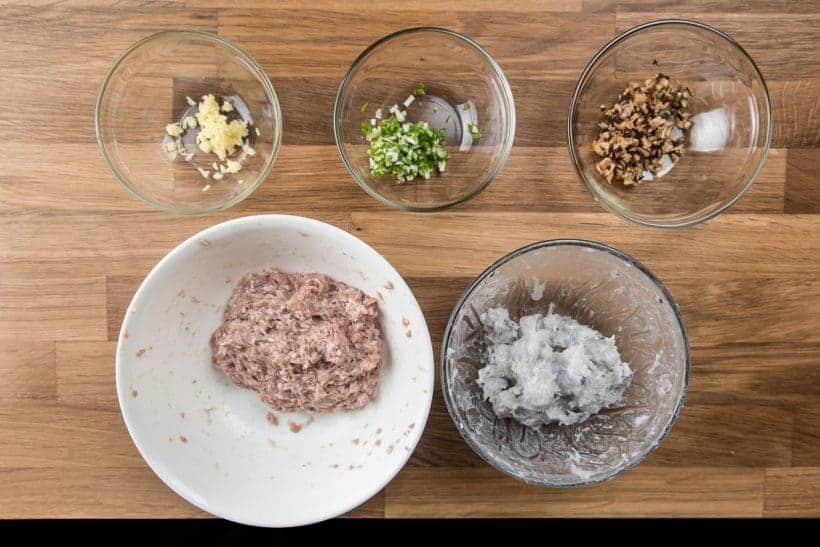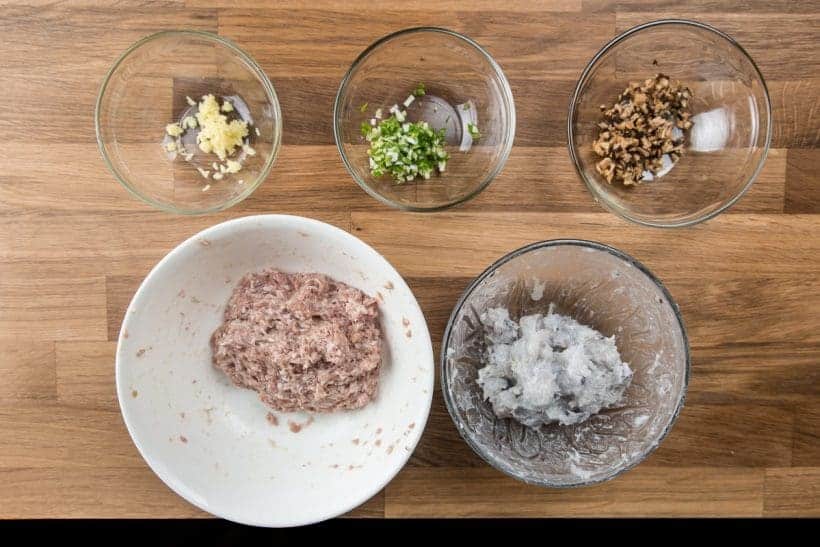 Tools for Shumai Dumplings
Bamboo steamer – we use 6qt pressure cooker & 8″ steamer basket in the link (size: 8 x 8 x 5.5 inches) fits snugly into the pot (as shown in video).
Parchment paper liners with holes – these aid steaming and avoid having food residue stuck onto the bamboo steamer. You may have seen some restaurants use a piece of lettuce as a substitute.
Tips for Shumai Dumplings
1. Mixing + Throwing by Hand
Chinese people believe that mixing by hand will create the best texture for the meat, and throwing the paste against the mixing bowl will increase the bounciness of the Shumai.
2. Decorative Garnishment
We omitted the decorative garnishment on top of the Shumai because we couldn't get crab roe. Plus, we didn't want to use green peas (more suitable for beef Shumai) or diced carrots as a substitute.
3. Serve the Shumai Immediately!!
Shumai is best enjoyed right out of the bamboo steamer, or else the wrapper skin will start to dry up and the meat will begin to harden. 🙁
4. Great Make Ahead Freezer Meals
Shumai is quite freezer-friendly. You can freeze them for up to 2 – 3 months.
5. Using the Pressure Cooker to Steam
This is a great way to steam in the summer or hot weather as it won't heat up the kitchen. However, using the stovetop method works great too.
Now it's YOUR turn to take out your pressure cooker and make some Shumai Recipe (Shrimp & Pork Dumplings 燒賣)!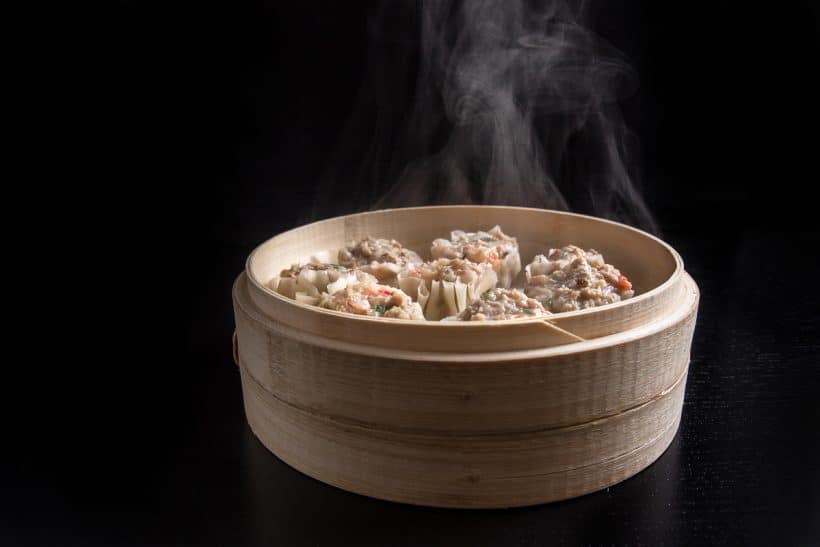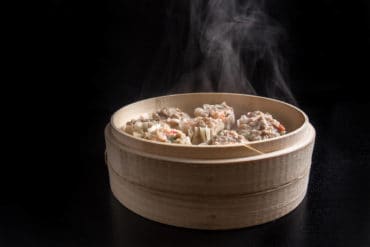 Shumai (Shrimp & Pork Dumplings 燒賣)
Learn how to make Chinese dim sum Shumai (燒賣, Siu Mai, Shaomai, or Siomai). Flavorful Pork Dumplings with crunchy shrimps, bouncy pork & fragrant mushrooms. Great make ahead freezer meals!
Subscribe for Free Recipes & Tips
Ingredients
Shrimp Paste
½

pound

tiger prawns or shrimps

, finely chopped

1

teaspoon

cornstarch

¼

teaspoon

salt

¼ - ½

teaspoon

oil

(Optional)
Other
¾

stalk

green onions

, finely chopped

2

slices

ginger

, grated

1 - 2

dried shiitake mushrooms

, re-hydrated and finely chopped (see tips)

20 - 24

round wonton wrappers
♥ Share this Recipe so We can create more yummy recipes for you.  Thank you 🙂
Instructions
Season Shrimps: Pat dry the shrimps with paper towels. Place the chopped shrimps in a medium mixing bowl. Add in 1 tsp cornstarch and ¼ tsp salt.

Season Ground Pork: Place the ground pork in a large mixing bowl. Pour in 1 tbsp cornstarch, ½ tsp ground white pepper, ½ tsp sugar, 1 tbsp Shaoxing wine, 2 tsp regular soy sauce, 1 tsp fish sauce, 1 tsp sesame oil, and 2 tbsp unsalted chicken stock.

Make Pastes: Squeeze and mix the seasoned ground pork with your hands, then throw it against the mixing bowl until it resembles a paste-like consistency. Wash your hands and do the same with the seasoned shrimps. Put the pastes into the fridge and prepare the remaining ingredients.

Prepare Ingredients: Finely chop ¾ stalk of green onions and 1 - 2 pieces of re-hydrated shiitake mushrooms. Use a microplane grater to grate the 2 ginger slices.

Mix Ingredients: Remove the pork and shrimp pastes from the fridge. Pour all the ingredients into the ground pork paste mixing bowl. Squeeze and mix the ingredients with your hands until blended. Remember to throw the paste against the mixing bowl!!

Wrap Shumai: Place a wonton wrapper on one hand. Scoop roughly ¾ - 1 tbsp mixed paste on the wonton wrapper with a butter knife or the dull end of a spoon. Then, wrap it into a cylinder shape with an open top (see video) Place a parchment liner into the bamboo steamer, then place the Shumai on the liner. Close the bamboo steamer lid.

Pressure Cook Shumai: Place a steamer rack and pour one cup of water into an electric pressure cooker. Place the bamboo steamer filled with Shumai into the pressure cooker. Close lid and pressure cook at High Pressure for 3 minutes. Wait for another 5 minutes and do a Quick Release. OR Cook Shumai on Stovetop: Steam the Shumai on high heat for 10 – 12 minutes on the stovetop.

Serve: Remove the bamboo steamer from the pot and enjoy them immediately.
Video
Notes
*Pro Tip: Chinese people believe that mixing by hand will create the best texture. Throwing the paste against the mixing bowl will increase the bounciness of the Shumai. *Storage: the Shumai can freeze up to 2 - 3 months. *Rate Recipe: If you've tried the recipe, don't forget to Rate the Recipe in the Comments Section. Thank you!
Nutrition
Calories:
80
kcal
|
Carbohydrates:
9
g
|
Protein:
5
g
|
Fat:
3
g
|
Saturated Fat:
1
g
|
Cholesterol:
32
mg
|
Sodium:
230
mg
|
Potassium:
48
mg
|
Fiber:
1
g
|
Sugar:
1
g
|
Vitamin A:
4
IU
|
Vitamin C:
1
mg
|
Calcium:
21
mg
|
Iron:
1
mg
Looking for more easy Chinese Dim Sum recipes? Don't miss our Pressure Cooker Spare Ribs with Black Bean Sauce.
Some Useful Tips & Resources
All Our Pressure Cooker Recipes
*Disclosure: We are an Amazon Influencer/Amazon Associate. This means that if you decide to purchase items or services on Amazon through our links on Pressure Cook Recipes to Amazon, Amazon will send a small commission to us at no additional costs to you. Thank you!