Make this easy Soy Sauce Eggs Recipe and celebrate a beautiful bond between a little boy and his grandma. Imagine super flavorful eggs with perfectly cooked egg yolks & smooth egg whites, deeply infused with delicious homemade Chinese Master Stock.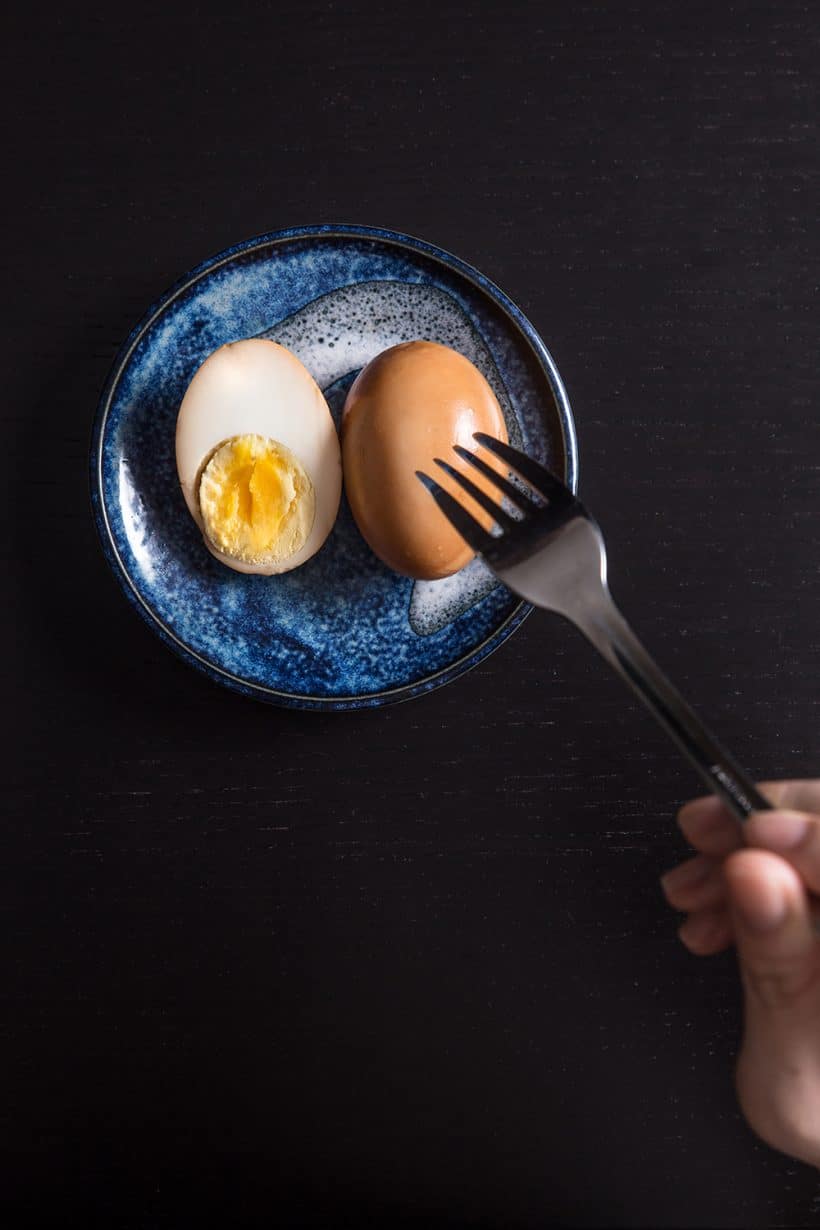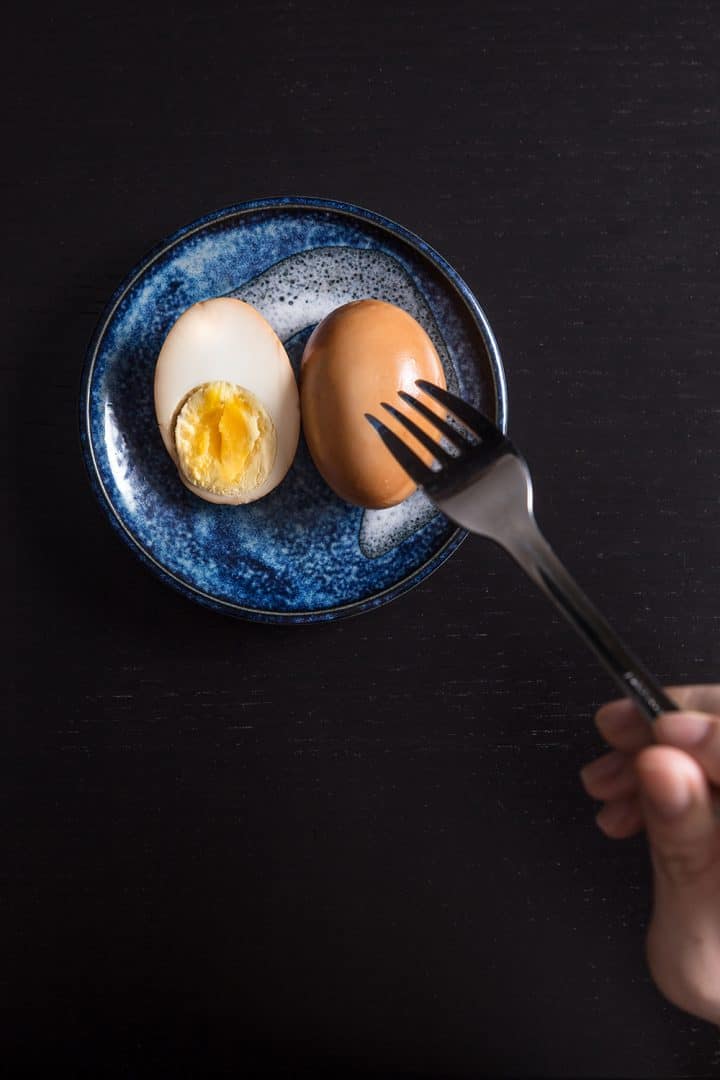 You've probably heard or experienced these moments before…
"This apple pie tasted exactly like my grandma's!"
"This reminded me of my grandma."
A Story About a Little Boy and His Grandma
This little boy spent most of his childhood with his grandma. Day in day out, he goes wherever she goes.
Grandma loved cooking with her Chinese master stock, and one of the easiest dish she made was Soy Sauce Eggs.
For 12 years, this little boy would eat a few delicious Soy Sauce Eggs every week.
However, he took his grandma for granted.
He never expected his family would suddenly move to another country far far away.
He never got the chance to shower her with love and appreciation, as he only saw his grandma 4 more times before she passed away.
Unforgotten Memories
Never mind the fragrance of the master stock blending wonderfully with the hard-boiled eggs.
This Soy Sauce Eggs Recipe may be the easiest recipe ever, but it doesn't really matter.
Because every bite reminded the little boy of his grandma; every bite were memories full of laughter.
Taste and smell are some of the weirdest things. They trigger memories and emotions that would otherwise be forgotten.
My Dearest Friends
As a daughter or son, as a parent, as a grandparent, live everyday with no regrets.
Life is short. Life is vulnerable.
Treasure the people around us. Don't take anyone for granted.
Through cooking, let's create amazing memories with our family and loved ones.
Sometimes the simplest recipe creates the most powerful thing ever.
This post and recipe is dedicated to my grandma who passed away 9 years ago.

Love,
Jacky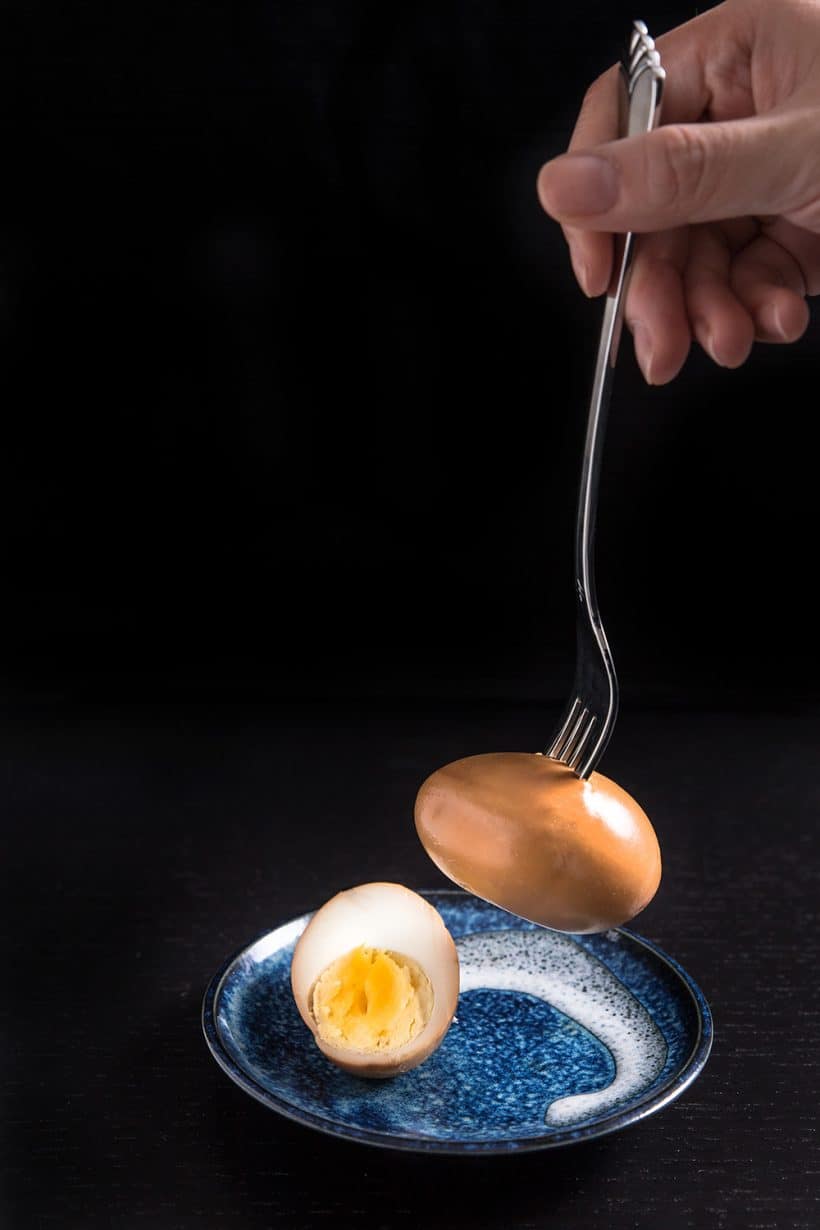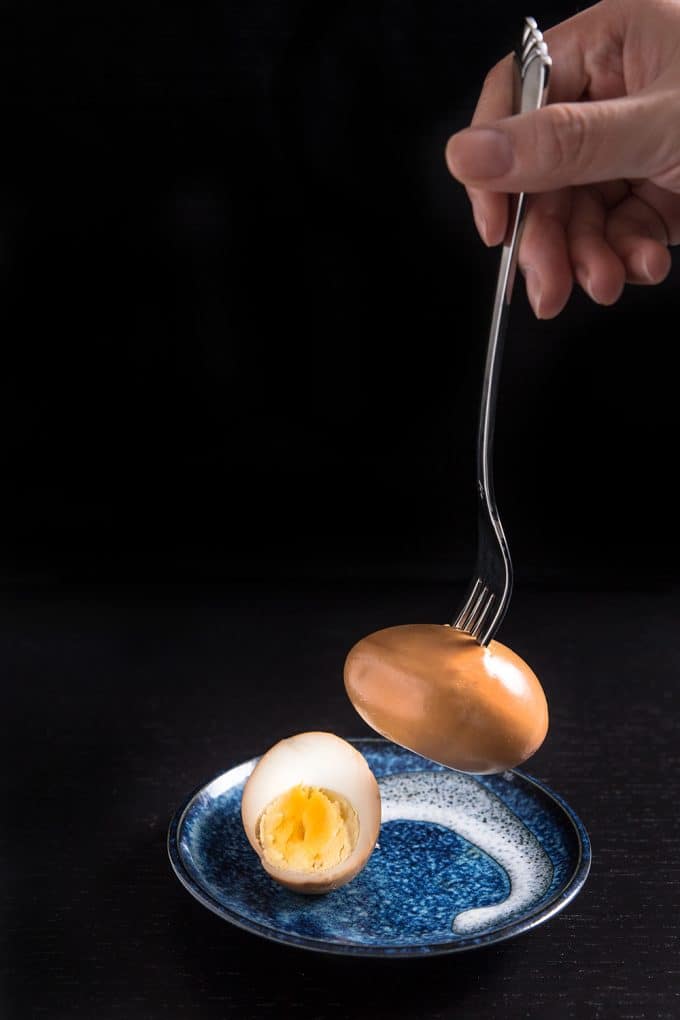 Continuing with our master stock series, this SUPER EASY recipe has only 2 steps:
Pressure cook the eggs
Marinate the eggs with Chinese master stock in the fridge
2 Ingredients for Soy Sauce Eggs Recipe
Chinese master stock

If you don't want to make your own master stock, substitute with store-bought Chinese Marinade 鹵水汁

Soft boiled or hard boiled extra large eggs
Tools for Soy Sauce Eggs Recipe
Vegetable Steamer – We've used the trivet that came with our Instant Pot pressure cooker. But for those who don't use Instant Pot, this steam basket works great.
or Stainless Steel Steamer Rack – if you want a budget option, this steamer rack is very popular among pressure cooker users, and it seems to work fine for them.
Tips for Soy Sauce Eggs Recipe
Grab your pressure cooker and make some Soy Sauce Eggs!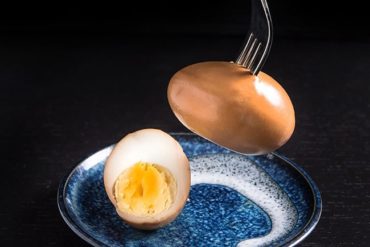 Soy Sauce Eggs Recipe
Make this super easy Soy Sauce Eggs Recipe that celebrates a beautiful bond between a little boy and his Grandma. Flavorful eggs with perfectly cooked egg yolks & smooth egg whites, infused with delicious homemade Chinese Master Stock.
Subscribe for Free Recipes & Tips
Ingredients
4

– 8

soft boiled or hard boiled extra large eggs
♥ Share this Recipe so We can create more yummy recipes for you.  Thank you 🙂
Instructions
Boil Master Stock: If you use pre-made frozen master stock, place the frozen master stock into the pressure cooker. Close the lid and cook at High Pressure for 10 minutes. Do a quick release and open the lid carefully. Pour all the Chinese master stock into a medium bowl, and set aside to cool off.

Pressure Cook Eggs: Place a steamer basket inside the pressure cooker. Add one cup of running cold tap water into the pot. Then, place the eggs in the steamer basket.

Close lid and pressure cook at Low Pressure for 5 minutes (for soft-boiled eggs) to 14 minutes (for hard-boiled eggs) if you use eggs straight out of the fridge and cooking with an Electric Pressure Cooker (see notes).

Open the lid carefully and shock the eggs by placing them in an ice bath for 5 minutes. Remove the shells carefully.

Flavor Infusion: Place all the eggs into the warmish (cool enough for you to put your finger in it) medium bowl of Chinese master stock. Lay a paper towel on top of the eggs and soak up some of the Chinese master stock.

Fridge Time: When the bowl of Chinese master stock with eggs have cooled off, cover and place the bowl in the fridge for at least 2 hours (the longer the better so the soy sauce eggs can soak in more flavors).

Serve: Serve cold or warm up the Chinese master stock with eggs in a saucepan on medium low heat.
Notes
Soy Sauce Eggs Cooking Time: Refer to our Perfect Pressure Cooker Soft, Medium, Hard Boiled Eggs eggsperiment and find your favorite egg yolk consistency, and apply the cooking time to this recipe.
Master Stock Storage: You can store the stock in the fridge for up to 3 days or freeze it for up to 3 months. Please refer to the Chinese Master Stock Recipe.
Soy Sauce Eggs Storage: The soy sauce eggs are good for up to 2 days in the fridge.
*Total cooking time doesn't include the inactive times in the fridge.
*Rate the Recipe: If you've tried the recipe, don't forget to Rate the Recipe in the Comments Section. Thank you!
Nutrition
Calories:
78
kcal
|
Carbohydrates:
1
g
|
Protein:
6
g
|
Fat:
5
g
|
Saturated Fat:
2
g
|
Cholesterol:
187
mg
|
Sodium:
62
mg
|
Potassium:
63
mg
|
Sugar:
1
g
|
Vitamin A:
260
IU
|
Calcium:
25
mg
|
Iron:
1
mg
Some Useful Tips & Resources
All Our Pressure Cooker Recipes
*Disclosure: We are an Amazon Influencer/Amazon Associate. This means that if you decide to purchase items or services on Amazon through our links on Pressure Cook Recipes to Amazon, Amazon will send a small commission to us at no additional costs to you. Thank you!