Make this crowd-pleasing Pressure Cooker Turkey Meatballs with Homemade Mushroom Gravy Recipe. Juicy homemade turkey meatballs drizzle with fragrant umami mushroom gravy. Perfect for Thanksgiving holidays!
Jump to: Cooking Tips | Recipe | Video
Thanksgiving has a special place in my heart.
The loud & joyous gatherings with family and friends who tries to talk over each other as they excitedly share their funny stories.
The beautiful feast for the eyes and tummies spread across the dining table speaks of love.
The room is filled with warmth, laughter, and irresistible aroma.
Best of all:
Thanksgiving is a time for us to gather around the table, reflect and count our blessings.
What Are You Thankful For This Year?
"Be thankful for the best things in life:
the people you love,
the places you've been,
and the memories you've made along the way."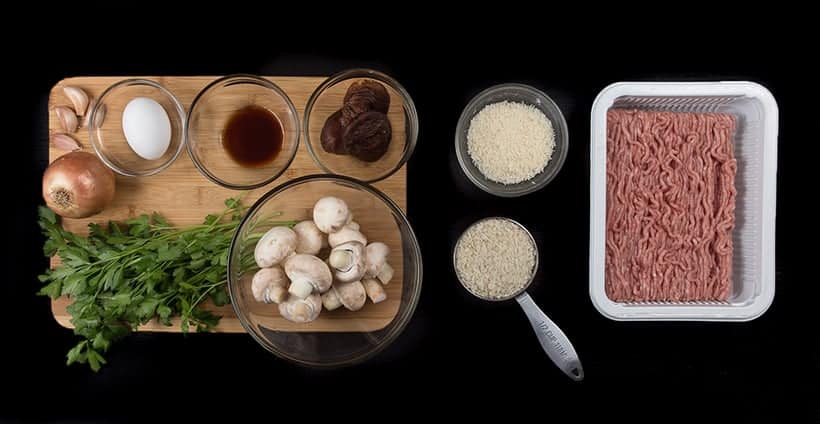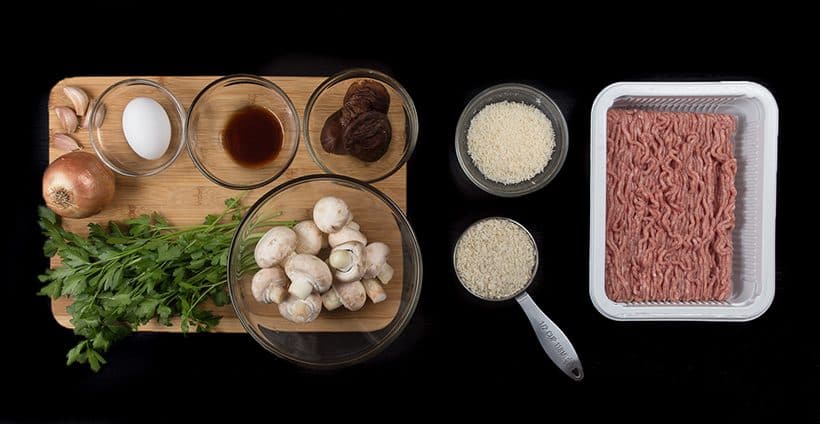 Time to make these delicious homemade turkey meatballs and celebrate with your loved ones~ 😀
You'll Love These Pressure Cooker Turkey Meatballs Because:
Super moist & juicy
Flavorful – packed with fragrant spices, crunchy onions, and melted creamy cheese
Freezer-friendly – you can make ahead for parties
These Pressure Cooker Turkey Meatballs are Great for:
Thanksgiving! – But not just limited for the holidays. They are also a healthier alternative to traditional meatballs.
Appetizers/Snacks – party-perfect finger food whether it's for football party or Christmas party.
Main dish – makes a delicious entree served with mashed potatoes, spaghetti, or rice, drizzled with umami mushroom gravy.
But wait, there's more:
You can use this to make turkey patties for burgers too! 😀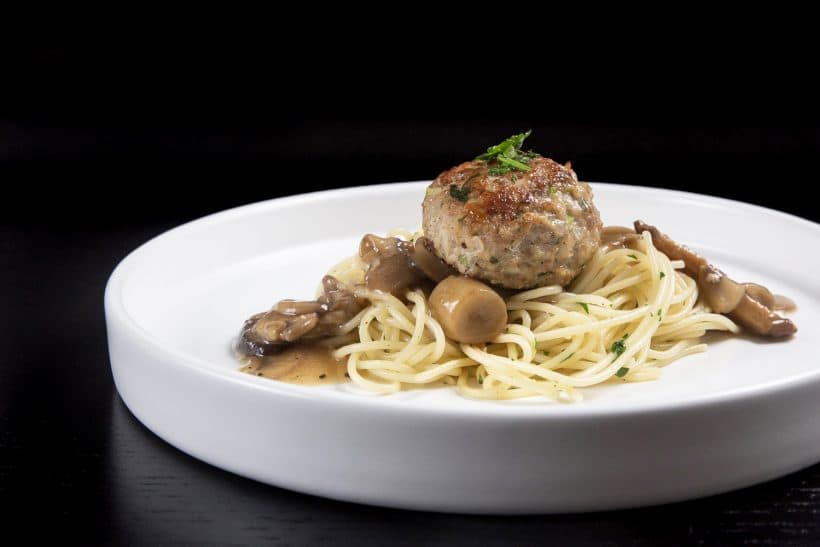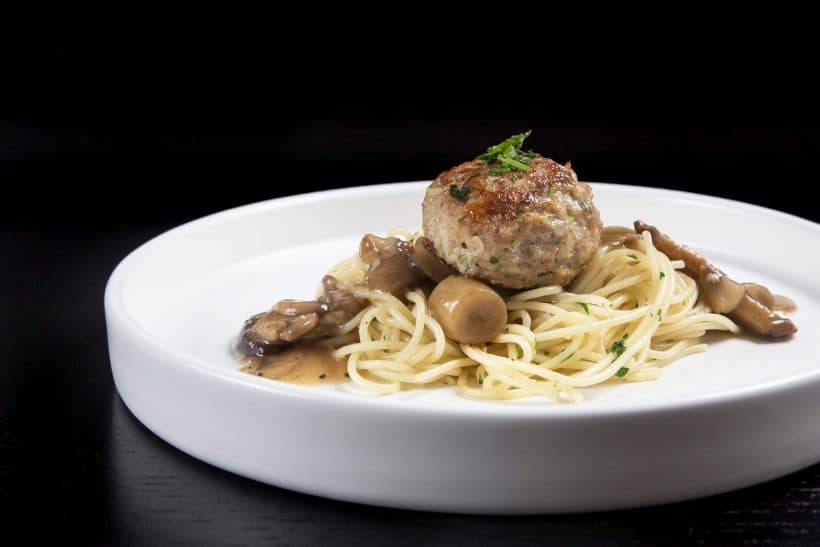 Tools for Pressure Cooker Turkey Meatballs
Tips for Pressure Cooker Turkey Meatballs
1. Browning the Meatballs: Since the turkey meatballs are very delicate, it's harder to brown them nicely in the Instant Pot due to the depth of the pot. Browning them in a skillet will make the job much easier.
2. Pressure Cooker Meatballs vs Skillet Meatballs:
We tested the difference between cooking meatballs on a skillet and in a pressure cooker.
Pressure Cooker Meatballs: more moist & juicy
Skillet Meatballs: have a slight crisp crust on the outside with rich flavor from the maillard reaction (more suitable cooking method if they were made into patties)
3. Other Pressure Cooker Turkey dishes:
Watch: How To Make This Pressure Cooker Turkey Meatballs Video
Can't see the cooking video? Watch it here.
Craving more? Subscribe  to Pressure Cook Recipes to get our newest recipes delivered straight to your inbox.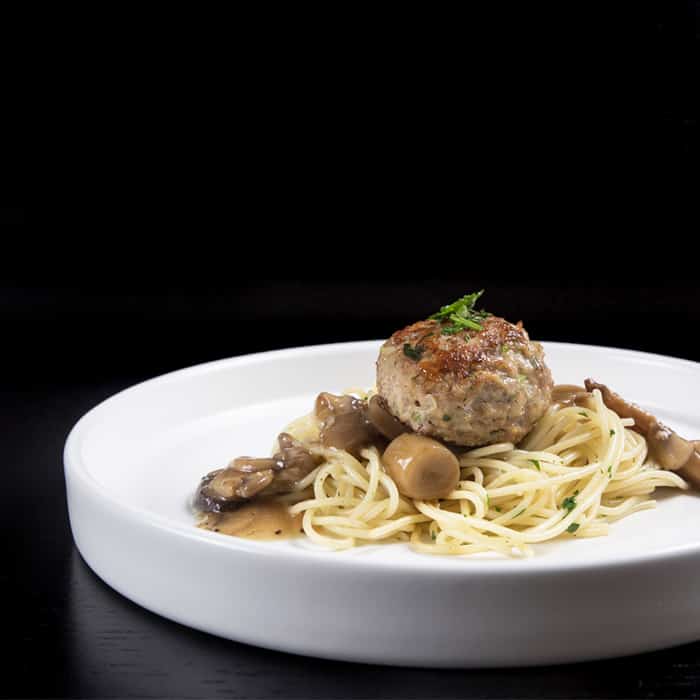 Pressure Cooker Turkey Meatballs with Mushroom Gravy
Make this crowd-pleasing Pressure Cooker Turkey Meatballs with Homemade Mushroom Gravy Recipe. Juicy homemade turkey meatballs drizzle with fragrant umami mushroom gravy.
Print
Rate This Recipe
Servings:
14
- 16 meatballs
Ingredients
Instructions
Make Turkey Meatballs: In a large mixing bowl, place all the dry ingredients and mix in the wet ingredients. Use your hands to thoroughly mix the ground turkey mixture. Roll and form the meatballs. It yields 14 – 16 meatballs depending on the meatballs' size.

Test Seasoning: Cook a small piece of turkey meatball mixture in a medium-high heat skillet and taste-test the seasoning. Add more kosher salt to the meatball mixture if it's under-seasoned.

Brown Turkey Meatballs: Brown meatballs over medium-high heat in a skillet with 1 tbsp of olive oil. About 45 seconds - 1 minute per side until brown (See Notes).

Deglaze Skillet: Set aside the meatballs. Pour 100ml unsalted chicken stock. Scrub all the brown bits off the bottom of the skillet with a wooden spoon. Set aside and keep the brown bits (they are very flavorful).

Prepare Pressure Cooker: While you are browning the meatballs on the stovetop. Heat up your pressure cooker (Instant Pot: press Sauté button and click adjust button to go to Sauté More function). Make sure your pot is as hot as it can be (Instant Pot: wait until indicator says HOT).

Sauté Mushrooms: Pour 1 tbsp olive oil and 2 tbsp unsalted butter into your pressure cooker. Add in the chopped white or cremini mushrooms, a pinch of kosher salt and ground black pepper. Stir to evenly coat the mushrooms with butter. Mushrooms will start releasing their moisture. Let the moisture evaporate and stir occasionally until mushrooms are slightly crisp and browned. This step will take roughly 7 – 12 mins, but it will greatly enhance the flavor of the gravy.

Deglaze Pot: Add in the chopped shiitake mushrooms and give it a quick stir. Pour a dash of sherry wine and fully deglaze the pot with a wooden spoon. Now is a good time to add in the brown bits chicken stock liquid from the skillet. Pour in the remaining unsalted chicken stock and add 1 tsp of light soy sauce.

Pressure Cook Turkey Meatballs: Add the turkey meatballs into the pressure cooker. Close the lid and cook at High Pressure for 5 - 6 minutes (depending on the size of the meatballs). Turn off the heat and do a Quick Release. Open the lid carefully. Make sure the turkey meatballs have reached 74°C (165°F) with a meat thermometer.

Make Mushroom Gravy: Taste the sauce and add salt if necessary. Mix 2 tbsp of cornstarch with 2 tbsp of water and stir the mixture into the mushroom gravy one third at a time until desired thickness.

Serve: Drizzle the mushroom gravy over mashed potatoes, pasta, rice, etc. and serve the turkey meatballs on top 🙂
♥ Spread the Love by sharing this recipe, so others can enjoy it too!  Thank you 🙂
Recipe Notes:
Browning the Meatballs: The turkey meatballs are very delicate. Browning in a skillet will make the job a lot easier. *Rate the Recipe: If you've tried the recipe, don't forget to Rate the Recipe in the Comments Section. Thank you!
Nutrition:
Calories:
95
kcal
|
Carbohydrates:
5
g
|
Protein:
9
g
|
Fat:
5
g
|
Saturated Fat:
2
g
|
Cholesterol:
31
mg
|
Sodium:
172
mg
|
Potassium:
197
mg
|
Fiber:
1
g
|
Sugar:
1
g
|
Vitamin A:
164
IU
|
Vitamin C:
2
mg
|
Calcium:
36
mg
|
Iron:
1
mg