10 mins prep to make this easy Instant Pot Turkey Legs with Classic Turkey Gravy. The meaty, flavorful turkey legs are tender and moist. Don't just save this caveman drumstick for Thanksgiving or Christmas holidays! 😀
Happy Thanksgiving! Oh wait, it's not even summer yet? Oops. 🙂
We really didn't have Instant Pot Turkey in mind for dinner at this time of the year. but turkey legs were on sale at our local supermarket, so there's really no reason not to take them home, right?! 😉
We'll just celebrate pre-thanksgiving (couple of months early) with these tender, flavorful, and satisfyingly-meaty turkey legs. Plus, the sauce from the pressure cooking will turn into a delicious classic turkey gravy on the side. Just perfect with our pressure cooker mashed potatoes.
These turkey legs make a simple quick and easy dinner with just 10 mins prep. It's a good change from the usual chicken drumsticks for dinner.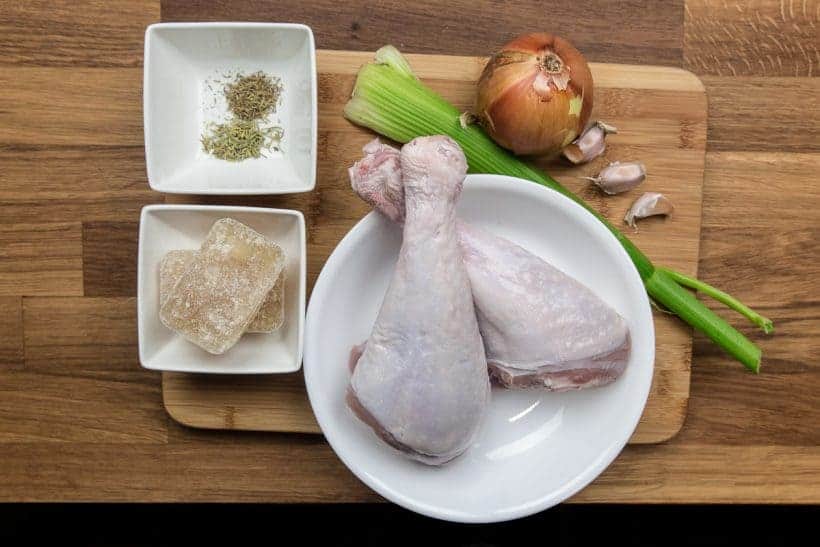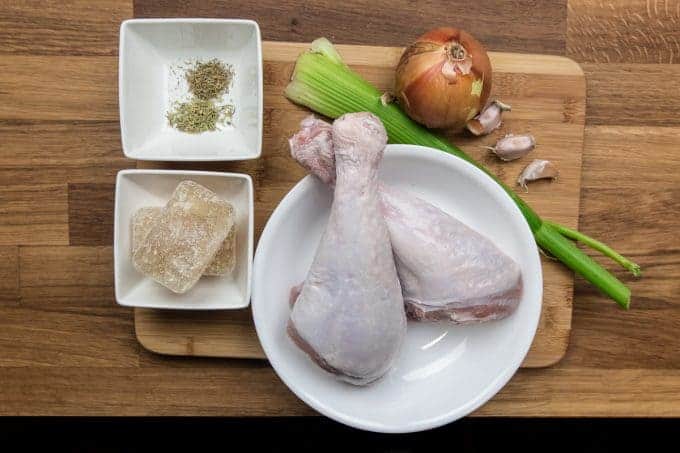 Ingredients for Instant Pot Turkey Legs
Turkey legs
Olive oil
Small onion
Garlic
Celery stalk
Sherry wine
Kosher salt and ground black pepper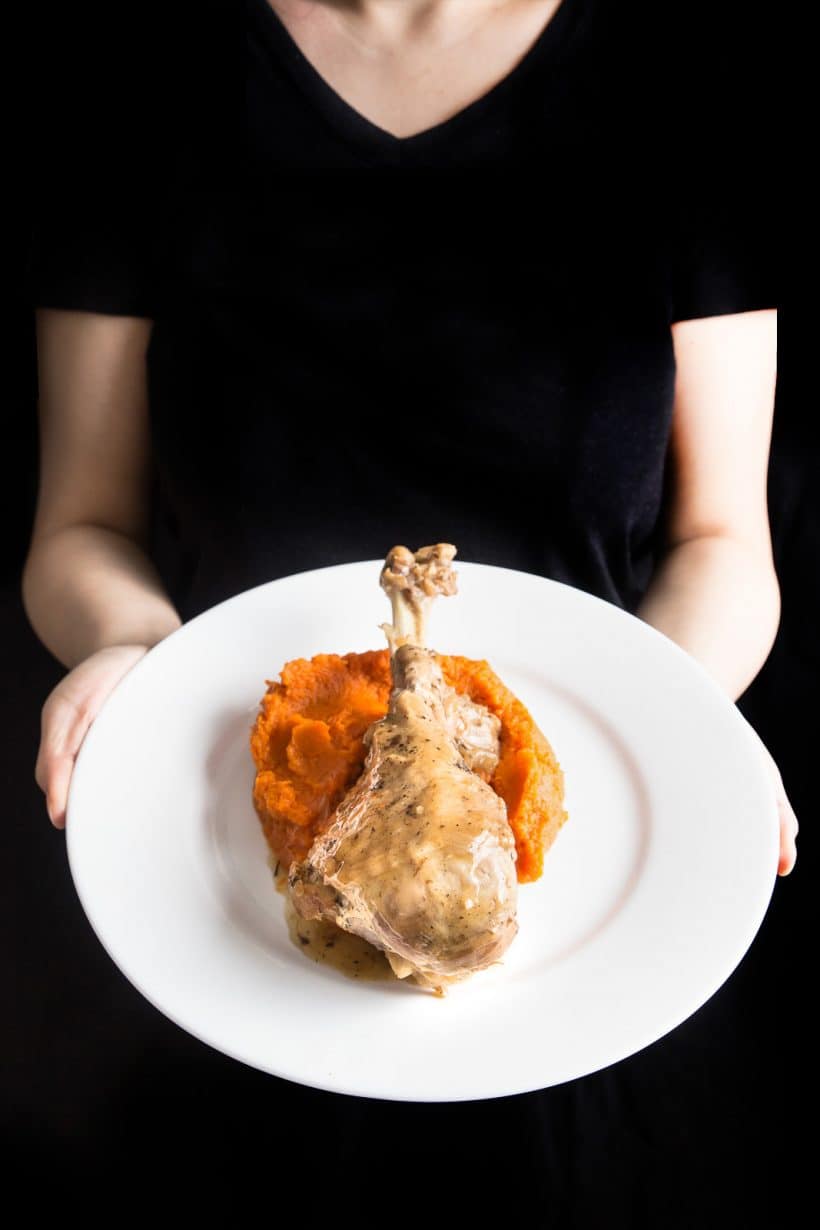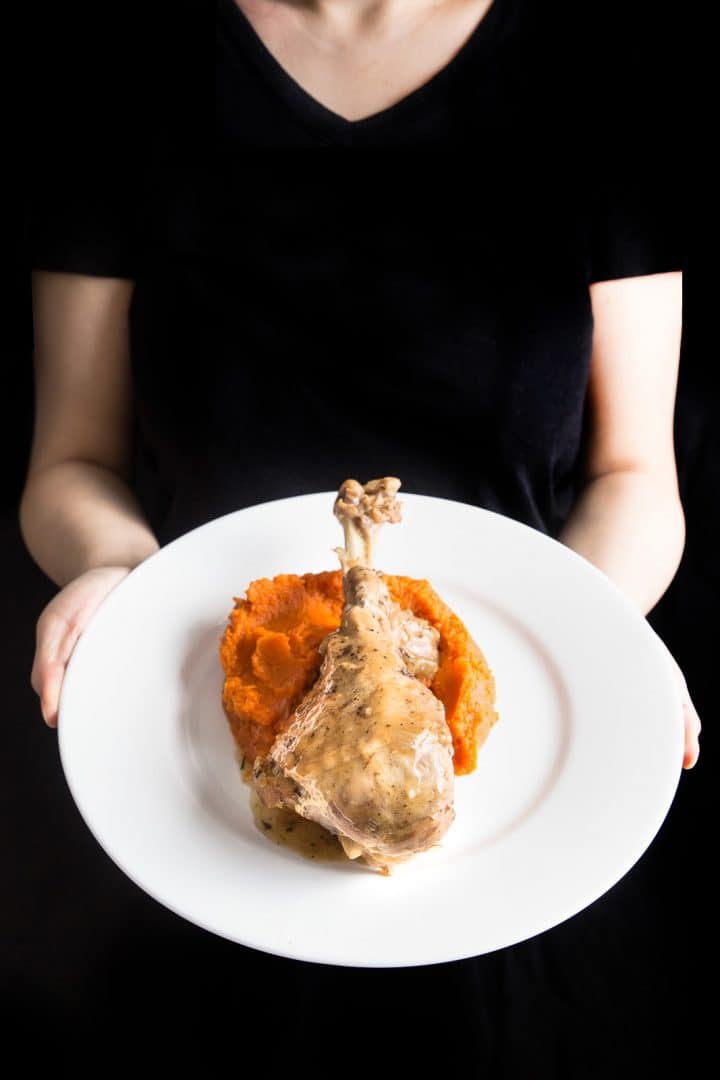 Instant Pot Turkey Legs Pressure Cooking Time
We wanted to find the optimal pressure cooking time that will bring out both the turkey's flavors and tenderness. So, we've tested by cooking them at high pressure for different cooking times with our Instant Pot Electric Pressure Cooker.
We first tested the turkey legs by cooking them at high pressure for 15 minutes, then natural release. The turkey legs were fully cooked and full of turkey flavors. However, the meat was tough and chewy. So, we needed to find out how much longer to pressure cook them in order to tenderize the meat without sending all the flavors to the gravy.
We've tested the turkey legs again the next day by pressure cooking them at high pressure for 18 minutes, then natural release. The turkey legs started to tenderize at this point. Then, by cooking them at high pressure for 20 minutes and natural release, the turkey legs were flavorful while being quite tender with some chew.
Now it's YOUR turn to take out your pressure cooker and cook some Pressure Cooker Turkey Legs and Turkey Gravy!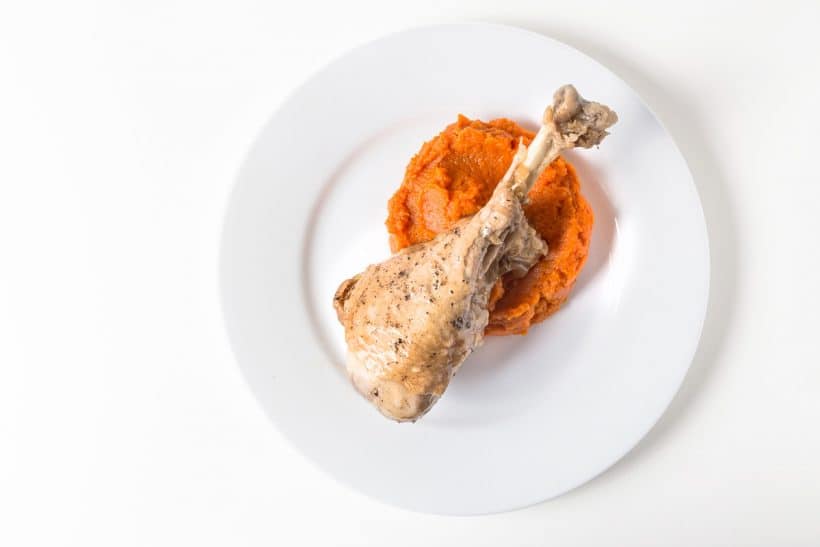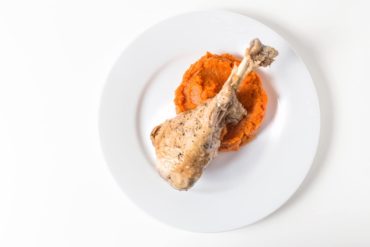 Instant Pot Turkey Legs and Gravy
10 mins prep to make this easy Instant Pot Turkey Legs with delicious turkey gravy. Meaty turkey legs are flavorful & tender. Don't just save it for Thanksgiving or Christmas!
Subscribe for Free Recipes & Tips
♥ Share this Recipe so We can create more yummy recipes for you.  Thank you 🙂
Instructions
Prepare Turkey Legs: Season the turkey legs with generous amount of kosher salt and ground black pepper.

Prepare Instant Pot: Press Sauté button, then Adjust button to Sauté More function. Make sure your pot is as hot as it can be when you place the turkey legs into the pot (Instant Pot: wait until the indicator says HOT). This will prevent the legs from sticking to the pot.

Add 1 tablespoon of olive oil into the pot. Ensure to coat the oil over the whole bottom of the pot. Add the seasoned turkey legs into the pot, then let it brown for roughly 2 - 3 minutes per side. Remove and set aside.

Saute onion and garlic: Press cancel button, then Sauté button. Add the sliced onion and stir. Add a pinch of kosher salt and ground black pepper to season if you like. Cook the onions for roughly one minute until soften. Add garlic, then stir for 30 seconds until fragrant.

Add celery and herbs: Add in chopped celery and cook for roughly one minute. Optional layer seasoning: add a pinch of kosher salt and ground black pepper to season. Add 2 bay leaves, a pinch of rosemary and thymes, then give it a quick stir (rub the herbs with your fingers to "activate" them).

Make sauce: Add in a dash of sherry wine, deglaze the bottom of the pot with a wooden spoon. Allow it to cook for a moment for the alcohol to evaporate. Add chicken stock and regular soy sauce, then taste the seasoning. Add in more salt and pepper if desired.

Pressure cook turkey legs: Place the turkey legs into the pot, then close lid. Pressure cook at high pressure for 18 minutes – 20 minutes (Stovetop pressure cooker: 15 – 17 minutes) + Natural release for 10 minutes. Then release the remaining pressure.

Serve: Remove the turkey legs and filter the turkey gravy if desired. Optional: Mix 3 tablespoons of cornstarch with 1 tablespoon of water, then mix it into the turkey gravy 1/3 at a time until desired thickness. Drizzle the turkey gravy over the turkey legs & side dishes and serve immediately!
Notes
*Rate Recipe: If you've tried the recipe, don't forget to Rate the Recipe in the Comments Section. Thank you!
Nutrition
Calories:
545
kcal
|
Carbohydrates:
4
g
|
Protein:
68
g
|
Fat:
27
g
|
Saturated Fat:
8
g
|
Cholesterol:
240
mg
|
Sodium:
522
mg
|
Potassium:
1034
mg
|
Fiber:
1
g
|
Sugar:
1
g
|
Vitamin C:
3
mg
|
Calcium:
68
mg
|
Iron:
6
mg
Some Useful Tips & Resources
All Our Pressure Cooker Recipes
*Disclosure: We are an Amazon Influencer/Amazon Associate. This means that if you decide to purchase items or services on Amazon through our links on Pressure Cook Recipes to Amazon, Amazon will send a small commission to us at no additional costs to you. Thank you!