Make these quick & super easy Pressure Cooker Potatoes (Instant Pot Potatoes) in 25 minutes! Love Oven Baked Potatoes, but wish they didn't take so long to make? These warm potatoes with a slight crisp skin are perfect for you!
Jump to: Cooking Tips | Recipe | Video
Potatoes to me is like candy to children. I'm obsessed with potatoes.
When I was in college, one of my favorite snacks to eat was Wendy's baked potatoes. I was always torn between the Bacon Cheese Baked Potato and the Sour Cream Baked Potato. Those piping hot potatoes were super cheap, filling, and satisfying for my poor college tummy.
When we needed an easy and filling snack, I would always suggest making oven baked potatoes. We could easily finish a 20 lbs bag of potatoes with just the two of us. But when your tummy is growling, the 1+ hour baking in the oven seems like forever.
So, I was excited when we found this pressure cooker shortcut to make oven baked potatoes. It cuts short half the cooking time!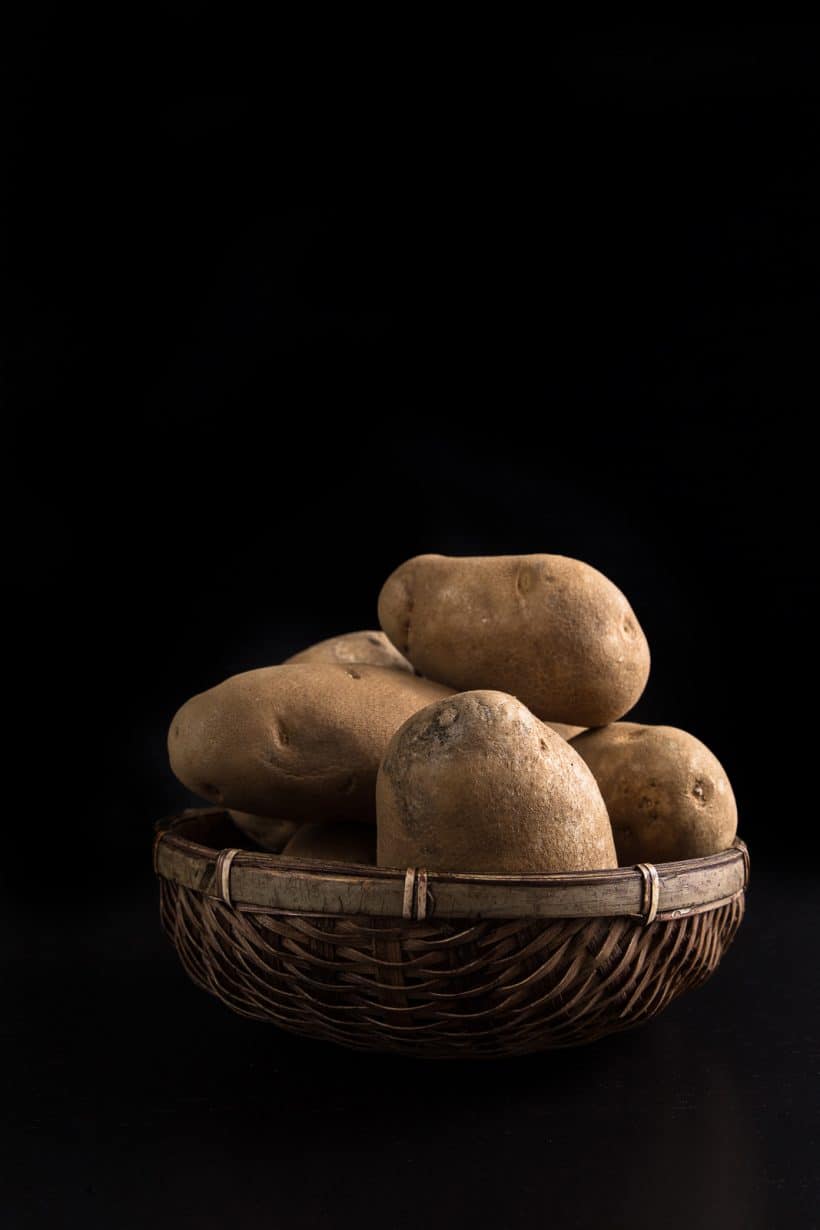 Ingredients for Pressure Cooker Potatoes
Medium russet potatoes
Olive oil
Kosher salt
Ground black pepper
Tools for Pressure Cooker Potatoes
Steamer rack – We normally use the trivet that came with our Instant Pot Pressure Cooker. If you don't have one, this budget option is quite popular among pressure cooker users.
Subscribe & Never Miss a Recipe!
Tested Pressure Cooker Recipes Delivered To Your Inbox Weekly. 100% Free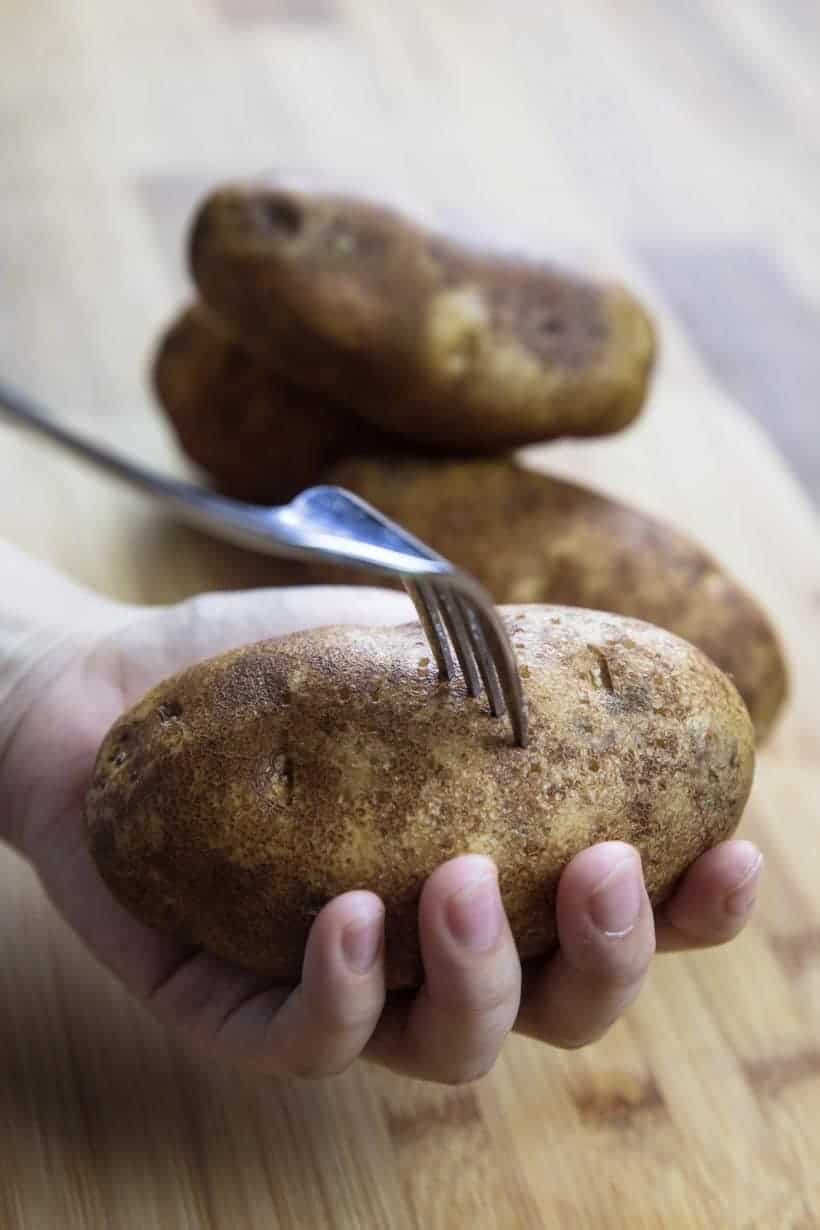 Tips for Pressure Cooker Potatoes
Poke the Potatoes: It's important to poke the potatoes' skin prior to pressure cooking. This prevents the potatoes from bursting by allowing the steam to escape from the cooking potato.
If you're looking for more Pressure Cooker Potatoes Recipes, you may also enjoy our Pressure Cooker Mashed Potatoes.
Watch How To Make This Pressure Cooker Potatoes Video:
Can't see the cooking video? Watch it here.
Now it's YOUR turn to take out your pressure cooker and make some Pressure Cooker Potatoes!
Craving more? Subscribe  to Pressure Cook Recipes to get our newest recipes delivered straight to your inbox.
Follow us for yummy recipes!
Pressure Cooker Potatoes
Make these quick & easy Pressure Cooker Potatoes in 25 minutes! Shortcut to make Oven Baked Potatoes with a slight crisp skin. Cuts cooking time in half!

Author:
Pressure Cook Recipes
Recipe type:
Appetizer, Breakfast, Brunch, Dinner, Lunch, Quick, Side Dish, Snack, Super Easy
Cuisine:
World
Prep:
 | 
Cook:
 | 
Total:
Serving:
2 - 4
Ingredients
4 – 8 medium russet potatoes (roughly 0.6 pounds (250 grams) each)
2 tablespoons olive oil
Kosher salt
Ground black pepper
Instructions
♥ Spread the Love by sharing this recipe & tips on Facebook & Pinterest, so others can enjoy it too! Thank you 🙂
Prepare the Potatoes: Clean the potatoes under running tap water. Poke holes throughout the potatoes with a fork.
Pressure Cook the Potatoes: Place 1 cup of cold running tap water and a trivet into the pressure cooker. Place the potatoes on top of the trivet. Close lid and pressure cook at High Pressure for 12 minutes for medium russet potatoes. Adjust your time from 10 minutes (small) to 20 minutes (extra-large) depending on the size of your potatoes. Turn off the heat and Quick Release. Open the lid carefully.
(Optional Step) Preheat Oven: While the potatoes are cooking in the pressure cooker, preheat the oven to 400F.
(Optional Step) Bake in the Oven: Coat the cooked potatoes' skin with olive oil and place them on a baking tray. Season the skin with kosher salt and ground black pepper. Place potatoes with the baking tray in the oven for 10 – 15 minutes to crisp up the skin.
Serve: Serve piping hot with unsalted butter, kosher salt, and more ground black pepper.