No more mushy, hard, or burnt rice! Try this easy fail-proof method to make the perfect Pressure Cooker Rice (Instant Pot Rice). Fragrant and fluffy white rice ready in just 15 minutes. YES please!
Jump to: Cooking Tips | Recipe
Rice is such an important food in Asian cultures that it has really become a part of our cultural identity. My dad often jokes that his life is not complete if he goes a whole day without rice. Ha! That's why you'll probably find at least one rice cooker in every Chinese home.
When we first got married, we bought a decent Japanese rice cooker for ~$150. We're quite satisfied with how consistent it is in making fragrant and great tasting rice. So, we were quite skeptical if the quality of the pressure cooker rice can match those from our rice cooker.
Well, the answer is YES! The best thing about cooking rice with a pressure cooker is that it's FAST! The pressure cooker rice is done in 15 minutes, ~30 minutes faster than our rice cooker.
If you're going to use an electric pressure cooker, you'll love how you don't need to wait for the water to boil, tend the pot, or stir the rice like you would cooking it in a regular pot. Just set it and come back to perfect pressure cook rice.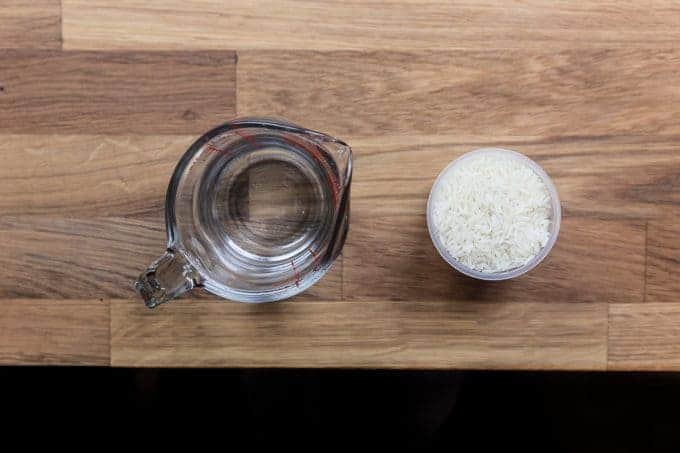 Rice usually fails to cook in a few ways:
Too watery: this means your rice is under-cooked.
Hard, chewy, or burnt: this means you didn't add enough water or it's overcooked.
Too mushy and sticky: this means you added way too much water.
So, the water-to-rice ratios and the cooking times are the utmost important factors for making perfectly cooked rice. Every grain is different though.
Golden rules for making perfect Pressure Cooker Rice or Instant Pot Rice (Jasmine Rice):
Cooking time (electric pressure cooker): High Pressure for 3 minutes and 10 minutes Natural Release
Water-to-rice ratio: 1 cup (250 ml) of water for 1 cup (250 ml) of white rice

Instant Pot users: take note that the rice measuring cup that comes with the Instant Pot is only 180 ml
These rules must be followed strictly for the best results.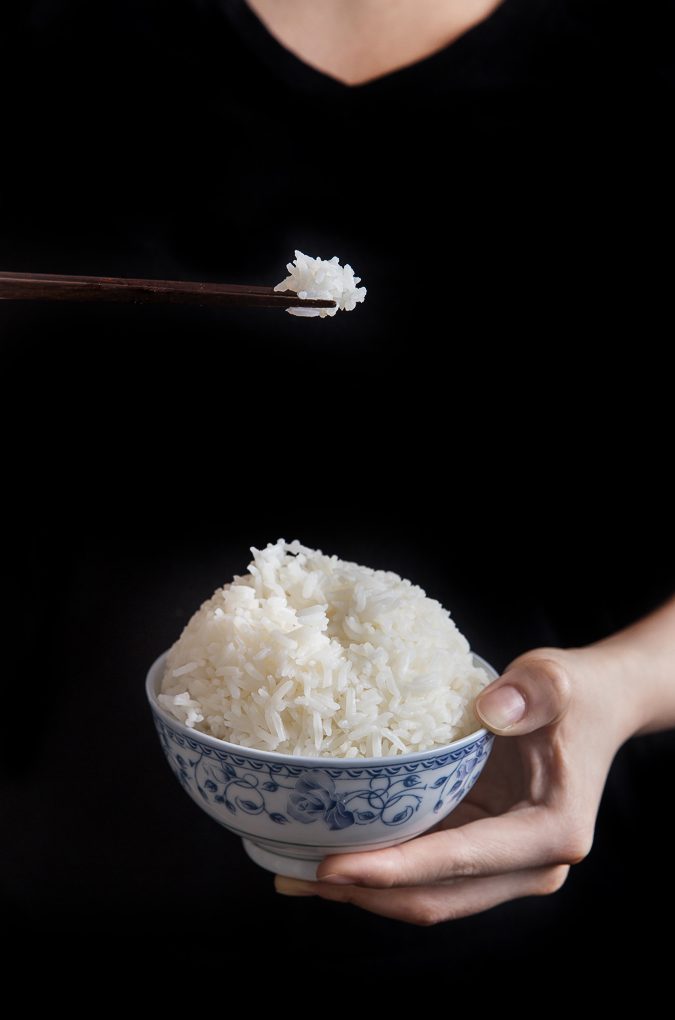 Pressure Cooker Rice Tips
1. Double the Recipe: If you want to cook more rice, double/triple the amount using the 1:1 rice:water ratio with the same cooking time.
2. Rice storage: store white rice in a sealed container in a dry and dark place.
3. Rinse: It's important to rinse the white rice under cold water until the water is clear. This will get rid of excess starches on the surface and prevent the rice in becoming gluey.
4. Cook the rice immediately: Cook the rice as soon as you pour the water into the pressure cooker. If you let the rice sit in the water, the rice will continue to absorb the water, which will throw off the ratio.
5. If the rice turns out a bit wet when you open the lid, first fluff the rice with a fork to let the moisture escape through the steam. Then let it rest a bit before serving it.
Other Pressure Cooker Rice Recipes:
Now it's YOUR turn to take out your pressure cooker and cook some Perfect Pressure Cooker Rice (Instant Pot Rice)! 
Craving more? Subscribe  to Pressure Cook Recipes to get our newest recipes delivered straight to your inbox.

Subscribe & Never Miss a Recipe! Tested Pressure Cooker Recipes Delivered To Your Inbox Weekly. 100% Free
Perfect Pressure Cooker Rice
No more mushy, hard or burnt rice! Try this easy fail-proof method to make perfect pressure cooker rice. Fragrant and fluffy white rice ready in 15 minutes.

Author:
Pressure Cook Recipes
Recipe type:
Dinner, Lunch, Side Dish
Cuisine:
Asian
Prep:
 | 
Cook:
 | 
Total:
Serving:
2
Ingredients
1 cup (230 g) Jasmine rice
1 cup (250 ml) water
¼ - ½ teaspoon fine sea salt/table salt (optional)
Instructions
♥ Support us & Pay it forward by sharing this recipe & tips on Facebook & Pinterest, so others can enjoy it too! Thank you 🙂 
Rinse rice under cold water by gently scrubbing the rice with your fingertips in a circling motion. Pour out the milky water, and continue to rinse until water is clear. Drain well

Add rice and water to pressure cooker.

Close the lid. Cook at high pressure for 3 minutes with an Electric Pressure Cooker, and natural release for 10 minutes.

Release the remaining pressure, then open the lid quickly.

Optional: add salt to the rice for seasoning.

Fluff with a fork and serve warm.
Notes
If you use the rice measuring cup that came with the Instant Pot Pressure Cooker to measure the rice, remember to use the same measuring cup to measure the water as 1 rice measuring cup = 180 ml of rice.
Nutrition Information
Serving size: 
209 g
Calories: 
320
Fat: 
0g
Saturated fat: 
0
Carbohydrates: 
72g
Sugar: 
0
Sodium: 
4mg
Fiber: 
4g
Protein: 
6g
Cholesterol: 
0mg