The Instant Pot Duo Evo Plus – Not just another Instant Pot model to keep track of. This brand new Instant Pot is said to be developed based on feedback from millions of Instant Pot fans around the world. The Duo Evo Plus is currently available in Williams Sonoma & Amazon. We're super excited to share our thoughts with you based on what we know so far!
The Most Powerful Instant Pot Yet
Checking in with 1200W, the Instant Pot Duo Evo Plus has overtaken the Instant Pot Max as the most powerful Instant Pot Pressure Cooker in terms of wattage. This should result in faster heating, better sauteing, and quicker pressurizing (less time for the Intsant Pot to come up to pressure).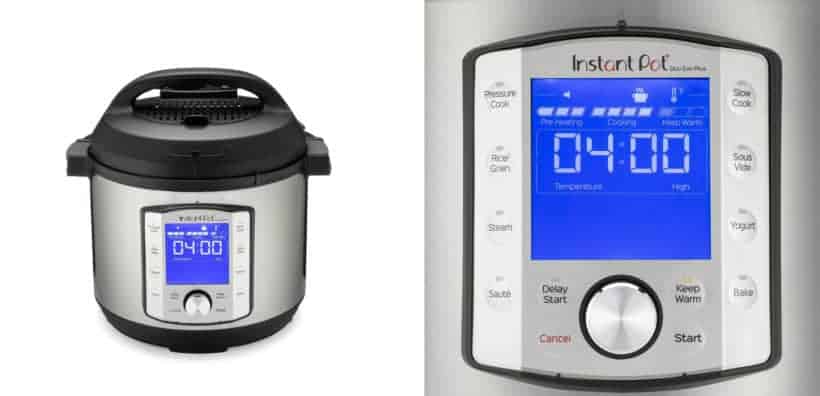 They heard our feedback on our Instant Pot Ultra Review! 😀
It (Instant Pot Ultra's dial) takes more time to navigate and adjust from one program to another. Unfortunately, it disrupts the flow of cooking quite a bit. We hope the next version will address this issue.

In our opinion, the Instant Pot Ultra will be much more convenient with Pushable program buttons and +, – buttons.
The Instant Pot Duo Evo Plus's design is a hybrid of the Instant Pot DUO Plus and Instant Pot Ultra. It comes with both the one-touch buttons we love and a center dial.
The large LCD screen looks super organized and easy to read too.
There are also customizable cooking program buttons. I believe you can save your own cooking times on them!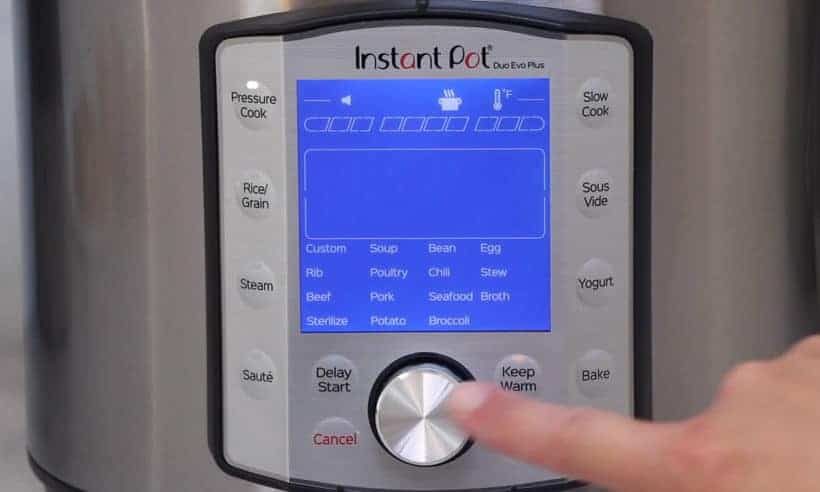 Pressure Cook Button Preset Programs:
Custom, Soup, Bean, Egg, Rib, Poultry, Chili, Stew, Beef, Pork, Seafood, Broth, Sterilize, Potato, and Broccoli
Rice Button Preset Programs:
Custom, White Rice, Oatmeal, Quinoa, Brown Rice, Risotto, Multigrain, and Porridge
Bake Button Preset Programs:
Custom, Pudding, Cake, and Cheesecake
*Say whaaaatt – yes! a NEW Bake Feature!! We'll discuss more on this below. 😀
New Multipurpose Stainless Steel Pot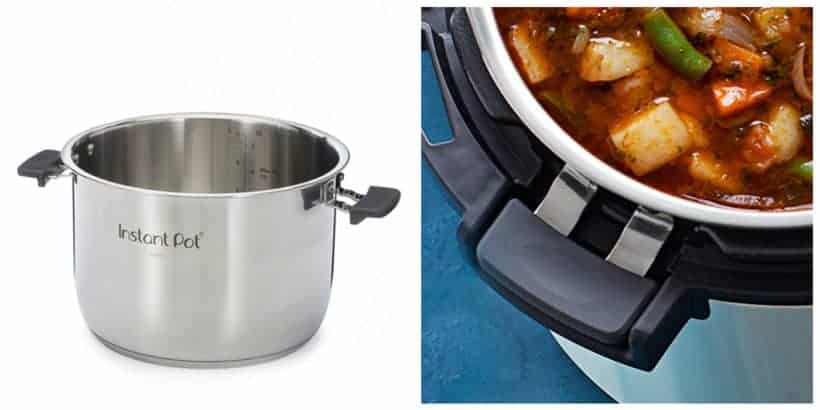 The Instant Pot Duo Evo Plus comes with a super awesome, newly designed stainless steel inner pot. You'll love this!
The fill line indicators and markings are more clear and easier to read. While we don't have the new unit with us yet, but we're pretty sure (like 99%) this new inner pot will not be compatible with the older Instant Pot models.
1. Lock and Load:
No more playing Merry-Go-Round with your inner pot when stirring or sauteing (yes!!). This new stainless steel pot will lock and stay in place!
2. Flat Bottom:
The durable 304 (18/8) stainless steel inner pot comes with a flat bottom which means you can use it on electric, ceramic, gas, and induction cooktops.
Hey Oil! No more oil running to the sides. From now on, oil will finally stay put on the flat bottom! Yay!
The bonded tri-ply flat bottom design will provide better contact for the heating source and food. It should result in better searing and sauteing.
3. Easy Transfer:
The two new silicone handles should stay cool to touch so you can easily transfer the inner pot in and out of the Instant Pot.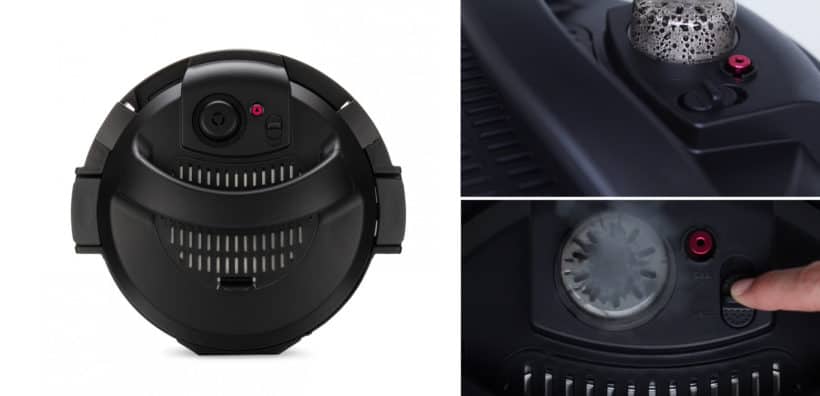 Lid Improvements
The new Instant Pot lid comes with a steam release cover. It will help disperse and soften the steam during pressure release.
The lid handle has been improved as well. It should be easier to close and more comfortable to use.
Auto Sealing Lid
The lid will automatically seal itself when it is closed. I am never a big fan of the auto sealing function as it can (under the right condition) leads to premature sealing which will lower the cooking temperature considerably. Read more about this here
This is probably my only concern with the Instant Pot Duo Evo Plus at the moment, but there is an easy fix. Maybe the auto sealing function will not lead to premature sealing, but I will have to get a unit to test this out.
Dry Heat Environment ?!
We're very excited about the NEW bake program as it doesn't require liquid at the bottom. The bake program operates from 250°F to 347°F.
We'll definitely have to test this program with our Instant Pot Cheesecake #17 & Instant Pot Banana Bread to see how well it works. Stay tuned… 😉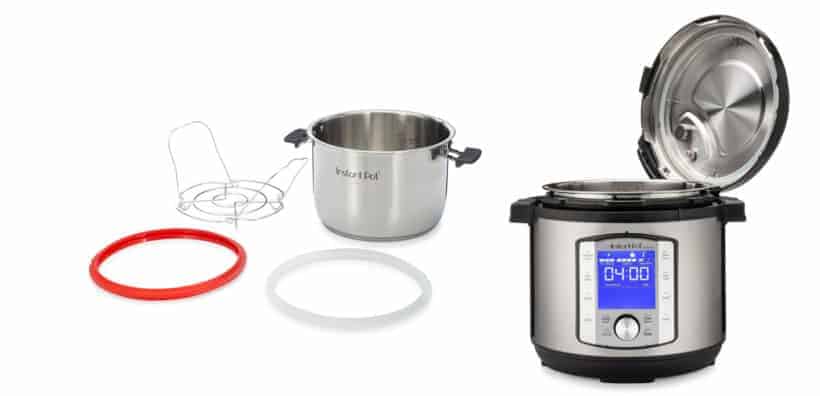 The new Manual Keep Warm mode allows you to choose a warming temperature from a range of 25°C–90°C / 77°F–194°F. It may be set from a minimum of 10 minutes to a maximum of 24 hours. This is perfect for reheating meals or keeping food warm for a long period of time.
New Quick Cool™ technology
The Duo Evo Plus lid is equipped with QuickCool™ technology, which, when paired with the QuickCool™ Tray (To add ice or cold water), allows you to release pressure naturally up to 50% faster. The QuickCool™ Tray is sold separately.
Thoughts on Quick Cooling:
This can be useful for very advanced users. If you are following a recipe, I don't recommend using this to shorten the natural release as many recipes relies on the heat during the "Natural Release" period to finish cooking the food.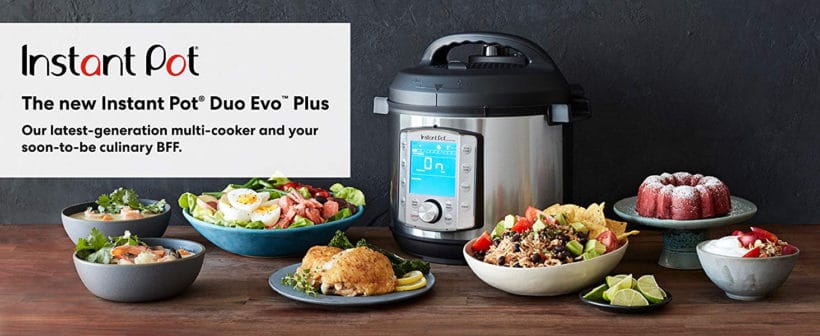 Final Thoughts on the Instant Pot Duo Evo Plus
From all the researches we have done, we think the Instant Pot company has done an excellent job on refining the original Instant Pot.
On paper, we're already in love with the Duo Evo Plus – we personally think this latest generation will be a very good model to purchase.
We cannot wait to get our hands on one to test the features & performance through experiments in our Test Kitchen!
The Instant Pot Duo Evo Plus is currently available for preorder on Amazon in both the 6 quarts and 8 quarts.
Some Useful Tips & Resources
All Our Pressure Cooker Recipes
*Disclosure: We are an Amazon Influencer/Amazon Associate. This means that if you decide to purchase items or services on Amazon through our links on Pressure Cook Recipes to Amazon, Amazon will send a small commission to us at no additional costs to you. Thank you!