Instant Pot Ultra 6 Qt 10-in-1 Electric Pressure Cooker is one of the latest Instant Pot Models. A sleek & geeky addition to the Instant Pot family.
Not only is the Instant Pot Ultra super nice looking, it is also one of the most feature-packed & customizable electric pressure cooker the market has ever released!!
We enjoyed testing the new Instant Pot Plus DUO60, and we're even more thrilled to get our hands all over this Instant Pot Ultra. We've been eagerly waiting to share this Instant Pot Review with you! 😀
Instant Pot Ultra Electric Pressure Cooker Review Highlights
---
New lid & newly designed steam release system
Sleek design with only 2 buttons and a pushable dial
Customizable temperature setting for advanced users
Brand new Ultra Mode + 3 new cooking programs
Improved packaging + new easier-to-understand manual 😉
Improved stainless steel inner pot markings
Reliable product at great price & value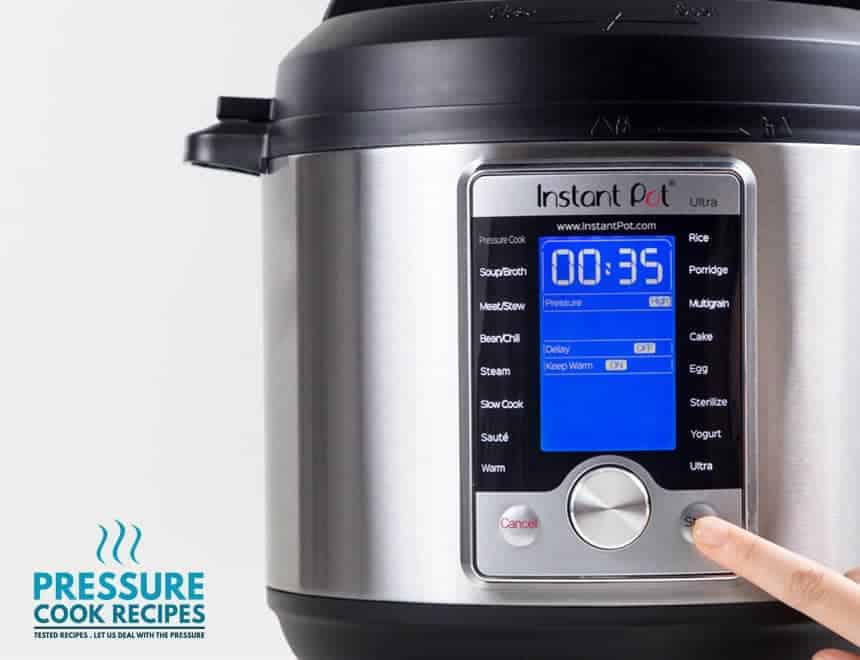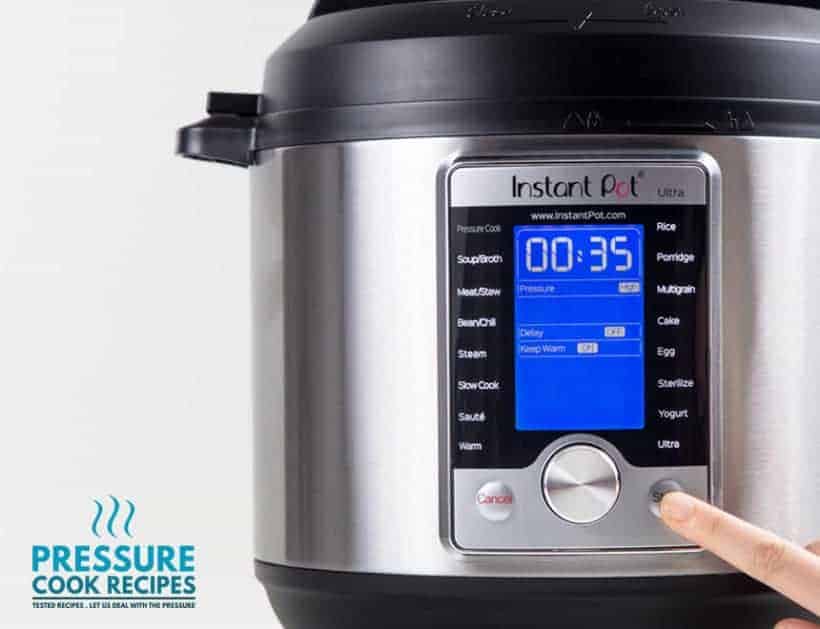 1. Instant Pot Ultra New Lid & Steam Release Design
---
1.1 Automatic Sealing System
Kiss goodbye to the old venting system!
For older Instant Pot Models, you turn the Venting Knob to Sealing Position to seal the Instant Pot; then turn the Venting Knob from Sealing Position to Venting Position to release steam.
Say hello to the brand new steam sealing & release system!
The Instant Pot engineers must have put in quite a bit of work to implement this feature.
What's different? The Instant Pot Ultra's Steam Release Valve will now seal automatically when you close & secure the lid on the Instant Pot (Quick Release button up = sealed).
No more forgetting to seal the pot! Sounds awesome?
Let's discuss more if it's a good or bad feature at the end of the section.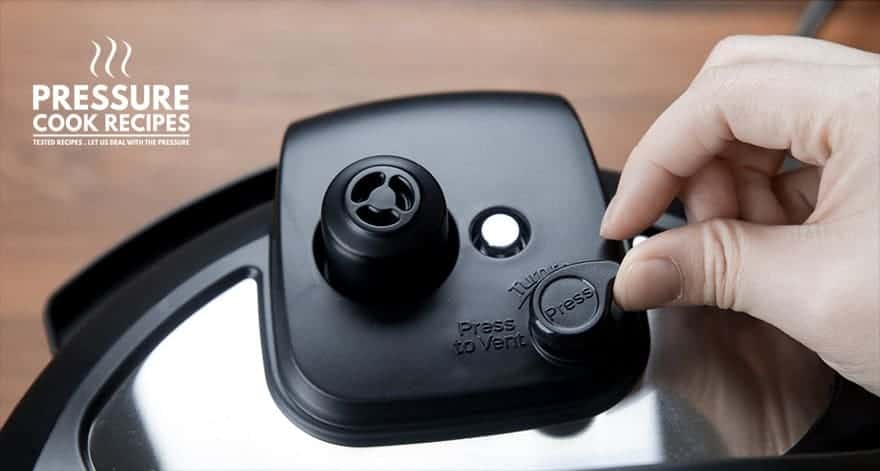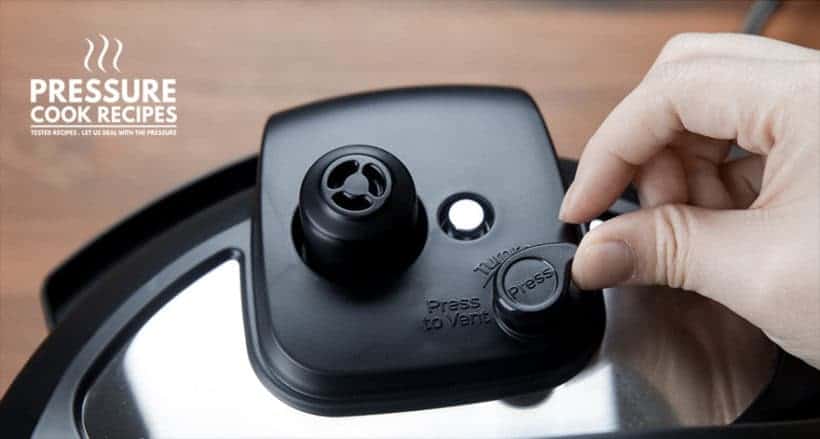 You can also slightly turn the Quick Release button counter-clockwise until it pops up to seal the Steam Release Valve.
To release pressure or to perform a Quick Release, simply press down the separate Quick Release button until it clicks and locks into Venting position (as shown in photo below).
Press it all the way down for a full blast steam release or you can press it down slightly to release just a little pressure. The steam release control is literally at the tip of your finger. 🙂
1.2 Tilted Steam Release Valve
Did you notice the Steam Release Valve tilting slightly at an angle? It actually tilts AWAY to ensure the steam is releasing at an angle away from you. A super nice touch!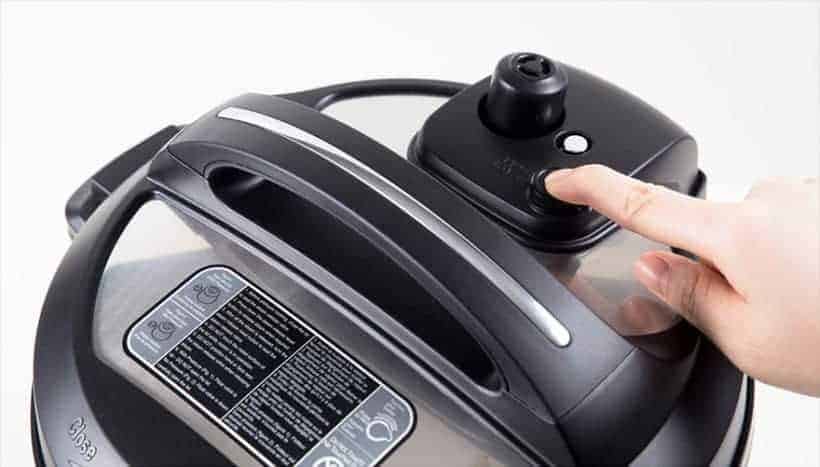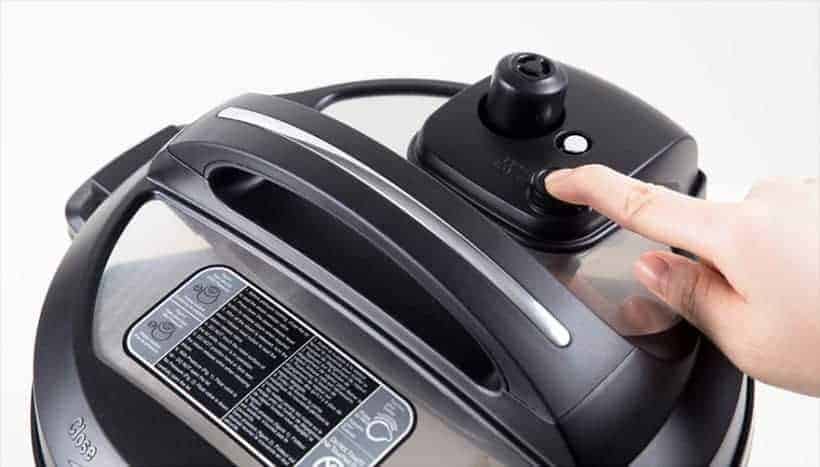 Plus, you know it's a higher end model when it has chrome handle that's similar to higher-end vehicles. 😛
1.3 Automatic Sealing Steam Release Valve – Yay or Nay? 
There are both pros and cons to this automatic sealing system.
Pro: For users that often forget to turn the Venting Knob to Sealing position, this is a great feature! It means one less step to remember.
Con: If you try to close the lid while the liquid in Instant Pot is boiling, you may have to press down the Quick Release button for it to close. This locking mechanism is activated due to the machine's safety feature.
2. User Interface & New Dial Button
---
2.1 New User Interface's User-Friendliness
The Instant Pot Ultra looks a lot cleaner with the large LCD Display and only three pushable keys: Start button, Cancel button, and a pushable dial.
However, compared to previous Instant Pot Models, this drastic change seems like a step backward in terms of user-friendliness.
Why? Because with this design, we can't quickly adjust from one program to another.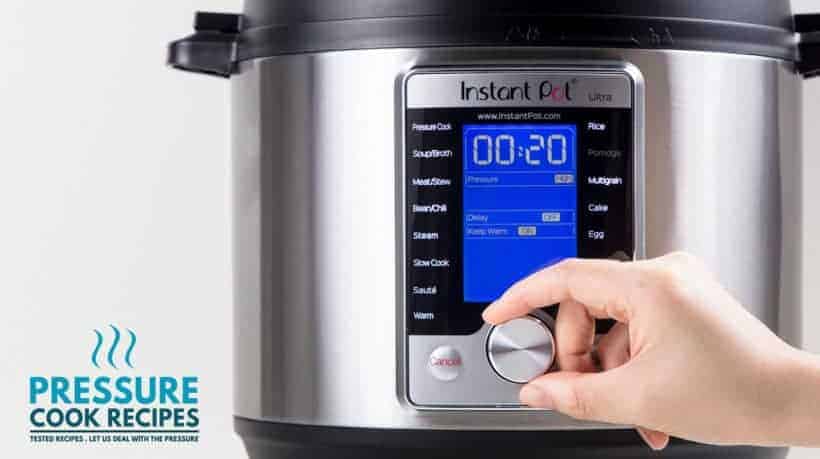 Example: Instead of pressing a pushable Saute button, we now have to scroll through the program list with the dial button to select the Saute program. Then, if we want to switch from the Saute program to Pressure Cook program, we will have to press Cancel button, then scroll through the program list until we reach the Pressure Cook program with the dial button.
It takes more time to navigate and adjust from one program to another. Unfortunately, it disrupts the flow of cooking quite a bit. We hope the next version will address this issue.
In our opinion, the Instant Pot Ultra will be much more convenient with Pushable program buttons and +, – buttons.
2.2 New Progress Indicator
The user interface now shows a lot more information with a graph that indicates what stage the pressure cooker is in (as shown in above photo). That's a super nice interface!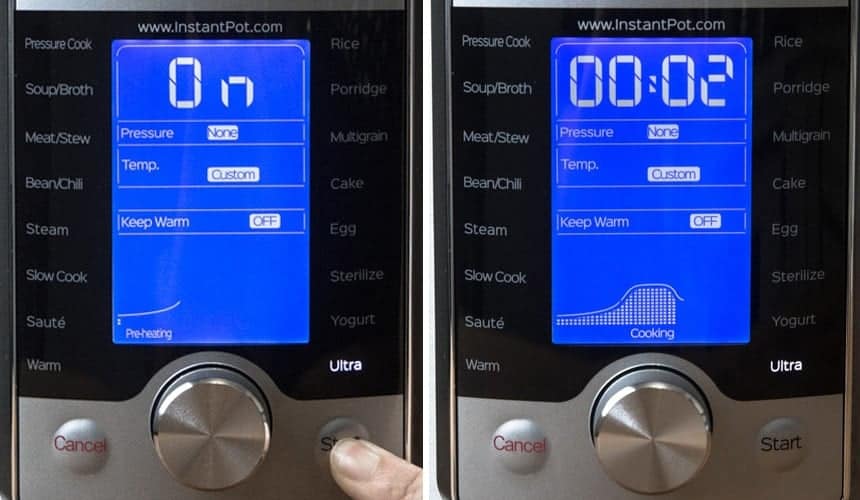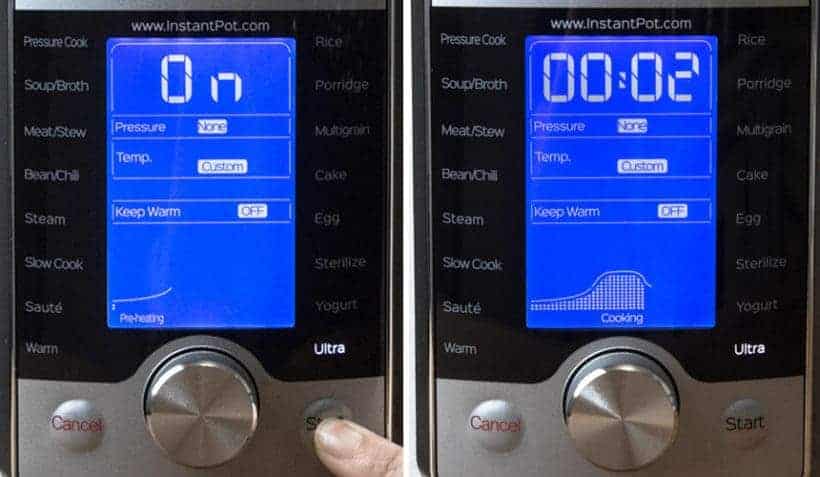 2.3 Pressure Cook Program
Just like the Instant Pot Plus DUO60, Instant Pot Ultra has renamed the Manual button/function to "Pressure Cook" Program. This is definitely a welcomed change!
2.4 Sound ON/OFF
Instant Pot Company is great at listening to customers' feedback. Just like the Instant Pot Duo Plus 60, you can now turn the sound on/off. This is a great little additional feature, especially for users with babies or sensitive fur kids.
3. New Cooking Programs
---
They have introduced the brand new Ultra Mode + 3 new cooking programs: Cake, Egg, Sterilize.
*The following details & descriptions are from the Instant Pot Manual.
Ultra Mode
The Ultra Mode provides full control of pressure and non-pressure cooking conditions.
Time Range: 0 – 99 hrs 50 mins
Temperature for Non-Pressure Cooking Programs: Low, Medium, High, Custom (we'll further discuss this in the next section)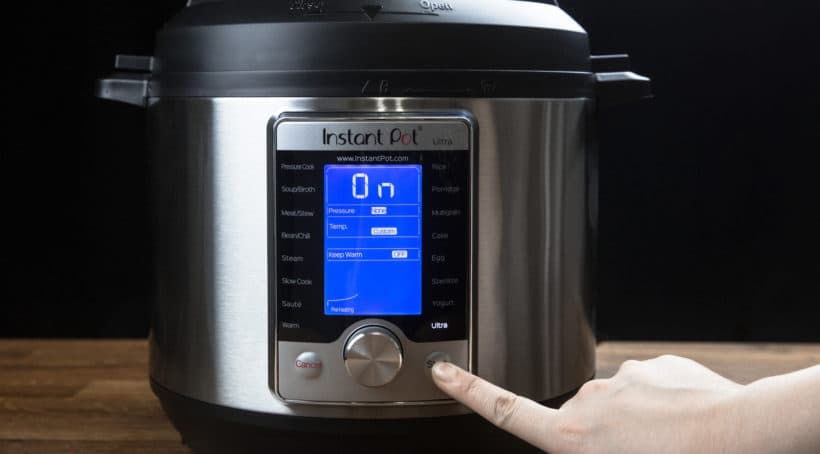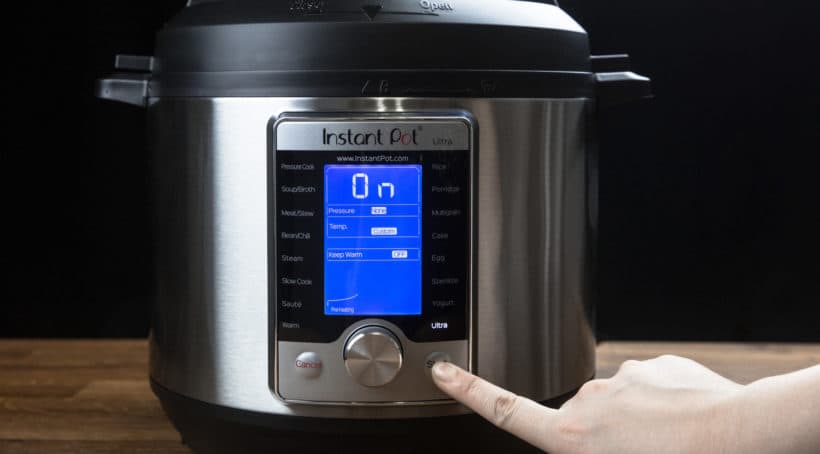 Sterilize
*Note: The Ultra has not been tested by USDA for food safety in pressure canning. This program can open a can of worms if users try to use it to replace a pressure canner. We would recommend using this program to sterilize utensils only.
4. Temperature Customization
---
4.1 Custom Temperature Mode
Besides selecting Low, Medium, or High temperature settings, the Instant Pot Ultra allows you to select your own temperature setting in the following modes:
Ultra Mode & Slow Cook Mode – 104°F – 208°F / 40°C – 97.8°C
Keep Warm Mode – 104°F – 194°F  / 40°C – 90°C
Yogurt Mode – 104°F – 176°F / 40°C – 80°C
Saute Mode – 104°F – 338°F / 40°C – 170°C
This is such a powerful feature! It opens up the possibilities of what you can do with this electric pressure cooker (such as Sous Vide).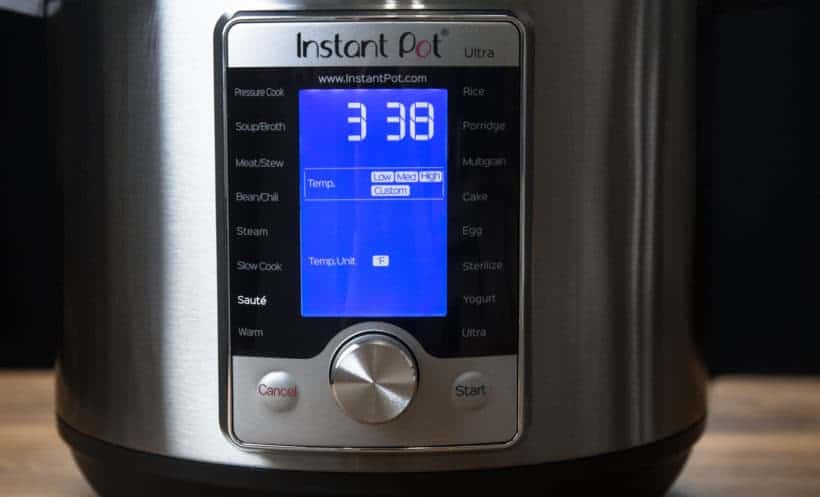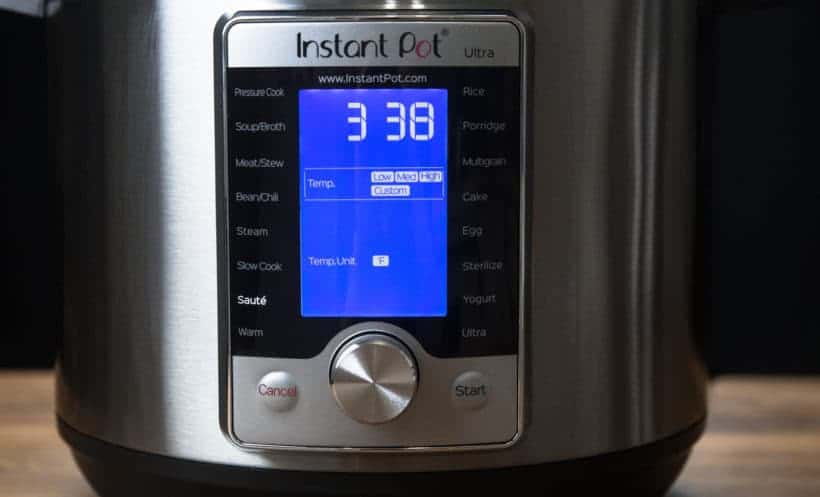 4.2 Poor-man Sous Vide Function Experiment
We were so excited to test how well the Instant Pot Ultra can Sous Vide using the Ultra Mode!!
Test: We set the Instant Pot Ultra to 160°F for a 2 hours duration with the Ultra Mode.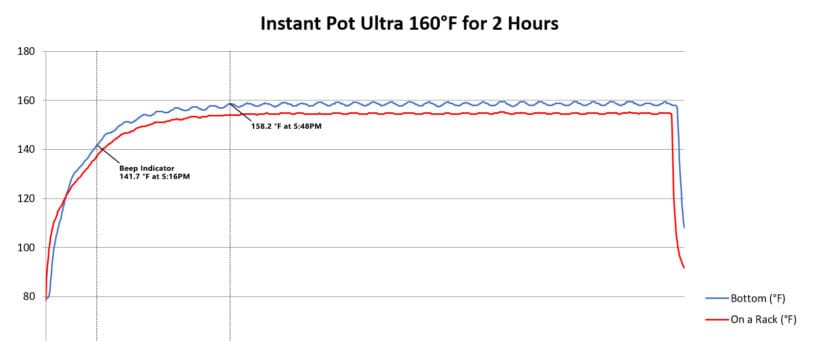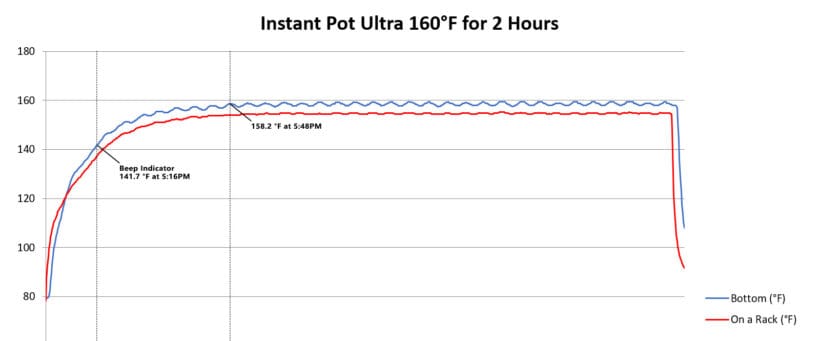 Experiment Results: 
As you can see, the Instant Pot Ultra was able to hold the temperature to +/- 3°F of the targeted temperature.
At 5:16 PM, the Instant Pot Ultra started beeping and told us the water has reached 160°F. We measured the temperature and to our surprise, it was only 141.7°F. It took the Instant Pot Ultra another 32 minutes to reach 158.2°F and another 8 minutes to reach 159.2°F (Peak Temperature).
We collected the data from 8 different tests from 140°F – 160°F and the results were very similar. It took additional 37 minutes to reach 139.8°F when we set the targeted temperature to 140°F.
Experiment Summary:
Here are some tips to keep in mind before using the Instant Pot Ultra as a Sous Vide machine.
1) Measure Temperature: To avoid undercooking, stir the water and use a food thermometer to make sure it has reached the targeted temperature before placing the food in the Instant Pot Ultra.
2) Adjust Targeted Temperature: You will probably want to set the temperature 1 – 2 °F higher than your targeted temperature.
Example: If your targeted temperature is 140°F, set the Instant Pot Ultra to 141 – 142 °F
3) Place Vacuum Sealed Food Directly at the Bottom: Since the water does not circulate like an immersion circulator, the temperature is about 4°F lower (very critical with the Sous Vide Method) when food is placed on a rack. So, be sure to place the vacuum sealed food directly at the bottom.
5. What's in the Box?
---
First, let's check out the box design! ooh~ ahh~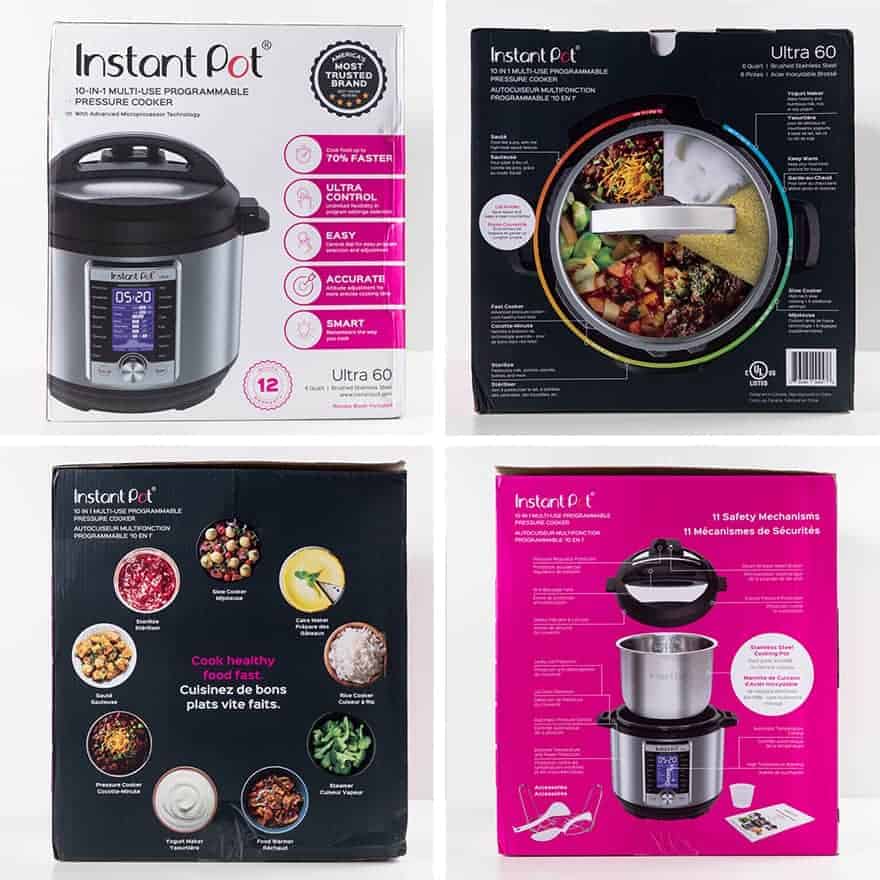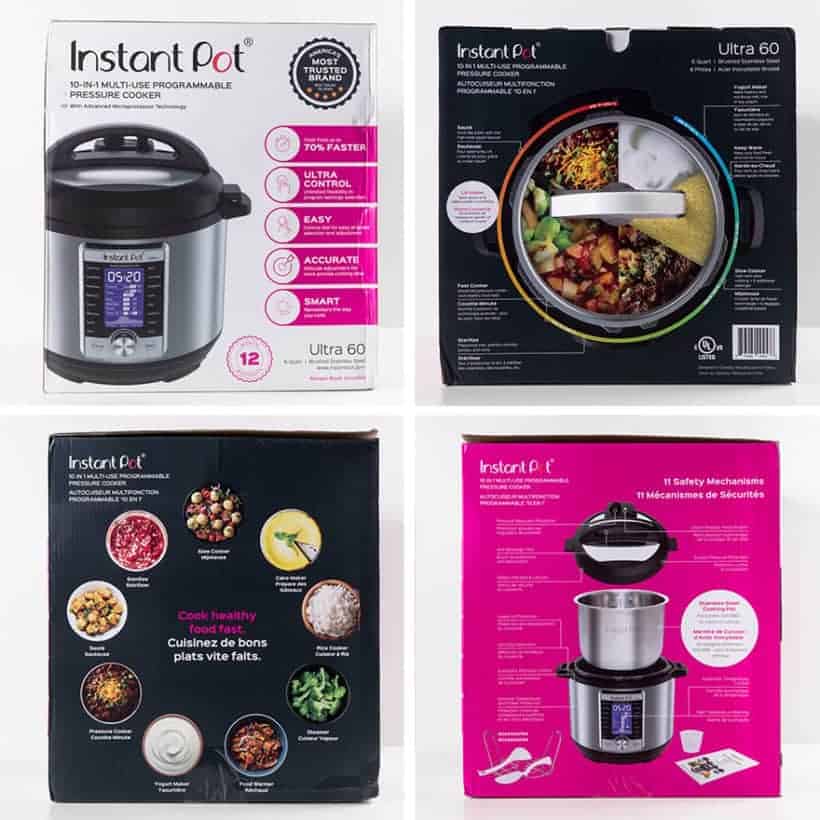 We like this new colorful design – definitely a step up from the old Instant Pot's white cardboard box design.
Makes Instant Pot even more attractive as a gift! 😉 
---
5.1 In-Box Accessories
The Instant Pot Ultra comes with a Steamer Rack, Rice Paddle, Soup Scoop, Rice Measuring Cup, Condensation Collector, Quick Reference Guide, Recipe Book, and the Newly Designed Manual.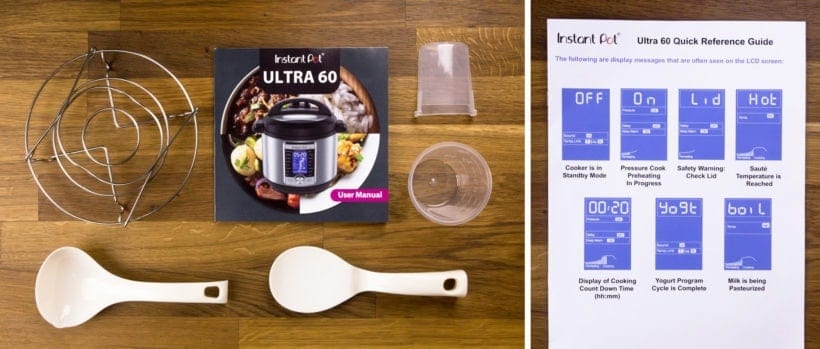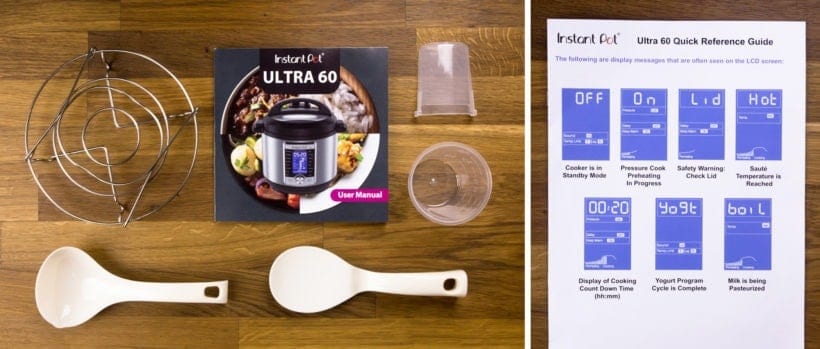 The new manual looks so much nicer and it is also easier to read (and understand)! ?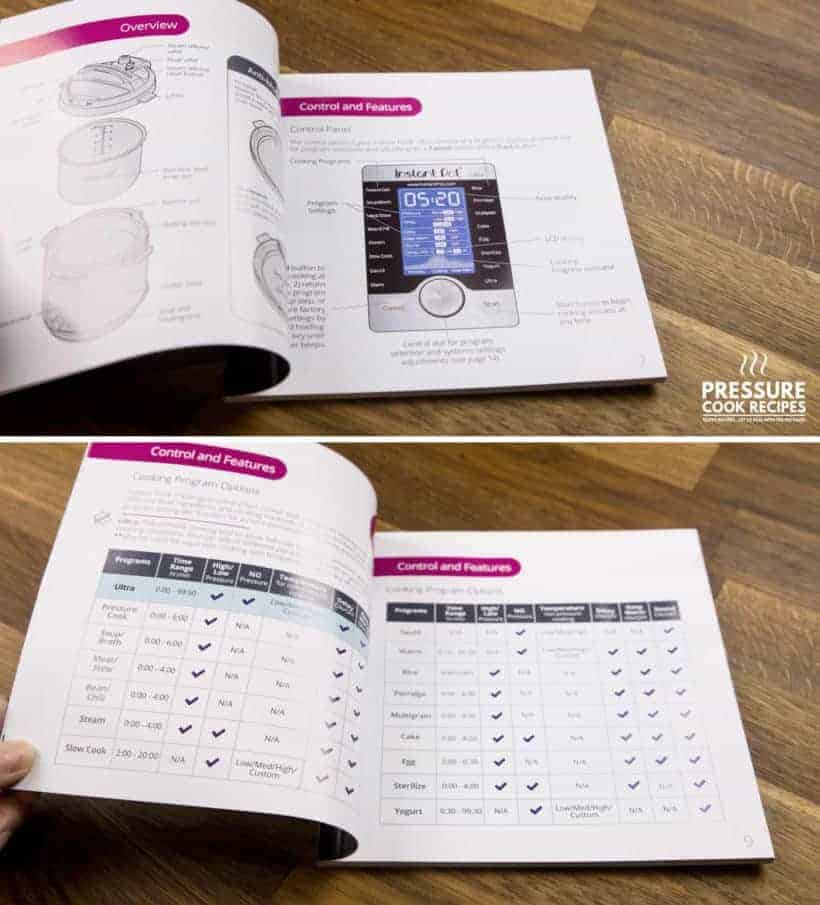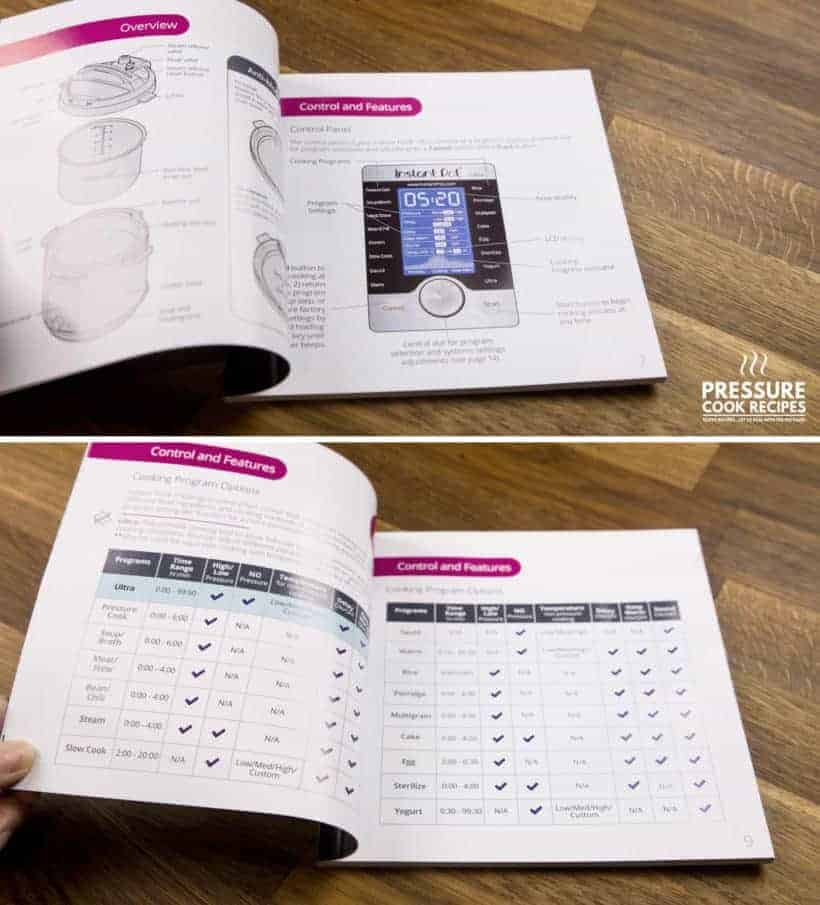 The manual is written in English, French, and Spanish.
---
5.2 Inner Pot Update
We're so glad the Instant Pot Company listened to the feedback and changed the inner markings!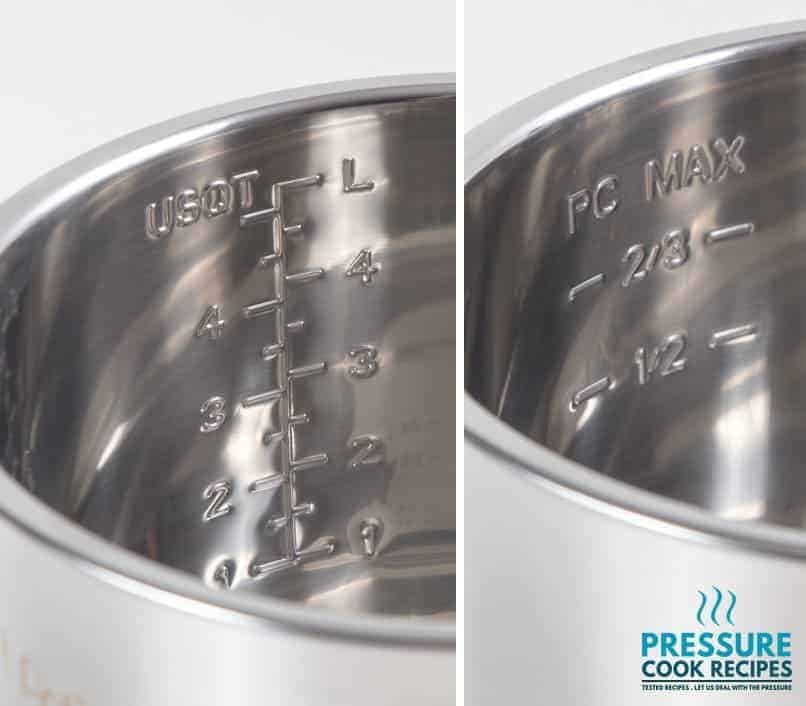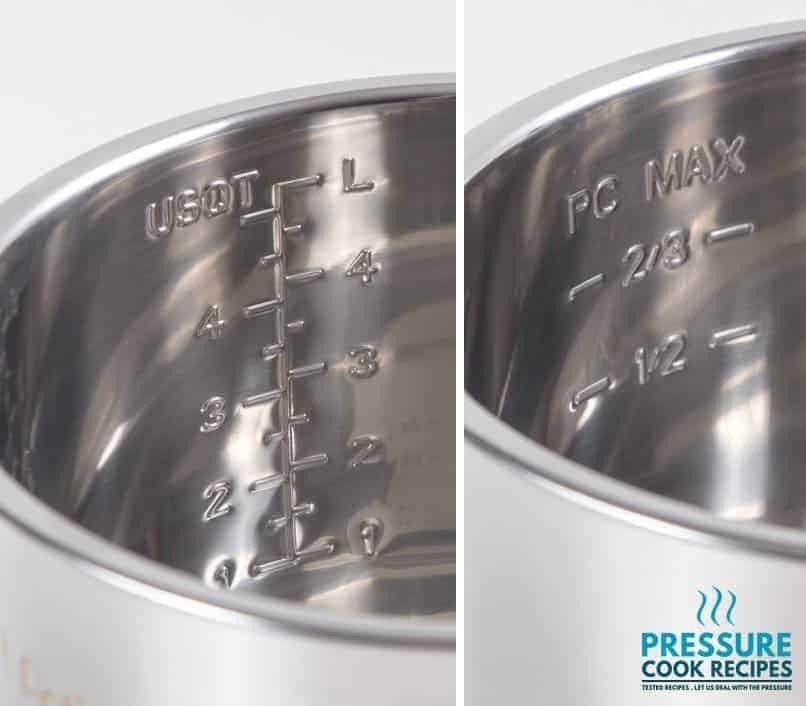 The new inner pot has markings for US Quart, Liters, and pressure cooking safety limit.
6. Instant Pot Ultra Review Conclusion
---
As food lovers who love to experiment with food, cooking, and kitchen gadgets, we thoroughly enjoyed testing the new Instant Pot Ultra.
From the packaging to the new look, new design, and new features, it's an exciting new electric pressure cooker that cooks well. We especially love the flexibility and versatility of the customization.
Though there are a few areas that require some fine-tuning, the Instant Pot Company is definitely heading the right direction.
7. Should I Buy Instant Pot Ultra?
---
Here comes the most important question: "Should I buy Instant Pot Ultra?"
Our Recommendations:
New Instant Pot Users: If you're a techie who likes to experiment with cooking & enjoys the flexibility of customization, this is an all-around awesome & versatile kitchen gadget to cook with! If not, we'd highly recommend Instant Pot DUO Plus 60 – the most user-friendly electric pressure cooker in the current Instant Pot product line.
Current Instant Pot Users: If you are looking for a second Instant Pot to interchange or help cook different dishes at the same time, we'd highly recommend Instant Pot DUO Plus 60. But if you're looking for an upgrade with more advanced usage, Instant Pot Ultra will be a great addition.
Buy as a Gift: From the packaging to the sleek clean design, this would make an awesome gift for family and friends who love to cook & play around with kitchen gadgets.
---
8. Instant Pot Ultra Specifications & Features
| | |
| --- | --- |
| Manufacturer |   Double Insight Inc. DBA (Instant Pot Company) |
| Type |   Electric Pressure Cooker |
| Model |   Ultra-6 |
| Working Pressure |   High Pressure (10.2 – 11.6 psi) & Low Pressure (5.8 – 7.2 psi) |
| Functions |   Pressure Cooker, Slow Cooker, Rice Cooker, Saute/Browning, Yogurt Maker, Steamer, Warmer, Cake Maker, Egg Cooker, Sterilizer |
| Cooking Programs |   Rice, Soup/Broth, Meat/Stew, Bean/Chili, Multigrain, Porridge, Cake, Egg, Sterilize, Steam, Saute, Slow Cook, Yogurt, Pressure Cook, Warm, Ultra |
| Safety Mechanisms |   11 UL Certified Proven Safety Mechanisms |
| Power Supply |   120V ~ 60Hz |
| Power |   1000 watts |
| Dimensions |   12.6 x 12.2 x 13 inches |
| Power Supply Cord |   0.6m – 0.9m, detached, 3-prong grounding plug |
| Weight |   15.7 lbs (7.12 kg) |
| Volume |   6 Quarts |
| Inner Pot |   3-ply Bottom Food Grade 304 (18/8) Stainless Steel |
| Accessories |   Steamer Rack, Rice Paddle, Soup Scoop, Rice Measuring Cup, Condensation Collector |
| Warranty |   1-Year Limited Manufacturer Warranty |
Check the Current Price:
Sale
 Disclaimer: Thanks Instant Pot Company for providing this Instant Pot Ultra sample unit for us due to our partnership. This Instant Pot Review was initiated by us, and all opinions, photos, and test results are ours alone.
Some Useful Tips & Resources
All Our Pressure Cooker Recipes
*Disclosure: We are an Amazon Influencer/Amazon Associate. This means that if you decide to purchase items or services on Amazon through our links on Pressure Cook Recipes to Amazon, Amazon will send a small commission to us at no additional costs to you. Thank you!