3 easy steps & 5 mins prep to make this divine Japanese ramen egg. Sweet & savory perfect soft boiled egg with luxrious soft-set yolk and smooth just-set white. It's soooo delicious. Please don't just eat it with ramen! 😀
Jump to: Recipe
I just love Love LOVE ramen egg!! 😀 It's definitely one of my favorite ways to enjoy eggs.
I still love you poached egg and scrambled eggs. hehe~
But if you have never tried a ramen egg, you seriously gotta try it now. Yes NOW!
Ramen egg (味付け玉子 Ajitsuke Tamago) is a sweet and savory Japanese soft boiled egg.
The luxurious soft-set yolk and smooth just-set white has soaked in the soy sauce and mirin to make one deliciously divine egg.
You can normally find this specialty egg as a topping on a fresh bowl of ramen, but it's a common Japanese side dish or snack too.
Best of all, you don't need to fly all the way to Japan to eat this delicious ramen egg because it's super easy to make at home! Though I wouldn't mind to have another excuse to visit Japan 😉
3 Easy Steps to Make Ramen Egg (Japanese Soft Boiled Egg)
Pressure cook to make soft boiled eggs
Dunk the eggs into cold water to cool
Marinate the eggs in the fridge
Everyone prefers a different egg yolk consistency, check out our Perfect Pressure Cooker Eggs Guide and find your favorite yolk. Then, you can apply that cooking time to this recipe!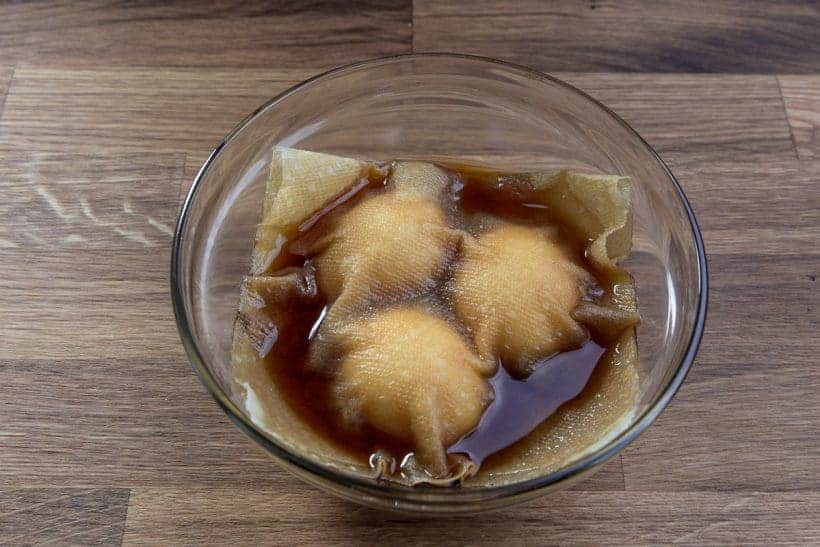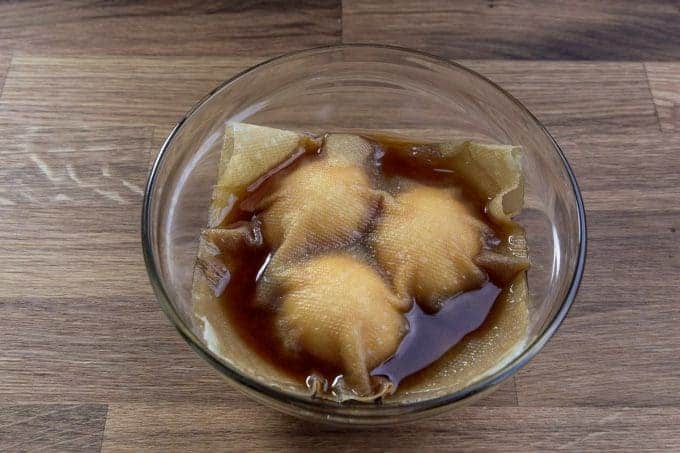 WANT NEW RECIPES WEEKLY?
Tested Recipes Delivered To Your Inbox Weekly. 100% Free!
We respect your privacy seriously.
Ingredients For Ramen Egg (Japanese Soft Boiled Egg)
Tool For Ramen Egg (Japanese Soft Boiled Egg) Recipe
Vegetable Steamer – We've used the trivet that came with our Instant Pot Pressure Cooker. But for those who don't use Instant Pot, this steam basket will work as well.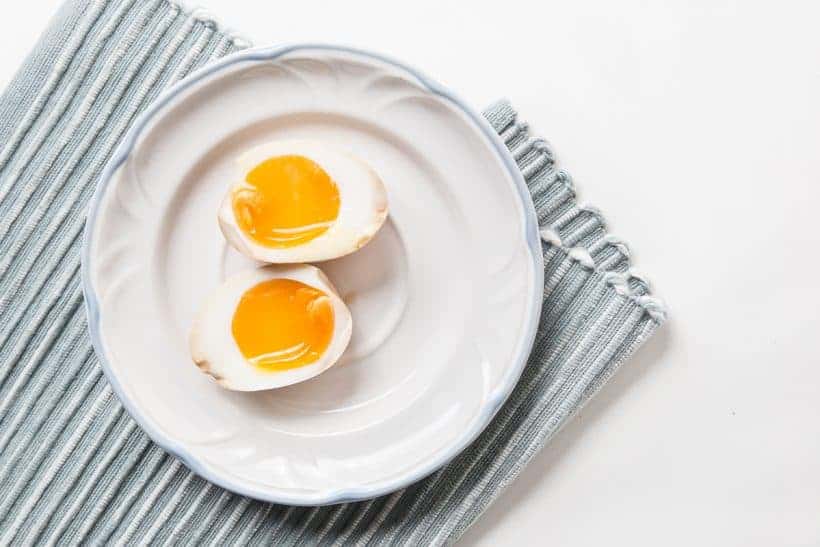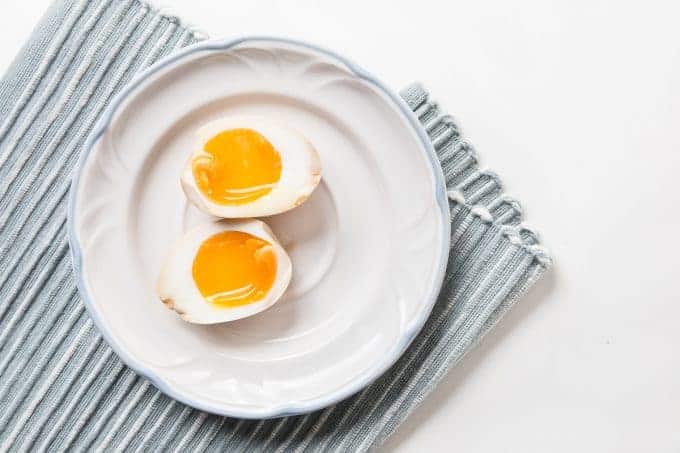 Now it's YOUR turn to take out your pressure cooker and cook some Ramen Egg (Japanese Soft Boiled Egg)! 
Craving more? Subscribe  to Pressure Cook Recipes to get our newest recipes delivered straight to your inbox.

Ramen Egg (Japanese Soft Boiled Egg)
3 easy steps & 5 mins prep to make this divine Japanese ramen egg. Sweet & savory perfect soft boiled egg with luxrious soft-set yolk and smooth just-set white.
Print
Rate This Recipe
Instructions
Place

steam rack

inside the pressure cooker. Add exactly 1 cup of running cold tap water into the pot. Then, place the eggs at the center. Close lid. 

Pressure cook at:

1 - 2 eggs

: Low Pressure 5 minutes

4 eggs: Low Pressure 4 minutes

6 eggs: Low Pressure 3 minutes

(for eggs straight out of the fridge and cooked with an Electric Pressure Cooker), then quick release. (Instant Pot: press cancel button right away)

Open lid and immediately place the eggs in a bowl of cold tap water for 30 seconds. Rinse the eggs under cold running water for 5 seconds. Then, pour out the water in the bowl and refill it with cold tap water and place the eggs back into the bowl for another 3 minutes.

Carefully crack and remove the eggs shells.

Mix all the marinade ingredients in a small bowl.

Place all the eggs in the marinade.

Lay a paper towel on top of the eggs and soak up some of the marinade (see picture in the article).

Place the eggs in the fridge for at least 4 hours (preferably overnight).

Serve!
♥ Spread the Love by sharing this recipe, so others can enjoy it too!  Thank you 🙂
Recipe Notes:
*For Jumbo (XL) Eggs: add an extra minute to the pressure cooking time.
*The pressure cooking time is for eggs straight out of the refrigerator.
Storage: the ramen eggs are good for 2 days in the fridge.
Total cooking time for the recipe does not include the inactive time.