Make these delicious Pressure Cooker Ribs with homemade dry rub and BBQ sauce in less than an hour. Tender and moist ribs with incredible depths of smoky & sweet flavors. Your whole family would be all over these ribs! 😀
Jump to: Cooking Tips | Recipe | Video
Pressure Cooker Ribs was one of the first dishes we made in our pressure cookers.
The first time Jacky made this pressure cooker ribs recipe, I was out enjoying dinner with my best friends. In the middle of dinner, Jacky texted me a photo of a gorgeous rack of baby back ribs with "You're totally missing out!" This was unusual.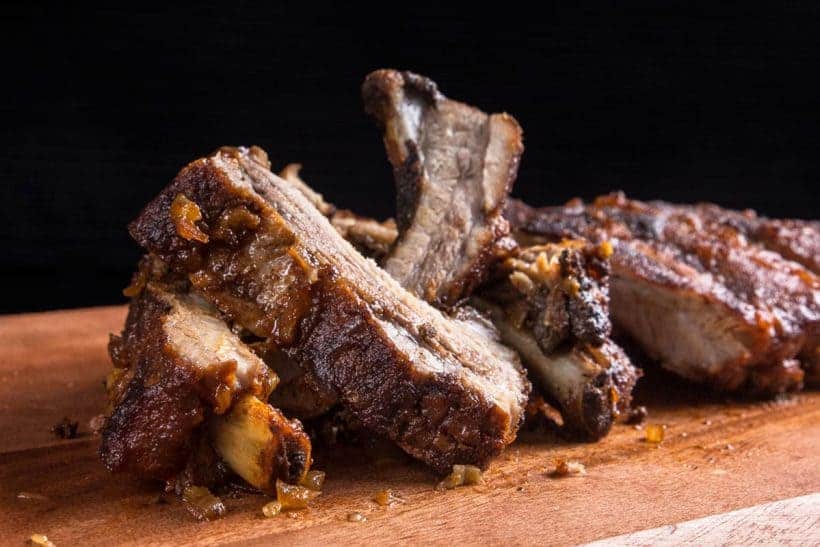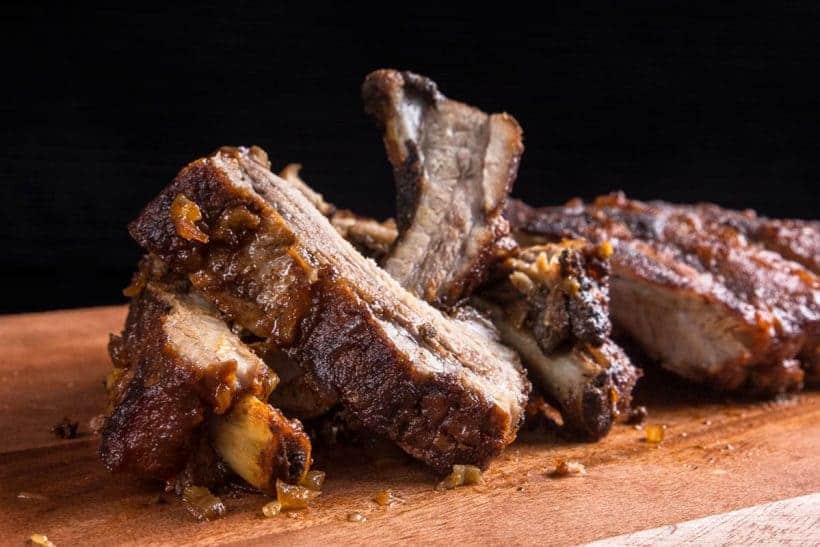 When I got home, he kept raving how tender and flavorful it was. How it was some of the best ribs he has ever tasted. He was so proud of it and how glad we bought our pressure cookers home. He kept repeating "You really missed out!", "You seriously missed out!" So, I made him cook it again the next day. Hahaha~ 😛
He was right!! Indeed the baby back ribs were so tender, moist, full of bold smoky & sweet flavors. It was very delicious! We've been making a lot of these pressure cooker ribs since, and we just couldn't get enough of them! 😀
Lately, we had a little fun with some baby back ribs and tested different cooking times to find the perfect time that suits our tastes. Choose your favorite cooking time: Pressure Cooker Baby Back Ribs Cooking Time and make some BBQ Pressure Cooker Ribs!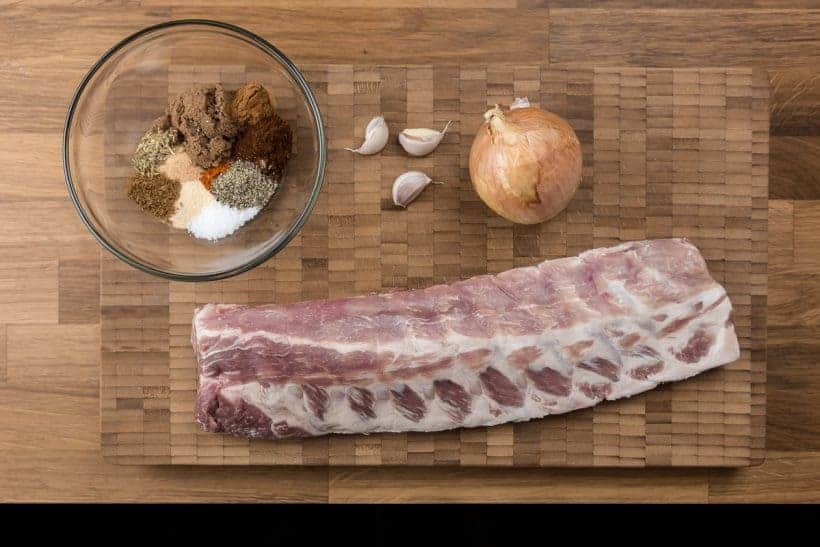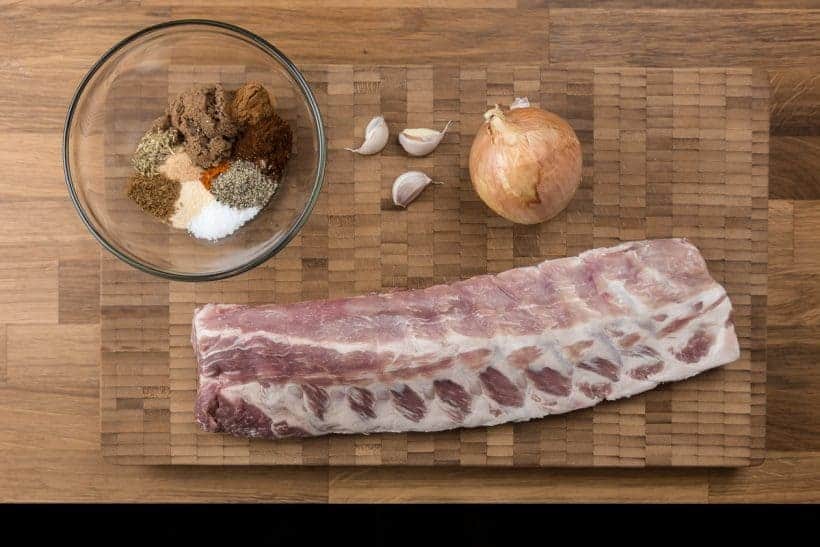 Ingredients for Pressure Cooker Ribs Recipe
Baby back ribs
Carrots
Dry Rub for Ribs

Brown sugar
Black pepper
Kosher salt

BBQ Sauce for Ribs

Medium onion
Garlic cloves
Ketchup
Water
Maple syrup
Honey
Brown sugar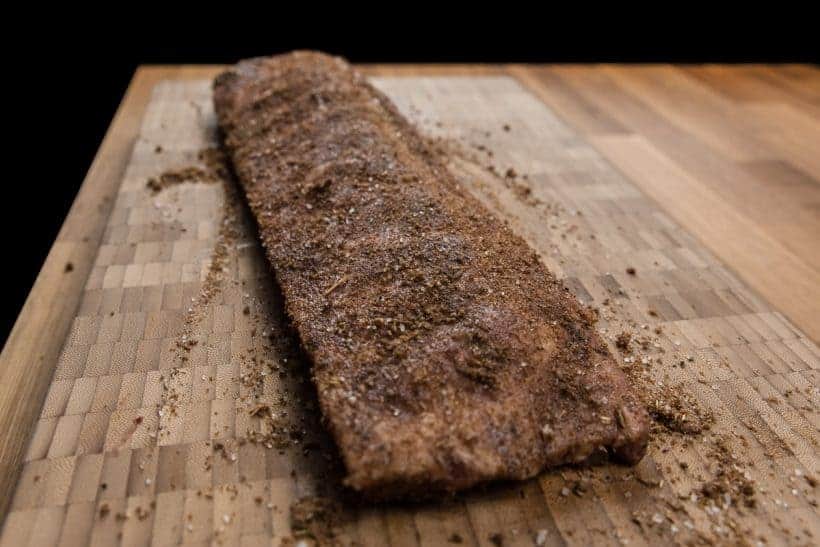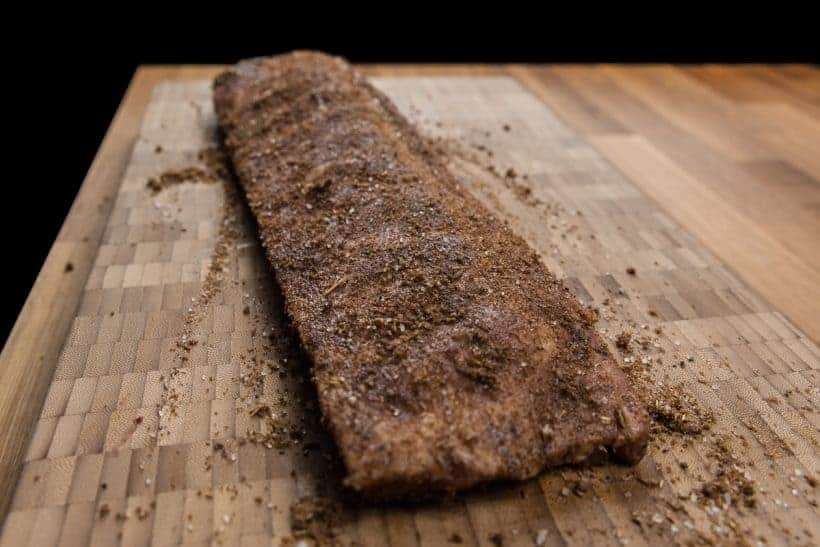 Tools for Pressure Cooker Ribs Recipe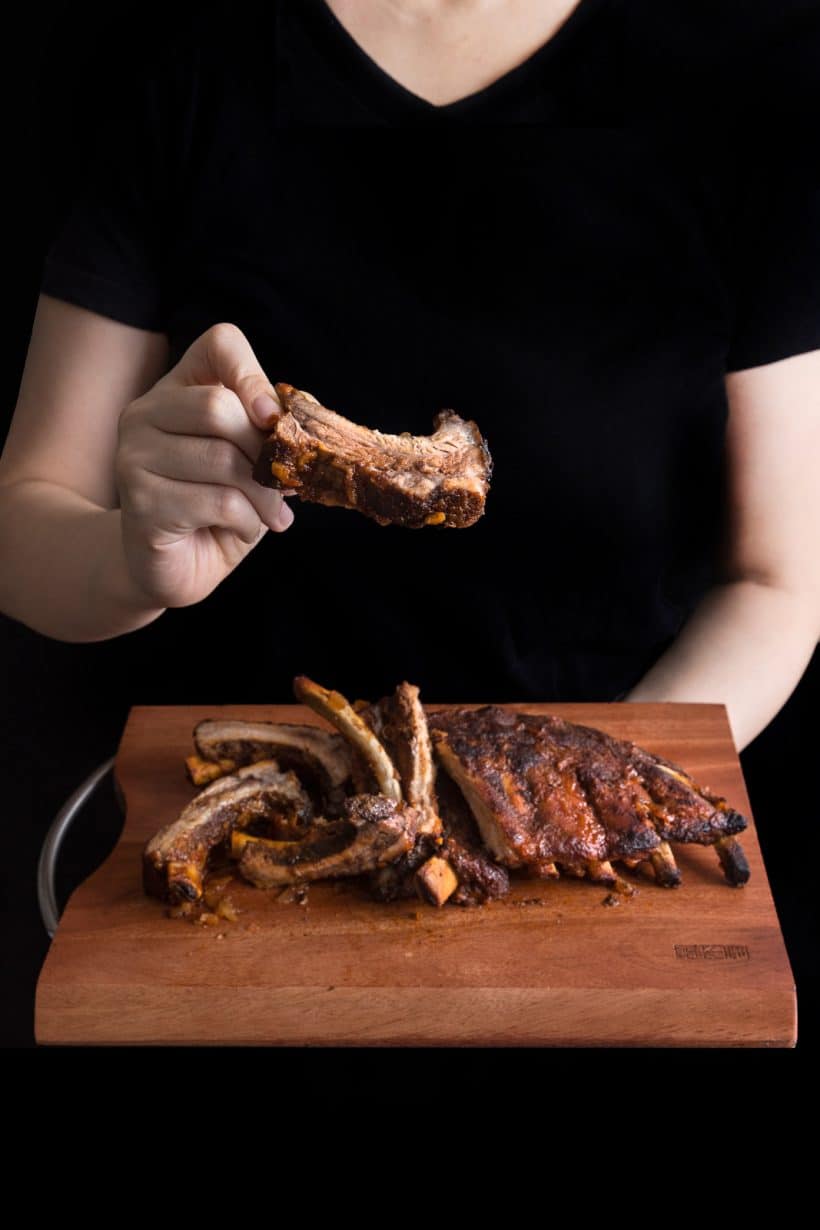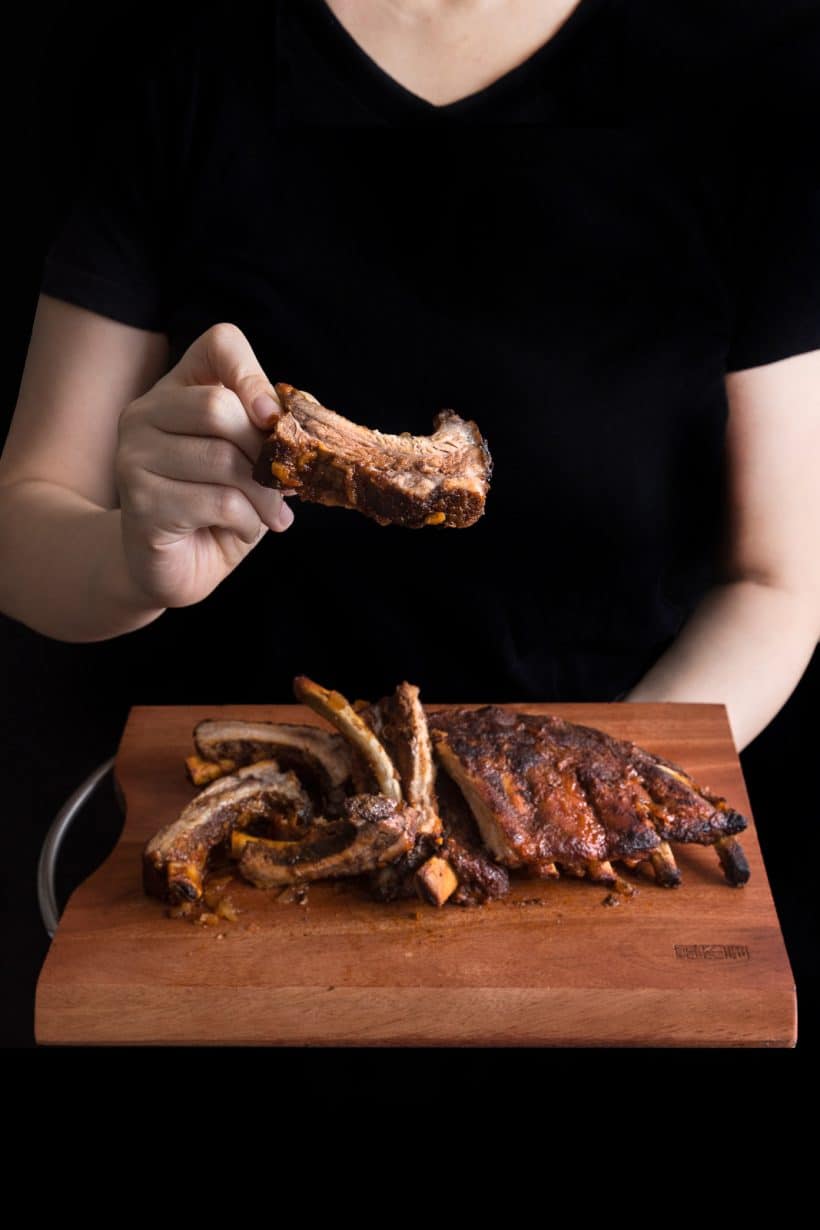 Tips for Pressure Cooker Ribs Recipe
1. Purchasing Baby Back Ribs: search for ones with even and uniform thickness in the rack. Try to find ones with even marbling.
2. Cooking baby back ribs directly in the liquid vs. on a trivet in the pressure cooker:
Some of the baby back ribs' meat flavor will transfer to the liquid when cooking it in the pressure cooker. It only makes sense to place the ribs in the cooking liquid if you are making the sauce in the pressure cooker at the same time. Because all the flavor that has gone into the sauce will be brushed back onto it.
However, if you're discarding the cooking liquid in the pressure cooker afterwards or you're using an already made/store-bought BBQ sauce, you should place the ribs on a trivet when cooking in the pressure cooker to preserve the flavors.
3. Liquid smoke: be sure to only add a few drops, or else the smoky flavor will overpower the sauce. Be careful not to spill the liquid smoke as the smell is not easy to wash off.
4. Why we added carrots as we reduce the sauce: to enhance the flavor of the BBQ sauce by extracting sweetness from the carrots. Plus, the carrots can be served as a side dish too. 😉
5. How to Remove the Membrane from Baby Back Ribs: 
Locate the membrane on either end of the rack (at the back of the ribs).
Slide a butter knife in between the membrane and bones (see picture below).
Pull the membrane and tear it off with a paper towel (for better grip).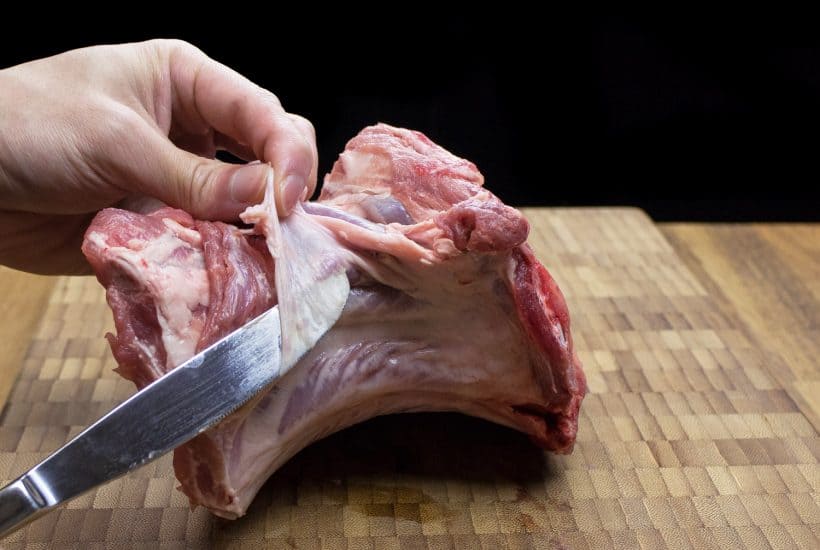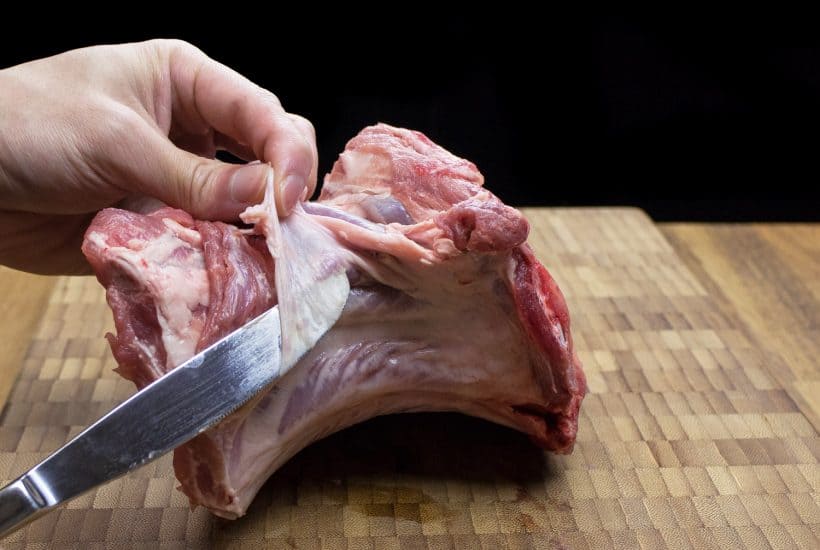 Watch: How To Make This Pressure Cooker Ribs Recipe Video
Can't see the cooking video? Watch it here.
Now it's YOUR turn to take out your pressure cooker and make some Pressure Cooker Ribs! Leave us a comment and rate it! See you in the comments 🙂
Craving more? Subscribe  to Pressure Cook Recipes to get our newest recipes delivered straight to your inbox.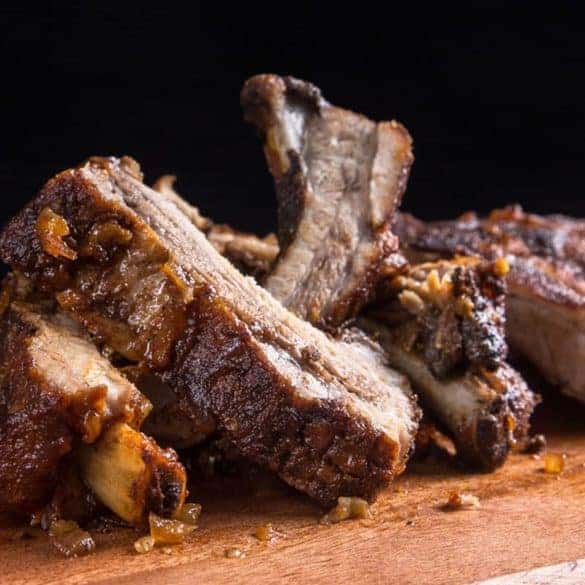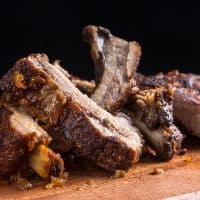 Pressure Cooker Ribs
Make these Pressure Cooker Ribs with homemade dry rub & BBQ sauce in less than an hour. Tender ribs with incredible depths of smoky & sweet flavors.
Print
Rate This Recipe
Ingredients
1

rack

baby back ribs

2

carrots

, roughly chopped

2 - 3

drops

liquid smoke
BBQ Sauce for Ribs:
1

medium onion

, minced

3

garlic cloves

, minced

1

cup (250ml)

ketchup

½

cup (125ml)

water

⅛

cup (31ml)

maple syrup

⅛

cup (31ml)

honey

2

tablespoons (30ml)

apple cider vinegar

2

tablespoons (30ml)

Dijon mustard

1

tablespoon (25g)

brown sugar
Instructions
Prepare Baby Back Ribs: Remove the membrane from the back of the ribs with a butter knife and a paper towel.

Dry Rub Baby Back Ribs: Mix all the dry rub ingredients and rub it all over the baby back ribs. Then, set aside while you prepare other ingredients.

Pressure Cook Baby Back Ribs: Pour the homemade BBQ sauce into the pressure cooker. Add 2 – 3 drops of liquid smoke into the BBQ sauce. Place the baby back ribs into the BBQ sauce (see tips).

Close lid and Pressure Cook at High Pressure for 16 – 25 minutes. Turn off the heat and Full Natural Release. Open the lid carefully.

*Pro Tip: Adjust your cooking time according to your preference: 16 minutes (tender with a bit of chew) to 25 minutes (fall off the bone).

Preheat Oven: While the baby back ribs is cooking in the pressure cooker, preheat the oven to 450°F.

Set Aside Baby Back Ribs: Carefully place the pressure cooked baby back ribs on a chopping board with kitchen tongs. Cover it with aluminum foil and set aside.

Filter the Fat (Optional Step): Filter the BBQ sauce with a strainer and remove the fat with an oil separator.

Reduce BBQ sauce: Place roughly chopped carrots into the BBQ sauce and bring your BBQ sauce to a simmer (Instant Pot: Press Sauté button once, then Adjust button to Saute Less Function).

Continue to reduce and thicken the BBQ sauce by simmering until desired thickness (~6 - 8 mins). Occasionally, stir with a wooden spoon. Taste the seasoning of the BBQ sauce. Stir in more brown sugar and additional 1 – 2 drops of liquid smoke if necessary.

Apply Sauce and Finish in Oven or Grill: Brush the homemade BBQ sauce all over the baby back ribs on all sides including the bones with a silicone basting brush. Place the baby back ribs in the oven on the top rack for 10 – 15 minutes.

Serve and Enjoy: Serve the baby back ribs immediately with more homemade BBQ sauce along with the carrots.
♥ Spread the Love by sharing this recipe, so others can enjoy it too!  Thank you 🙂
Recipe Notes:
*Rate Recipe: If you've tried the recipe, don't forget to Rate the Recipe in the Comments Section. Thank you!
Nutrition:
Calories:
525
kcal
|
Carbohydrates:
50
g
|
Protein:
29
g
|
Fat:
24
g
|
Saturated Fat:
8
g
|
Cholesterol:
98
mg
|
Sodium:
1382
mg
|
Potassium:
761
mg
|
Fiber:
3
g
|
Sugar:
39
g
|
Vitamin A:
5783
IU
|
Vitamin C:
7
mg
|
Calcium:
110
mg
|
Iron:
2
mg