1 min to prep this 4-ingredient pressure cooker congee. Thick & creamy rice porridge is mild and easy to digest. Perfect comfort food for cold or sick days.
Instead of chicken noodle soup, try a comforting bowl of pressure cooker congee!
Congee is like a warm hug from mom that soothes your soul. Whenever we're not feeling well, the first thing my mom would do is to make congee for us. Since the rice is largely disintegrated, it's mild, super easy to eat and digest. It's also a great way to flush more water through your system when you're sick.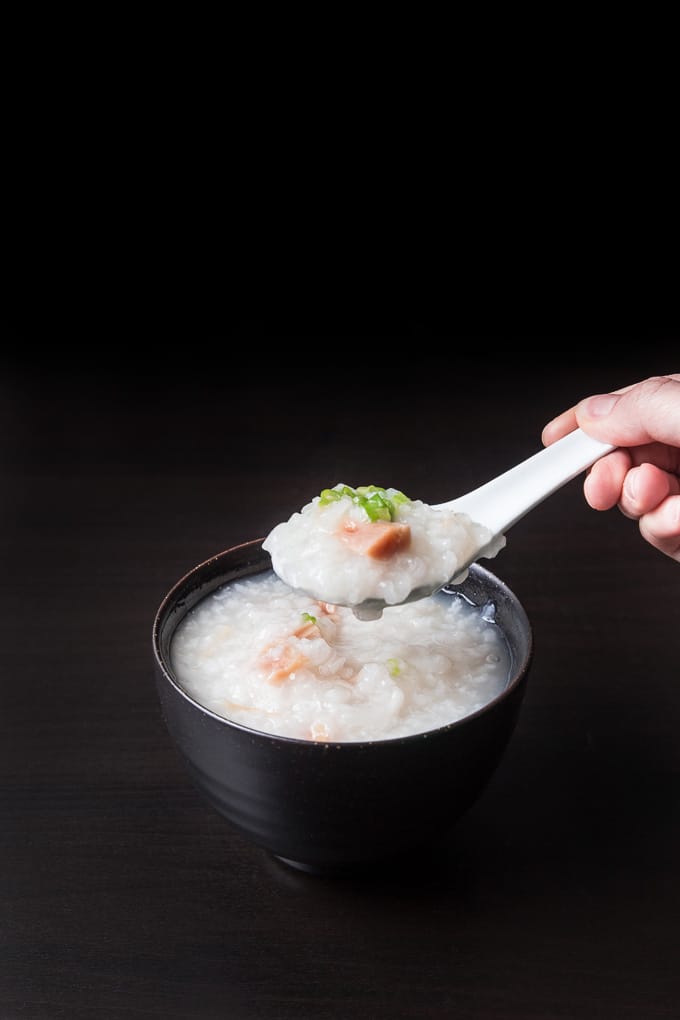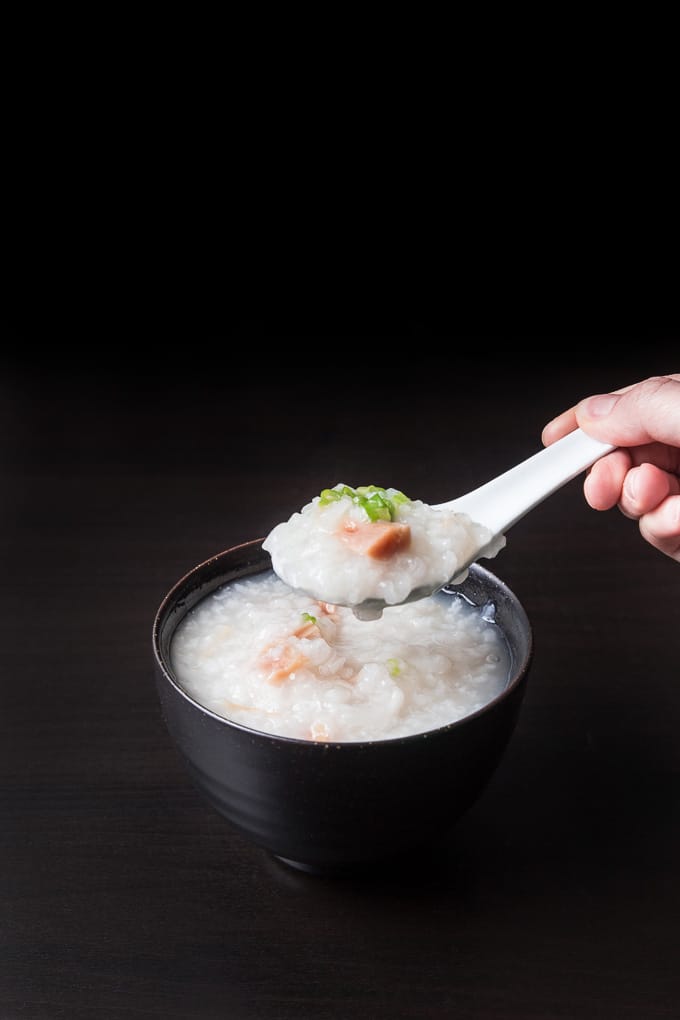 Congee, also known as Jook, is a rice porridge that's core to the Chinese culture with thousands of years of history. During the times of famine and war, people would use 1 cup of rice and 20 ~ 30 cups of water to feed many people. But it was by no means only a poor man's food, as even the Emperor enjoyed this dish.
The congee base is the soul of all congee. Some people like it super watery (like the Chiu Chow Jook my grandma makes) while others like it super thick and creamy. From there, people would throw in ingredients like meat, fish, seafood, preserved vegetables, or century eggs.
My favorite part? The fresh deep-fried Chinese donuts that come with the congee. Oh, I just love that bite of hot crisp dough with the warm congee. Yum! 😀
So, let's get a taste of Chinese history with this ultra-simple pressure cooker congee.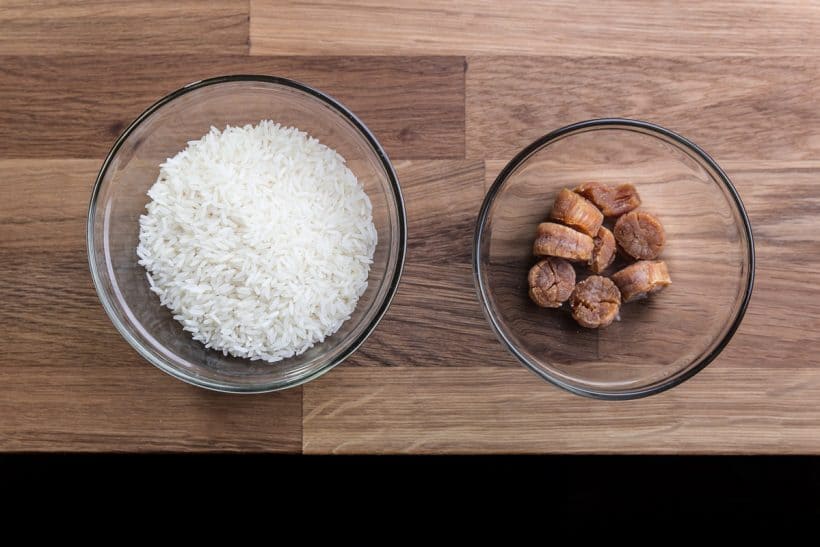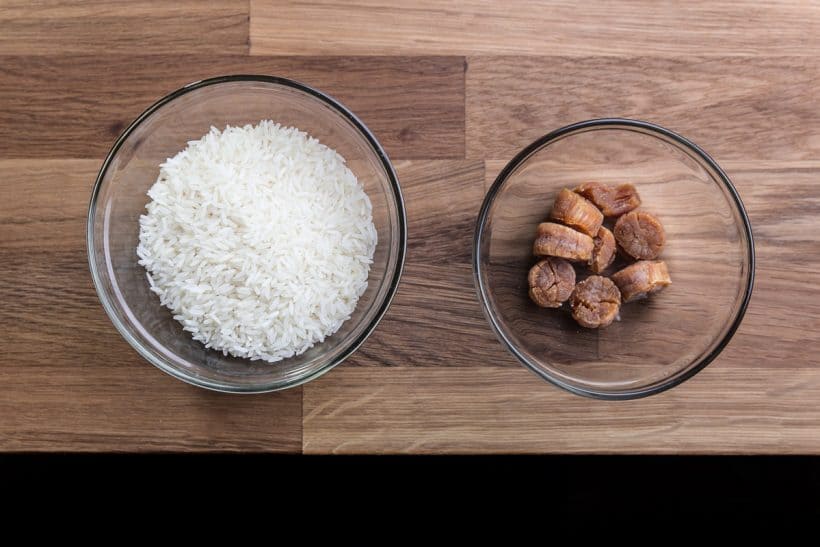 4 Ingredients for Pressure Cooker Congee 
Rice
Conpoy (dried scallops) – We didn't get our conpoy online as we usually get them directly in Hong Kong. Try to buy conpoy from your local Chinese herbal medicine stores if possible. If you're not able to find any, this one ships from Hong Kong.
Water
Salt
Adding conpoy makes a huge difference in taste. Conpoy (dried scallops) has a strong and distinctive marine flavor that tastes somewhat like salt-cured meat. It's so rich in umami flavors that only a few pieces of conpoy will elevate the pot of plain congee to a whole new flavorful level. Try it! 😀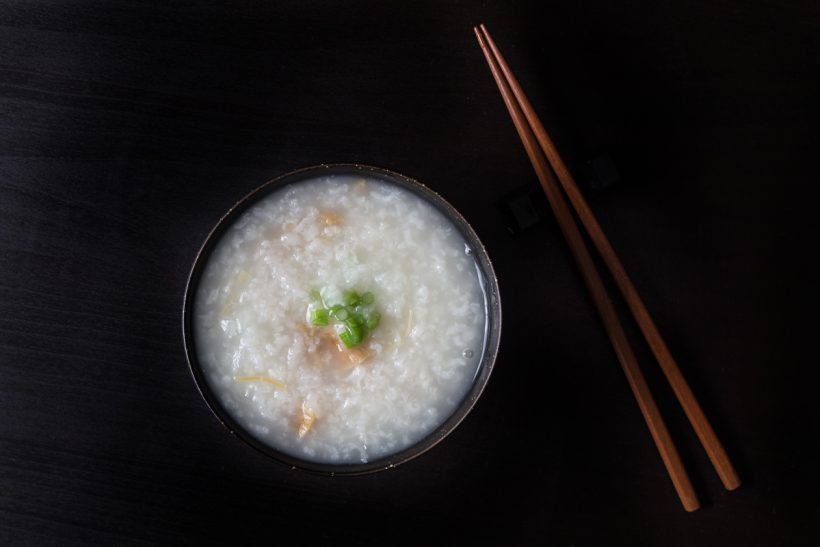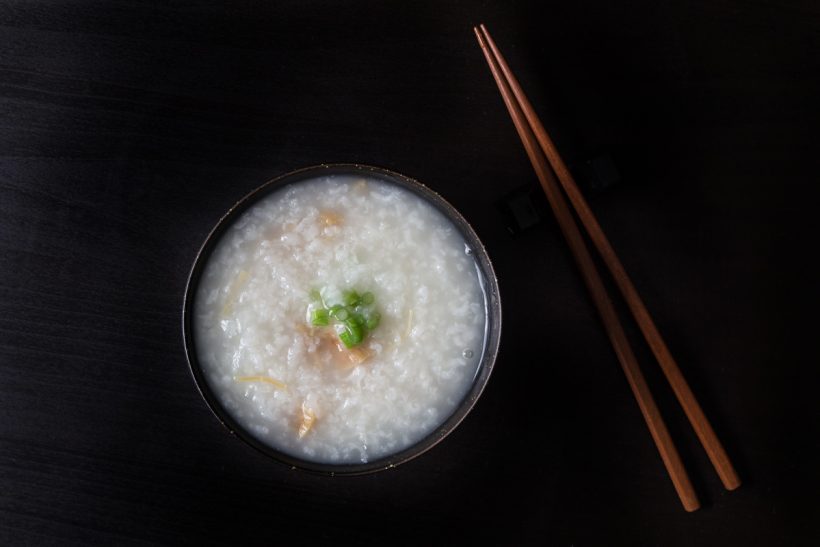 If you want a nice creamy bowl of congee cooking from the stove, you'll need to babysit it for at least an hour to an hour and a half. It's critical to occasionally stir it so it won't get burnt or stick to the pot as it thickens. But with an electric pressure cooker, you can just set it, walk away, and come back to an amazing pot of congee. How awesome is that? 🙂
Golden rules for making perfect Pressure Cooker Congee:
Cooking time (electric pressure cooker): High Pressure for 30 minutes & Natural Release for 15 minutes.
Water-to-rice ratio: 9 – 9.75 cups of water of water for 1 cup of white rice.
Watch How To Make Pressure Cooker Congee Video:
Can't see the cooking video? Watch it here.
Now it's YOUR turn to take out your pressure cooker and cook some Pressure Cooker Congee. Enjoy! 🙂
Looking for more Congee? Try our Chicken Congee in Pressure Cooker Recipe!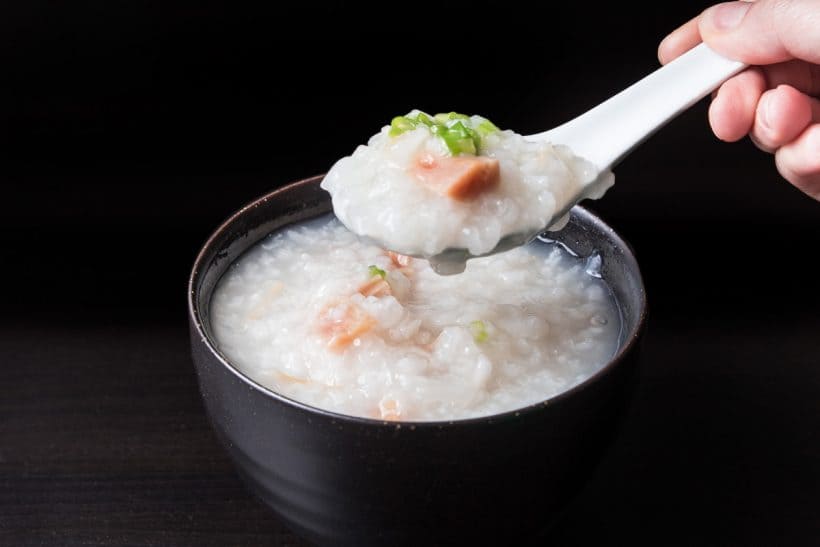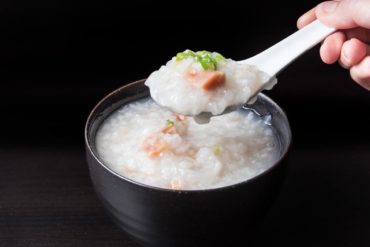 Pressure Cooker Congee (Jook)
1 min to prep this 4-ingredient pressure cooker congee. Thick & creamy rice porridge is mild and easy to digest. Perfect comfort food for cold or sick days.
Subscribe for Free Recipes & Tips
Ingredients
¾

cup (173g)

Jasmine rice

7

cups (1750ml)

cold water

7

conpoy (dried scallops)

Salt to taste
♥ Share this Recipe so We can create more yummy recipes for you.  Thank you 🙂
Instructions
Rinse Rice: Rinse rice under cold water by gently scrubbing the rice with your fingertips in a circling motion. Pour out the milky water, and continue to rinse until water is clear. Drain well

Pressure Cook Congee: Add 7 cups (1750ml) cold water and conpoy into the pot.

Close lid and Pressure Cook at High Pressure for 30 minutes, then Natural Release for 15 minutes. Release the remaining pressure by turning the Venting Knob to Venting position. Open the lid carefully.

Thicken & Serve: Add salt to taste. Turn on the heat (Instant Pot: press sauté button) and stir the congee until the desire thickness. Serve warm & enjoy.
Video
Notes
*Rate Amy + Jacky's Recipe: If you've tried our recipe, don't forget to rate the recipe in the Comments section. Thank you!
Nutrition
Calories:
84
kcal
|
Carbohydrates:
18
g
|
Protein:
2
g
|
Fat:
1
g
|
Saturated Fat:
1
g
|
Sodium:
16
mg
|
Potassium:
27
mg
|
Fiber:
1
g
|
Sugar:
1
g
|
Calcium:
15
mg
|
Iron:
1
mg
Some Useful Tips & Resources
All Our Pressure Cooker Recipes
*Disclosure: We are an Amazon Influencer/Amazon Associate. This means that if you decide to purchase items or services on Amazon through our links on Pressure Cook Recipes to Amazon, Amazon will send a small commission to us at no additional costs to you. Thank you!