5 mins prep to make this Easy Pressure Cooker Vegan Pasta! Comforting vegetarian & vegan pasta bursting with umami flavors. This 30-mins Pressure Cooker Pasta meal is a great quick and easy dinner your family will love! 😀
Jump to: Cooking Tips | Recipe | Video
We are overwhelmed by the rave reviews for this One Pot Pressure Cooker Pasta Recipe:
Easy One Pot Pressure Cooker Spaghetti Bolognese
, so it's time for another one!This time, we have a
meatless vegetarian & vegan pasta
in mind. 🙂
One of our Vegetarian restaurant partners specializes in creating classic comfort food with a vegetarian twist. The first time he invited us to taste test his gluten free vegetarian lasagna creation, as a classic lasagna lover, I was blown away by how the textures resemble the meat version!
Inspired by his vegetarian twists, we ventured to use mushrooms and zucchini squash as meat substitutes to create a vegetarian/vegan pressure cooker pasta. Mushroom is meaty in texture while zucchini's crunch and texture works surprisingly well as a meat substitute in classic carnivore or pasta dishes.
Time for some Easy One Pot Pressure Cooker Pasta!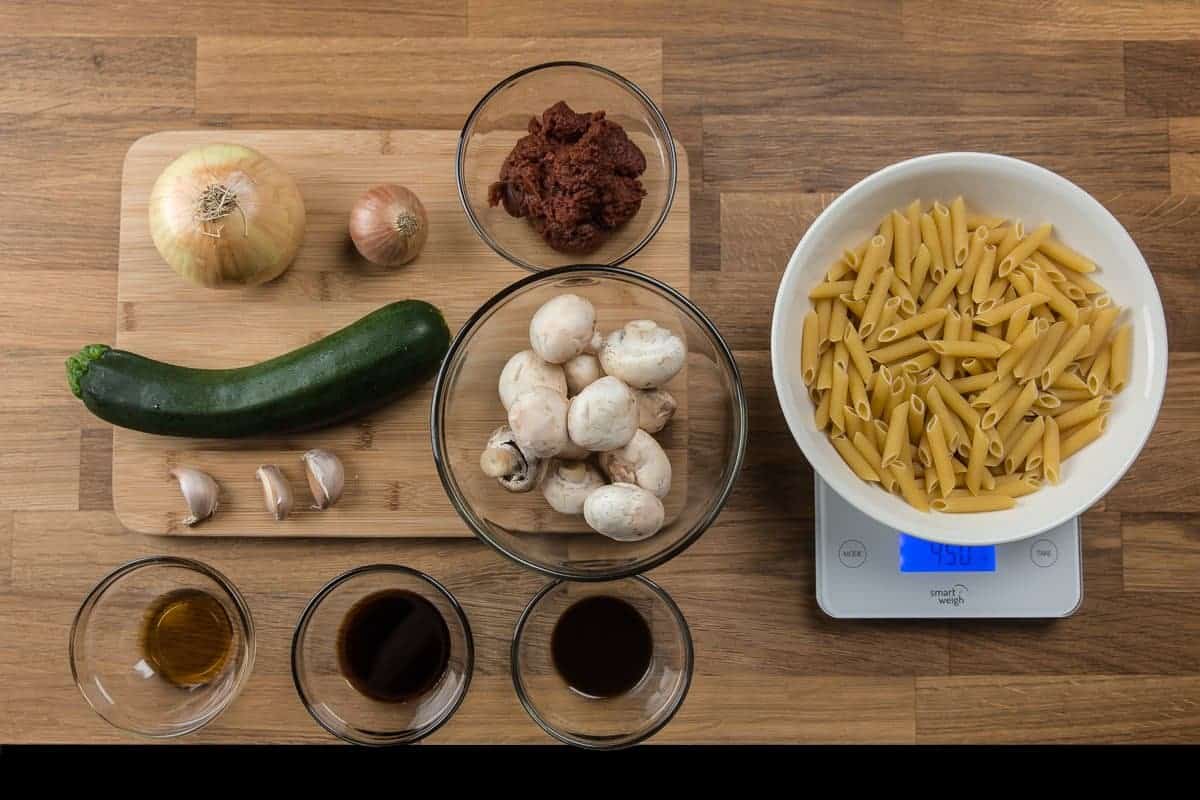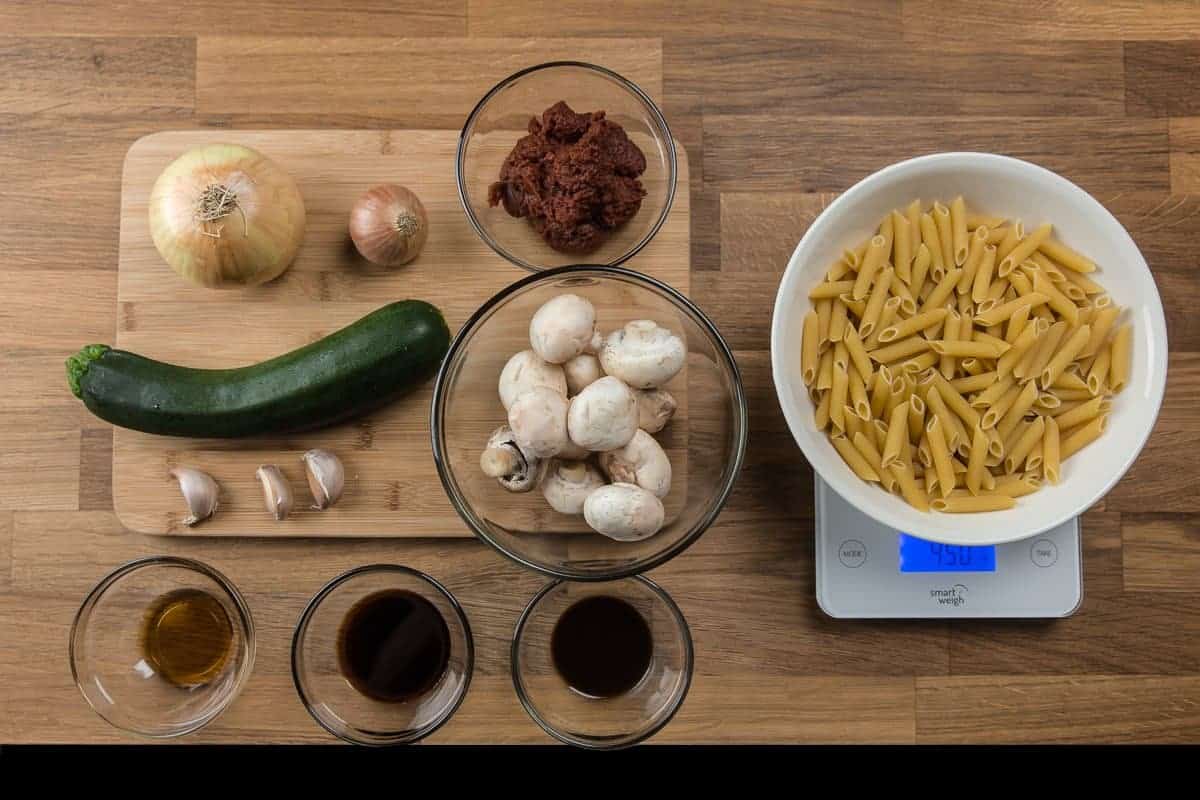 Ingredients for Pressure Cooker Vegan Pasta
Penne
Onion
Shallot
Garlic
White mushrooms
Zucchini squash
Sherry wine
Kosher salt
Black pepper
Olive oil
Pasta Sauce: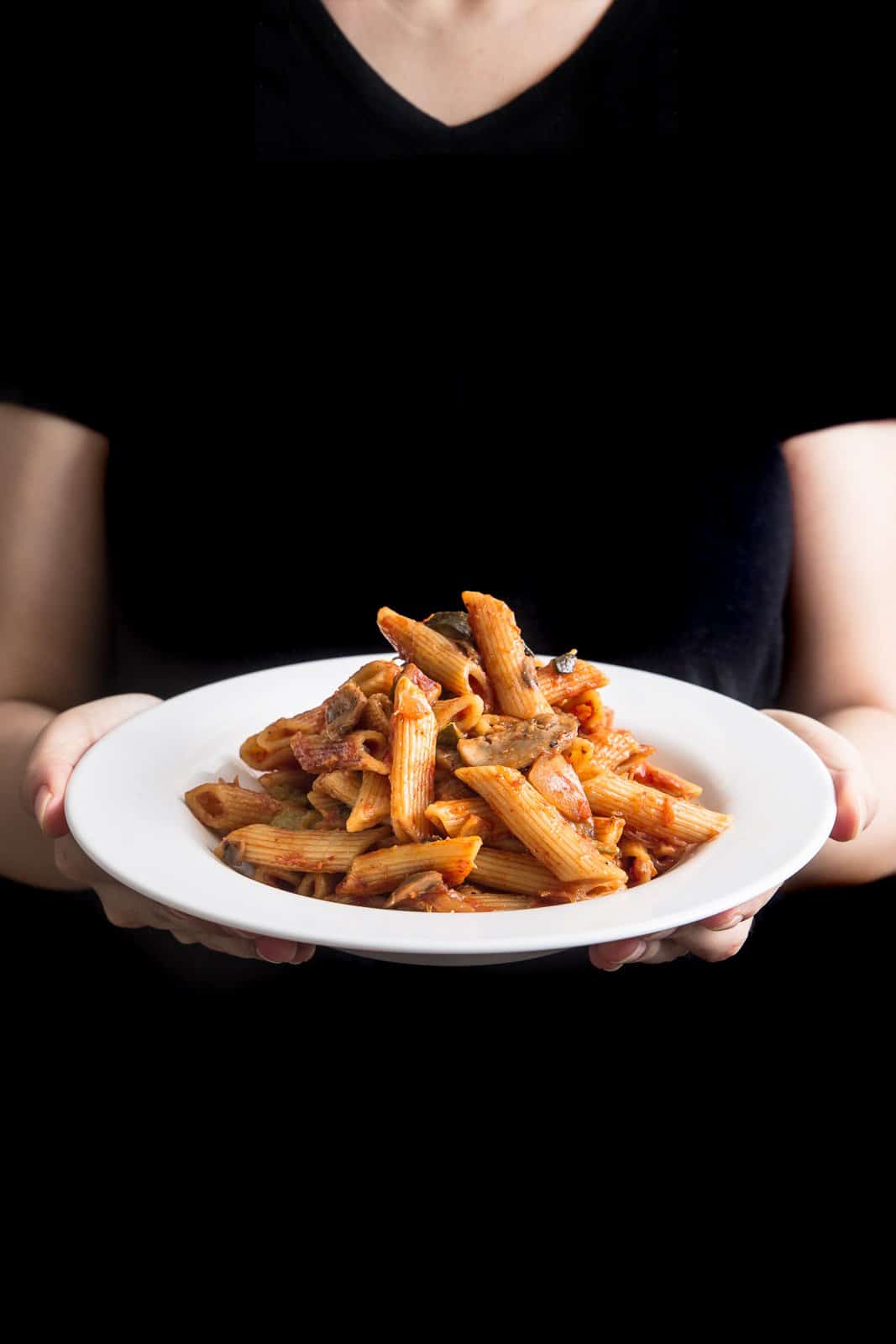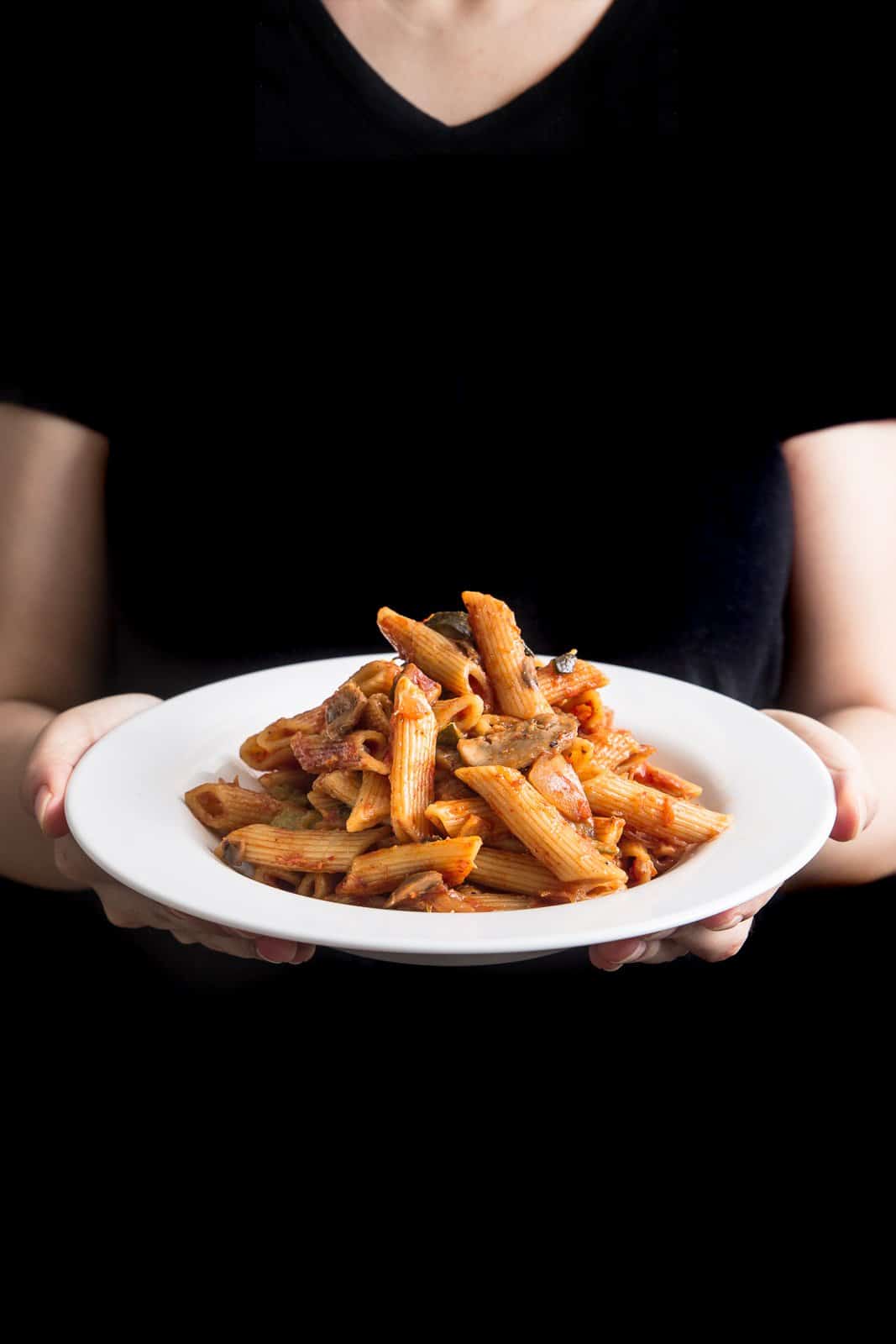 Tools for Pressure Cooker Vegan Pasta
Tips for Pressure Cooker Vegan Pasta
1. Prevent Overcook Zucchini: Make sure the zucchini are thickly sliced to avoid overcooked Pressure Cooker zucchini (see picture below)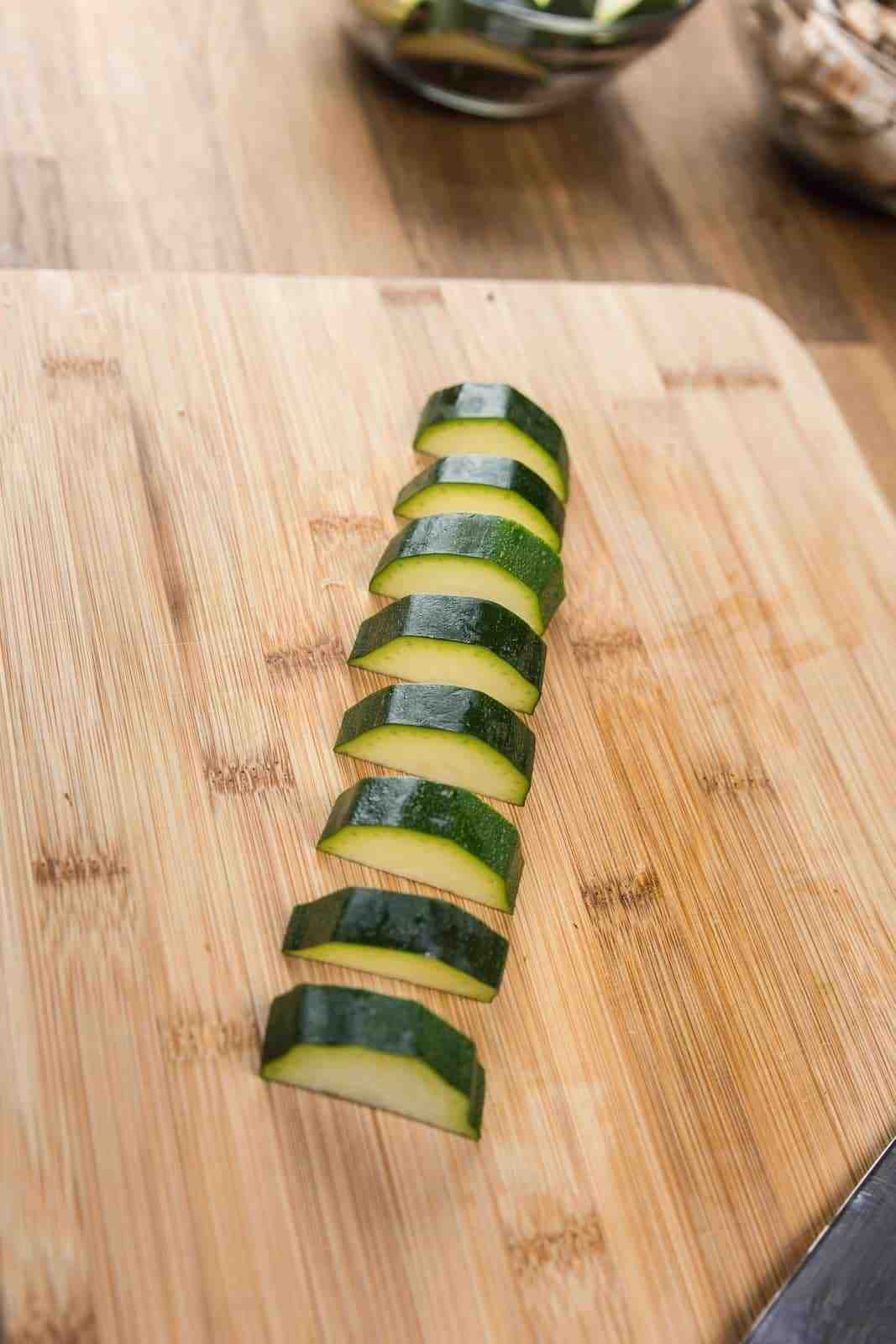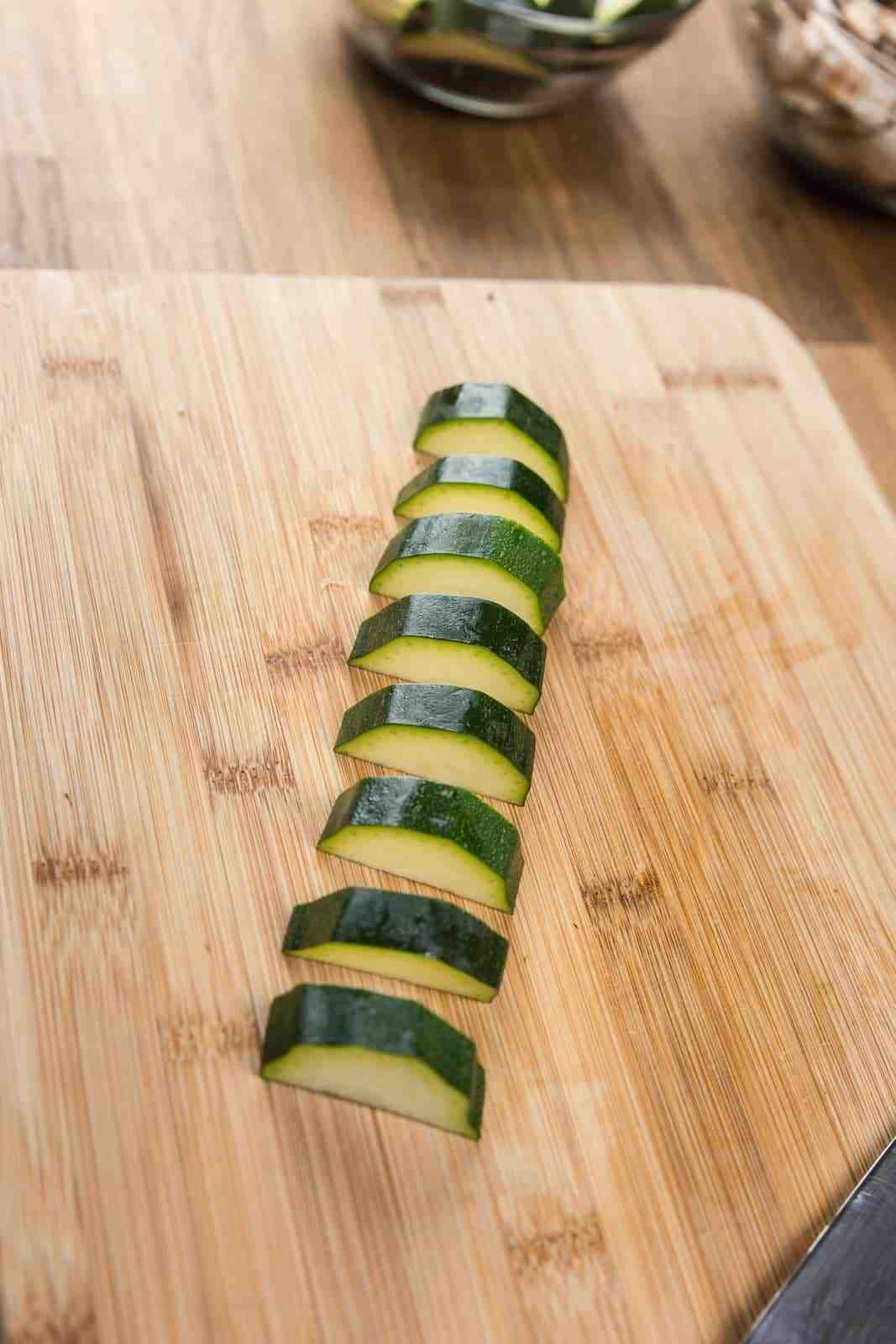 2. For Evenly Cooked Pasta: make sure all the Penne Rigate Pasta are completely submerged into the sauce before pressure cooking.
3. Dump-and-Go Option: For Busy families, you can dump all the ingredients into the pot for a fast and easy one pot meal. Just take note that the flavors will take a hit. Make sure to add the Penne Rigate pasta and tomato paste last and start the cooking cycle immediately.
Watch How To Make Pressure Cooker Vegan Pasta Video:
Can't see the cooking video? Watch it here.
Now it's YOUR turn to take out your pressure cooker and make some Pressure Cooker Vegan Pasta!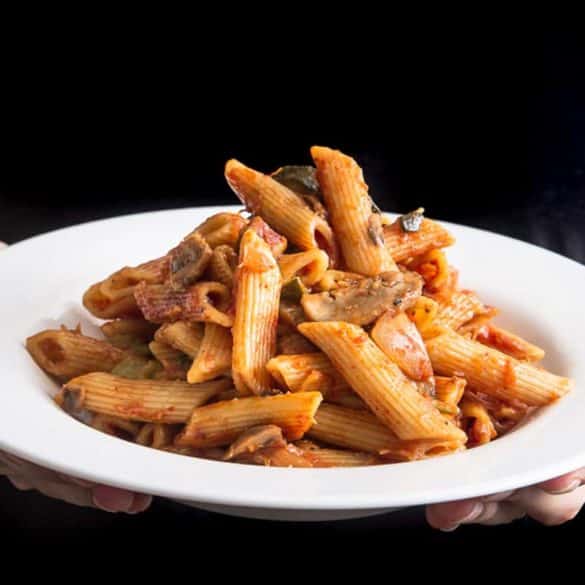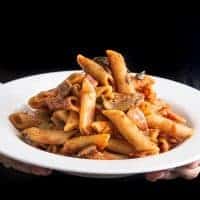 Pressure Cooker Vegan Pasta
Make this Easy Pressure Cooker Vegan Pasta in 30 mins! Comforting vegan pasta bursting with flavors. Great quick & easy dinner!
Ingredients
1

pound (454g)

penne pasta

1

small onion

, sliced

1

small shallot

, diced (optional)

3

cloves

garlic

, minced

12

white mushrooms

, sliced

1

zucchini squash

, thickly sliced

A dash

sherry wine

A pinch

dried oregano

A pinch

dried basil

Kosher salt and black pepper to taste
Instructions
Prepare Pressure Cooker: Heat up pressure cooker (Instant Pot: press Sauté button, Adjust button to Sauté More function). Ensure your pot is as hot as it can be before adding any ingredients (Instant Pot: wait until indicator says HOT).*Pro Tip: If you prefer crunchy zucchini squash, sauté sliced zucchini squash with 1 tbsp olive oil and set aside.

Sauté Onion, Garlic, and Shallot (Flavor Enhancement Step): Add 1 tbsp olive oil. Ensure to coat the oil over whole bottom of the pot. Add minced shallot and sliced onion, then sauté. Add a pinch of kosher salt and ground black pepper to season. Stir occasionally until slightly browned. Add minced garlic and stir for roughly 30 seconds until fragrant. Add sliced mushrooms, a pinch of dried oregano, a pinch of dried basil, and sliced zucchini squash (omit zucchini squash if you already sauteed them) and cook for another minute. Taste and adjust if necessary.

Deglaze and Create Pasta Sauce: Pour in a dash of sherry wine and deglaze the bottom of the pot with a wooden spoon. Mix 1 cup unsalted chicken stock (or vegetable stock), 2 cups of water, 2 tbsp regular soy sauce, 1 tbsp fish sauce, and 1 tbsp Worcestershire sauce in the pot.

Pressure Cook Pasta: Pour Penne in the sauce. Place 156ml tomato paste on top of the pasta and mix (See Notes). Test seasoning and adjust. Ensure all Penne are completely submerged in the sauce. Pressure cook at High Pressure for 4 minutes. Turn off the heat and wait 5 minutes before Quick Release.

Serve: Taste pasta, if you find them too hard, close lid and let the leftover heat cook them until desired doneness. If you have set aside some crunchy zucchini squash, now is the time to mix them in and serve immediately. Add freshly grated Parmesan cheese to take it up a level. Enjoy~
♥ Spread the Love by sharing this recipe, so others can enjoy it too!  Thank you 🙂
Recipe Notes:
Dump-and-Go Option: you can dump in all the ingredients together for a fast and easy one pot meal. However, the flavor will take a hit. Make sure to add the Penne Rigate and tomato paste last and start the cooking cycle immediately. Mixing Tomato Paste: Mixing 156 ml tomato paste with 3 cups of liquid should be completely safe. However, avoid mixing the tomato paste in if you are afraid of scorching. *Rate Recipe: If you've tried the recipe, don't forget to Rate the Recipe in the Comments Section. Thank you!
Nutrition Information:
Calories:
507
kcal
(25%)
Carbohydrates:
101
g
(34%)
Protein:
22
g
(44%)
Fat:
3
g
(5%)
Saturated Fat:
1
g
(6%)
Sodium:
1239
mg
(54%)
Potassium:
1134
mg
(32%)
Fiber:
7
g
(29%)
Sugar:
12
g
(13%)
Vitamin A:
693
IU
(14%)
Vitamin C:
21
mg
(25%)
Calcium:
57
mg
(6%)
Iron:
4
mg
(22%)