Lagostina is a premium cookware brand from Italy. Since 1901, Lagostina's core values of impeccable Italian craftsmanship, high-quality materials, technological innovation, and elegant design have endured.
As a big fan of Lagostina cookware (most of our cookwares are Lagostina!), we are thrilled to test and review the Lagostina Domina Vitamin Stovetop Pressure Cooker.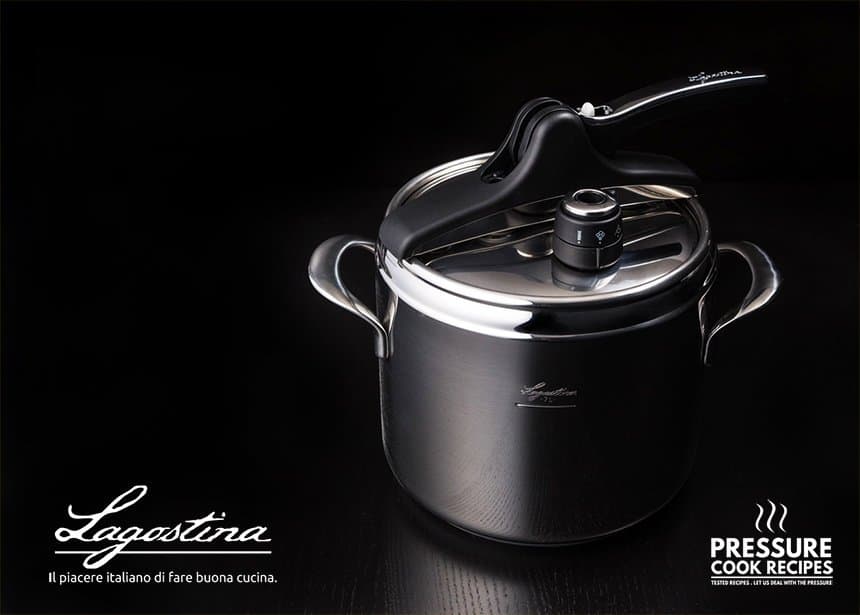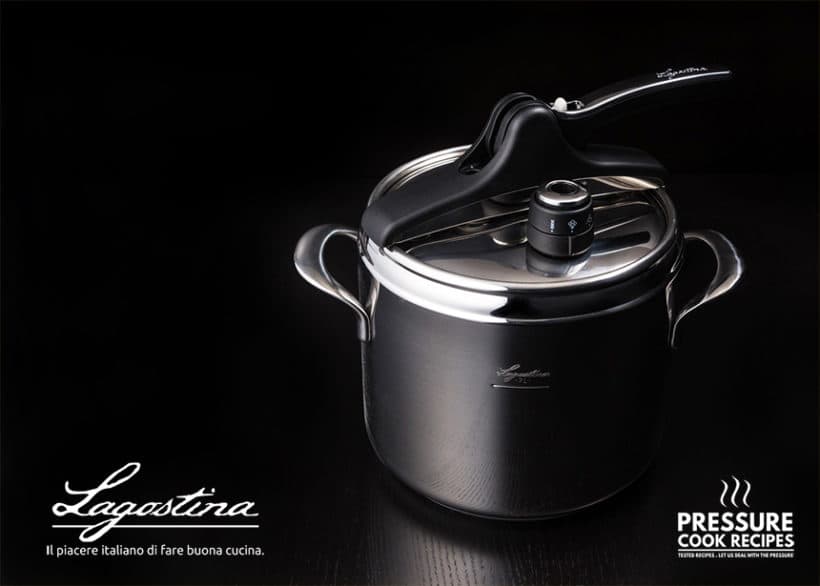 Lagostina Domina Vitamin Stovetop Pressure Cooker Highlights
---
Size: 7.4 Quart Capacity
Innovative Easy Opening System: Exclusive, patented one-hand drop lid opening system
Quality Materials: Durable 18/10 Stainless Steel Pot & exclusive LAGOPLAN 3-layer aluminum and stainless bonded base for optimal and uniform heat distribution
Superior Safety: Safety Leverblock® system prevents accidental opening until all steam has been vented from the pressure cooker
Dual Cooking Modes (2-Position Operating Valve): Two pressure settings for delicate vegetables & meat
Compatible with Many Heat Sources: including induction stovetop
Accessories: Full size stainless steel steamer basket, BPA-free plastic measuring cup
Limited Lifetime Warranty
Lagostina Domina Vitamin Stovetop Pressure Cooker Review
---
Lagostina Pressure Cooker Review Outline:
Lagostina Company Info
---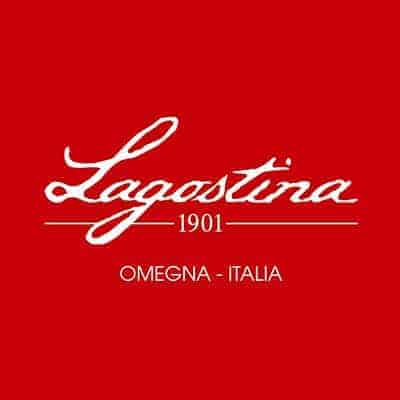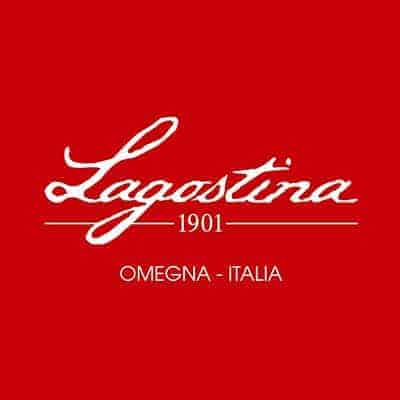 Lagostina, founded in Omegna, Italy in 1901, was initially a family business.
They recognized the exceptional qualities of stainless steel for cooking performance, and decided to specialize in manufacturing stainless steel cookware including pots, pans, and cutlery.
In fact, "Casa Mia", the first stainless steel cookware collection, was crafted by Lagostina.
The brand embraces the quintessential Italian culture: celebration of food, life, family and friends – values that are close to our hearts!
Cooking is an art that is meant to be shared.
So, we are more than thrilled to get our hands on one of their latest innovation – the new Lagostina Domina Vitamin Pressure Cooker with the open-close patented system « Easy Opening »!
Lagostina Pressure Cooker Product Overview
---
We will evaluate the Lagostina Domina Vitamin Pressure Cooker based on 7 aspects: Appearance & Ergonomics Design, Functionality, Usability, Performance, Accessories, Price, and Warranty.
1. Appearance & Ergonomics Design
---
a) First Impressions – Wow
Don't dismiss the Lagostina Domina Vitamin Pressure Cooker because of the humble packaging box.
Once we unboxed the pressure cooker – wow.
They are not kidding about the impeccable Italian craftsmanship, high-quality materials, and elegant design.
It was like a work of art with the modern & sleek design. We love the signature mirror polish finish.
What a beauty!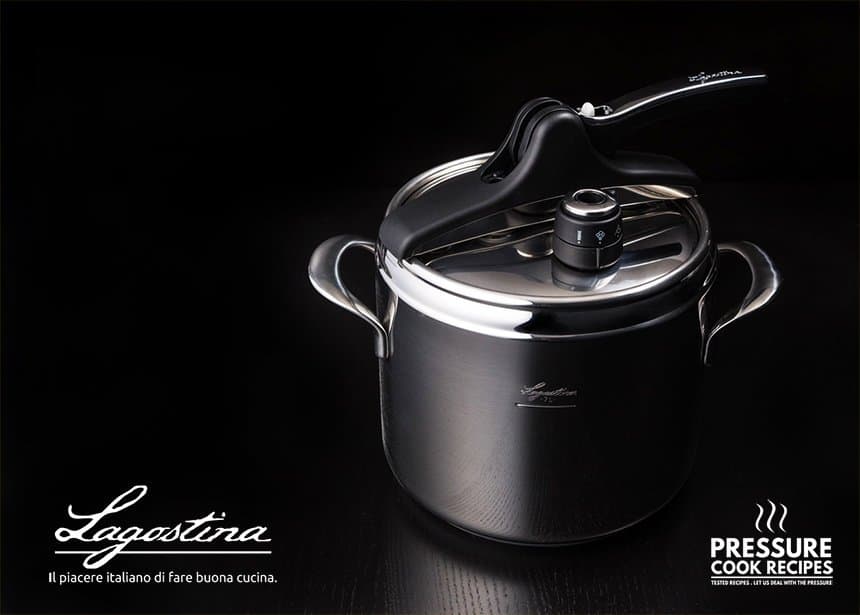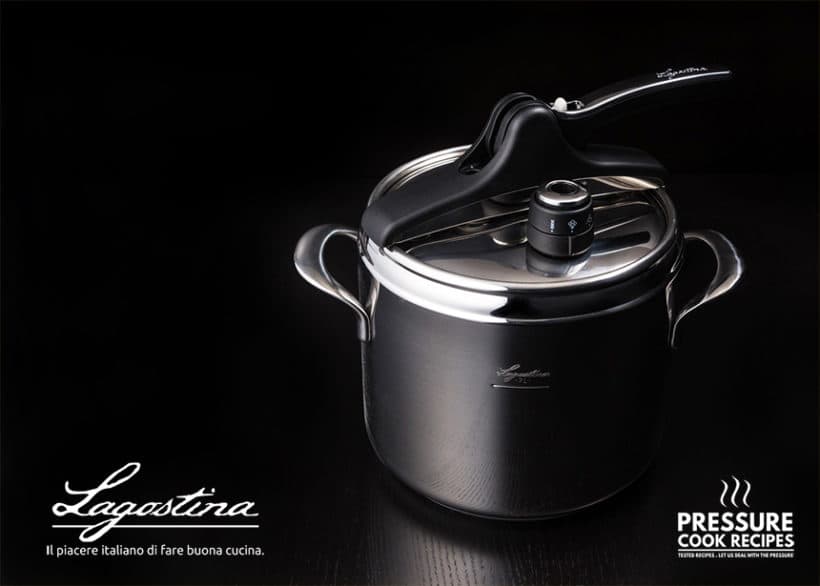 b) High Quality Materials & Built – More Versatile
Uniform Heat Distribution: The super high quality 3-layer aluminum and stainless bonded base is optimized for uniform heat distribution.
Multiple Compatible Heat Sources: 
Induction heating – yes! It's induction stovetop compatible!
Ceramic
Gas
Solid electric
Halogen
Directly Brown & Saute in the Same Pot:
The stainless steel material is not only a beauty, but it's also metal-utensil safe, and you can brown a piece of meat directly in the pressure cooker before pressure cooking – one less pan to wash! 😀
c) Two Stainless Steel Handles – Easier to Carry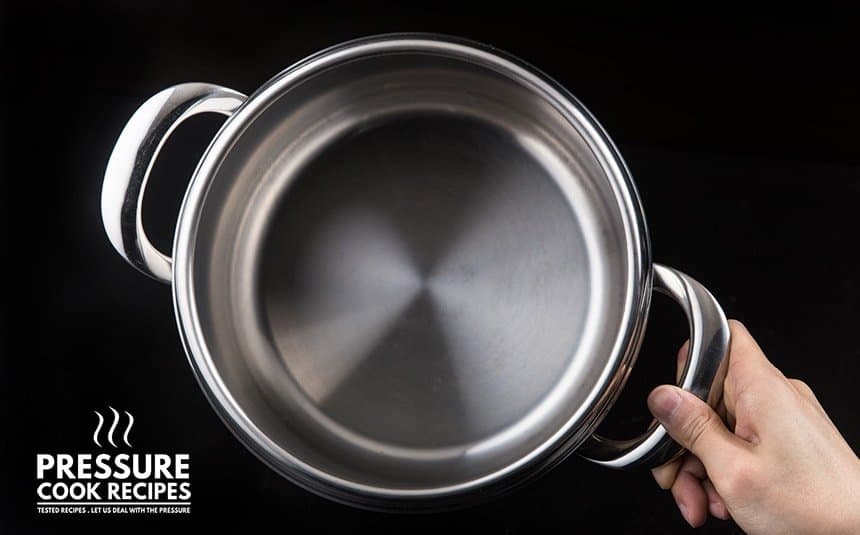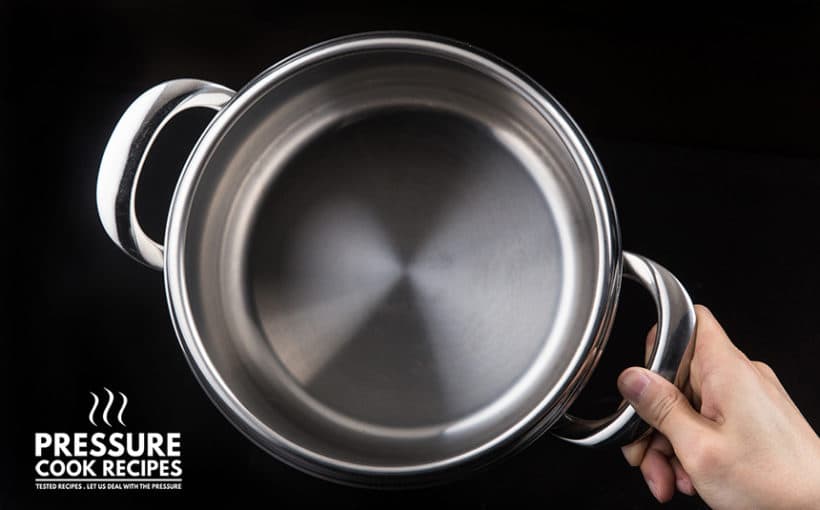 For other stovetop pressure cookers, they usually use a long black plastic handle on one side for carrying the pot. But Lagostina opted for 2 stainless steel handles on both sides.
This makes it much easier to balance and carry the pressure cooker, especially when the pot is hot and heavy. It also reduces the stress on the handles to prolong the pressure cooker's longevity.
However, the handles do get a bit hot if touched by bare hands. So, be sure to wear oven mitts/silicone gloves when carrying the pressure cooker.
d) Innovative Lid – No Stinky Silicone Sealing Rings
Innovative System: This exclusive & patented « Easy Opening » one-hand drop lid opening system is designed by Lagostina.
All you need to do is align the lid to the pot, then push down the lever to seal the pressure cooker.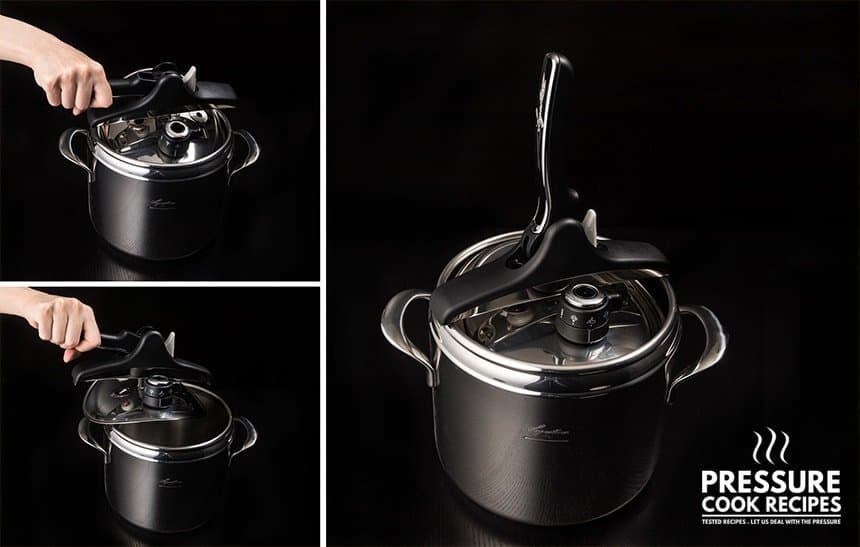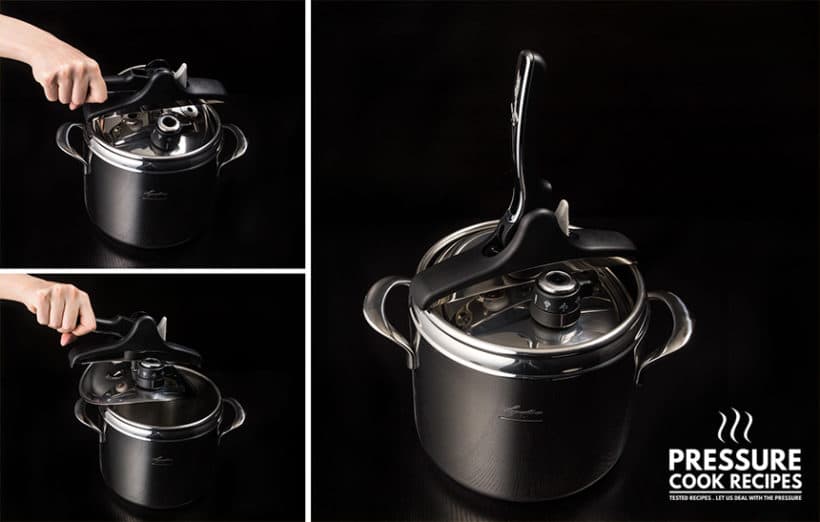 Easy, No Sealing Rings, but Need Practice:
It's a huge plus when you don't have to worry about the silicone ring – making sure it's seated properly, cleaning out the stinky smell, or the wear & tear causing steam to leak from the pot.
However, it took us some time to get used to this innovative lid design. But once you get the hang of it, it's easy peasy.
Further Enhances Safety: Since the lid is tight up against the rim of the pot (not sitting on top of the pot), it further minimizes the cover from blowing off.
2. Functionality
---
We have successfully tested some of our recipes such as Pressure Cooker Rice & Pressure Cooker Pork Chops in HK Onion Sauce in the Lagostina Domina Vitamin Stovetop Pressure Cooker.
a) Dual Pressure Cooking Settings
Flexible Pressure Cooking: the operating valve allows you to choose between 2 pressure cooking settings (High Pressure & Low Pressure). The pressure levels (PSI) are almost identical to Instant Pot's pressure levels. This means you can use any Instant Pot Recipes without adjustments!
Low Pressure Setting: 6 PSI / High Pressure Setting: 10 PSI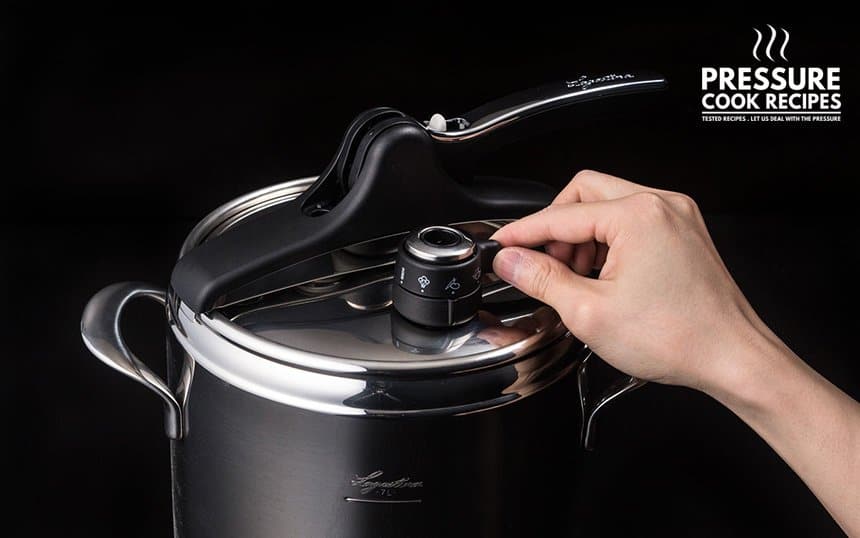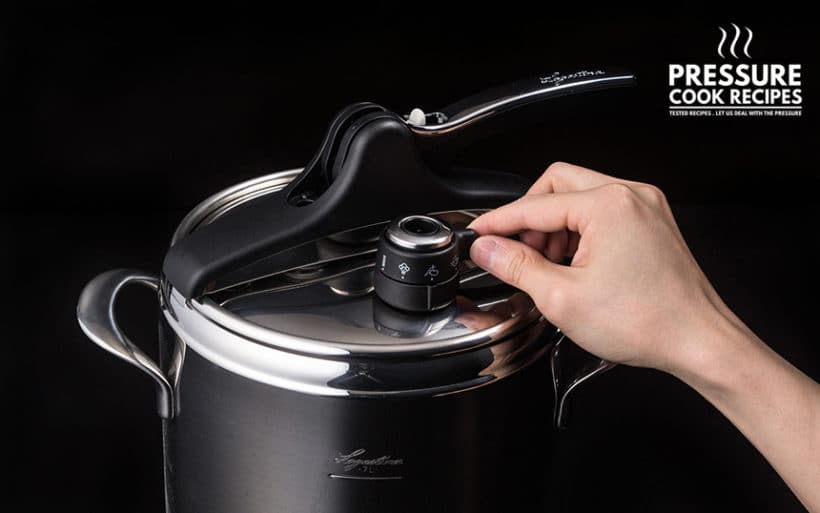 Easy to Use Pressure Release Valve:
It has 4 icons/word printed on the valve:
Meat – High Pressure setting
Vegetables – Low Pressure setting
Steam – for releasing the pressure/steam after pressure cooking
"Remove" – when you want to take out the valve
With this simple design, you don't have to worry about pressing buttons to set programs, or forgetting to seal the pressure release valve to start cooking.
b) 2-in-1 Pressure Cooker & Stock Pot 
Besides using it as a pressure cooker, you can easily use it as a regular high quality stock pot on your preferred compatible heat sources.
All you need is this Lagostina's Compatible Lid. OR if you already have a 21cm diameter lid, you're all good to go. 🙂
Bonus Stove-to-Table: With the pot's beautiful design, you can even save time & dish washer space by serving the food on the table in the same Lagostina pot.
3. Usability
---
After testing our recipes with this Lagostina Domina Vitamin Pressure Cooker, we like how it is easy to use, easy to clean, easy to store, and it's light & small enough to carry around.
We know we're comparing apples and oranges, but just to give you an idea:
7.4 Qt Lagostina Pressure Cooker: 5.09 lbs
6 Qt Instant Pot Electric Pressure Cooker: 14.6 lbs
4. Performance & Efficiency
---
a) Lagostina Stovetop Pressure Cooker Water Test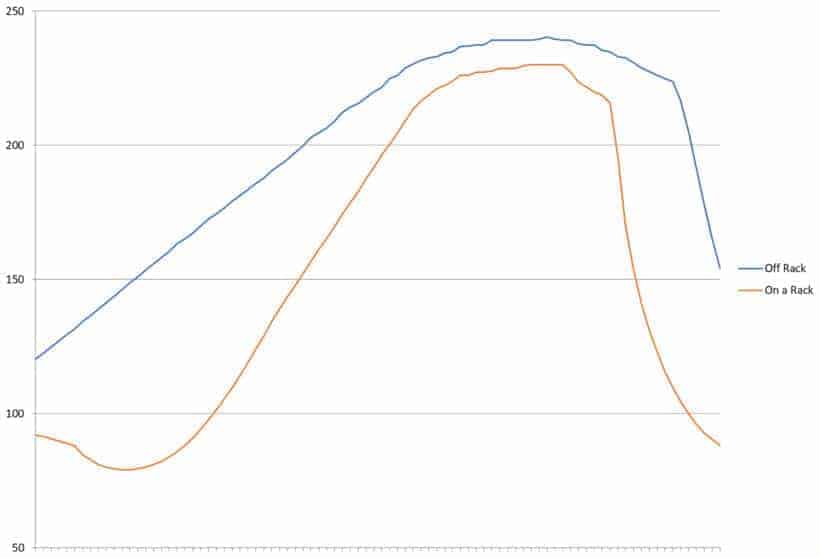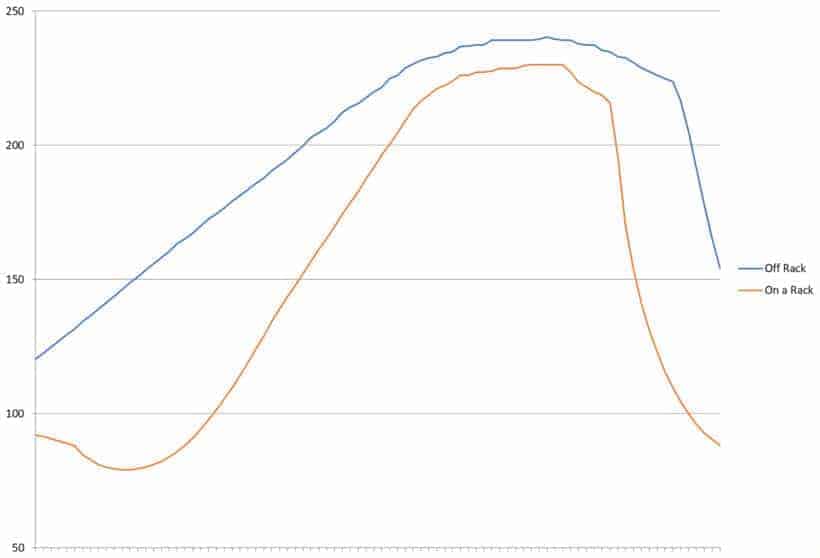 We measured the temperatures during two High Pressure water tests. The peak temperatures registered at Off Rack: 240.3°F and On a Rack: 230.1°F. These measurements are very similar to the ones we've got from our Instant Pot Electric Pressure Cookers.
b) Better Browning
Browning food in the Lagostina Pressure Cooker is like browning in a skillet, so it's more efficient than browning food in electric pressure cookers.
5. Accessories
---
As we opened the lid of the Lagostina Pressure Cooker, the full size steamer basket caught us by surprise. It's made of high quality stainless-steel. 🙂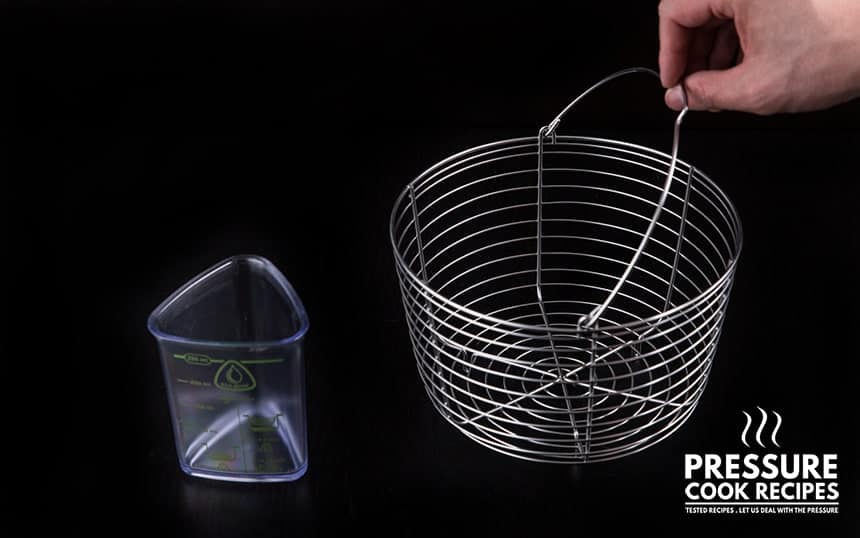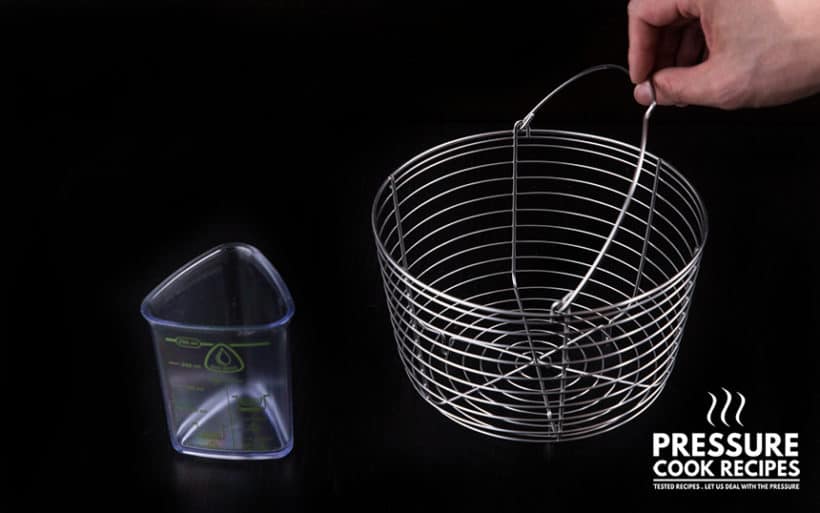 It also came with a user manual, a recipe book (10 recipes developed and tested by their chef), and a BPA-free plastic measuring cup.
6. Price
---
The price of this Lagostina Pressure Cooker is certainly not on the economical side.
However, considering the quality, design, durability, and functionality, the price is well justified.
Besides, it can double up as a quality pot for stovetop cooking, and a beautiful serving pot. 😉
7. Warranty
---
Good for life…sort of 😉
Direct words from the Manual: Lagostina guarantees to repair or replace any item found defective in material, construction or workmanship under normal use, and following care instructions. This guarantee related to the metal base of the Domina Vitamin. For other parts, a 2 year parts and labor guarantee is provided (except where applicable law in your own country states otherwise). This guarantee covers any manufacturing defects.
Pros
---
Trusted brand
High quality built & beautiful sleek design
2 Pressure Cooking Settings
Flexible: compatible with most heat sources including induction
Don't need any silicone sealing rings
Easy to use, clean, store, and carry
Durable
Safe
Cons
---
Pressure Level: The maximum pressure level is lower than the standard 15 PSI of many Stovetop Pressure Cookers in the market.
Price: Price is slightly on the higher side in the pressure cooking industry.
Innovative Lid: You might get slightly frustrated using the innovative lid « Easy Opening » system in the first few tries, as it's not as simple as covering the pot with a straightforward lid. However, after some practices and getting used to the system, it's easy.
Convenience: For those who enjoy the "set-it-and-forget-it" convenience of an electric pressure cooker may not like stovetop pressure cookers as much because it'll require more attention.
Who Should Buy Lagostina Domina Vitamin Pressure Cooker?
---
Pressure Cooking Newbies: Easy and simple enough to use for someone new to pressure cooking
Durable: If you want a high quality pressure cooker that lasts a long time, this is it!
Relatively Compact: Good for those that may be tight on counter space or shelf space, but need to cook for a medium-sized family.
Versatile: Great if you like a cookware that can do more than one thing & be able to use on different heat sources.
Lagostina Domina Vitamin Pressure Cooker Specifications
---
| | |
| --- | --- |
| Manufacturer |   Lagostina |
| Type |   Stovetop Pressure Cooker |
| Origin |   Made in Italy |
| Model |   Q5510664 Domina Vitamin |
| Working Pressure |   Two Pressure Settings: High Pressure at 10 psi (70 kPa); Low Pressure at 6 psi (40 kPa) |
| Material Type  |   18/10 Stainless Steel with LAGOPLAN® tri-ply bonded base |
| Safety Mechanisms |   UL Certified Safety Mechanisms |
| Dimensions |   8.9 x 12.2 x 10.6 inches (9″ diam., 11″ high (with lid)) |
| Weight |   5.09 Pounds |
| Volume |   7 litres (7.4-Quart) |
| Accessories |   BPA-free Measuring Cup, Stainless Steel Steamer Basket, User Manual |
| Warranty |   Limited Lifetime Warranty |
Disclaimer: Thank you Lagostina for providing us with this Lagostina Domina Vitamin Stovetop Pressure Cooker review unit in exchange for our honest and unbiased review. All opinions, photos, and test results are ours.
Some Useful Tips & Resources
All Our Pressure Cooker Recipes
*Disclosure: We are an Amazon Influencer/Amazon Associate. This means that if you decide to purchase items or services on Amazon through our links on Pressure Cook Recipes to Amazon, Amazon will send a small commission to us at no additional costs to you. Thank you!