Just got a new Instant Pot Pressure Cooker? Welcome to the Instant Pot Tribe!! Time to learn the Instant Pot Terminology in Instant Pot Recipes, Instant Pot Manual, and lingo commonly used by fellow Potheads among Instant Pot Communities.
Here's an Instant Pot Glossary for the abbreviations and jargon that will get you off your feet as a newbie.
Leave us a comment if you think there are other Instant Pot terms that belong to this list. Thanks! 🙂
Ready to learn the Instant Pot Codes?
Instants Pot Acronyms
1. IP, Instapot, Magic Pot, Pot = Instant Pot
Example: My DH accidentally poured food in the IP without the pot. Please help! TIA
Decode: My dear husband accidentally poured food in the Instant Pot without the inner pot. Please help! Thanks in advance.
2. Pothead, Potters = Instant Pot users
3. PC = Pressure Cooker
4. EPC = Electric Pressure Cooker
Instant Pot is one of many brands of Electric Pressure Cookers in the market.
5. HP = High Pressure
High Pressure is the pressure cooking mode that cooks at 10.2 – 11.6 psi.
6. LP = Low Pressure
Low Pressure is the pressure cooking mode that cooks at 5.8 – 7.2 psi.
7. NR, NPR = Natural Release or Natural Pressure Release
After the cooking cycle finished, let the Instant Pot releases the pressure on its own (let it sit) until the Floating Valve (metal pin) completely drops.
8. QR, QPR = Quick Release or Quick Pressure Release
After the cooking cycle finished, move the Venting Knob from Sealing Position to Venting Position to quickly release the pressure inside the pressure cooker. Wait until the Floating Valve (metal pin) completely drops before opening the lid.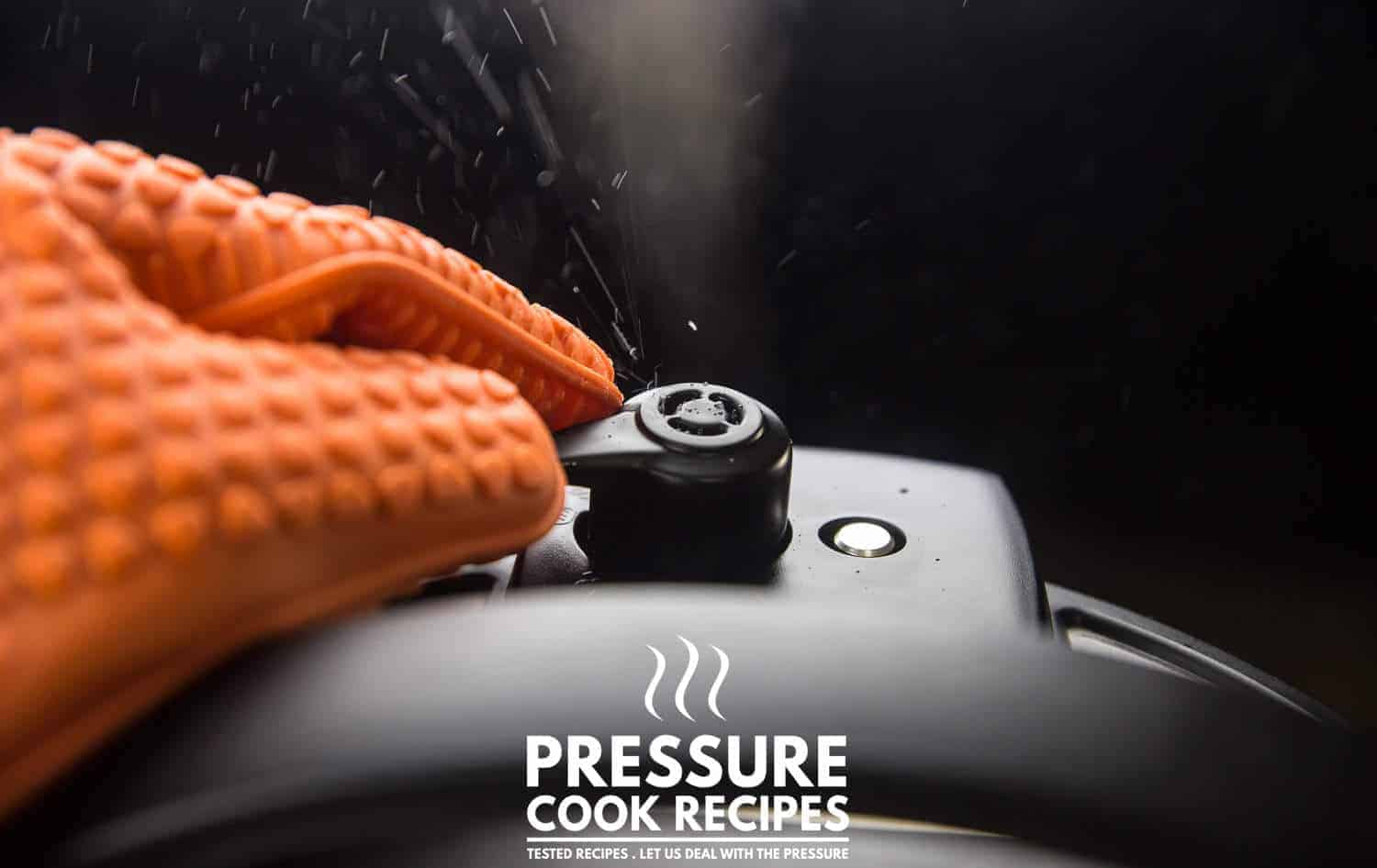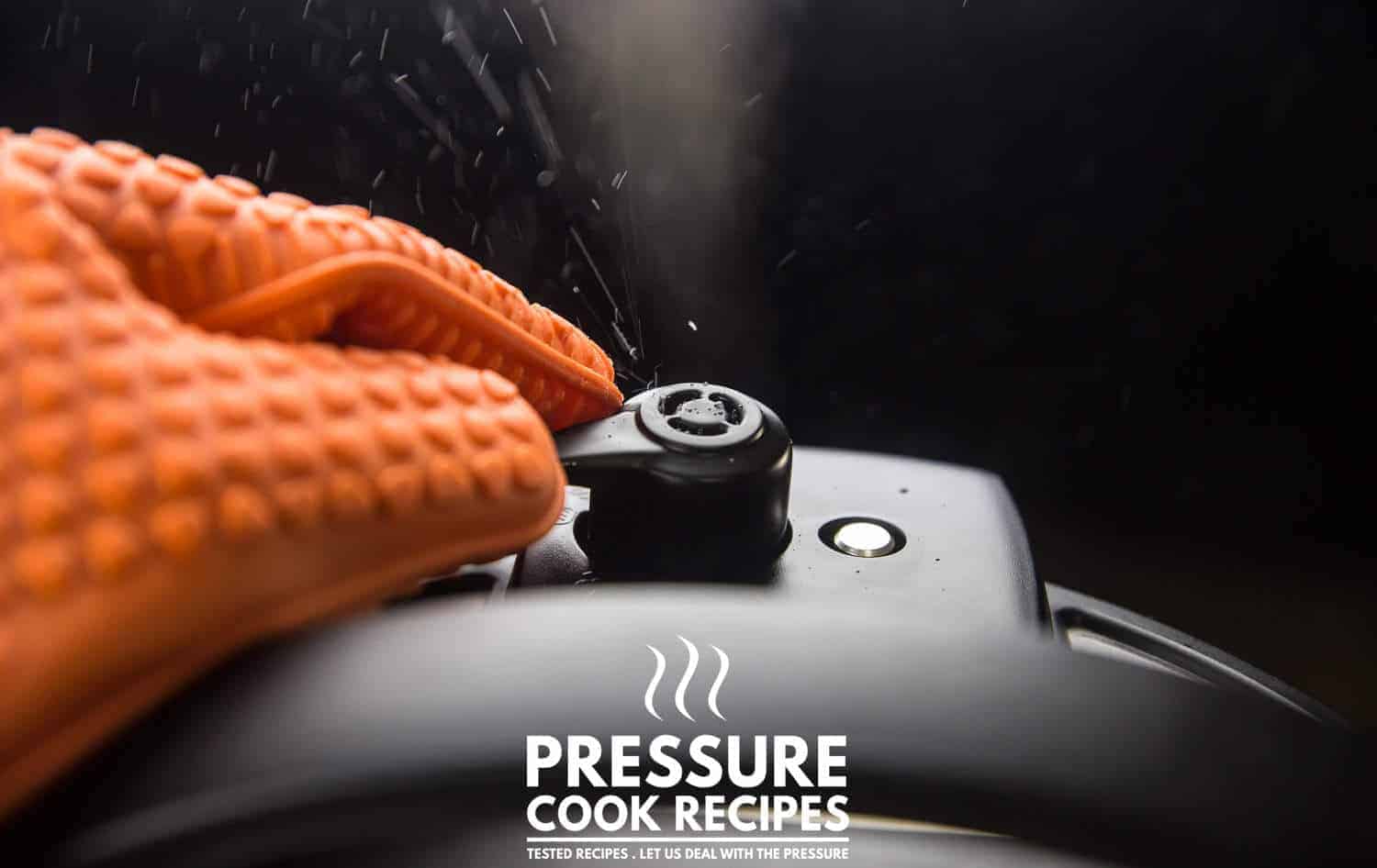 9. HA = High Altitude
Your current location's altitude affects the optimal pressure cooking time. So, if you live in a high altitude city over 3000 ft above sea level, adjust the cooking times for our recipes using the Pressure Cooker High Altitude Cooking Time Chart.
10. PIP = Pot in Pot or Pan in Pot
The Pot-in-Pot method allows you to cook more than 1 dish separately in the same pot at the same time.
You can do this by placing the ingredients in an oven-safe container on a rack inside the pressure cooker, separating it from the liquid and/or ingredients directly in the pot.
For example, you can cook rice and main dish at the same time in the Instant Pot!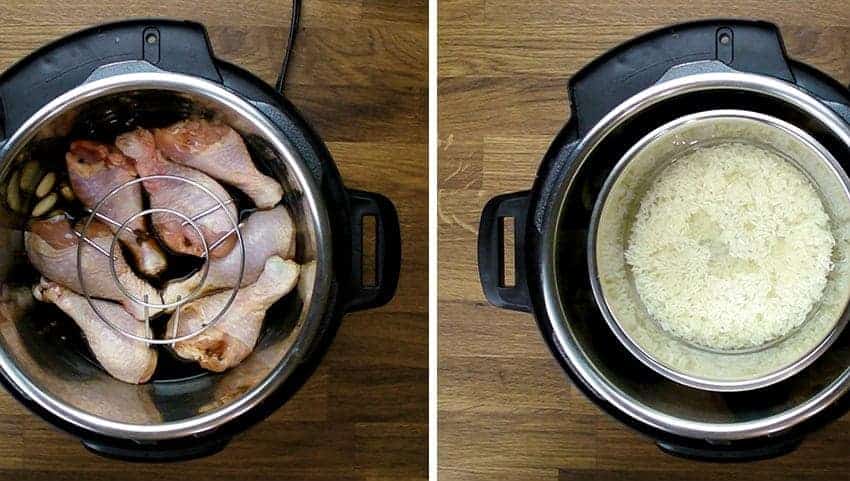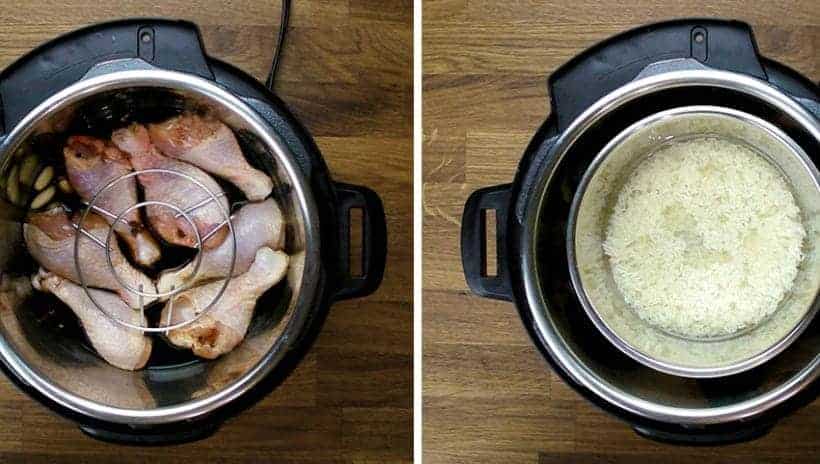 11. 5-5-5 = High Pressure 5 minutes, Natural Release 5 minutes, Ice Bath 5 minutes
This is one of the many methods for making Hard Boiled Eggs in the Instant Pot. Same idea with 6-6-6 or 4-4-4.
However, we still enjoy making Instant Pot Eggs using Low Pressure. 😉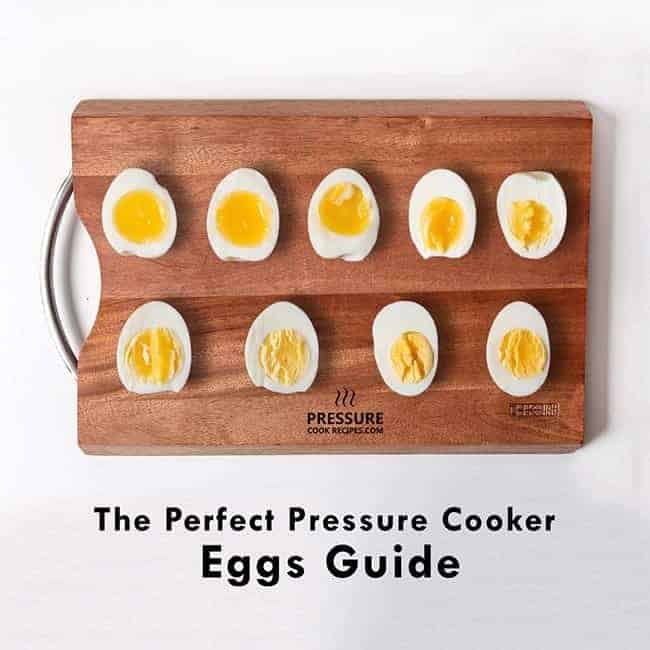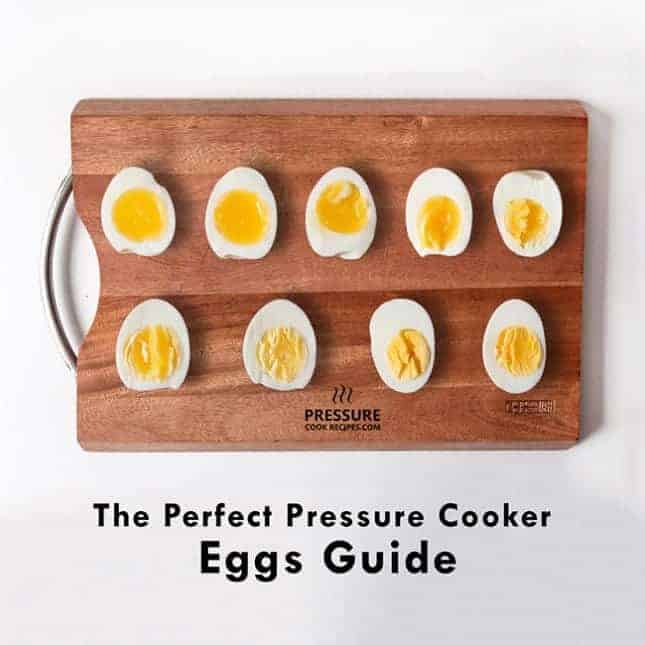 12. Cheesecake #17
Why is there a number with the cheesecake photos shared everywhere? Is there a mystery Instant Pot Cookbook somewhere?
You might call us crazy..But yes! We tested our New York Cheesecake Recipe 17 times before perfecting it. This way, you can save time & money from experimenting! 😉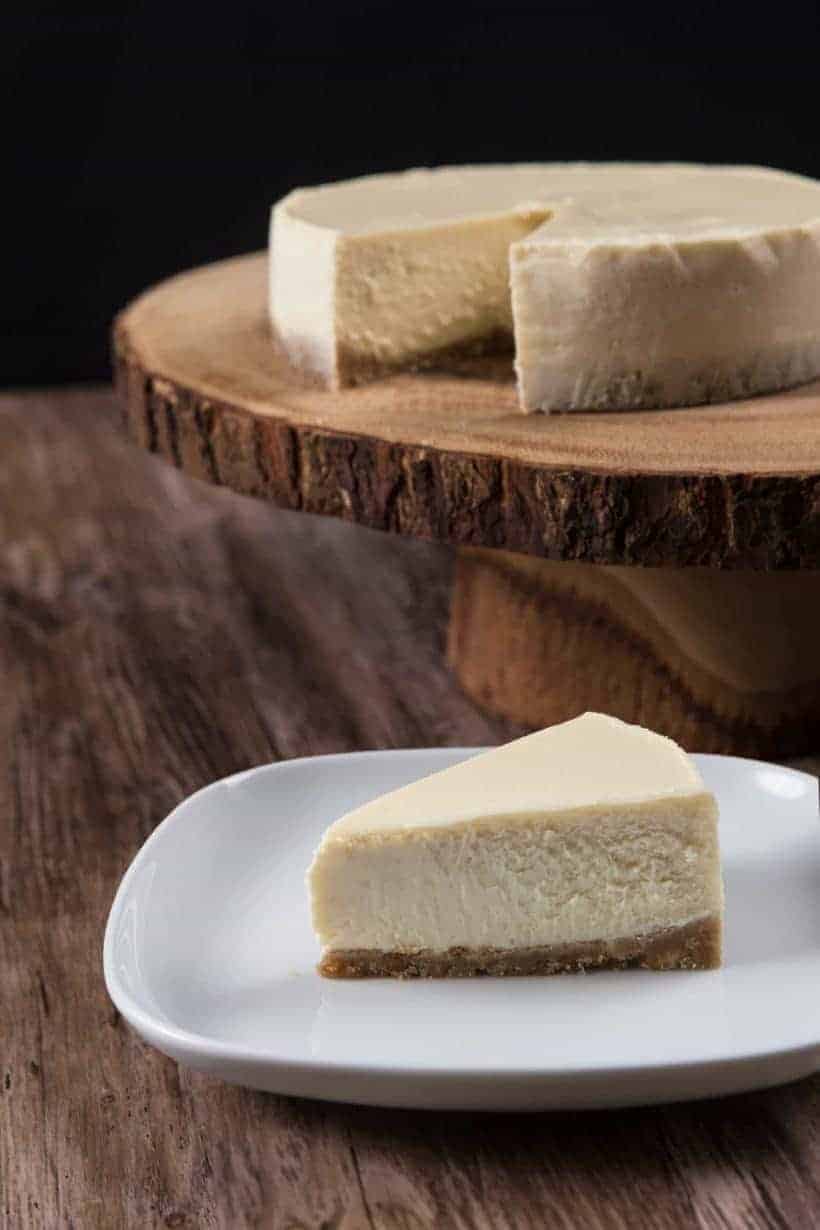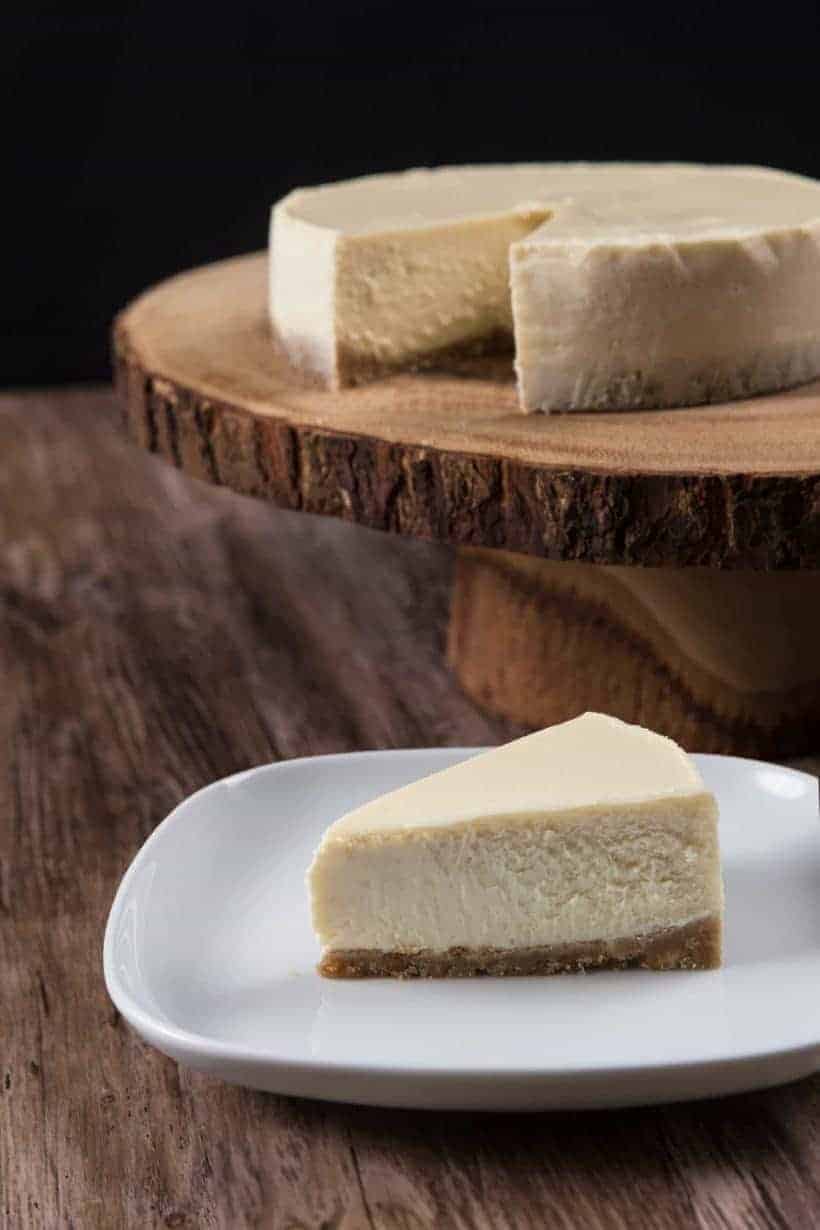 Instant Pot Terminology
1. Instant Pot LUX, DUO, DUO Plus, Ultra, Smart, Smart Wifi, Nova
The Instant Pot Company currently manufactures 5 different product lines of Instant Pot Electric Pressure Cookers: LUX, DUO, DUO Plus, Ultra, and Smart.
They vary in features, functionalities, designs, sizes, and price.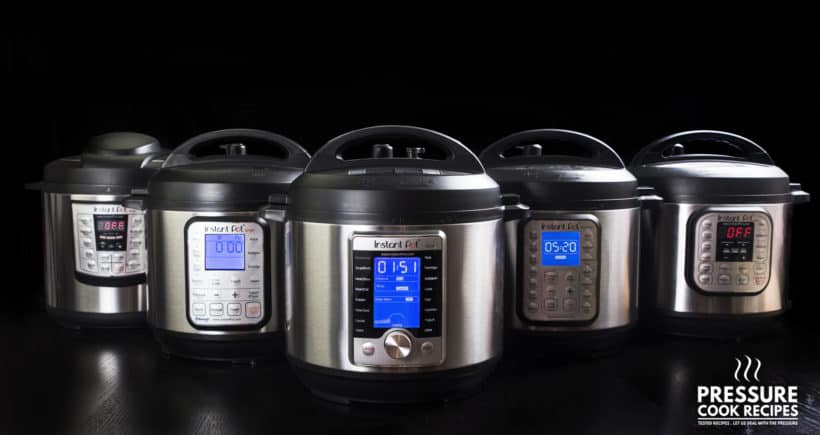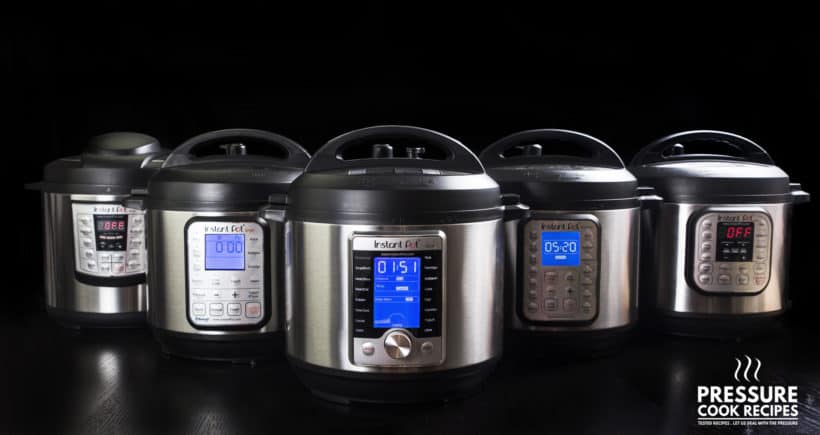 2. Exterior Pot / Exterior Housing / Cooker Base
The exterior pot or housing refers to the outer brushed stainless steel part – where you place the inner pot.
Caution: never immerse the exterior Instant Pot housing in any type of liquid.
3. Inner Pot / Insert / Liner / Stainless Steel Inner Pot
The inner pot is the removable 3-ply bottom stainless steel cooking pot (as shown in photo below) – where you place your food/liquid.
Note: This inner pot is dishwasher safe.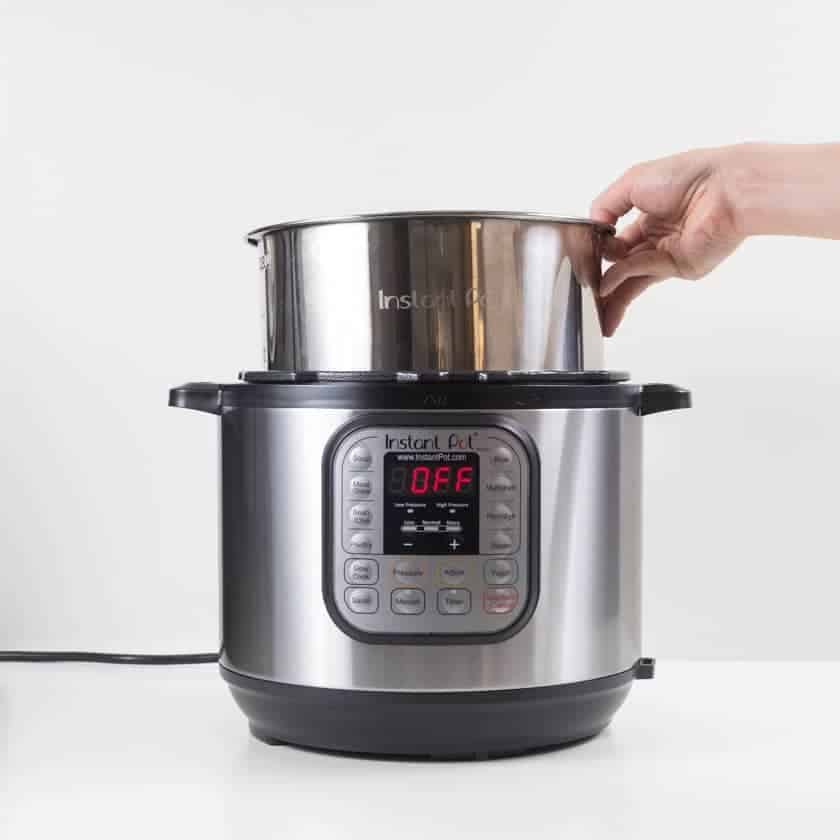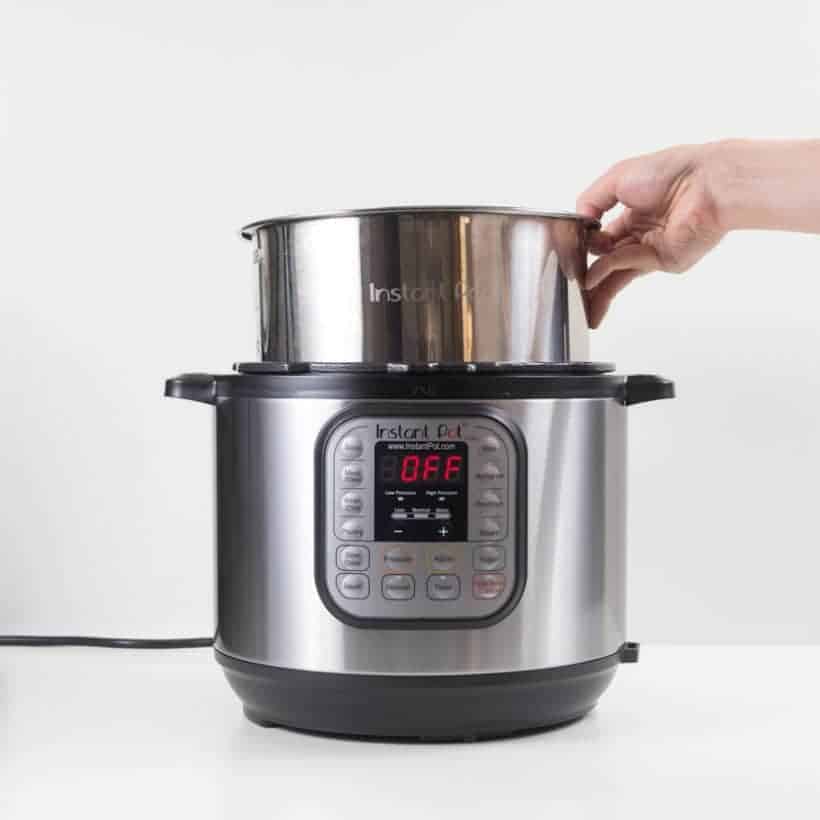 Each Instant Pot Electric Pressure Cooker comes with 1 stainless steel inner pot. You can purchase an extra one for more flexibility:
4. Instant Pot Lid
The few critical parts you need to know about the Instant Pot Lid: Silicone Sealing Ring, Venting Knob, Floating Valve, and Anti-Block Shield (further explained below).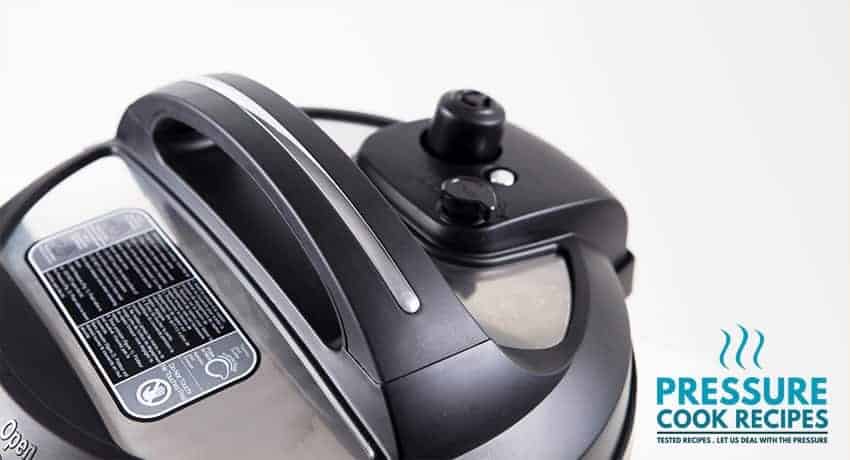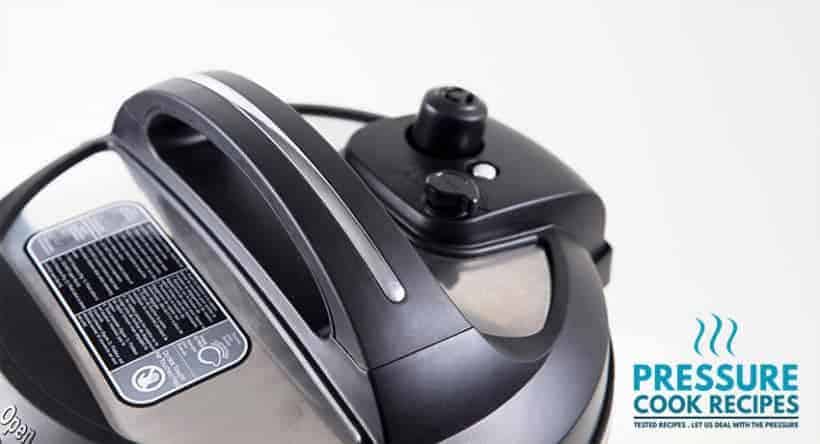 You can also purchase an Instant Pot Glass Lid (for slow cooking, keep warm mode), or Instant Pot Silicone Cover (for storing leftovers in the fridge).
5. Instant Pot Seal / Ring / Sealing Ring / Gasket
The Silicone Sealing Ring is critical to the pressure cooking process. So, it's important to always check if it's seated properly or damaged before you close the lid.
Note: the silicone ring is dishwasher safe.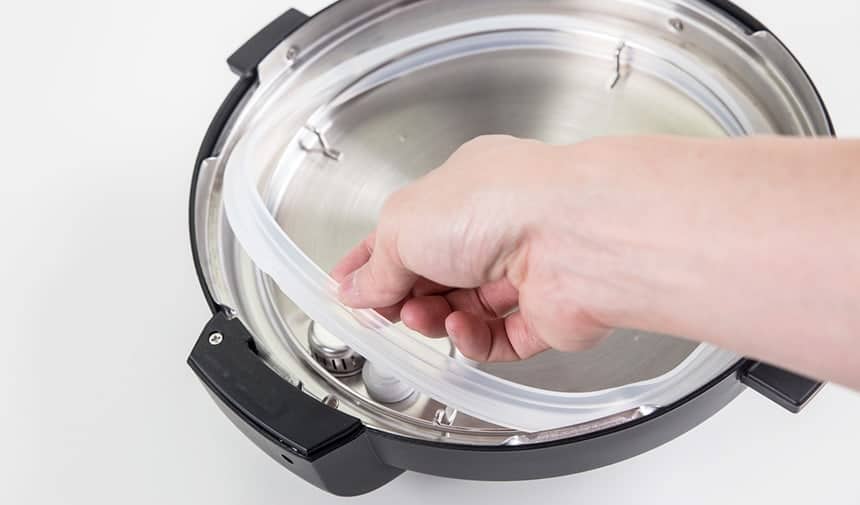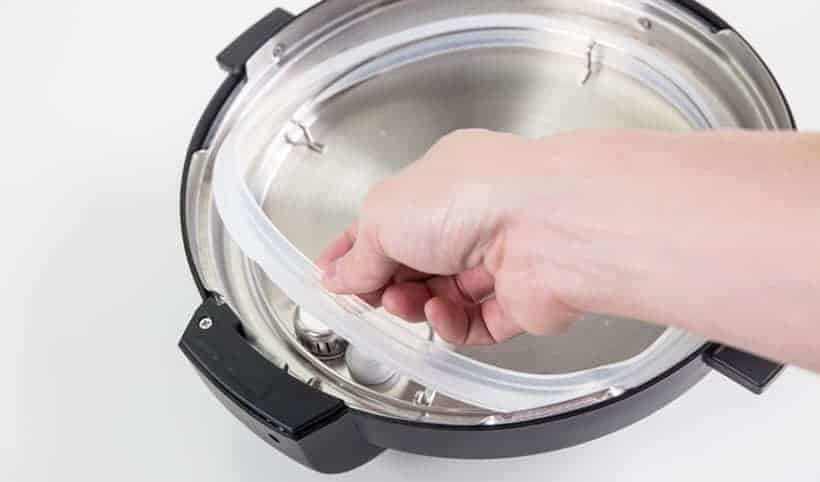 Amy + Jacky's Tips! It's always good to have spare Silicone Sealing Rings as they do wear and tear over time.
6. Knob / Venting Knob / Steam Release Valve / Pressure Release Handle
It's perfectly normal for the Venting Knob to be loose. You can pull it straight out for washing if necessary.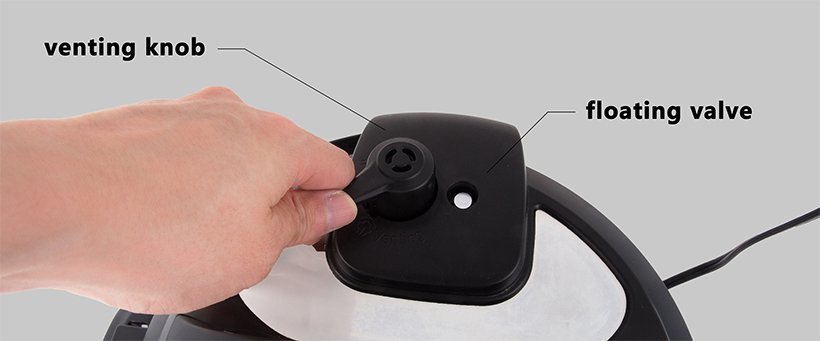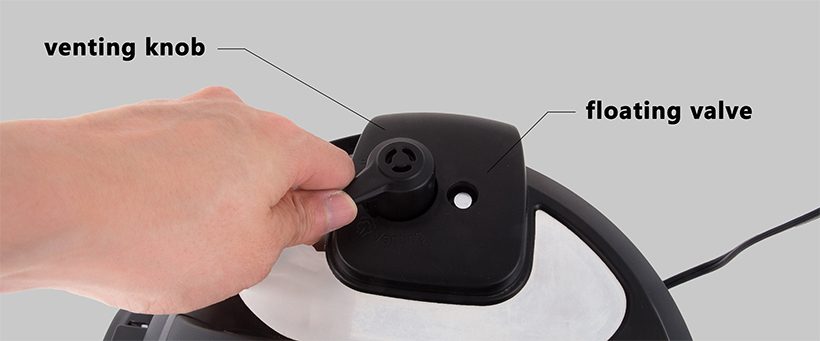 7. Valve / Floating Valve / Pin / Metal Pin
This Floating Valve shows you a key signal whether your Instant Pot has built enough pressure (up to pressure) or has finished releasing pressure (depressurize).
Note: different Instant Pot models' Floating Valve may look different than the one shown in photo below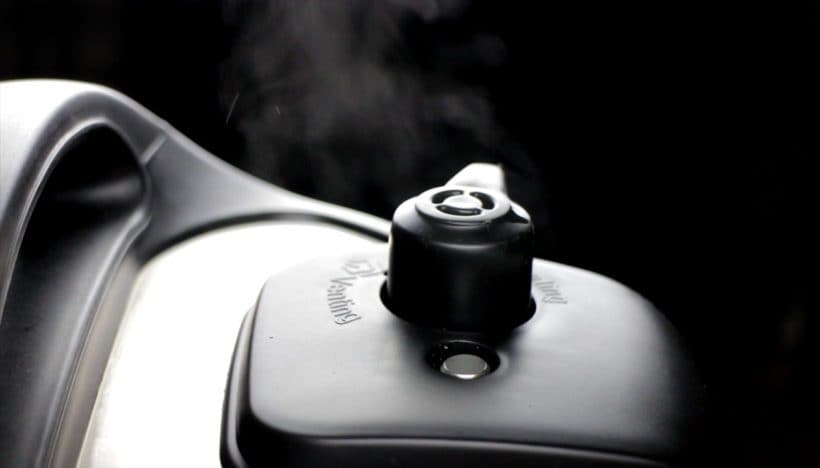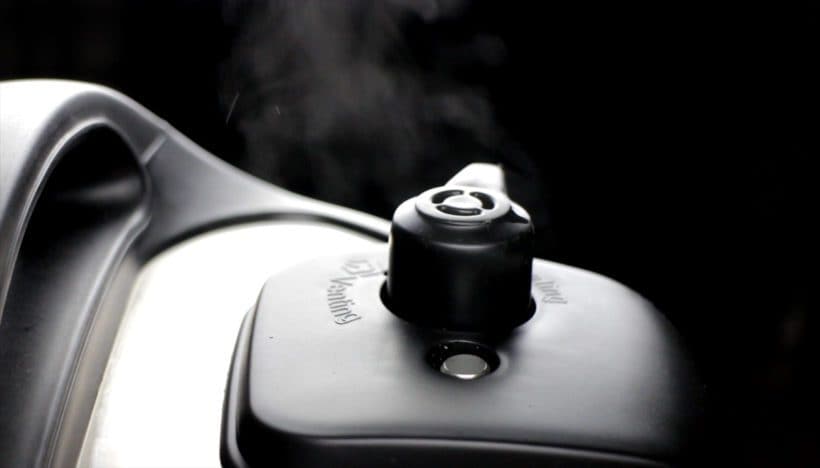 8. Sealing Position / Venting Position
It's critical to ensure the Venting Knob is in the right position for the pressure cooking to go as intended.
Sealing Position: allows you to trap the steam in the pressure cooker (build up pressure)
Venting Position: allows you to release the steam inside the pressure cooker (depressurize)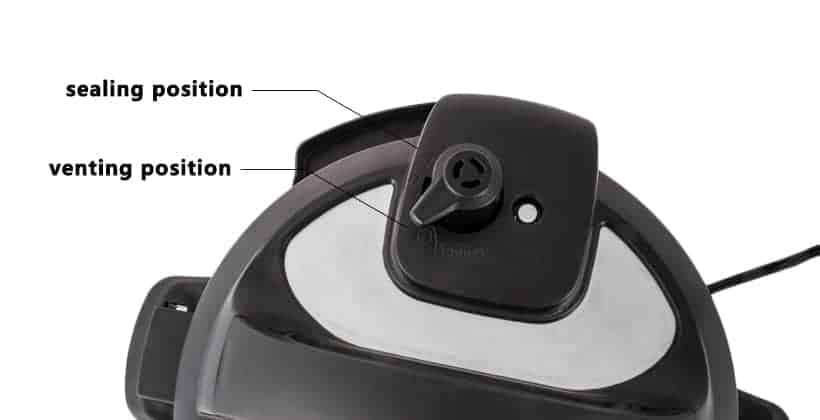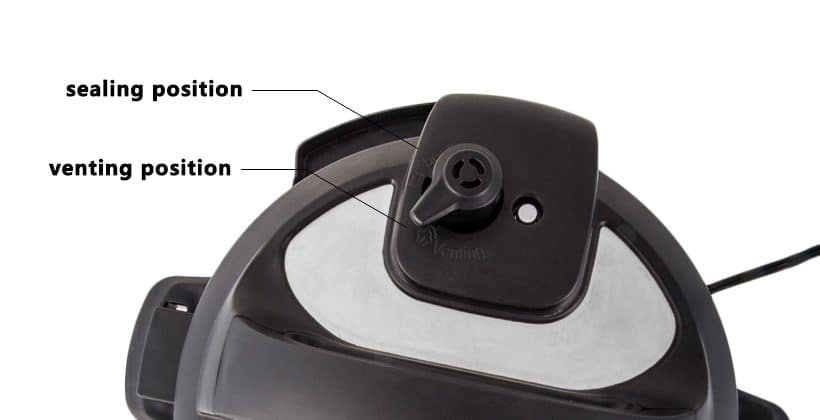 9. Shield / Anti-Block Shield
The Anti-Block Shield is one of the ten safety mechanisms of the Instant Pot that prevents food from interfering with the Venting Knob.
For cleaning, you can push it on the side to lift it up (as shown in photo below), and press it down in position to install it back in.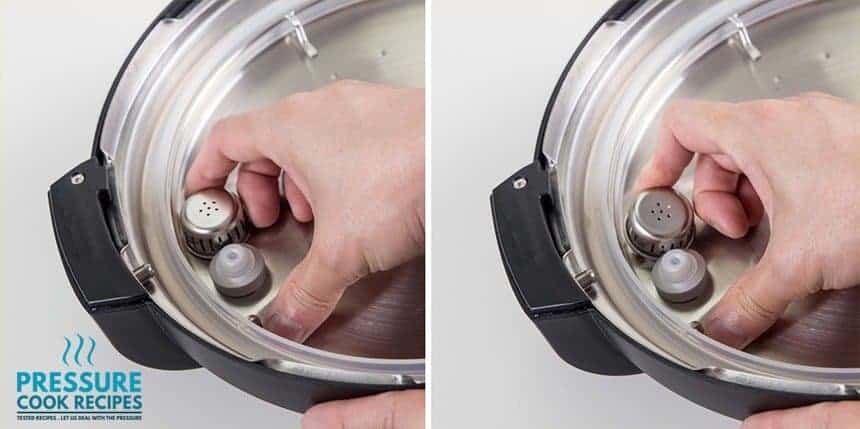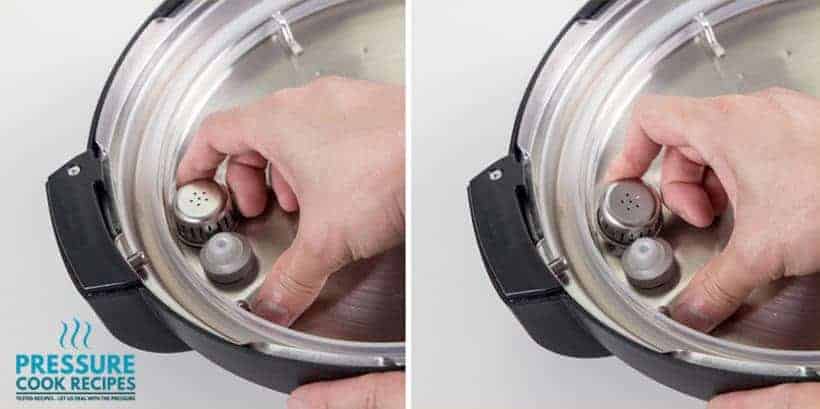 10. Condensation Collector
The flat little plastic cup that comes with your Instant Pot helps collect the condensation that sometimes drip into the gap as you open the Instant Pot Lid.
How to Install the Condensation Collector? First find the slot at the back of Instant Pot, then slide it right in (as shown in photo above).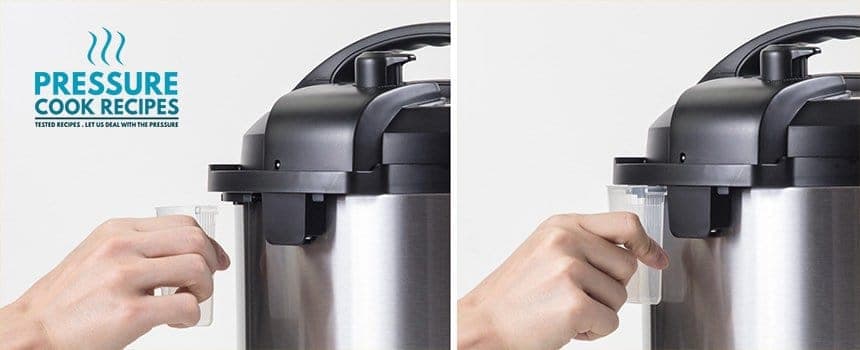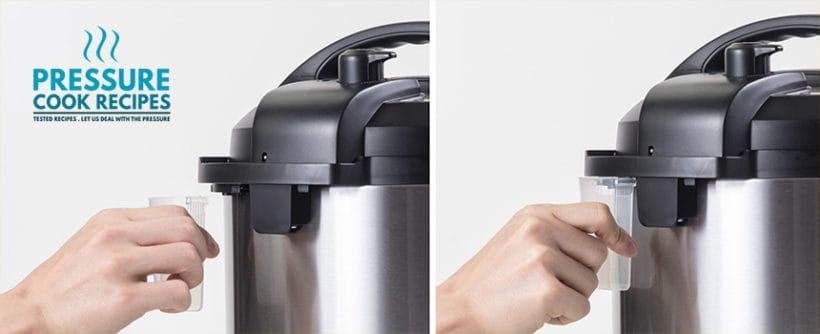 11. Trivet / Rack / Steamer Basket / Steamer Rack
What is a Trivet? It's the stainless steel rack that comes with the Instant Pot! A handy tool for cooking in the Instant Pot – especially great for steaming and Pot-in-Pot.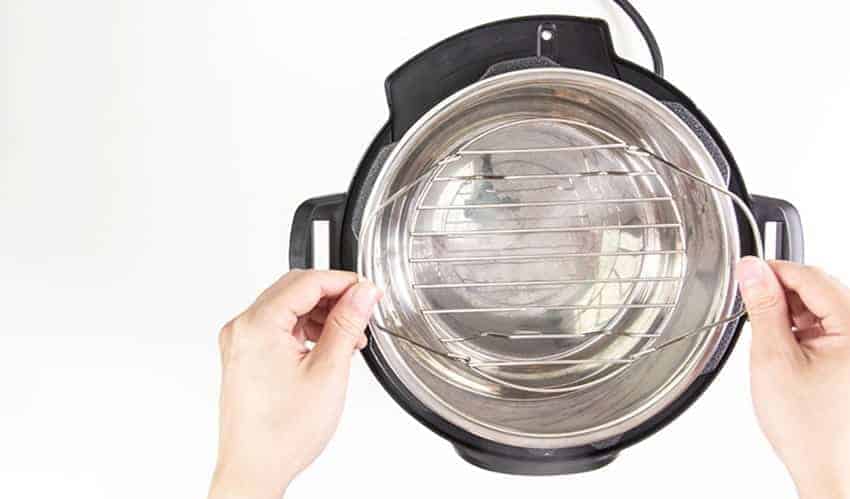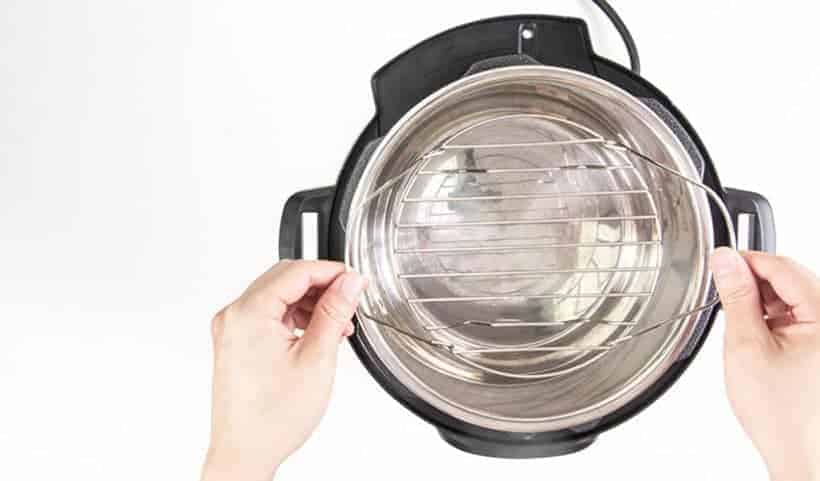 Note: each Instant Pot Pressure Cooker should come with a trivet, but they may look slightly different than the one above.
In many other recipes, we often call for a steamer rack or steamer basket, you can check out the best-selling Instant Pot Steamer Basket.
12. Water Test / Initial Test Run
What's the Water Test that everybody talks about? Some rite of passage into the Pothead Cult?
Ha! This is a recommended step that helps you familiarize yourself with how the Instant Pot Pressure Cooker works, and makes sure everything is working properly.
If your Instant Pot worked perfectly without conducting the Water Test, don't worry about it. 🙂
Step-by-Step Instructions: Instant Pot Water Test
That's all for now!
This gives you a leg up in understanding the Instant Pot Cult language and some background knowledge for reading the Instant Pot Manual or Instant Pot Recipes.
Did we miss any Instant Pot Terminology or Acronyms? Leave us a comment below.
BONUS: Easy Starter Recipes for You
Before you go, here are some popular easy Instant Pot Recipes that'll give you a head start in your pressure cooking journey!
We handpicked Easy Recipes for you: Instant Pot Recipes
BONUS: Must-Have Instant Pot Accessories
3 "Must-Have" Instant Pot Accessories We Use:
1. Extra Silicone Sealing Rings
Silicone Sealing Ring – Instant Pot Sealing Rings' life expectancy varies. If steam starts to leak around the lid, replace the Instant Pot Sealing Ring immediately.
Genuine Sweet & Savory Edition Silicone Sealing Ring– Since the sealing ring will absorb the smell of the food in the pot, many users like to use separate sealing rings for cooking savory dishes and desserts.
Buy on Amazon:
2. Steamer Baskets
Hatrigo Steamer Basket -You can use this as a steamer basket or strainer – wash your vegetables, put them in the basket, then put the basket straight into Instant Pot's inner pot. It saves time especially when you're making things like chicken stock. You can easily remove all the ingredients at once instead of scooping them out bit by bit.
Stainless Steel Steamer Basket – Another great steamer basket we use frequently! It fits perfectly in the Instant Pot. The feet can keep the veggies and other food out of the liquid for optimal steaming results in your Instant Pot. (i.e. ribs!)
Buy on Amazon:
Sale
3. Oven- Safe Containers
Any oven-safe containers will be safe to use in the Instant Pot (i.e. Stainless Steel, Silicone, Corelle bowls)
Want More? Check out the most raved accessories among other Instant Pot users: Instant Pot Accessories
Have fun cooking with your Instant Pot Pressure Cooker!
Some Useful Tips & Resources
All Our Pressure Cooker Recipes
*Disclosure: We are an Amazon Influencer/Amazon Associate. This means that if you decide to purchase items or services on Amazon through our links on Pressure Cook Recipes to Amazon, Amazon will send a small commission to us at no additional costs to you. Thank you!