Here's our Step-by-Step Instant Pot Setup Guide to help you get started! You can unbox & setup your Instant Pot Pressure Cooker in 5 easy steps.
If you still haven't subscribed to our free weekly newsletter, subscribe now for more useful tips and recipes. Link: Subscribe for Free Recipes & Tips
Step 1: Instant Pot Unboxing
The first step to setup your Instant Pot – get it out of the box! 🙂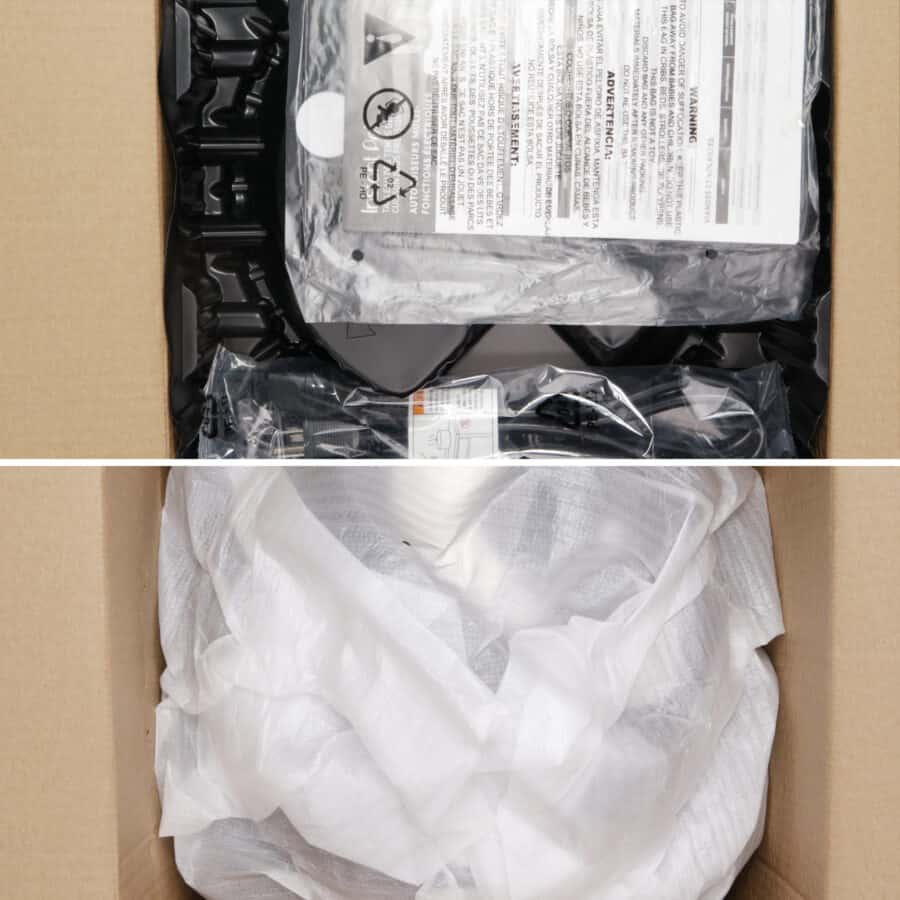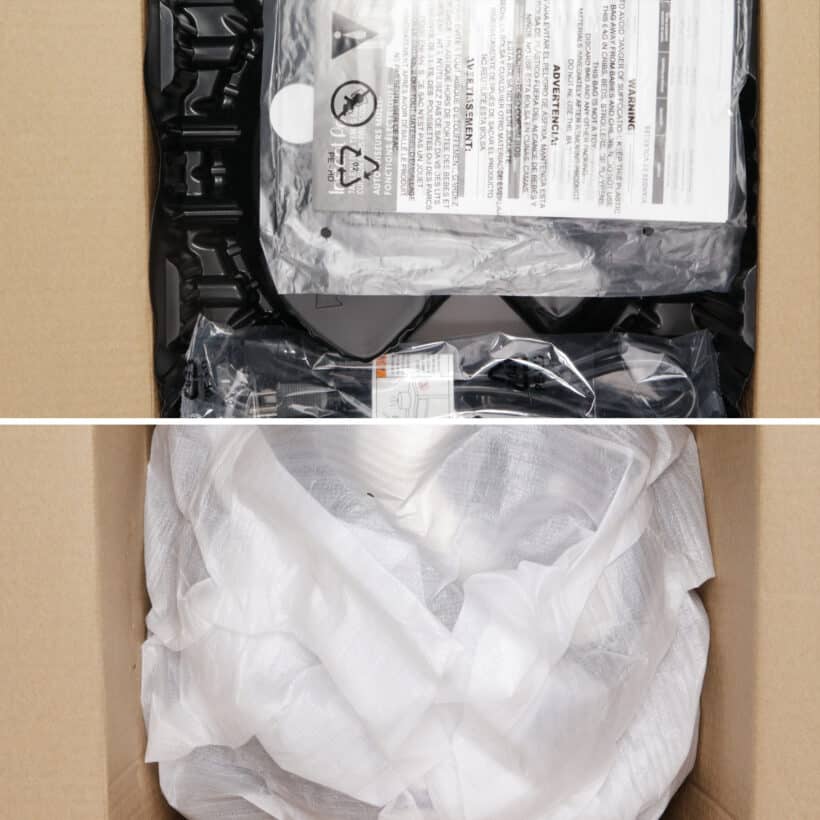 1.1 Instant Pot Accessories
Inside, you'll find a variety of Instant Pot accessories. Depending on your Instant Pot model or version, it may come with different accessories.
Here are the common accessories you'll see.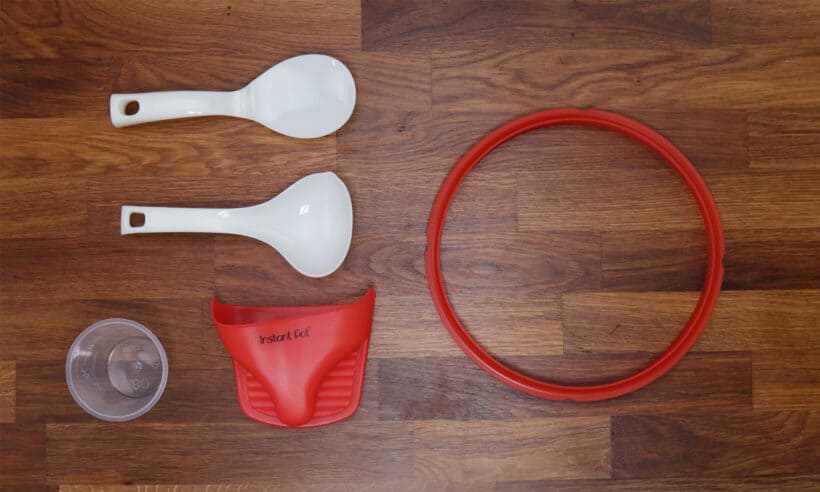 What is the red ring in the Instant Pot? It's an extra silicone sealing ring. It's great to have a spare one as a backup. Since it tends to absorb some of the food odor during the cooking process, some users use this red ring when cooking sweets. 
1.2 Trivet or Steamer Rack
Almost all Instant Pots come with a stainless steel steamer rack. Some with handles, others may not have handles. It's very helpful for cooking all sorts of food in Instant Pot. 🙂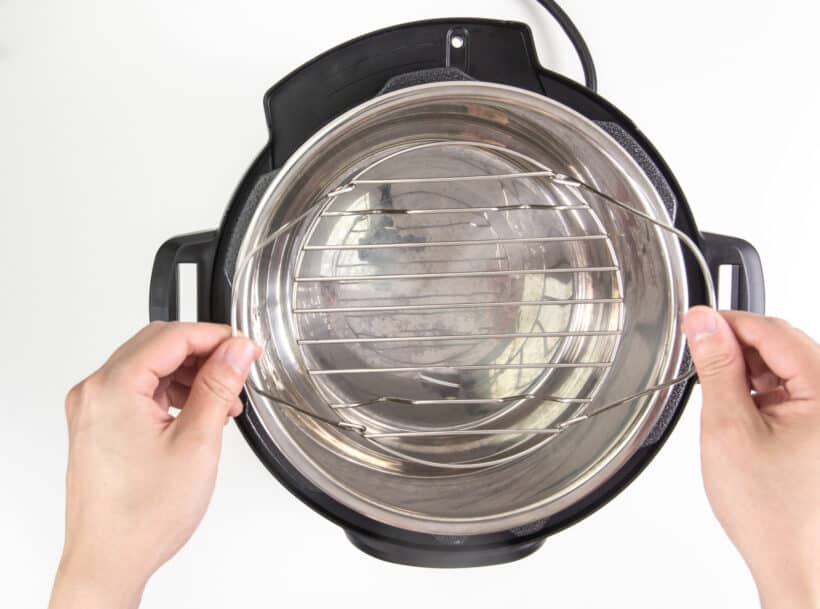 The long handles on both sides make it easy for handling and removal from the pot. It's also compact, easy to store, and easy to clean.
More Info on How to use the Trivet: Instant Pot Trivet
Step 2: Setup the Inner Pot
Give the inner pot, lid, silicone sealing ring, and accessories a thorough wash with warm soapy water, then dry thoroughly.
During Instant Pot Setup, don't forget to remove the orange warning card inside the cooker base.
*Caution: never immerse this outer pot in any type of liquid.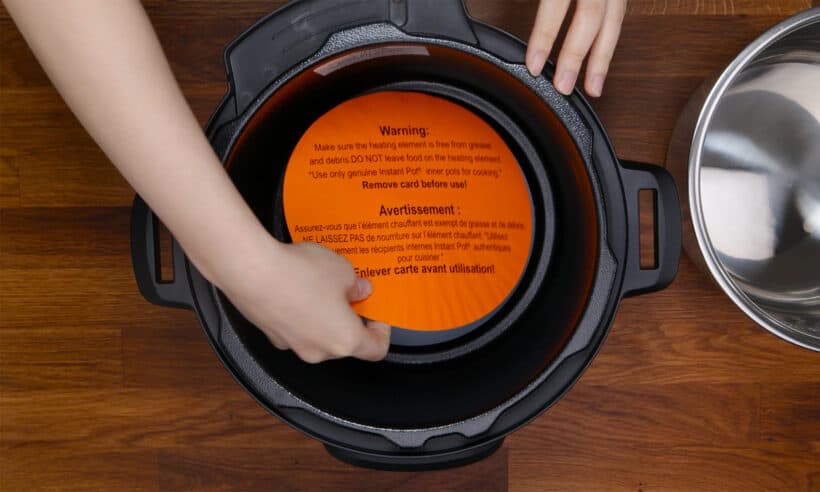 Do you need an extra inner pot? Since each Instant Pot comes with 1 Stainless Steel Inner Pot, some Instant Pot users (including us) buy a second Stainless Steel Inner Pot. 
We love to have an extra inner pot handy for more flexibility. Sometimes, we directly store the leftovers in the inner pot and place it in the fridge. Other times, we enjoy the flexibility to be able to use our Instant Pot while our homemade Instant Pot Yogurt is chilling in the fridge inside the inner pot.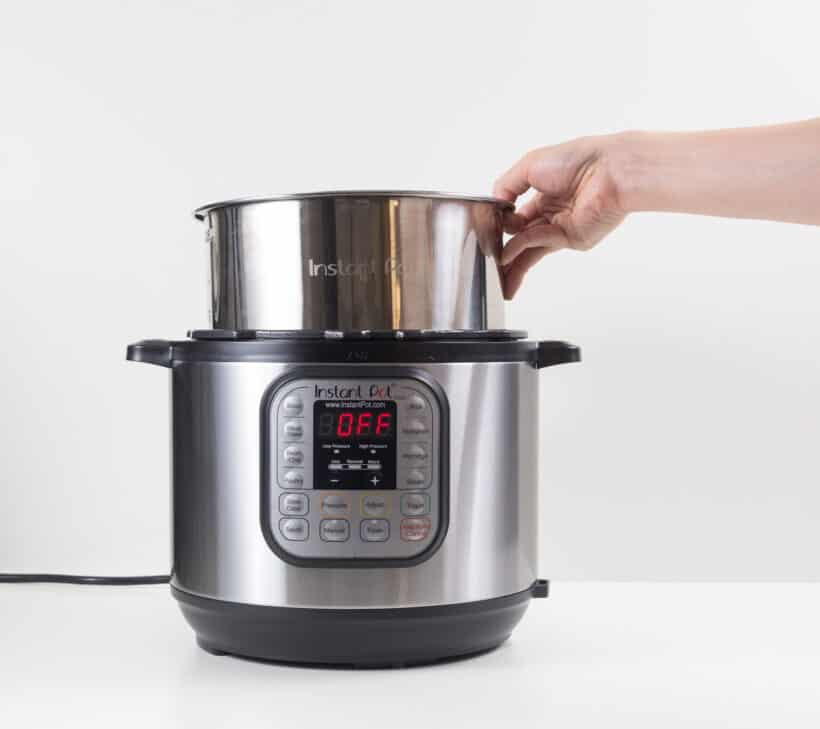 Where to Buy Inner Pot?
If you prefer a Non-Stick Inner Pot for super easy cleaning: 6 Qt Ceramic Non-Stick Inner Pot is a good option too.
Step 3: Know & Check Your Instant Pot Lid
3.1 How to Open & Close the Lid
First Instant Pot setup skill you need to master is opening & closing the Instant Pot Lid with ease.
As shown in photo below, the black markings on the lid & pot may not be easy to spot at first.
Markings on lid: "Close – Inverted Triangle – Open"
Markings on exterior housing: "Locked Triangle – Unlocked Triangle"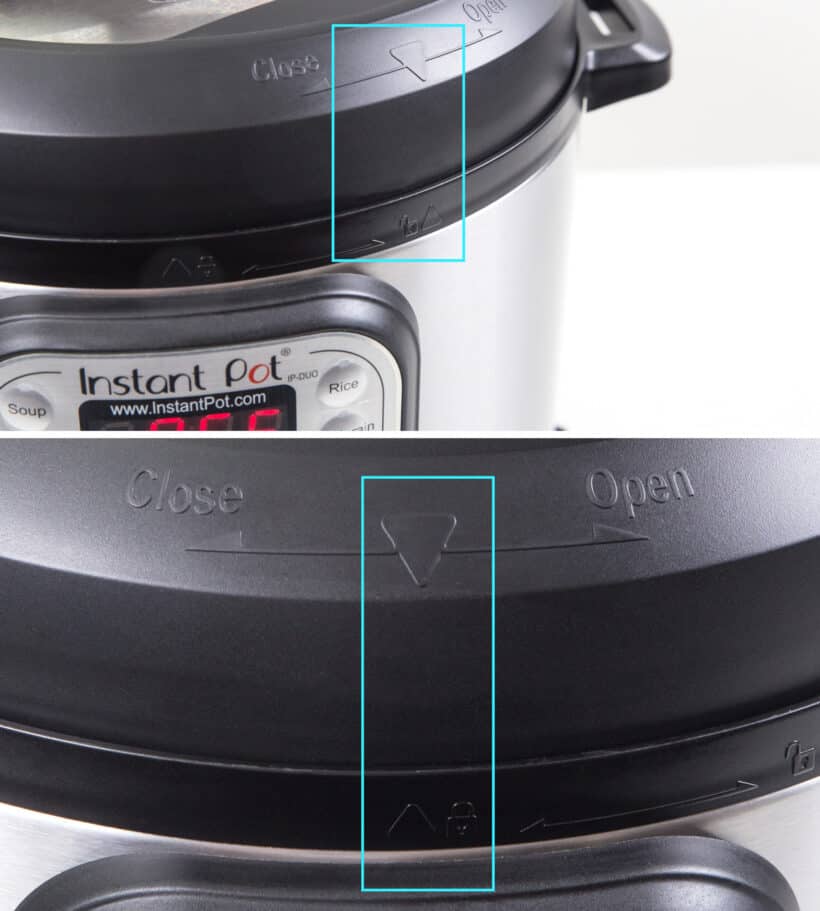 Open Lid (turn right): twist counter clockwise until Inverted Triangle is aligned with the Unlocked Triangle sign, then lift the lid.
Close Lid (turn left): align the Inverted Triangle with the Unlocked Triangle, then twist clockwise to lock the lid.
3.2 Check Silicone Sealing Ring
How to install sealing ring on Instant Pot? Put the sealing ring on top of the rack on the Instant Pot lid, then gently run your fingers along the ring as you push it into the rack.
It's critical to ensure the silicone sealing ring is seated properly, and there isn't anything stuck on the ring or rack.
*Caution: Never pull the ring by force as it may stretch or damage the ring and affect the sealing function. Don't use it if it has cracks, cuts, or any other damages.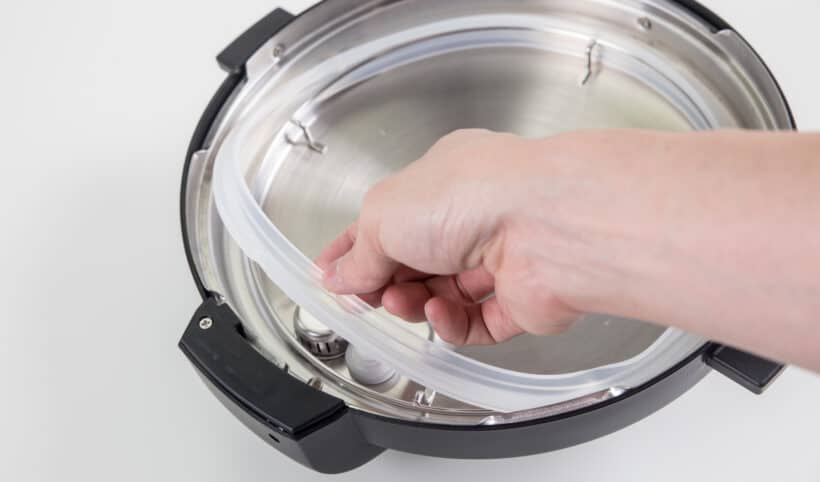 Do you need a spare sealing ring? It's always good to have a spare Silicone Sealing Ring because they do wear and tear. Plus, the ring may get stinky as it absorbs food odors over time. If you like, you can dedicate 1 Sealing Ring for Savory food, and the other for Sweets.
3.3 Check Other Parts on Lid
The following 3 Instant Pot parts are critical for the Instant Pot to function properly. Make sure they're all properly in place, clean, and clear of any obstructions during the Instant Pot Setup & every time before using.
a. Instant Pot Venting Knob (Steam Release Valve) – ensure it's fully attached to the lid and pushed down all the way. It's perfectly normal and necessary for it to be loose. You should be able to remove it for washing by pulling it straight out.
b. Instant Pot Floating Valve – test & make sure it can easily pop up and down (you can push it from the bottom of the lid).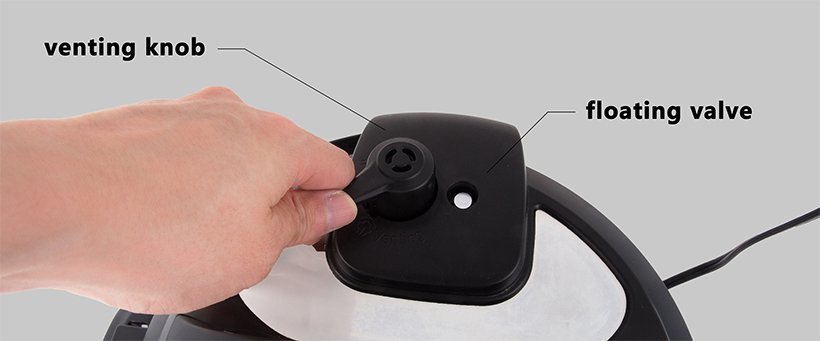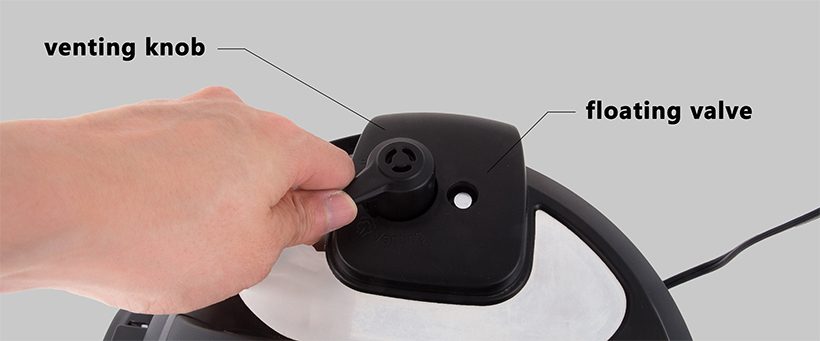 c. Instant Pot Anti-Block Shield – push it on the side to lift it up (as shown in photo below) and press it down in position to install it back in.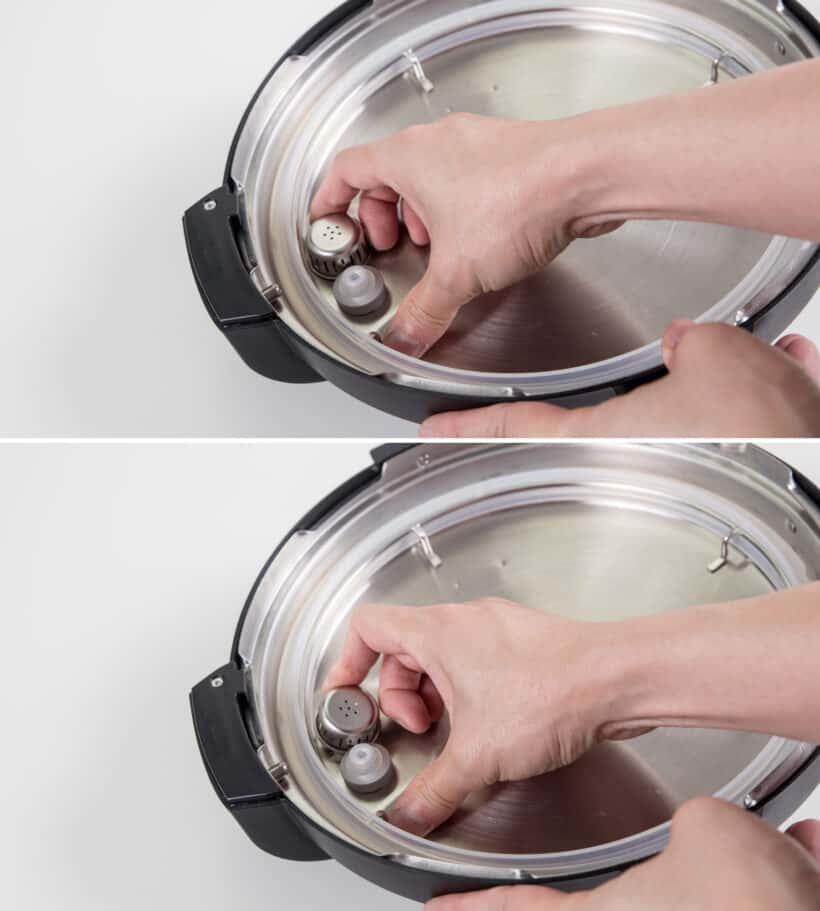 *Pro Tip: there may be times when food or liquid gets stuck on or inside the anti-blocking shield. Be sure to remove it and wash it thoroughly from time to time.
Step 4: Install Instant Pot Condensation Collector
If your Instant Pot came with 2 plastic cups, the round plastic cup is a Rice Measuring Cup. The flat plastic cup (shown in below photo) is an instant pot condensation collector.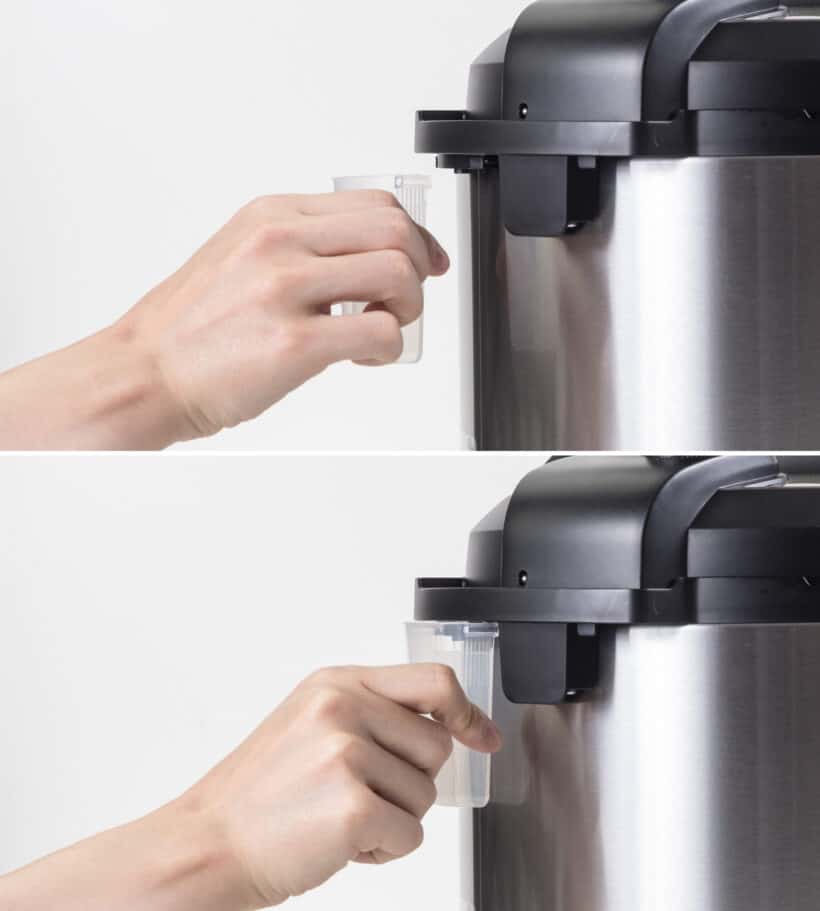 How to Install Instant Pot Condensation Collector? Find the slot at the back of Instant Pot, then slide it right in (as shown in the photo above).
*Pro Tip: be sure to check & rinse the condensation cup once in a while.
Step 5: Plug in Power Cord
Time to plug in and your Instant Pot Setup is complete!
A common problem some new users face is when the Instant Pot wouldn't turn on, they thought it's broken, but in fact, it was simply a loose plug with a bad power connection.
Make sure to plug in the power cord securely and push it firmly all the way into the cooker base. You should hear a rejoicing *beep* when it's powered up. 🙂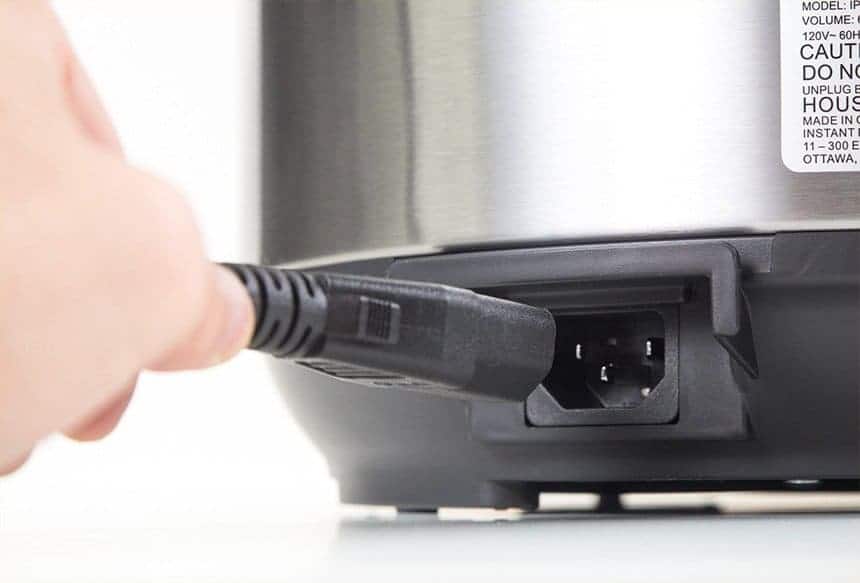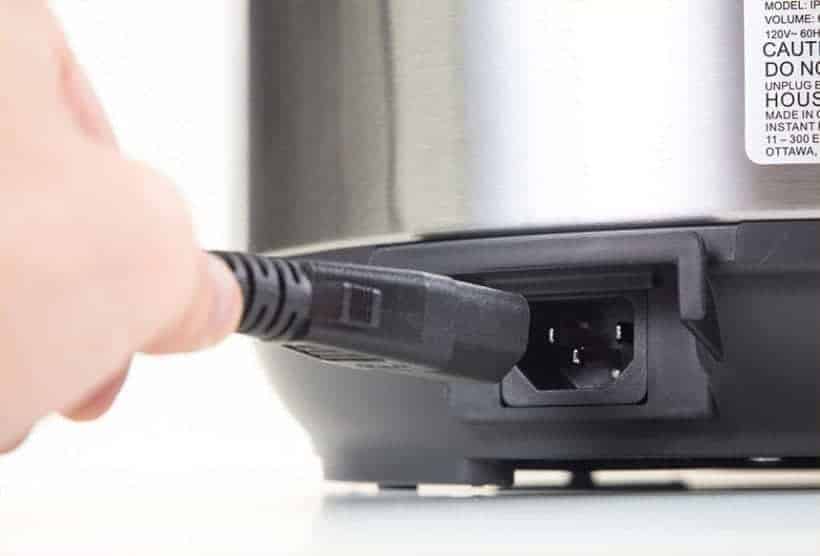 *Note: the Instant Pot Power Cord design varies depending on the Instant Pot model and versions.
Your Instant Pot Setup is done!
Bonus Features
Here are some fun little features available on some of the models & versions.
a. Lid Fin
You can place your lid into either side of the handles. So, you don't have to worry about where to put the lid with condensation when you're taking food out or seasoning the food in the Instant Pot.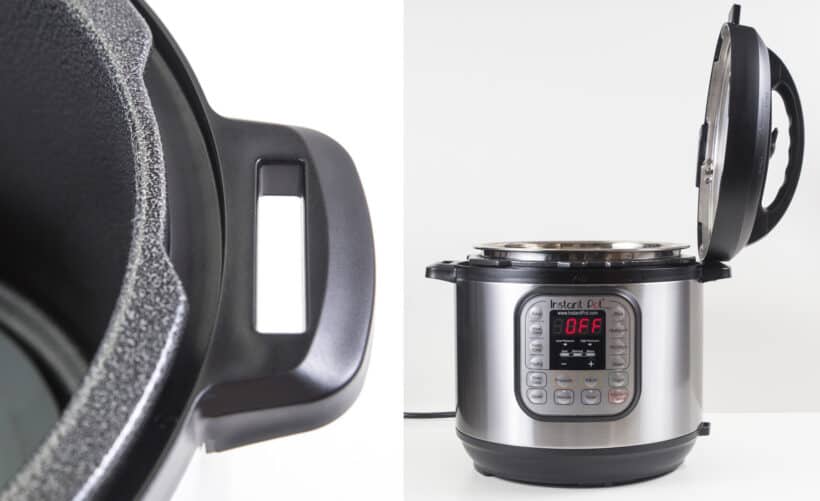 b. Spoon Shelf
*Note: Most new models have removed this snuggle little shelf.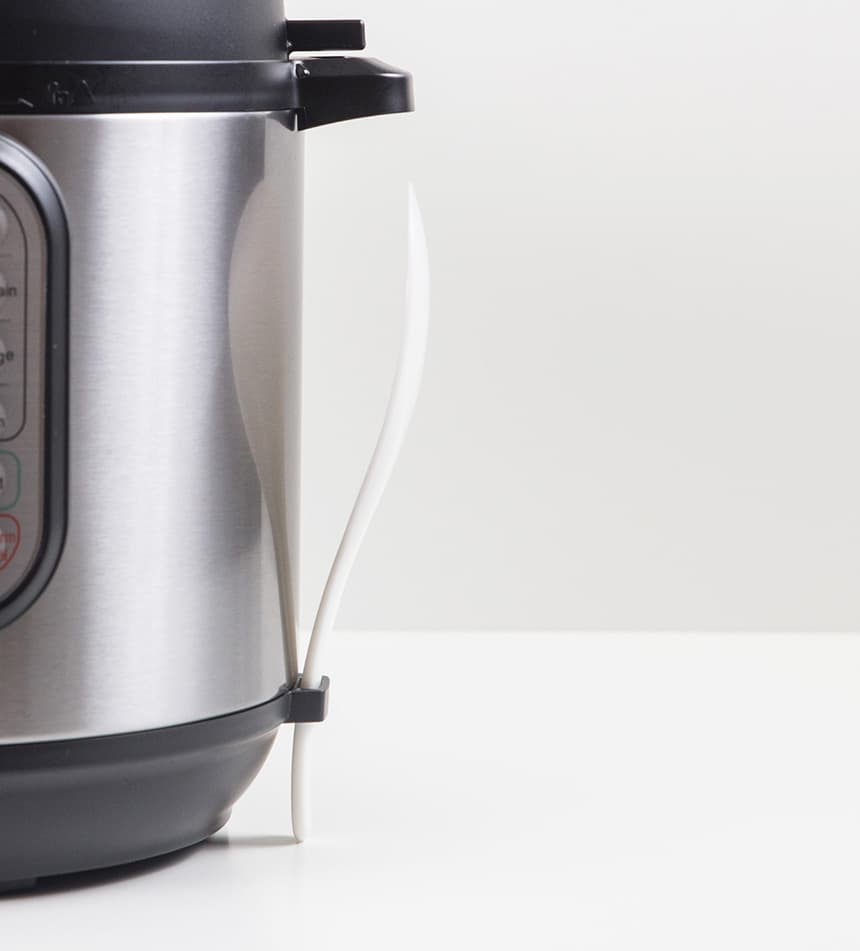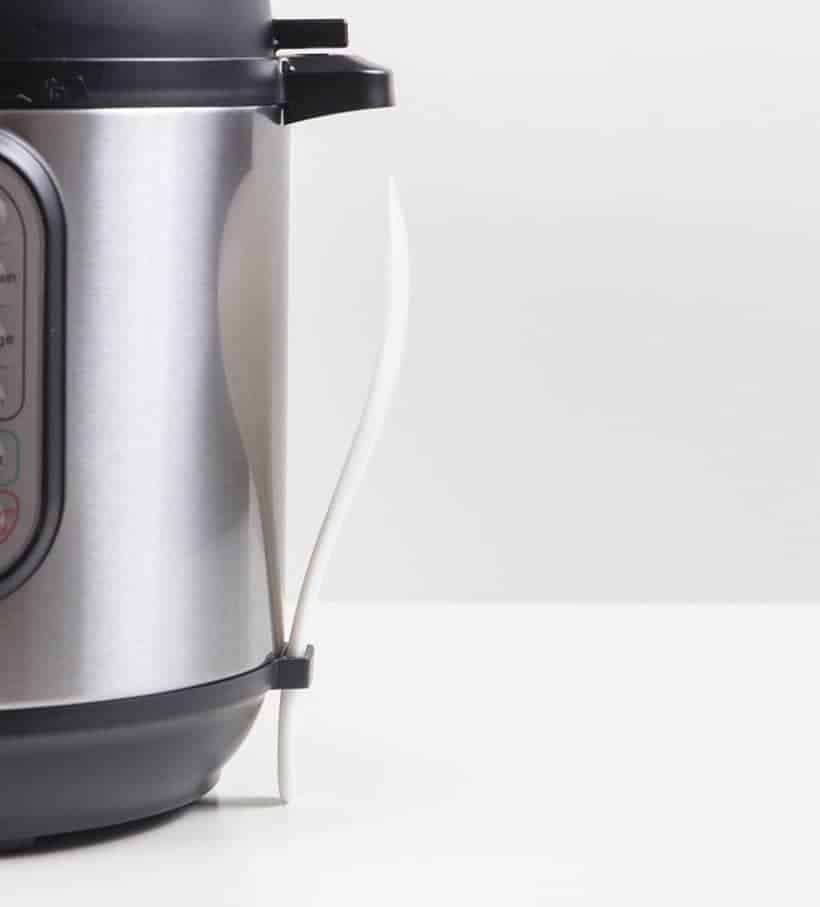 c. Power Cord Holder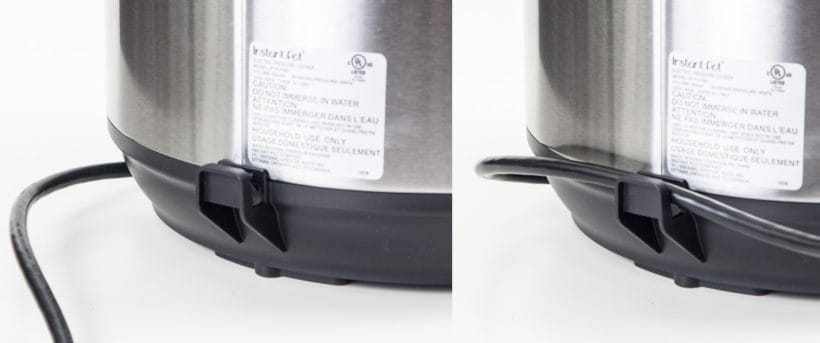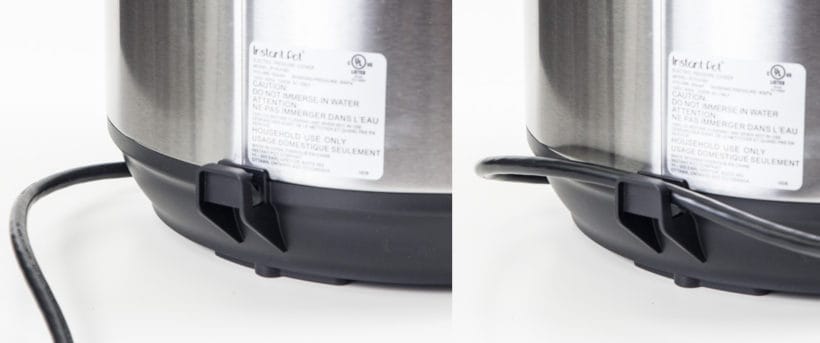 Watch Instant Pot Setup Video
Some Useful Tips & Resources
All Our Pressure Cooker Recipes
*Disclosure: We are an Amazon Influencer/Amazon Associate. This means that if you decide to purchase items or services on Amazon through our links on Pressure Cook Recipes to Amazon, Amazon will send a small commission to us at no additional costs to you. Thank you!