After all the wait to take the plunge and purchase the Instant Pot Electric Pressure Cooker, it's time to get this new kitchen toy out of the box! Here's our Step-by-Step Instant Pot Setup Guide with photos to help you get started before first use. 🙂
Did the Adults Ice-cream truck (aka UPS truck) just drop off the brown Instant Pot cardboard box at your door steps? 😀
Yes! This awesome kitchen toy your family & friends have been raving about is in your hands. You're not dreaming!!
Excited? A little intimidated? Maybe a bit overwhelmed?
Where to start? What to do? How do I use it?
Let's first take a deeeeep breath.
And you've come to the right place! We've got your back. 🙂
Below, we'll walk you through Step-by-Step on how to setup your new magic pot. Then, we can proceed to the next step – The Water Test.
7 Easy Steps for Instant Pot Setup:
---
Step 1: Unwrap Your New Toy – Instant Pot!
First, rip open the cardboard box & packaging box with full excitement! Yes!!! This is what you've been waiting for!! But be gentle. hehe~
After removing the Styrofoam, plastic bag, and everything else from the pot. First set aside the lid.
There, you'll find all these hidden little goodies waiting for you inside your new magic pot!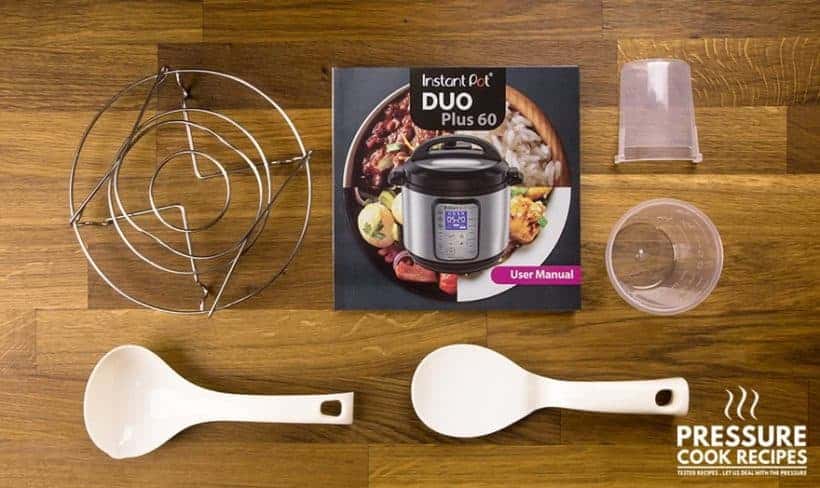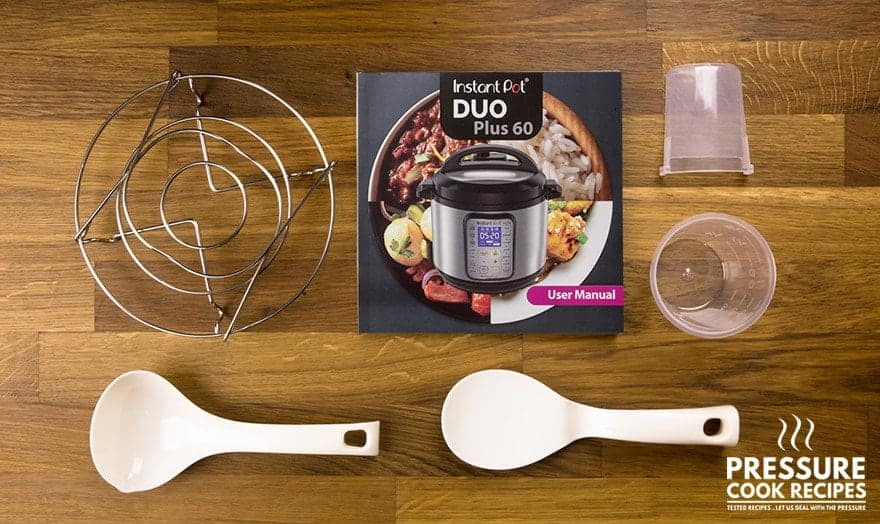 Accessories You'll Find in the Box: Steamer Rack, Rice Paddle, Soup Scoop, Rice Measuring Cup, Condensation Collector, Quick Reference Guide, Recipe Book, and Manual.
*Note: each Instant Pot Electric Pressure Cooker comes with similar accessories, but they may look slightly different from the above photo depending on the Instant Pot model and versions you got.
---
Step 2: Setup the Inner Pot
After unwrapping the stainless steel insert (inner pot) from the plastic bag, give the inner pot, lid, silicone sealing ring, and accessories a thorough wash with warm soapy water, then dry thoroughly.
*Caution: never ever immerse the exterior Instant Pot housing in any type of liquid.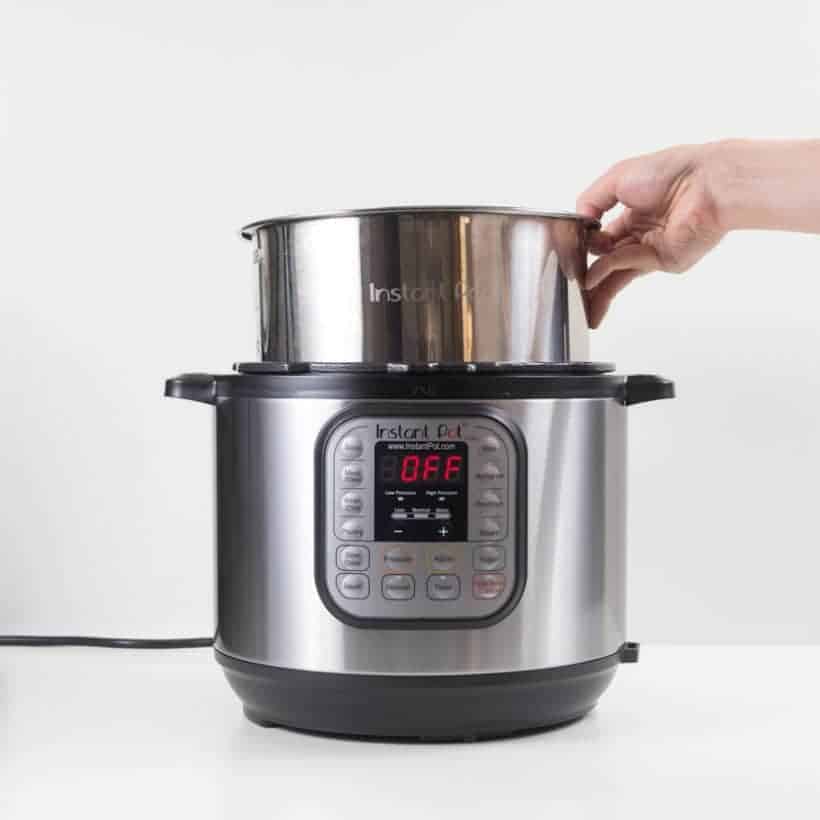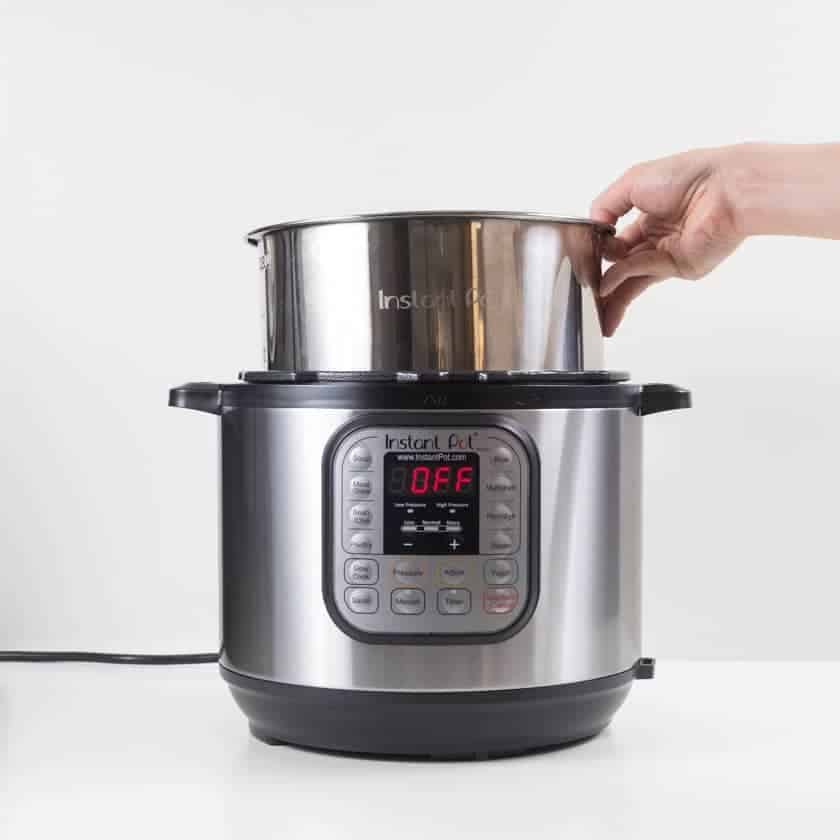 *Pro Tip: Since each Instant Pot Electric Pressure Cooker comes with 1 Stainless Steel Inner Pot, some Instant Pot users (like us!) opt for a second Stainless Steel Inner Pot:
Why? We love to have an extra inner pot handy for more flexibility.
Sometimes, we directly store the leftovers in the inner pot and place it in the fridge. Other times, we enjoy the flexibility to be able to use our Instant Pot while our homemade Instant Pot Yogurt is chilling in the fridge inside the inner pot.
Or if you prefer a Non-Stick Inner Pot (for super easy cleaning): this 6 Qt Ceramic Non-Stick Inner Pot is a good option too.
---
Step 3: Know & Check Your Instant Pot Lid
3.1 How to Open & Close the Lid
First Instant Pot skill you need to master is opening & closing the Instant Pot Lid with ease.
As shown in photo below, the black markings on the lid & pot may not be easy to spot at first.
Markings on lid: "Close – Inverted Triangle – Open"
Markings on exterior housing: "Locked Triangle – Unlocked Triangle"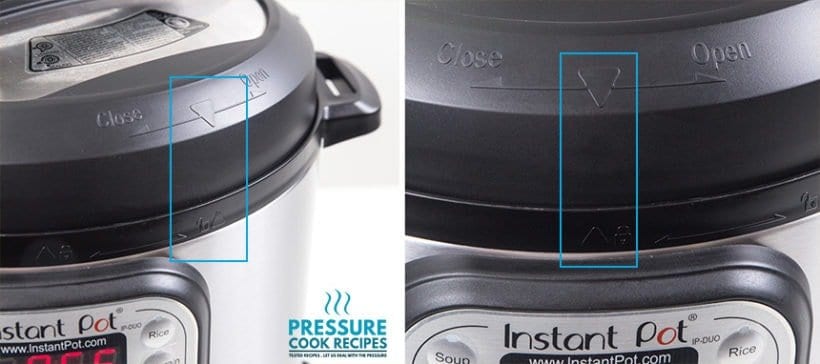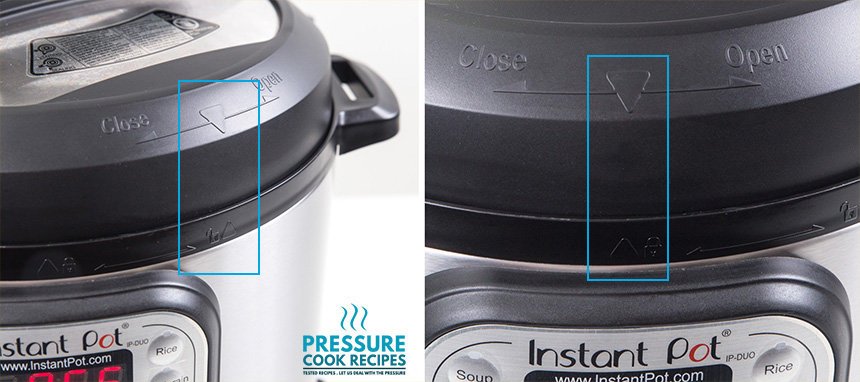 Open Lid (left photo): twist counter clockwise until Inverted Triangle is aligned with the Unlocked Triangle sign, then lift the lid.
Close Lid (right photo): align the Inverted Triangle with the Unlocked Triangle, then twist clockwise to lock the lid.
3.2 Check Silicone Sealing Ring
It's critical to ensure the silicone sealing ring is seated properly in the rack of the lid and clear of any obstructions.
*Caution: Never ever pull the ring by force as it may deform the ring and affect the sealing function. Don't use it if it has cracks, cuts, or any other damages.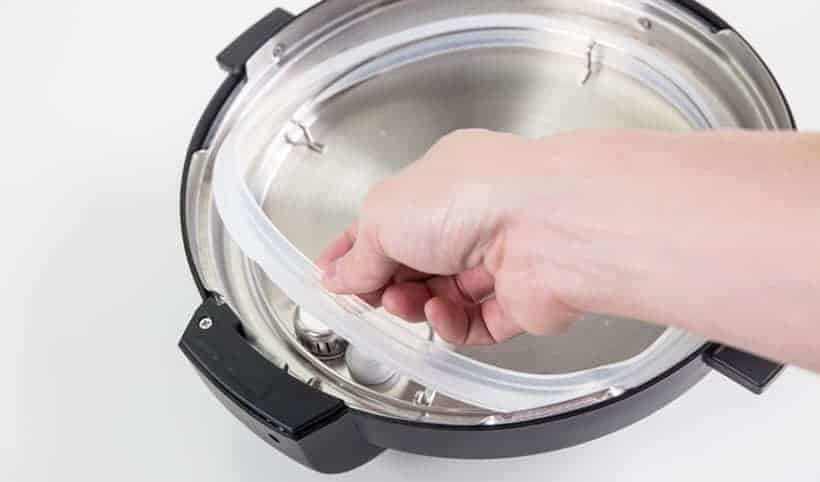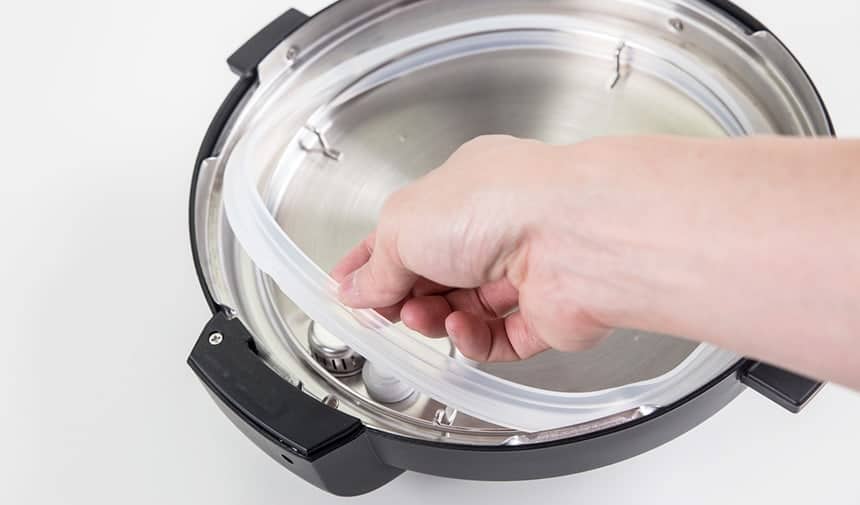 *Pro Tip: It's always good to have a spare Silicone Sealing Ring as a backup as they do wear and tear.
Plus, the ring may get stinky as it absorbs food odors over time. So, we like to dedicate 1 Sealing Ring for Savory food, and the other for Sweets.
3.3 Check Other Parts on Lid
The following 3 Instant Pot parts are critical for the Instant Pot to function properly. So, make sure they're all properly in place, clean, and clear of any obstructions during the Instant Pot Setup & every time before using.
a. Instant Pot Steam Release Valve (Venting Knob) – ensure it's fully attached to the lid and pushed down all the way. It's perfectly normal and necessary for it to be loose. You should be able to remove it for washing by pulling it straight out.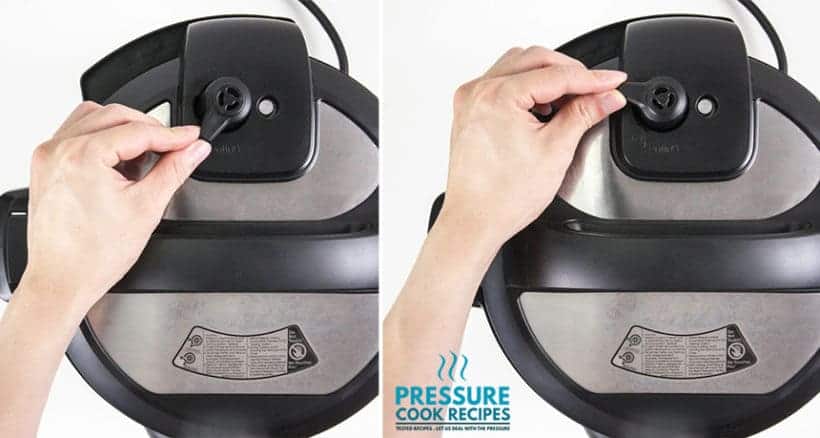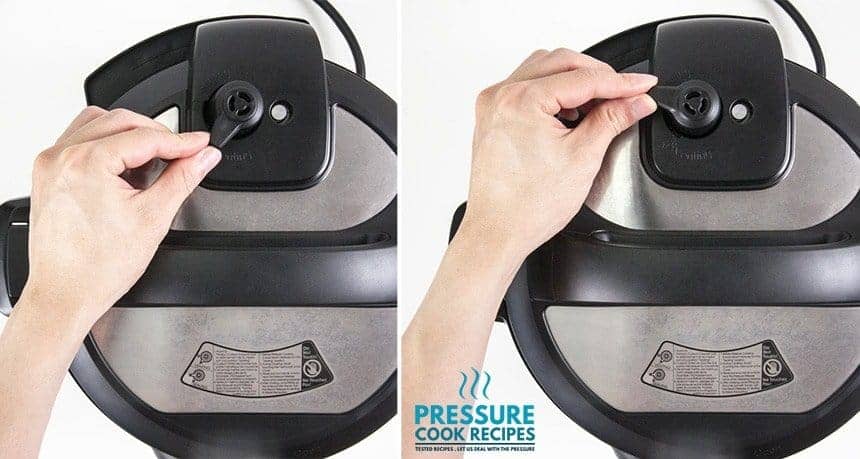 b. Instant Pot Float Valve – test & make sure it can easily pop up and down (you can push it from the bottom of the lid). We'll get into details on its' functions in our next Instant Pot Water Test Guide.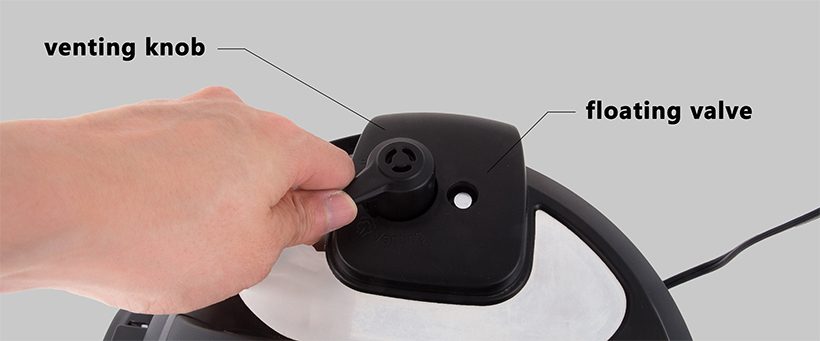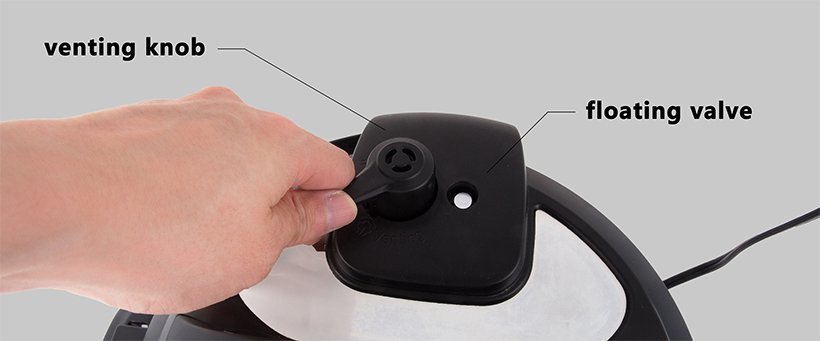 c. Instant Pot Anti-Block Shield – you can push it on the side to lift it up (as shown in photo below), and press it down in position to install it back in.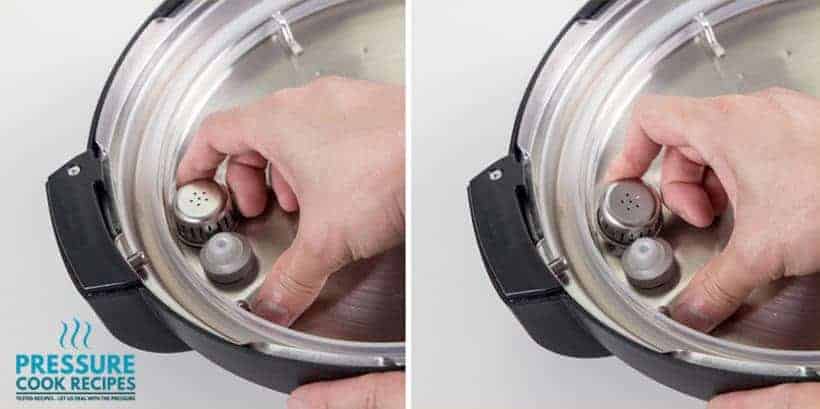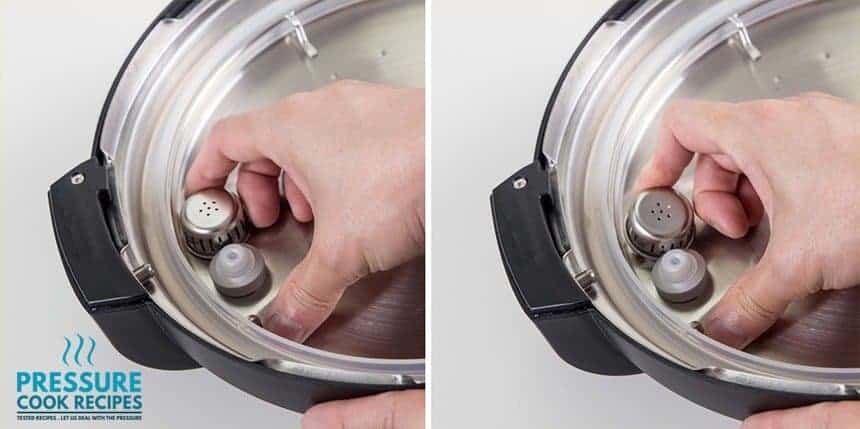 *Pro Tip: there may be times when food or liquid gets stuck on or inside the anti-block shield. Be sure to remove it and wash it thoroughly from time to time.
---
Step 4: Setup Trivet/Steamer Rack
Oh we love this Stainless Steel Trivet (steamer rack) that comes with the Instant Pot!
You'll find we use it quite often in our recipes. 🙂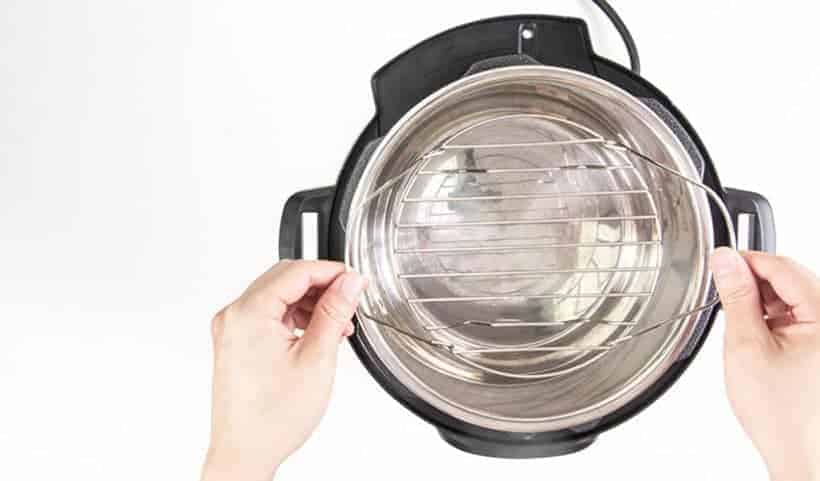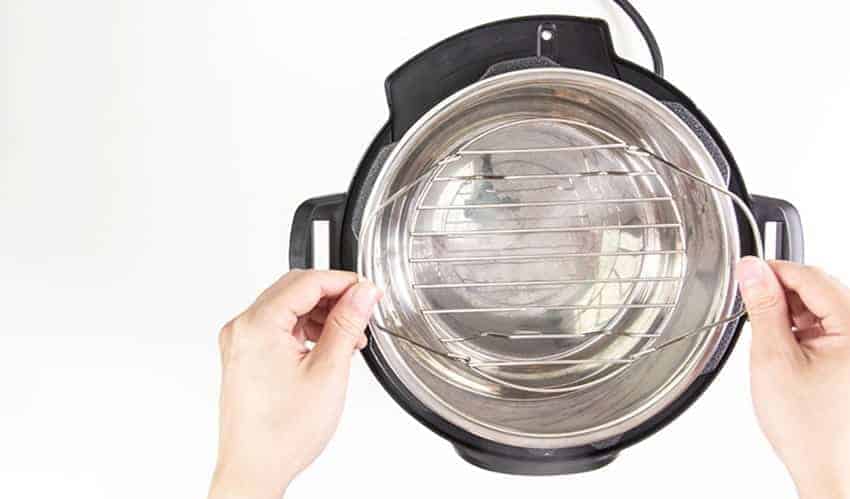 It has long handles on both sides for easy handling and removing from the pot. It's also compact, easy to store, and easy to clean.
---
Step 5: Install Condensation Collector
One question we often get asked is "What are 2 little plastic cups that comes with the Instant Pot?"
The round one is a Rice Measuring Cup. And the other one (shown in below photo) is a Condensation Collector.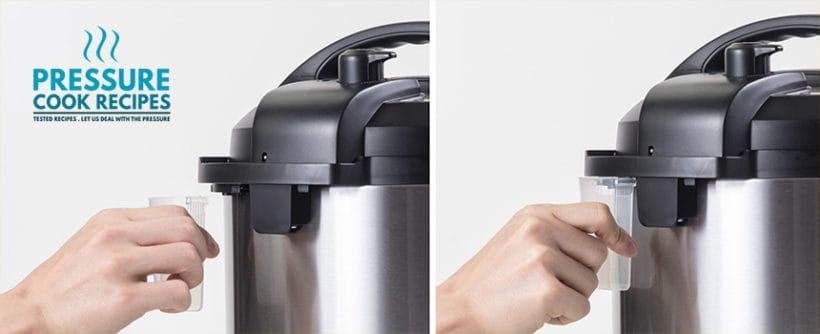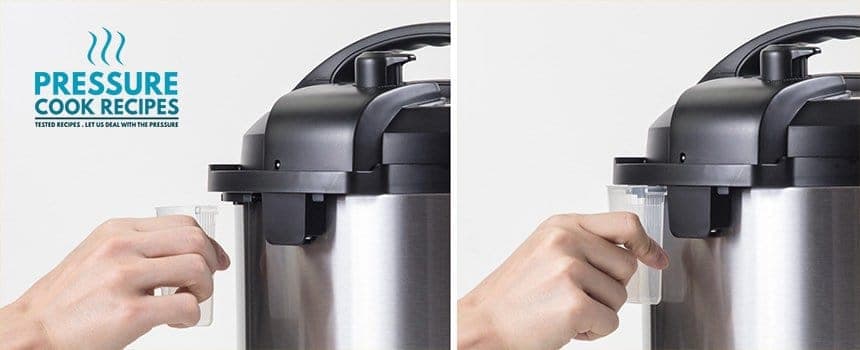 How to Install the Condensation Collector? First find the slot at the back of Instant Pot, then slide it right in (as shown in photo above).
*Pro Tip: it's also a good idea to check & rinse this under water from time to time.
---
Step 6: Plug in Power Cord
You're all set! Time to plug in and get cooking!
A common problem some new users face is when the Instant Pot wouldn't turn on, they thought it's broken, but in fact it was simply a loose plug with bad power connection.
So, be sure to plug in the power cord securely and push it firmly all the way into the cooker base. You should hear a rejoicing *beep* when it's powered up. 🙂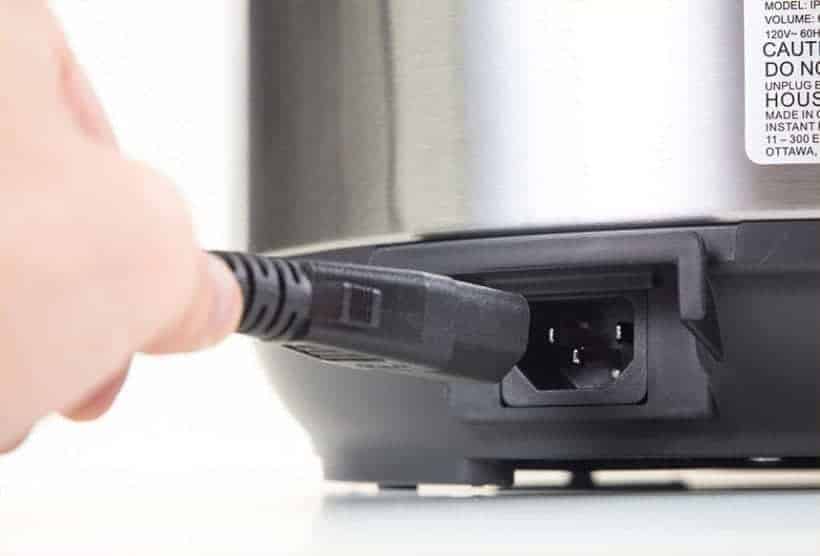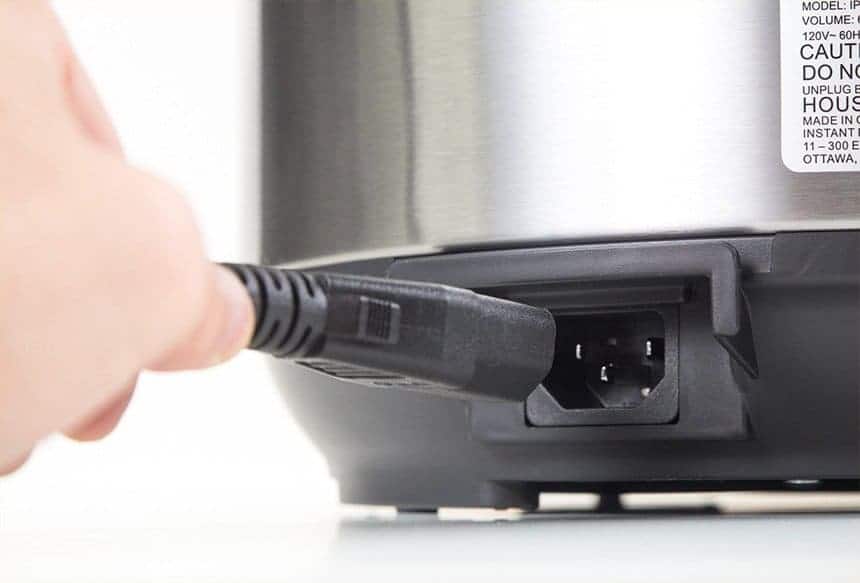 *Note: the Instant Pot Power Cord design varies depending on the Instant Pot model and versions.
---
Step 7: Bonus Features
Some fun little features that are available on some of the Instant Pot models & versions.
7.1 Lid Fin
Did you know your Instant Pot could do this?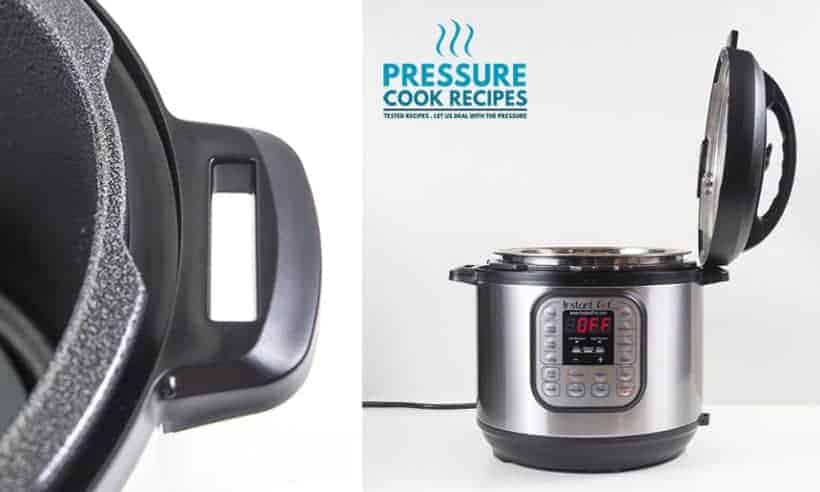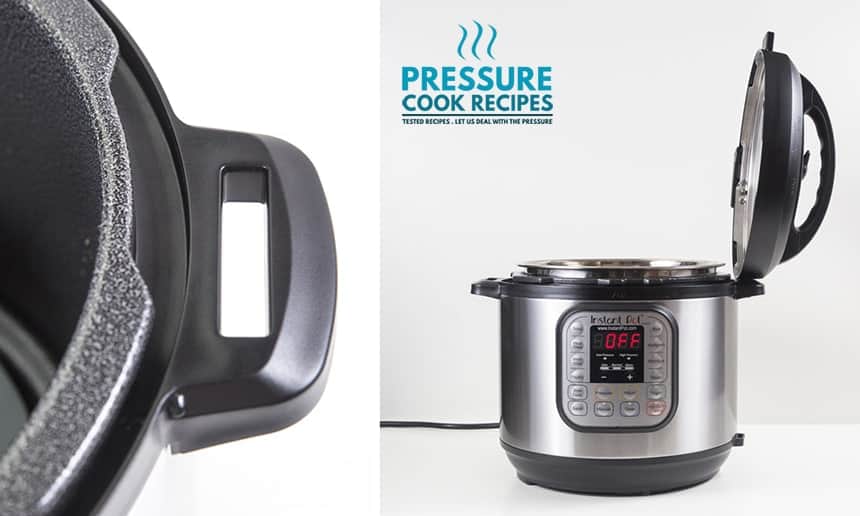 7.2 Spoon Shelf
*Note: Most new models have removed this snuggle little shelf.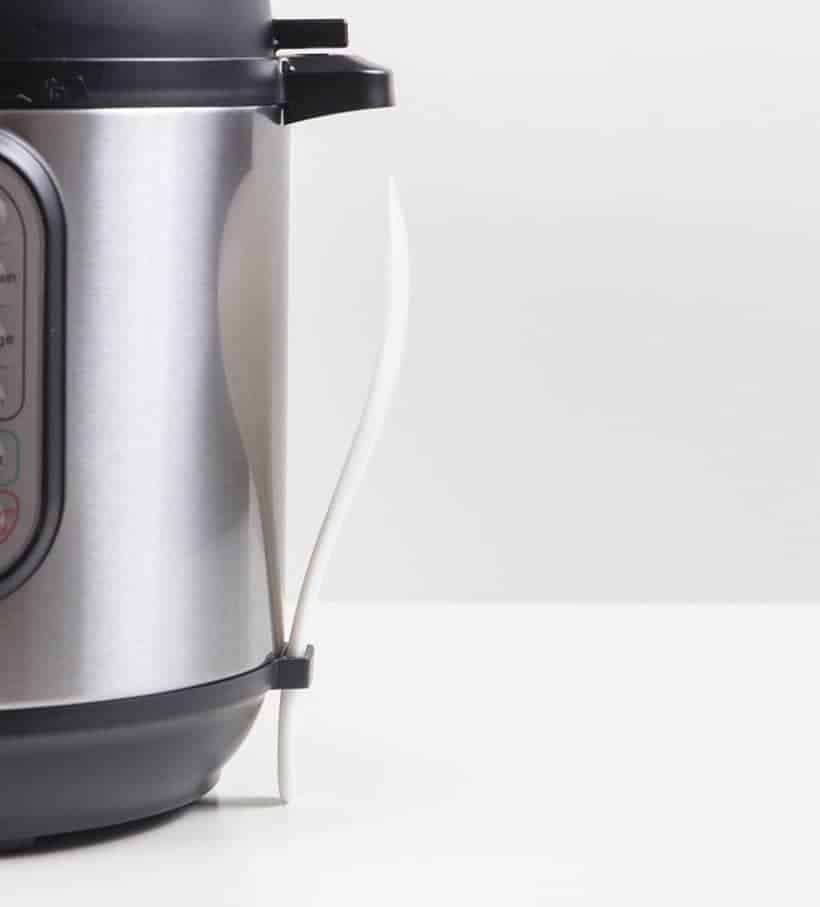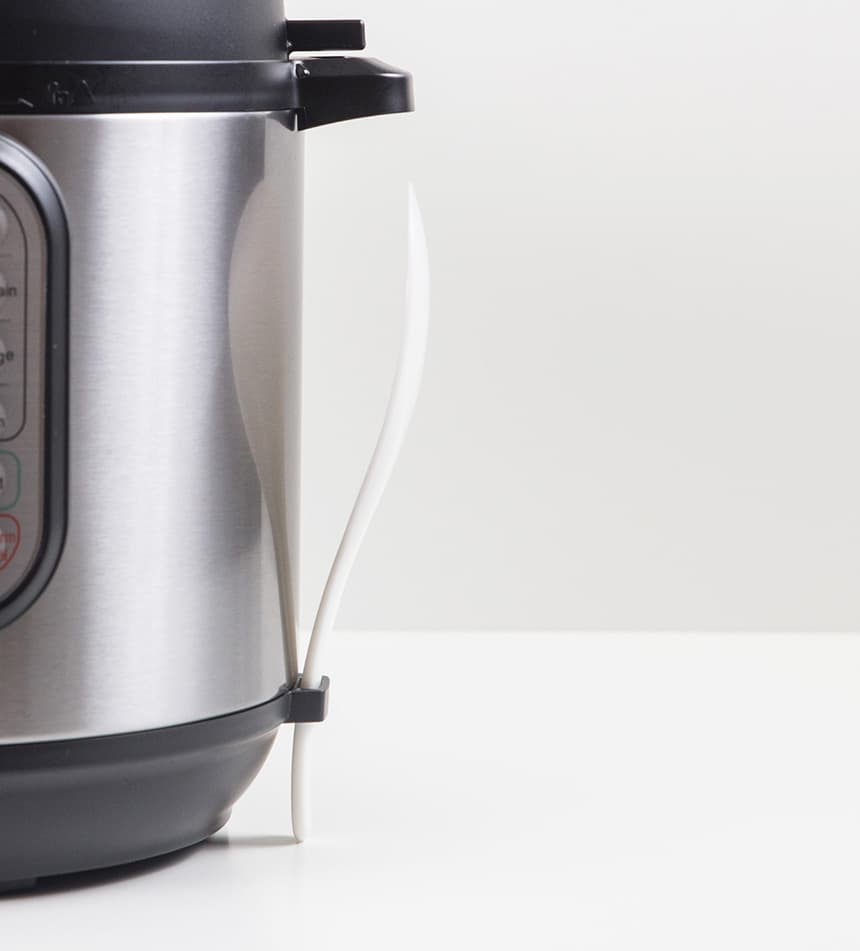 7.3 Power Cord Holder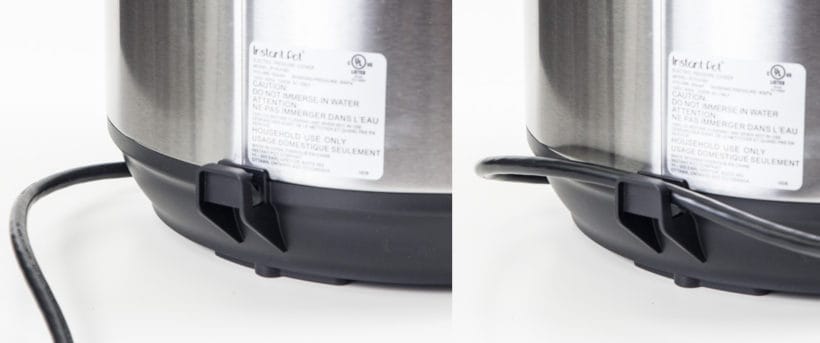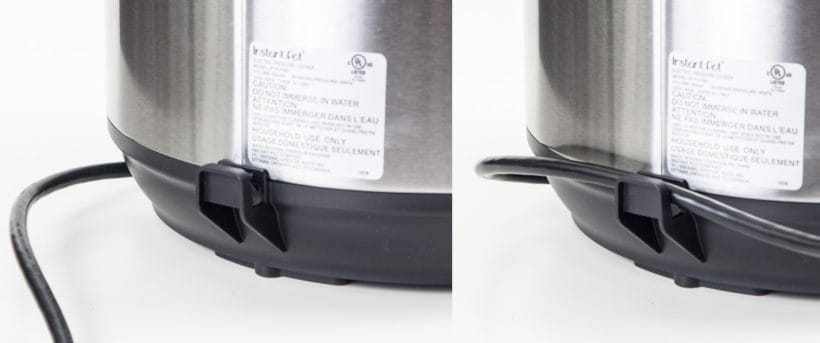 ---
Ta da! Your Instant Pot Setup is all done!
Sweep aside your other kitchen tools on the counter and make space for your new magic pot!
So, what's next? Time for a Test Run aka The Instant Pot Water Test!
---
Looking for Easy Starter Recipes?
Check out these Easy Instant Pot Recipes to get you started.