5 mins prep to make this Easy Chinese Instant Pot Salt Baked Chicken 鹽焗雞! Tender & Juicy Instant Pot Chicken bursting with delicious savory aroma & flavors. A budget, comforting family meal full of chicken deliciousness!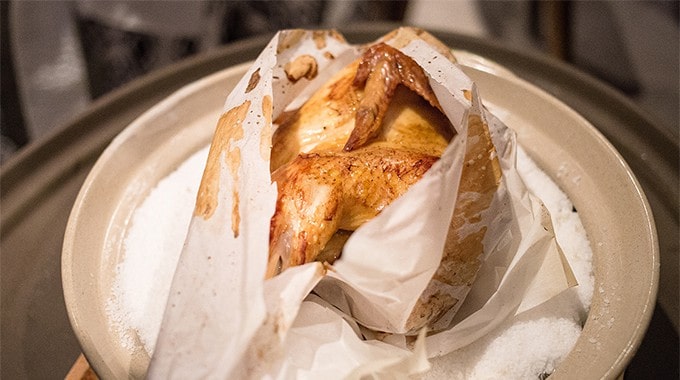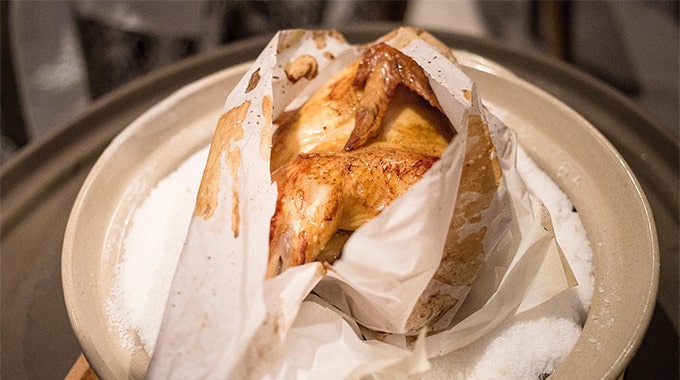 The Origin of Salt Baked Chicken 鹽焗雞
Salt Baked Chicken 鹽焗雞 is a traditional Cantonese dish originated from Hakkas 客家 people. Hakka people are a subgroup of the Han Chinese.
Nowadays, it's rare even for restaurants to make Hakka Salt Baked Chicken 古法鹽焗雞 the traditional way. Many restaurants use a much easier & quicker way with salt water.
We were lucky to taste one from our Hakka restaurant client. The salt-baked cooking method they used was similar to the ancient way.
The chicken was first marinated with a special blend of Chinese herbs & spices. Then, the chicken was hung and air-dried for a couple of hours. Next, they wrapped the chicken in parchment paper.
The chicken was slow-baked in a clay pot with piping hot coarse salt. The chicken was mainly cooked by the heat from the salt, hence the name "Salt Baked Chicken". It was gorgeous when they unwrapped this delicious beauty.
Making Hakka Salt Baked Chicken the traditional way takes a lot of work and time. One of the toughest parts is stir-frying the salt.
So, we created a simple, fast, easy method to make Salt Baked Chicken in Instant Pot!
Now, you can satisfy your Salt Baked Chicken cravings at home using chicken legs + 4 simple seasonings. How awesome is that?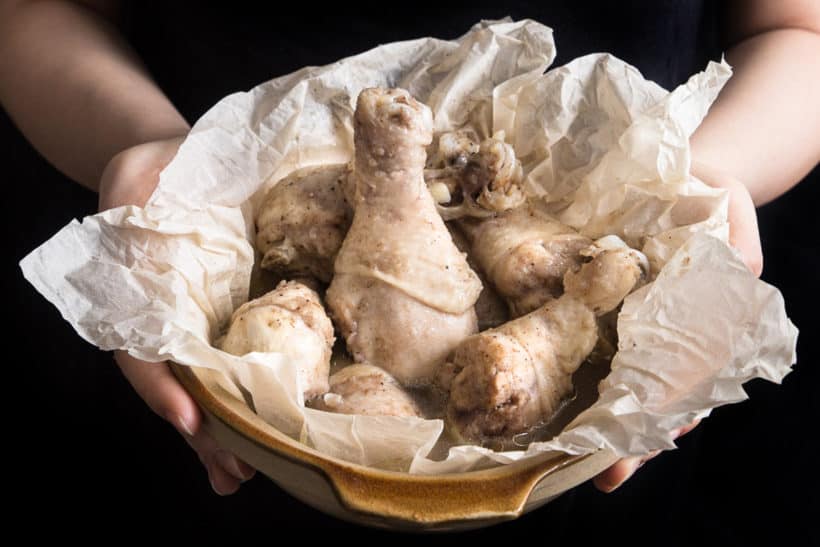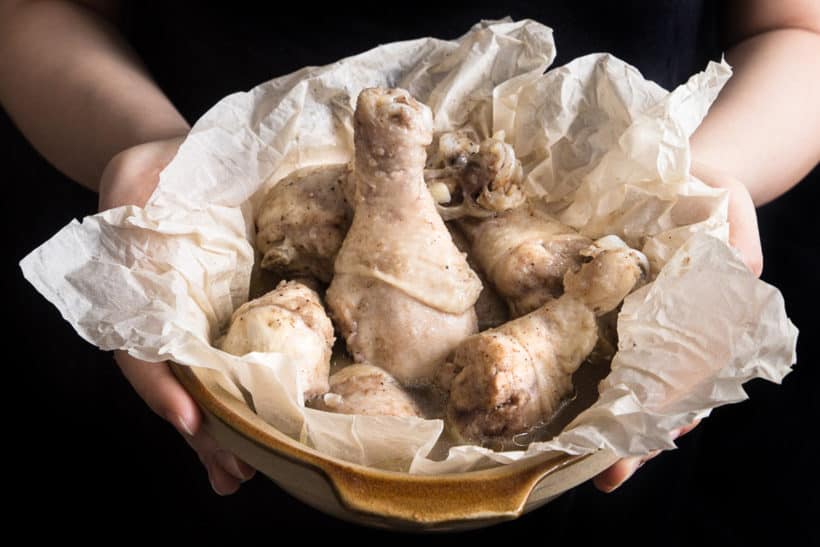 Instant Pot Salt Baked Chicken Recipe Tips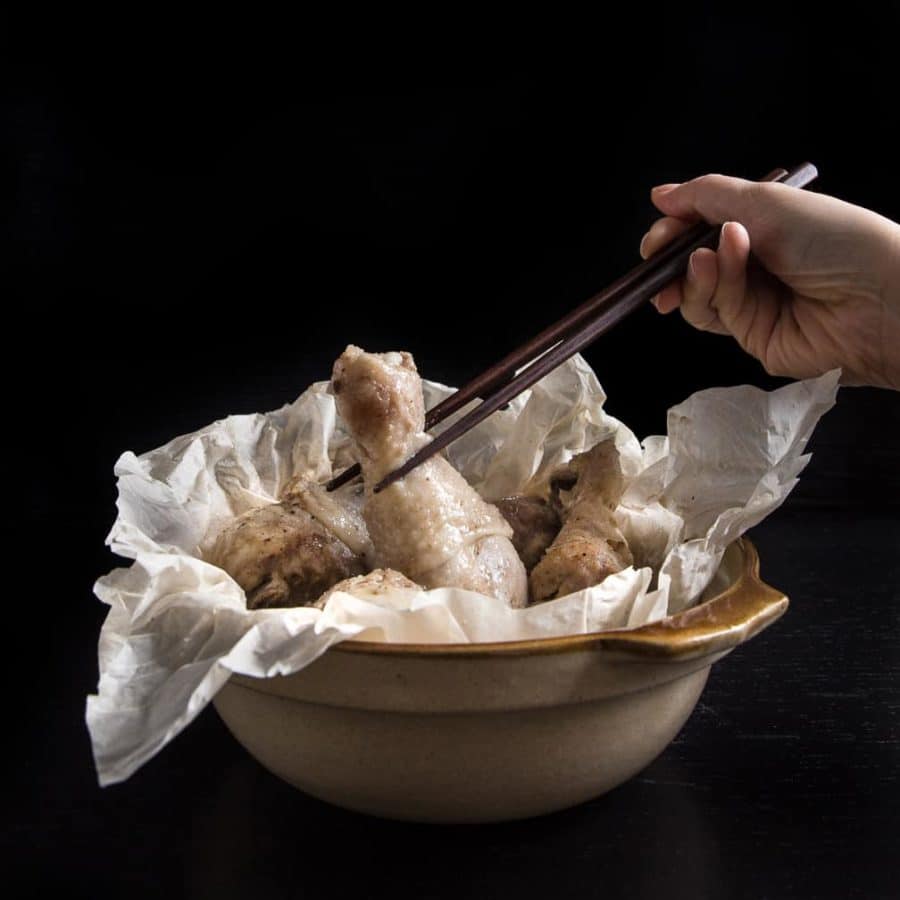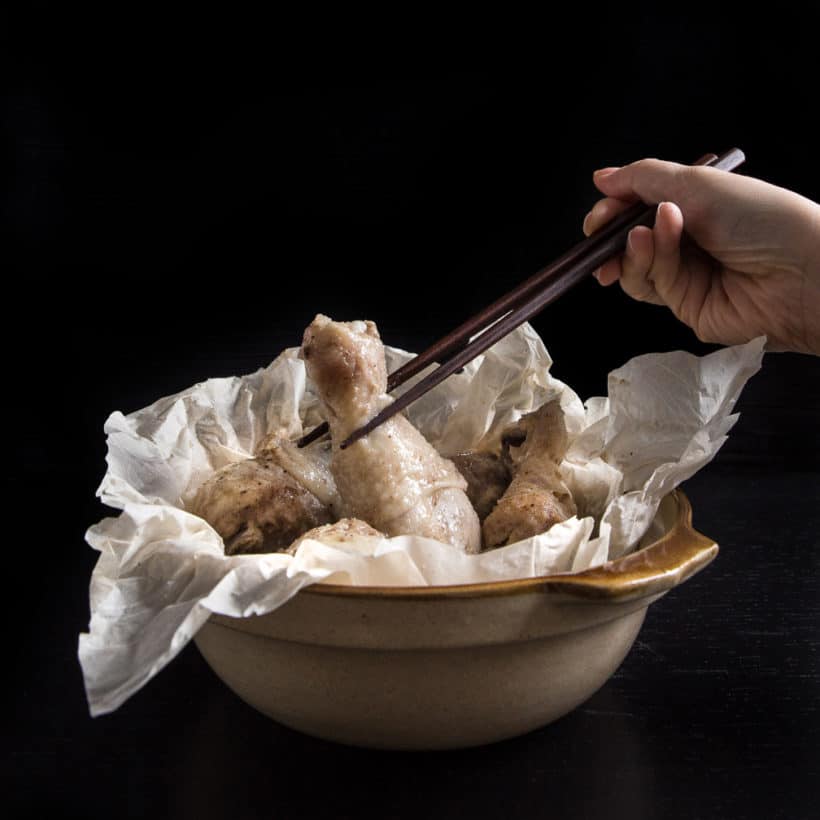 Ingredients for Instant Pot Salt Baked Chicken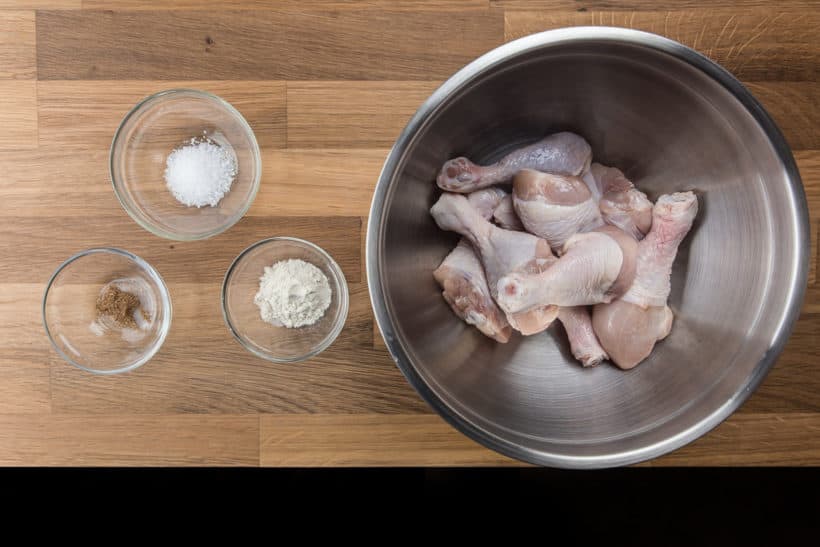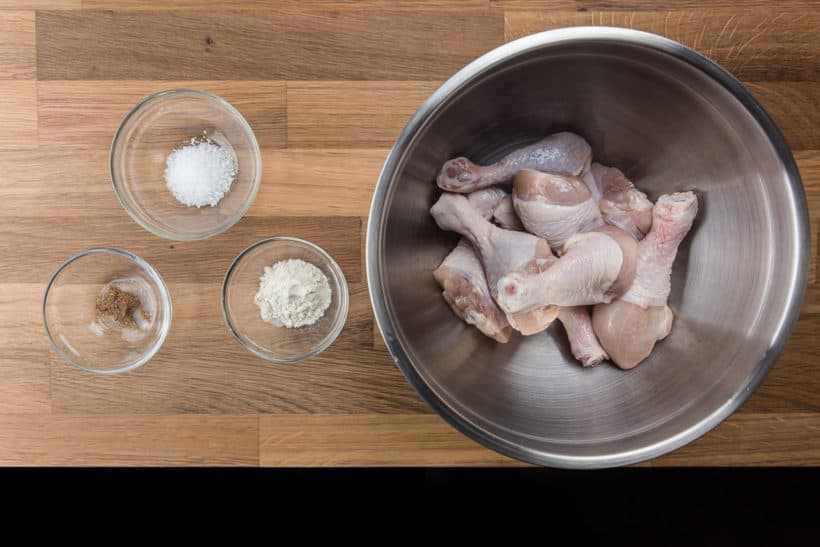 Dried Sand Ginger 沙薑粉 – we bought ours at a local Asian market, for those who don't have access to one, this Kaempferia Galanga (Zeodary Powder) is the same.
With this Instant Pot Salt Baked Chicken recipe, we're using the steam in the pressure cooker to "bake" the chicken.
The released meat juice will be locked inside the parchment paper and mixed with the spices. This will simulate the delicious savory, salty flavors, and aroma of the authentic version.
You can also use an oven to create this dish.
Tools for Instant Pot Salt Baked Chicken 
Stainless Steel Steaming Rack Stand
Parchment paper  – don't use aluminum foil as it'll affect the cooking time & final results of the dish.
Shallow Stainless Steel Plate/Bowl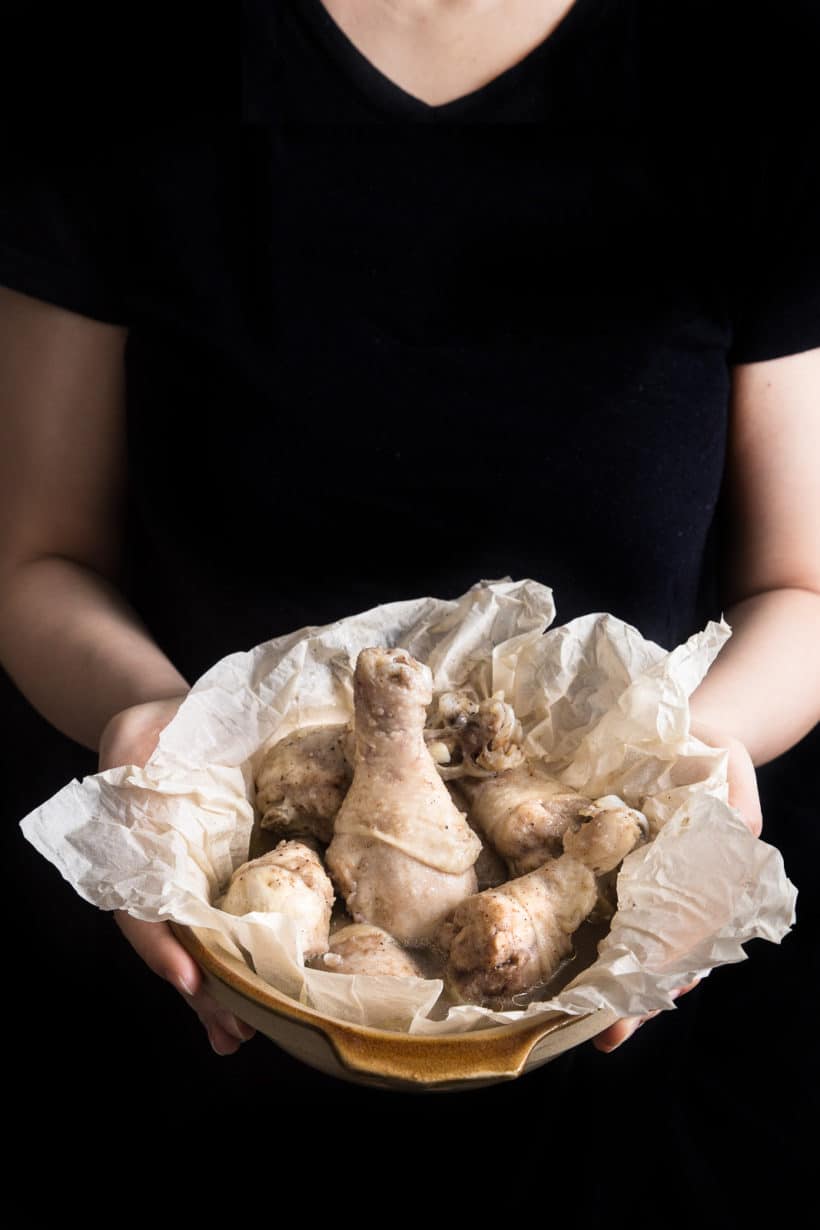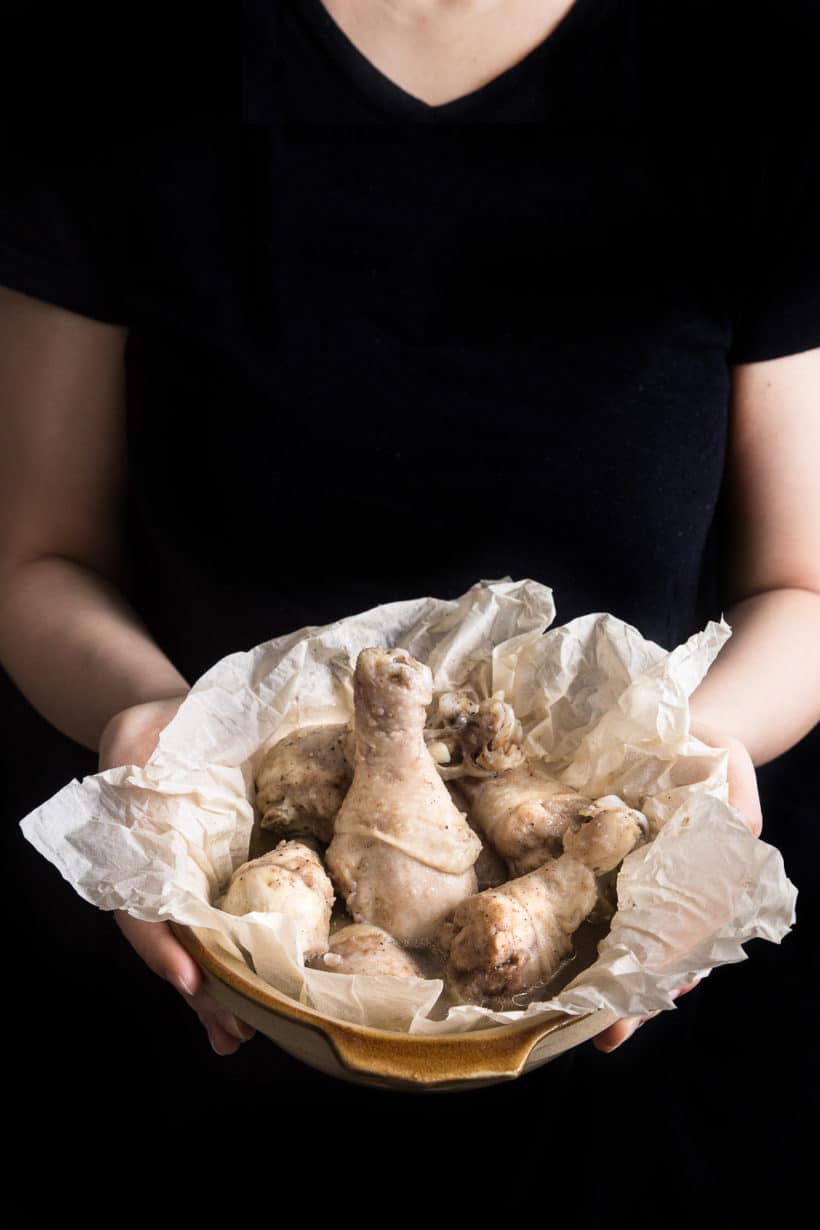 ---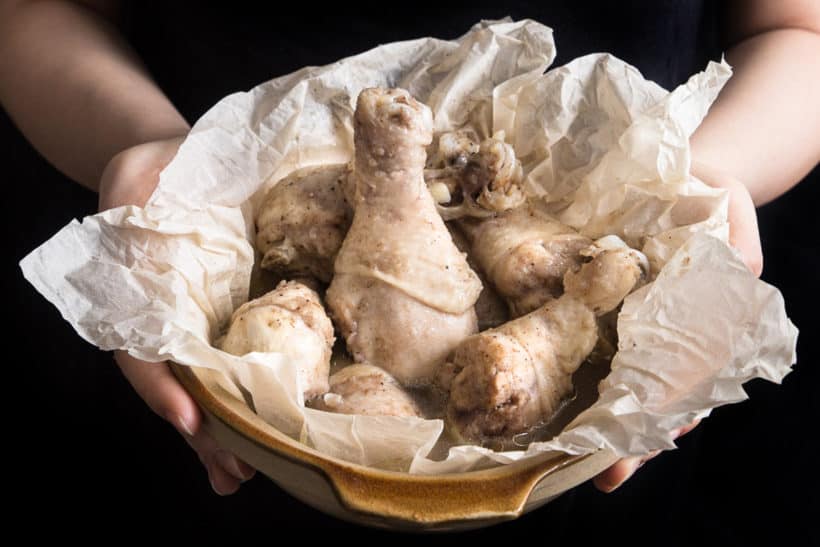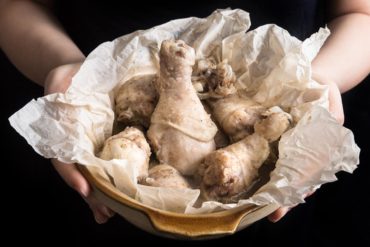 Instant Pot Salt Baked Chicken
5 mins prep to make this Easy Chinese Instant Pot Salt Baked Chicken! Deliciously tender, juicy Instant Pot Chicken makes a budget comforting family meal for busy nights.
Subscribe for Free Recipes & Tips
♥ Share this Recipe so We can create more yummy recipes for you.  Thank you 🙂
Instructions
Season Chicken Legs: Place chicken legs in a large mixing bowl. Pour in 2 tsp dried sand ginger, 1 ¼ tsp kosher salt, and ¼ tsp five spice powder. Mix well.

Wrap Chicken: Place seasoned chicken legs on a large piece of parchment paper (Do NOT use aluminum foil). Wrap it up tightly and place it on a shallow dish with the opening side facing upwards. Do not stack more than 2 levels of chicken legs.

Pressure Cook Chicken: Place a steamer rack in the Instant Pot Pressure Cooker and pour in 1 cup of cold water. Carefully place the chicken dish on the rack. Close lid and pressure cook at High Pressure for 18 – 26 minutes (Please see notes), then Natural Release for 20 minutes (turn off the heat and do NOT touch it). Open the lid carefully. Remove the dish from the Instant Pot Pressure Cooker and unwrap the parchment paper carefully.

Optional - Finish in the Oven: Pour out all the juice in a small bowl (don't throw it away!), then place the chicken on a wire rack on top of an oven tray. Put it under the broiler until the skin is browned but not dried out.

Serve: Serve immediately. The remaining meat juice can be used as a dipping sauce for the chicken. Taste and add more dried sand ginger to your liking. Enjoy!
Video
Notes
Pressure Cooking Time: The size of our chicken legs were quite small, and they were perfectly cooked at High Pressure for 18 minutes. Please adjust the cooking time accordingly.
You can also make this dish with the oven.
Rate Amy + Jacky's Recipe: If you've tried our recipe, don't forget to rate the recipe in the Comments section. Thank you!
Nutrition
Calories:
552
kcal
|
Protein:
42
g
|
Fat:
41
g
|
Saturated Fat:
11
g
|
Cholesterol:
239
mg
|
Sodium:
943
mg
|
Potassium:
523
mg
|
Vitamin A:
235
IU
|
Vitamin C:
0.5
mg
|
Calcium:
23
mg
|
Iron:
1.9
mg
More Chinese Instant Pot Chicken Recipes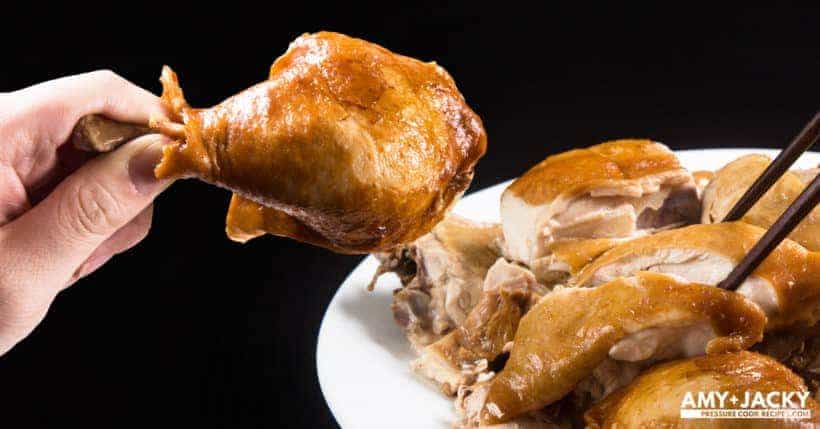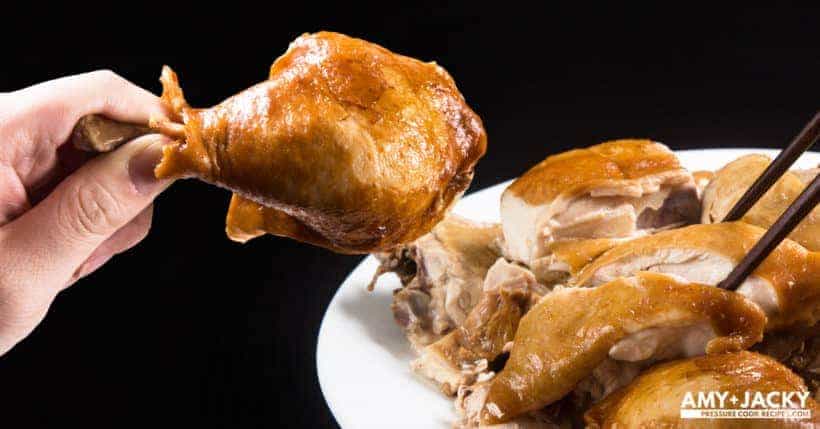 Instant Pot Hainanese Chicken Rice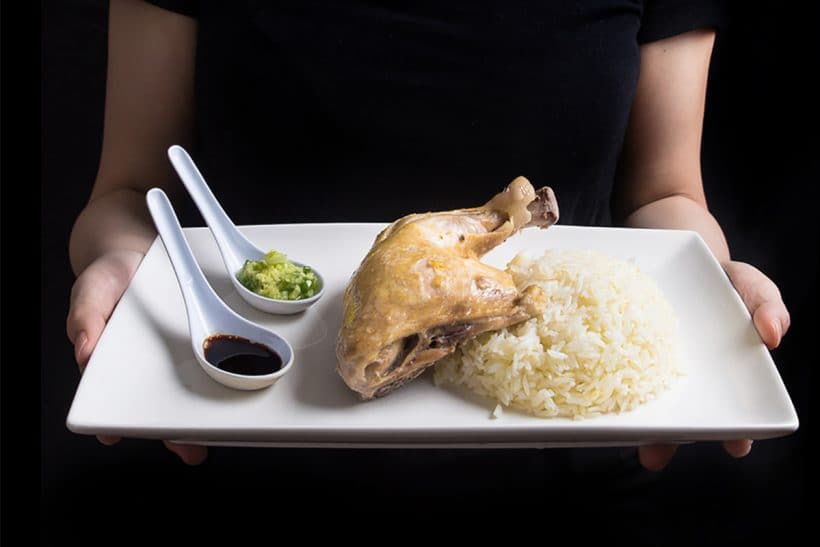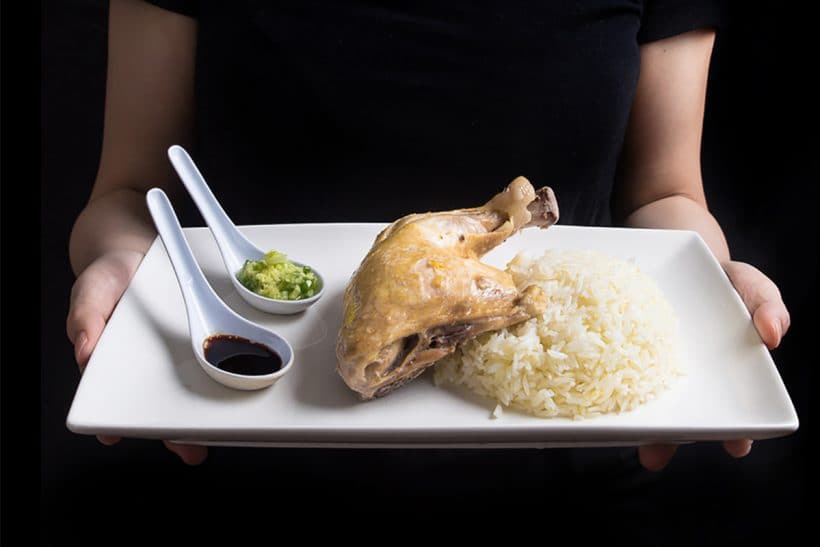 Some Useful Tips & Resources
All Our Pressure Cooker Recipes
*Disclosure: We are an Amazon Influencer/Amazon Associate. This means that if you decide to purchase items or services on Amazon through our links on Pressure Cook Recipes to Amazon, Amazon will send a small commission to us at no additional costs to you. Thank you!