5 mins prep to make this perfect bowl of Instant Pot Kabocha Squash Rice. This frugal Pressure Cooker Japanese pumpkin rice is soooo easy to make. Eat it as is or as a side dish. Simple, delicious and healthy.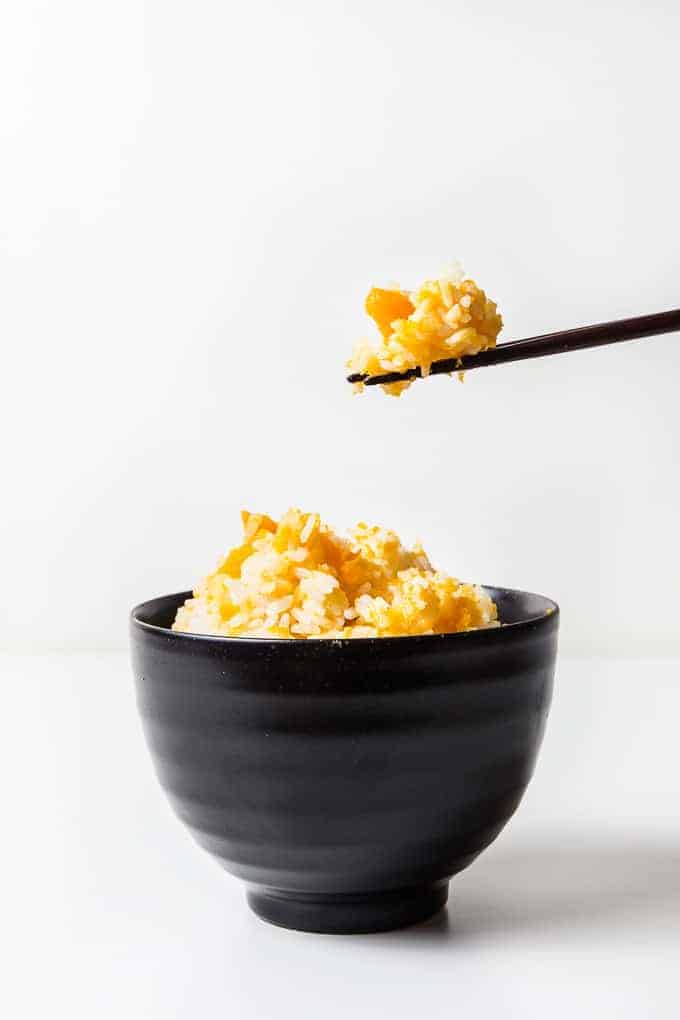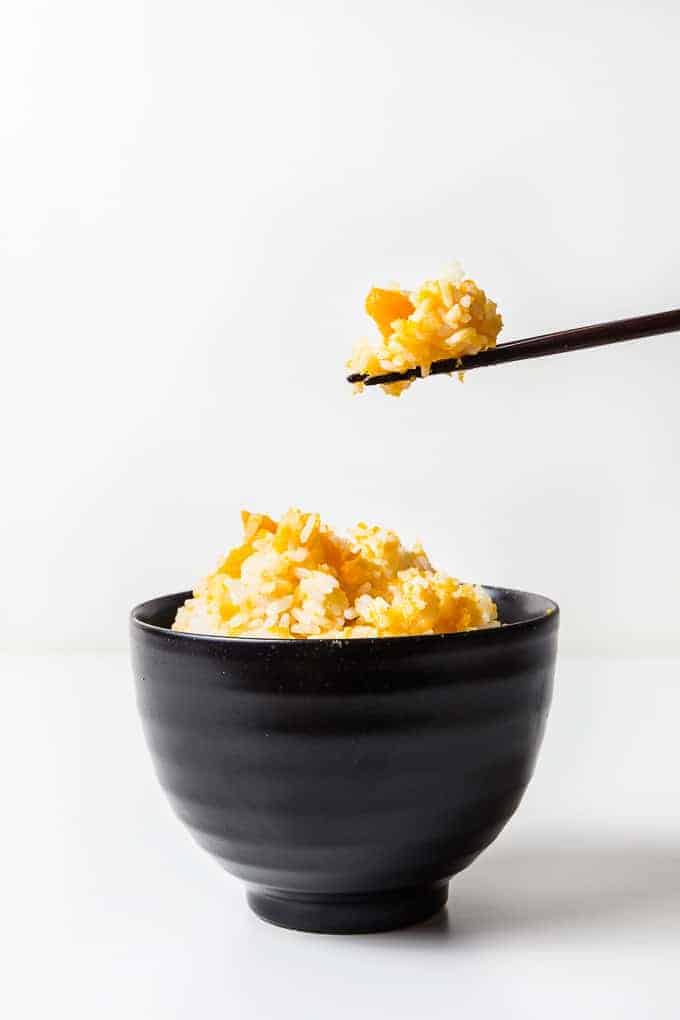 We miss our trip to Japan. The endless delicious food, fascinating culture, and their pursuit of simplicity and perfection just put us in awe.
This memorable trip inspired us to create this deliciously simple Instant Pot Kabocha Squash Rice!
I absolutely adore this dish! This one time Jacky & I both ate like 4 bowls each and were too full to eat anything else. hehe~
Though this Kabocha Squash Rice is simple, it took us many trial and errors with the Instant Pot Pressure Cooker to get the perfect consistency.
Perfectly cooked Japanese rice should be sticky, not too firm, nor mushy or wet.
It's especially tricky when squash is added to the mix. Plus, if the Kabocha is not perfectly cooked, it'll either end up being too mushy or hard.
But YES!! We found the perfect ratio. The rice is fragrant & slightly sticky. The Kabocha squash came out fluffy smooth with texture. The whole dish was fragrant, light, and slightly sweet. Oh, so filling & comforting! 🙂
What is Kabocha Squash (Japanese Pumpkin)?
If you've never tried Kabocha squash, you're missing out!!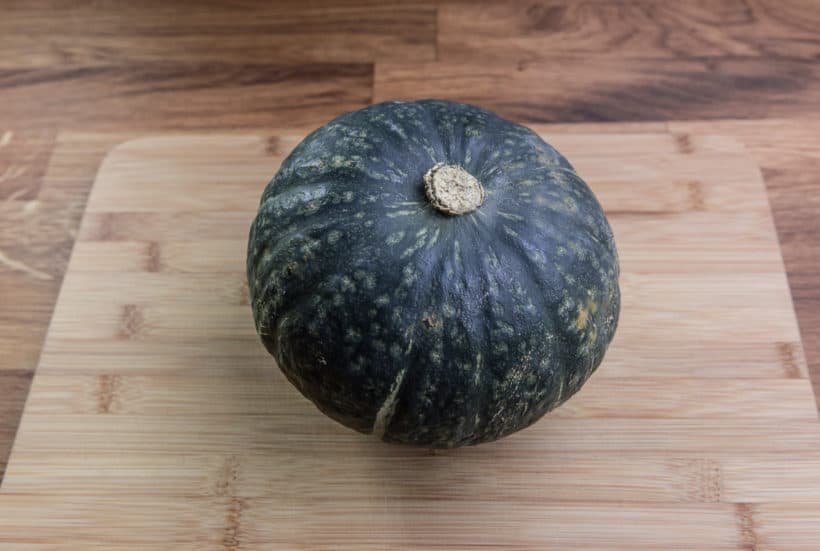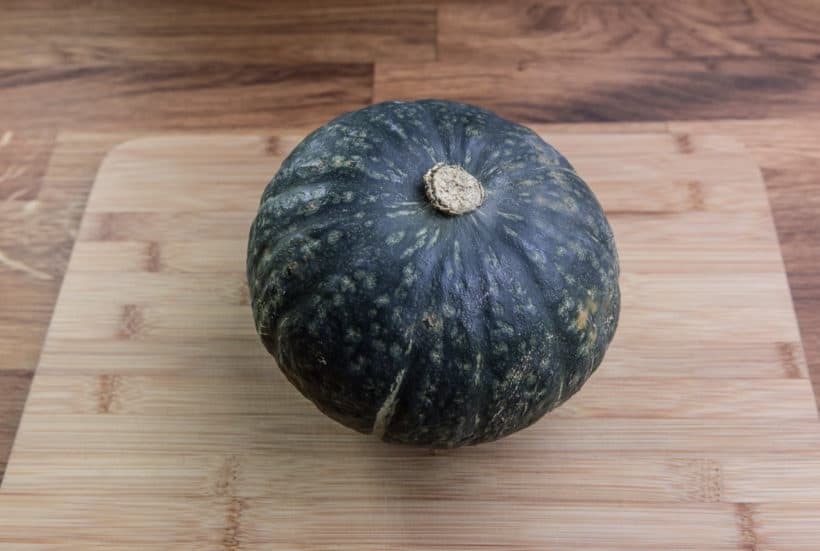 It's a delicious crossover between pumpkin and sweet potato in terms of texture and flavor. Naturally very sweet, even sweeter than butternut squash.
Not only is it packed with nutrients, but also low calories and low-carb.
Yep. The skin is totally edible too!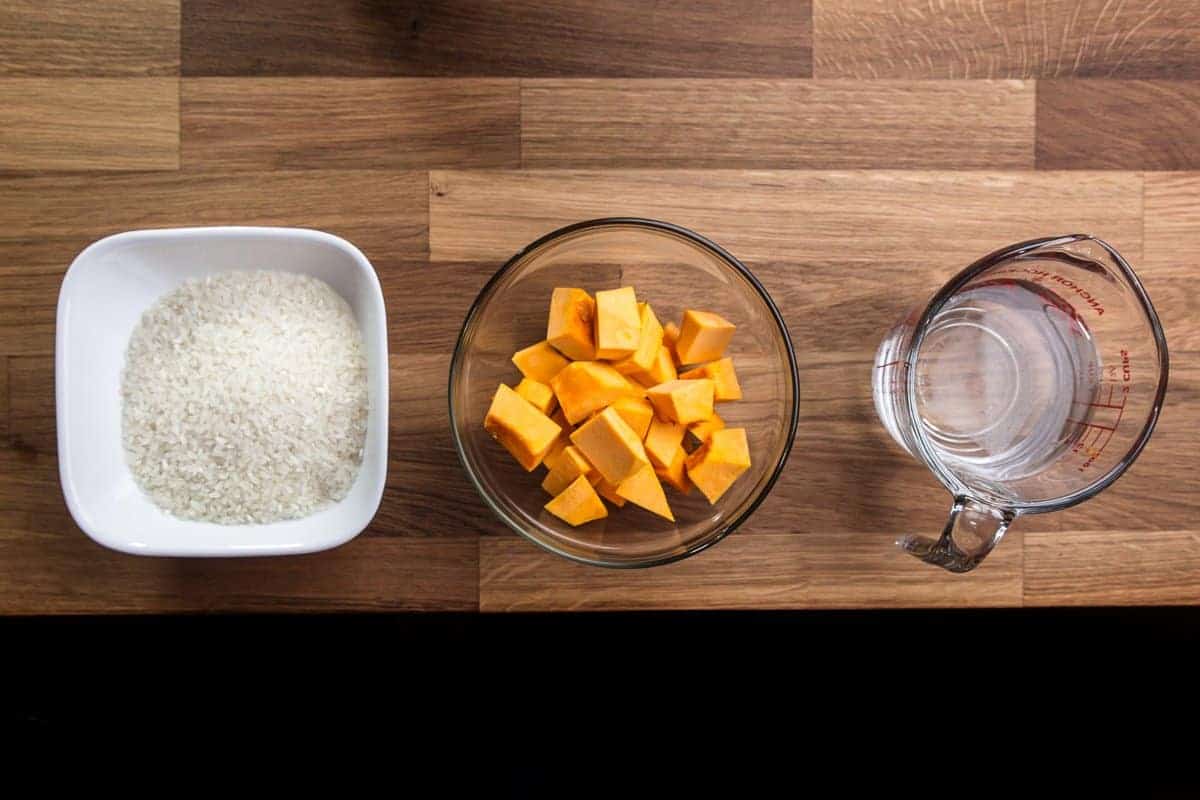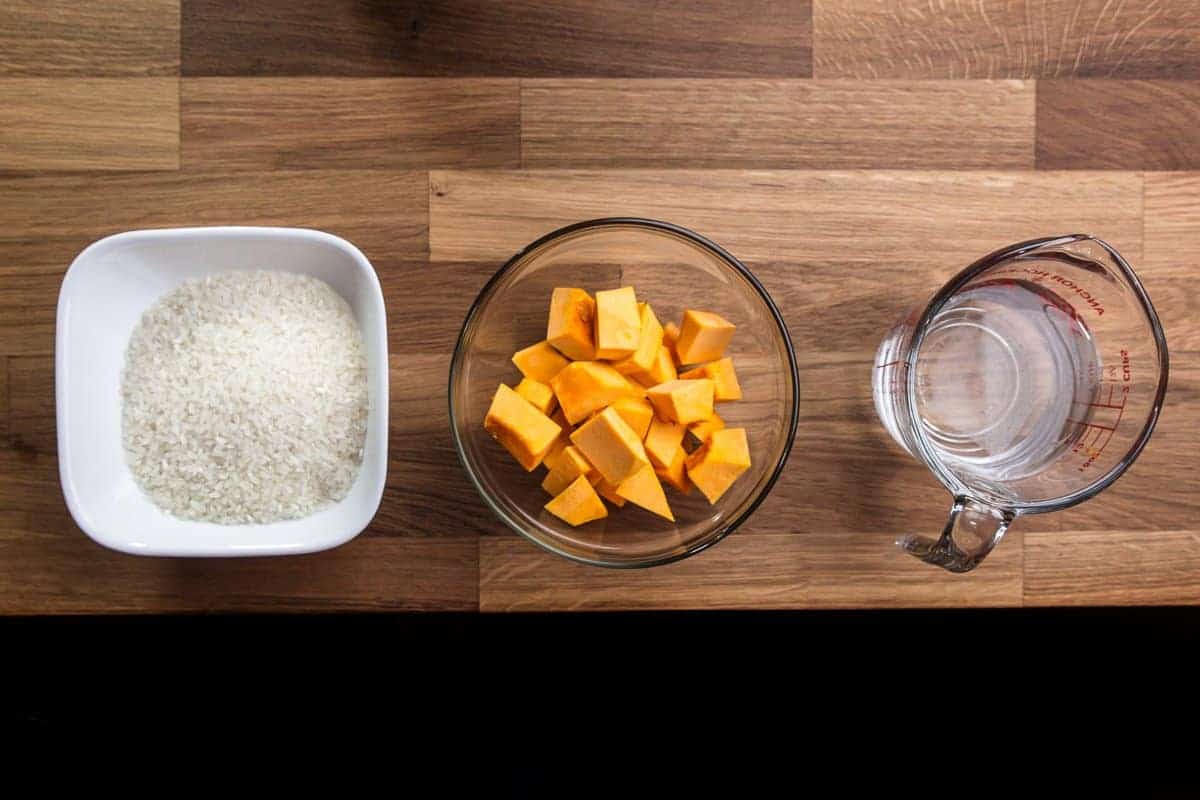 Instant Pot Kabocha Squash Rice Recipe Tips
1. Choosing Kabocha Squash
Choose Kabocha squash that is firm, deep-colored, heavy with no soft spots.
2. Freezing Kabocha Squash
You can freeze Kabocha squash for 6 to 8 months. Some even say up to 1 year!
They've never managed to stay in our freezer for this long, so I can't confirm this. hehe~ If you have, tell us how does it taste.
You can just throw frozen Kabocha squash straight into the pressure cooker, it'll just take longer to build pressure.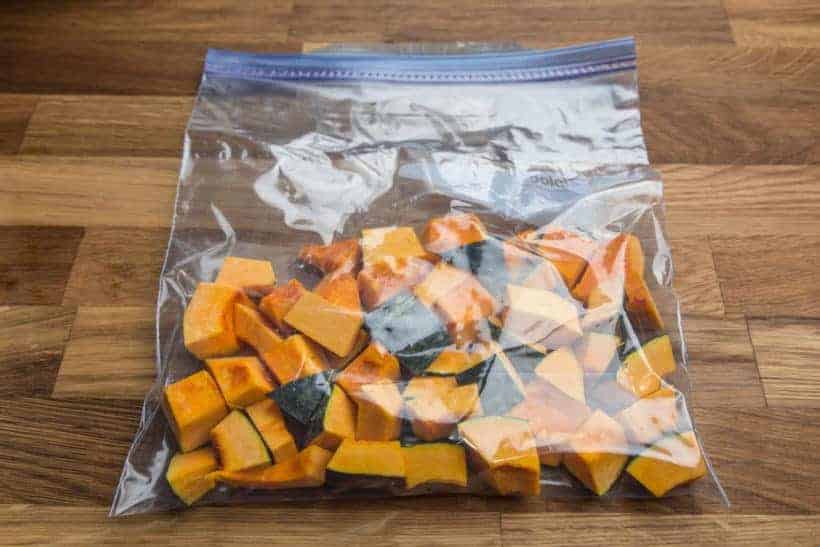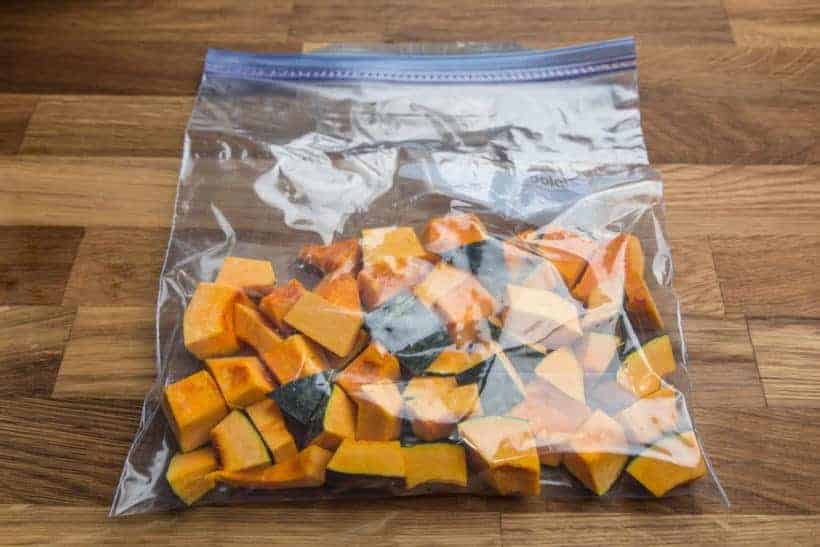 3. Measure Amount of Water
If you want perfectly cooked rice, watch the amount of water you use. Don't wing it. If you have too much water, it'll end up mushy; if you have too little water, it'll end up dry and hard, or even burnt.
4. Use Sesame Oil
Kabocha is naturally very sweet. The few drops of sesame oil will take this dish to the next level. Try it 😉
It's now your turn to take out your Pressure Cooker and cook Instant Pot Kabocha Squash Rice! Enjoy~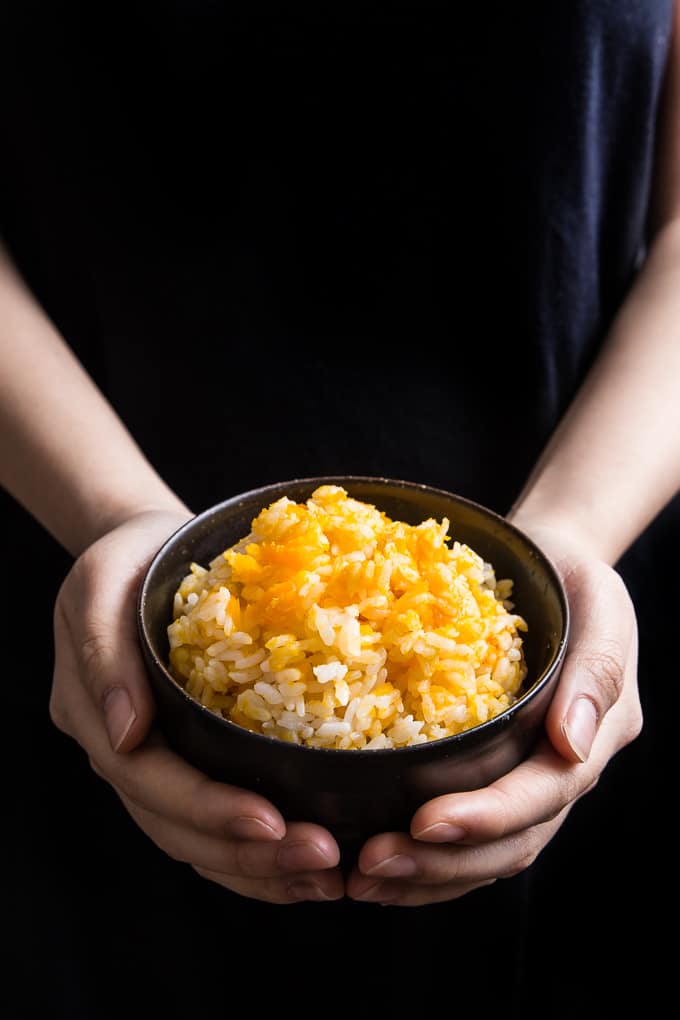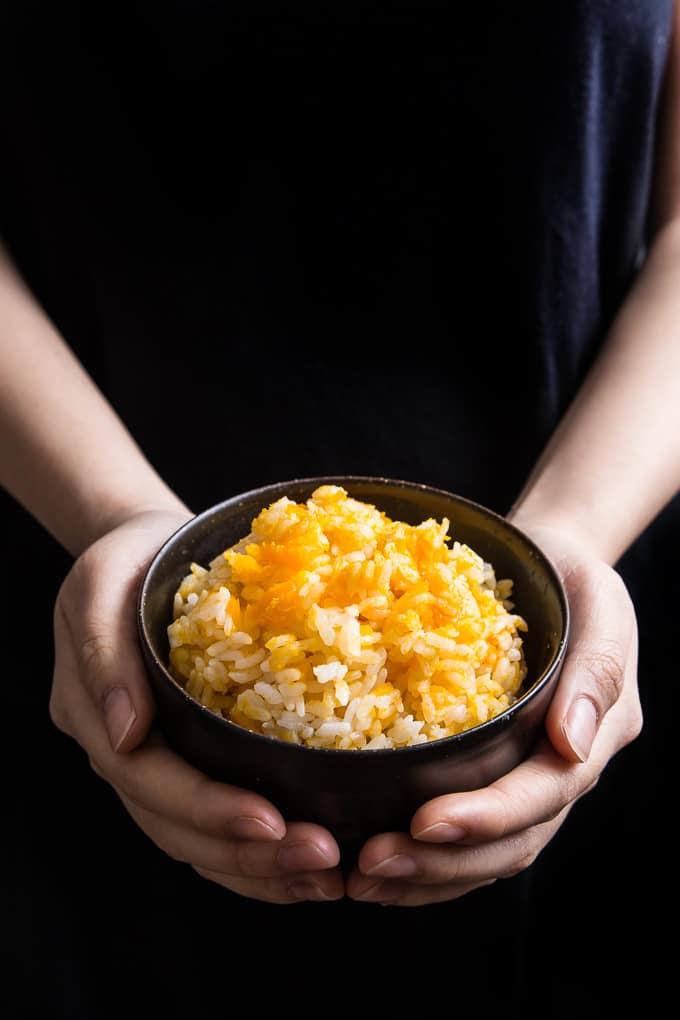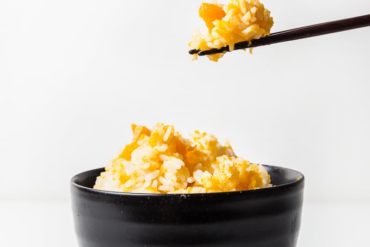 Instant Pot Kabocha Squash (Japanese Pumpkin) Rice
Perfect Instant Pot Kabocha Squash Rice in less than 30 minutes. This frugal Japanese pumpkin rice is so easy to make. Simple, delicious and healthy.
Subscribe for Free Recipes & Tips
♥ Share this Recipe so We can create more yummy recipes for you.  Thank you 🙂
Instructions
Add Ingredients to Instant Pot: Add rice, water, cooking sake, sea salt, and sesame oil in Instant Pot Pressure Cooker. Mix ingredients a few times with a wooden spoon. Add cubed Kabocha squash quickly into the pot.

Pressure Cook Kabocha Squash Rice: Close the lid and pressure cook at High Pressure for 7 minutes, then 10 minutes Natural Release.

Mix & Serve: Remove the lid. Mix the Kabocha squash well with the rice and serve!
Video
Notes
Amount of Water: Ensure to use exactly 1 ½ cup of water as this is just enough to get the pressure cooker up to pressure. This will prevent the pressure cooker rice from absorbing too much water and turns out to be too mushy and wet. Rinsing Rice: If you rinse the rice before cooking, be sure to drain well and ensure the water-to-rice ratio is accurate. (Reduce roughly 3 tablespoons from the 1 cup of water) Freezing Kabocha: Kabocha freezes really well in the freezer for 6 - 8 months. You can pop them into the pressure cooker straight from the freezer for your next meal. Rate Amy + Jacky's Recipe: If you've tried our recipe, rate the recipe in the Comments section. Thank you!
Nutrition
Calories:
341
kcal
|
Carbohydrates:
76
g
|
Protein:
6
g
|
Sodium:
589
mg
|
Potassium:
271
mg
|
Fiber:
3
g
|
Sugar:
1
g
|
Vitamin A:
795
IU
|
Vitamin C:
7.1
mg
|
Calcium:
22
mg
|
Iron:
4.1
mg
Other Instant Pot Rice Recipes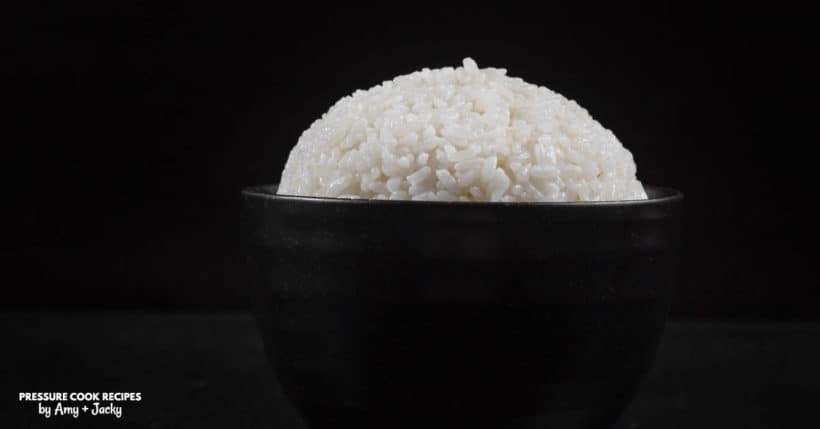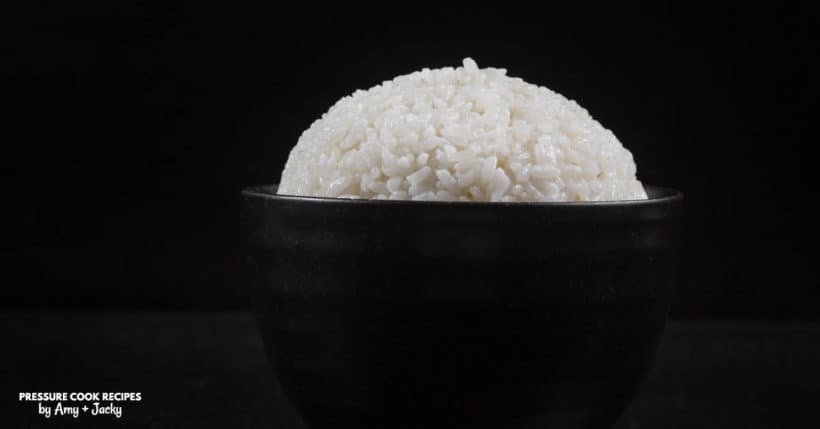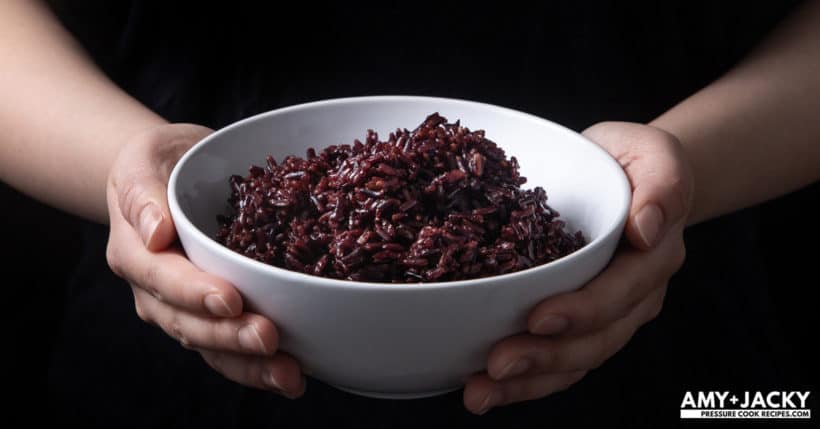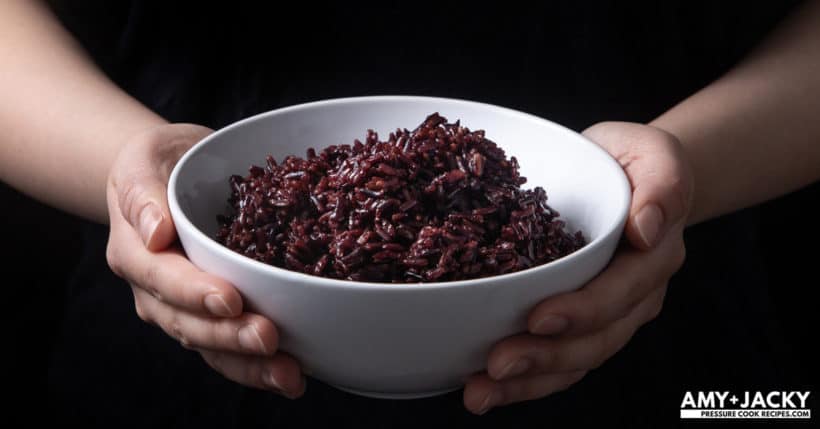 Some Useful Tips & Resources
All Our Pressure Cooker Recipes
*Disclosure: We are an Amazon Influencer/Amazon Associate. This means that if you decide to purchase items or services on Amazon through our links on Pressure Cook Recipes to Amazon, Amazon will send a small commission to us at no additional costs to you. Thank you!