---
Before Purchasing Instant Pot
1. What is an Instant Pot? Is it the Same as a Pressure Cooker?
Instant Pot is a Third Generation Programmable Electric Pressure Cooker. In fact, it's currently one of the most popular electric pressure cooker brands!
Besides pressure cooking, you can use the Instant Pot to slow cook, cook rice, brown meat, steam food, keep food warm, and make homemade yogurt!
Comparing to traditional stovetop pressure cookers, Instant Pot gives you the freedom to "set-it-and-forget-it", no more standing by the stove to babysit the pot as it cooks.
Also, instead of using an external heat source (stovetop pressure cooker), Instant Pot uses an internal heat source powered by electricity.
---
2. Instant Pot vs. Slow Cooker?
Slow Cooker (aka Crockpot) heats food at a lower temperature than common cooking methods such as boiling, baking, frying. Thus, takes longer to cook food.
While Instant Pot, most often used as a pressure cooker, heats food at a higher temperature due to a sealed cooking environment. Thus, cooks faster.
However, as mentioned above, Instant Pot also offers the Slow Cook function. Since we love pressure cooking so much, we rarely use our Instant Pots for slow cooking.
---
3. Why is Everyone Raving About their Instant Pots?
We love our dear Instant Pots for many reasons, and here are some of the top reasons:
Huge Timesaver – Cooks most food faster
Easy to Use
Safe to Use – UL & ULC certified with 10 or more built-in safety mechanisms
Quiet – Unlike loud & noisy traditional stovetop pressure cookers
Budget-Friendly – Instant Pot available below $100 USD
Hands-Off Cooking – "set-it-and-forget-it"
Can Saute/Brown Food Directly in the Pot
Yogurt! Yes – you can make yogurt!
---
4. Is it Easy to Cook with an Instant Pot?
Yes! There's definitely a learning curve to cook with pressure cookers and Instant Pot, especially if you're new to the method of pressure cooking.
But no worries! Once you get the hang of it, it's relatively easy. Besides, you've got us right here helping you along the way! 🙂
---
5. Does Instant Pot Really Speed Up the Cooking Process?
Cooking in any pressure cooker is almost always faster.
It may not be noticeable for some quick to cook food such as broccoli, eggs or shrimps.
However, tender and juicy pulled pork can be done in under 90 minutes, when it usually takes 2 – 4 hours to make in the oven.
---
6. Are there Any Disadvantages with Cooking in Instant Pot?
One disadvantage of cooking with any pressure cooker is that you can't inspect, taste, or adjust the food along the way.
That's why it's essential, especially in the beginning, to follow tested Instant Pot Recipes with accurate cooking times, seasoning, amount of liquid to ensure the food quality.
---
7. Is Instant Pot Safe to Use?
Modern day electric pressure cookers such as the Instant Pot are quiet, very safe and easy to use.
It has 10 or more UL Certified proven safety mechanisms to prevent most of the potential issues. Here are some safety tips.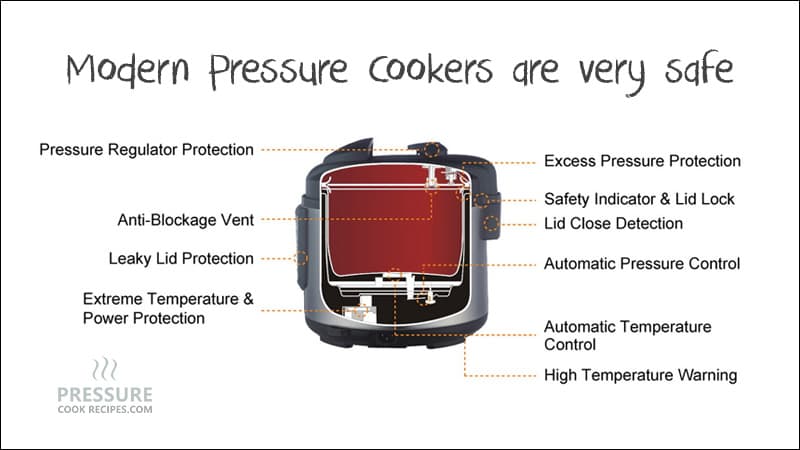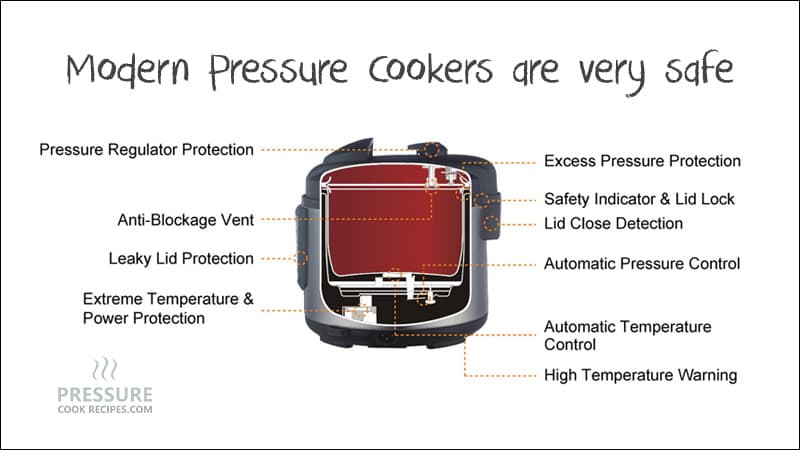 ---
8. What is Instant Pot's Working Pressure?
The current Instant Pot models have working pressure in the range of 10.15~11.6 psi.
---
9. Can Instant Pot be Used for Pressure Canning?
This is a direct quote from Instant Pot's official website: "Instant Pot has not been tested for food safety in pressure canning by USDA.  Due to the fact that programs in Instant Pot IP-CSG, IP-LUX and IP-DUO series are regulated by a pressure sensor instead of a thermometer, the elevation of your location may affect the actual cooking temperature.  For now, we wouldn't recommend using Instant Pot for pressure canning purpose."
---
10. Can I Use Instant Pot for Pressure Frying?
Please don't attempt to pressure fry in any electric pressure cookers! The splattering oil may melt the gasket.
KFC uses a commercial pressure fryer (modern ones operate at 5 PSI) specially made to fry chickens. This Pressure Cooker Chicken is probably as close as it gets.
---
11. Which Instant Pot Makes Yogurt?
All Instant Pot DUO, DUO Plus, Ultra Models have the Programmable Yogurt Function for making Instant Pot Yogurt!
---
12. Which Instant Pot Should I Buy?
Instant Pot currently offers 4 lines of Instant Pot products:
Which Instant Pot you should buy highly depends on your budget, cooking needs, the amount of food you normally cook, or how tech-savvy you are.
For More In-Depth Instant Pot Review: Which Instant Pot to Buy
---
13. Which Size Should I Buy?
Instant Pot comes in 3 different sizes: 3 Quart, 6 Quart, and 8 Quart. (Instant Pot Company has discontinued their Instant Pot 5 quart models).
The right Instant Pot Size depends on what type, size, and quantity of food you'll cook with your Instant Pot. See in-depth comparison chart here.
---
After Purchasing Instant Pot
14. What Instant Pot Accessories Do I Need?
Here's our hand-picked list of the most popular Instant Pot Accessories among fellow Instant Pot users: Instant Pot Accessories & Instant Pot Steamer Baskets
---
15. What Accessories or Containers Can I Use in Instant Pot?
You can use any oven-safe accessories and containers.
Take note that different materials will conduct heat differently, so cooking times may vary when you use different containers.
We recommend using stainless steel containers as they conduct heat quickly.
---
16. I Just Got My Instant Pot. What Should I Do First? 
Congratulations and welcome to the Instant Pot Tribe! 🙂
Time to overcome your fear and unbox your Instant Pot! Here's a Step-by-Step Guide: Instant Pot Setup
Then, you should conduct a Water Test with your brand new Instant Pot!
---
17. What is the Water Test?
It's simply running a test run before you start experimenting with food. It also allows you to get a feel of how the pressure cooker works (i.e. which buttons to use, how to do quick release).
Here's a Visual Step-by-Step Water Test Demo Video:
For Step-by-Step Instructions: Instant Pot Water Test
---
18. I'm Confused With All the Instant Pot Terms and Acronyms.
IP? HP? 5-5-5? Confused with all the Instant Pot Lingo?
Instant Pot Glossary: Guide for Instant Pot abbreviations & jargon that will get you off your feet as a newbie.
---
19. Where Can I Find Instant Pot Recipes?
There are more things you can make with your new kitchen toy – Instant Pot – than you'd imagine!
Here are some popular easy beginner recipes among Instant Pot users: Easy Instant Pot Recipes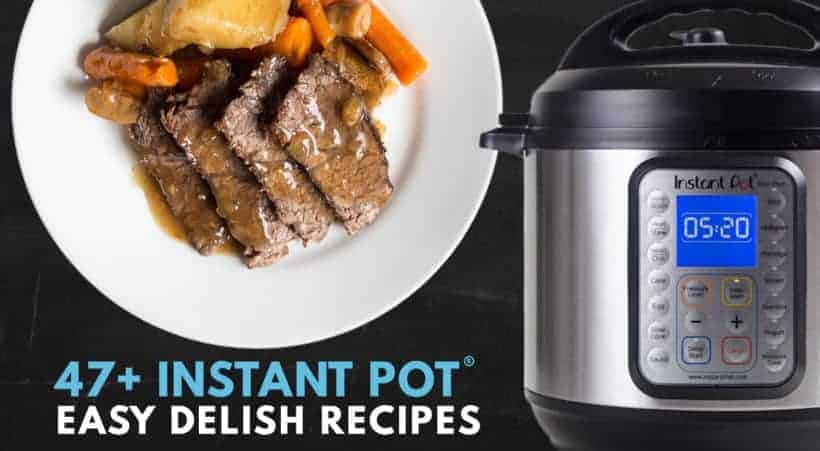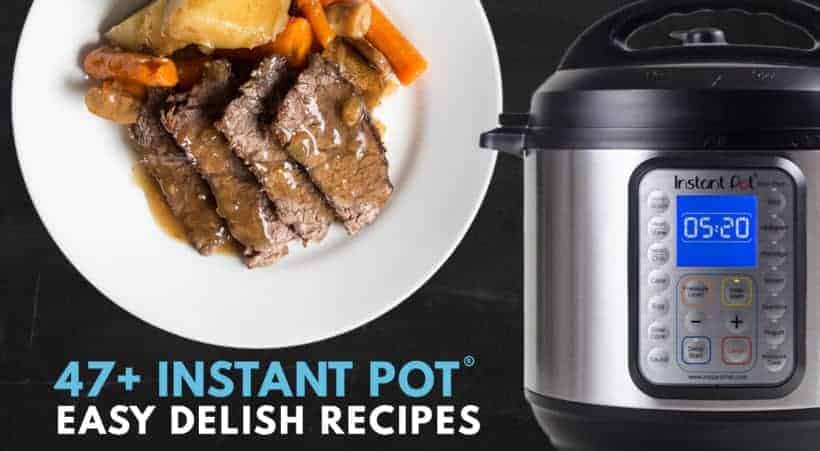 ---
20. How to Do a Quick Release?
After the cooking cycle ends, carefully move the Venting Knob from Sealing Position to Venting Position.
This rapidly releases the pressure in the pressure cooker. This usually takes a few minutes.
Wait until the floating valve (metal pin) completely drops before opening the lid.
---
21. How to Do a Natural Release?
After the cooking cycle ends, wait until the Floating Valve (metal pin) completely drops before opening the lid.
Always turn the Venting Knob from Sealing Position to Venting Position. This ensures all the pressure is released before opening the lid. It usually takes 10 – 25 minutes.
In our recipes, you may see "15 mins Natural Release" – this means after the cooking cycle ends, wait 15 minutes before turning the Venting Knob to manually release the remaining pressure.
More In-Depth Instructions & Demo Video: Pressure Cooker Release Methods
---
22. I Live in a High Altitude City. Do I Need to Adjust the Cooking Times?
Yes! Our Instant Pot Recipes are developed and tested at close to sea level.
So, when you live in a high altitude city (over 3000 ft above sea level), use our Pressure Cooker High Altitude Cooking Time Adjustment Chart to adjust the cooking times in our Instant Pot Recipes.
---
23. What is the PIP Method?
PIP means Pot in Pot or Pan in Pot. It is an efficient way to cook multiple dishes (with similar cooking time) in the pressure cooker at the same time. Here's an example 🙂
---
24. Is it Called an InstaPot or Instant Pot?
Many users call it InstaPot, IP, or IPPY.
The correct name is Instant Pot, but call it whatever you like. In fact, some users even named their cookers – "Husband" 😉
---
Have fun cooking with your awesome Instant Pot Pressure Cooker!
*Let us know in the comments if you have any other Instant Pot questions. 🙂
Some Useful Tips & Resources
All Our Pressure Cooker Recipes
*Disclosure: We are an Amazon Influencer/Amazon Associate. This means that if you decide to purchase items or services on Amazon through our links on Pressure Cook Recipes to Amazon, Amazon will send a small commission to us at no additional costs to you. Thank you!