Heads up! Instant Pot Company has just released an official standalone Instant Pot Air Fryer Lid for compatible 6 quart Instant Pot pressure cookers. Yes!! This lid can turn your Instant Pot into an Air Fryer!
From speculations, this air fryer lid for Instant Pot should function very similar to the lid that comes with the Instant Pot Duo Crisp Air Fryer & Pressure Cooker.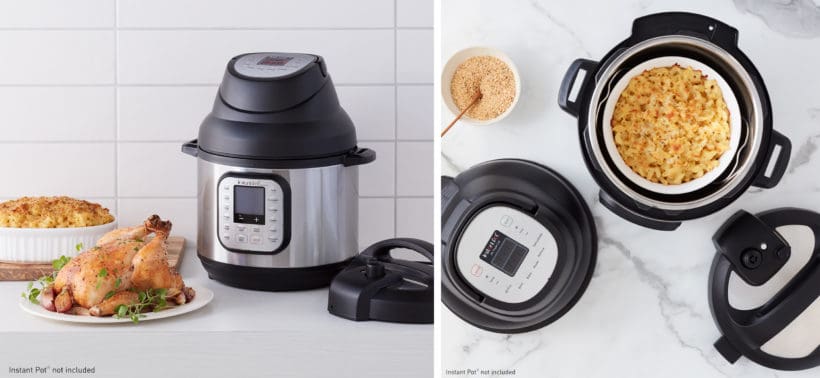 Air Fryer Lid Functions:
This air fryer lid allows you to perform 6 crisp cooking functions:
Air Fry
Broil
Bake
Roast
Reheat
Dehydrate
These functions give you the benefits of a regular air fryer, thus further enhance your Instant Pot Pressure Cooker's multiple cooking functions.
This lid will transform your already awesome Instant Pot into a super versatile kitchen appliance! 😀
How to Use the Air Fryer Lid?
This game-changing accessory is super easy to use! You simply cook directly in the same Instant Pot + inner pot, but swap the regular pressure cooker lid with this Air Fryer Lid.
Air Fryer Lid Specifications:
Weight: 5.95 lbs / 2.7 kg
Power: 1500W
Warranty: 1 Year
Programs: Air Fry, Broil, Bake, Roast, Reheat, and Dehydrate
Max Temperature: 400ºF (204ºC)
Min Temperature: 125ºF (52ºC)
Compatible Instant Pot Models:
Be mindful that this Air Fryer Lid is only compatible with certain 6 quart Instant Pot pressure cookers:
Compatible Models: DUO60, LUX60, DUO Plus 60, Ultra 60, Viva 60, Nova 60, Nova Plus 60.
NOT Compatible Models: Smart WiFi 60, Duo Evo Plus 60, Duo SV 60, Max 60.
Air Fryer Accessories: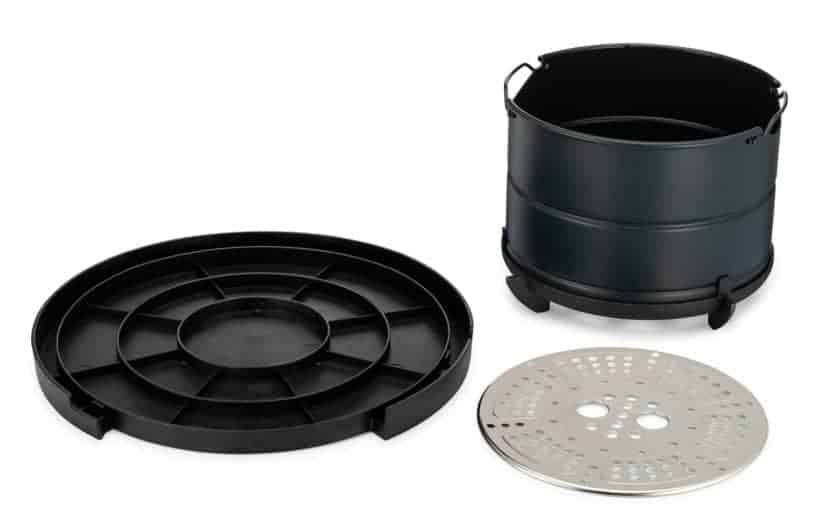 Just like the Instant Pot DUO Crisp, the air fryer lid comes with a protective pad/storage cover, a multi-level air fryer basket, and a broil/dehydrating tray.
Where to Find Instant Pot Air Fryer Lid Recipes?
We've handpicked 10 Tried & True Instant Pot Air Fryer Lid Recipes for you! These recipes also work with Instant Pot Duo Crisp Air Fryer Lid & Ninja Foodi Air Fryer. 🙂
Where to Buy the Air Fryer Lid for Instant Pot?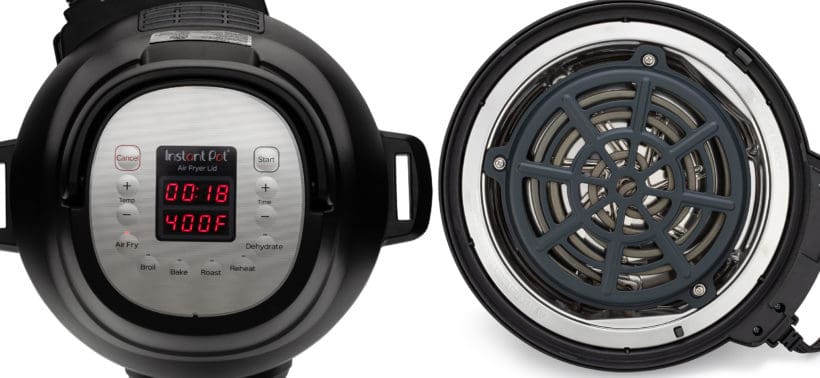 This Air Fryer Lid is currently available on Amazon &  Williams Sonoma Website (US). (Non Affiliated Link).
Can't wait to get our hands on one of these air fryer lids to test the features & review the performance through our Test Kitchen experiments!
What do you think about this Air Fryer Lid? Share with us in the comments!
Some Useful Tips & Resources
All Our Pressure Cooker Recipes
*Disclosure: We are an Amazon Influencer/Amazon Associate. This means that if you decide to purchase items or services on Amazon through our links on Pressure Cook Recipes to Amazon, Amazon will send a small commission to us at no additional costs to you. Thank you!