Harry Potter Instant Pot is here!! After launching the well-loved special collections: Star Wars Instant Pot and Mickey Mouse Instant Pot, Instant Pot company (Instant Brands) just released a new special edition of Harry Potter Instant Pot Pressure Cooker!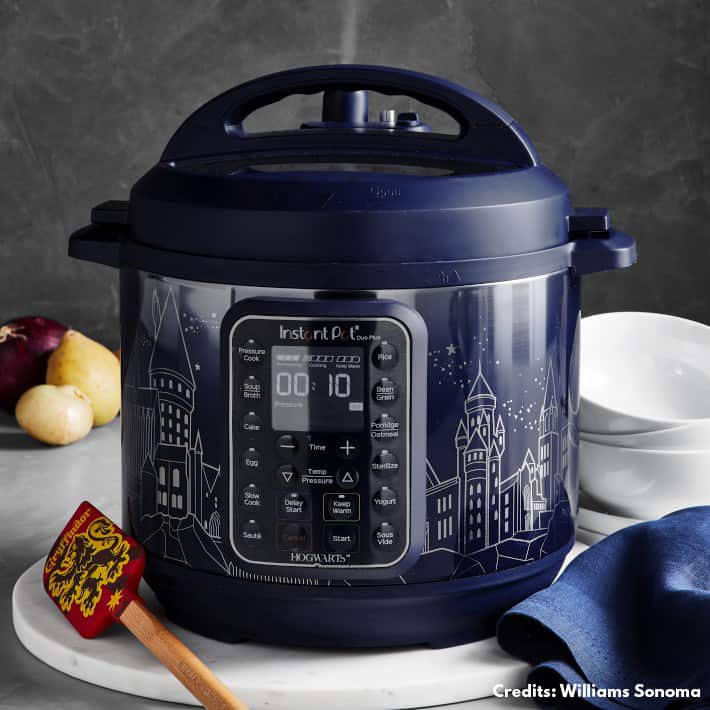 If you haven't subscribed to our free weekly newsletter, subscribe now for more free recipes, news, and cooking tips. Link: Subscribe for Free Recipes & Tips
Which Model is the Harry Potter Instant Pot?
The Harry Potter special edition is an Instant Pot Duo Plus 60 9-in-1 Pressure Cooker. It can Pressure Cook, Slow Cook, Sauté, Sous Vide, Steam, Cook Rice, Make Yogurt, Sterilize, and Keep Warm.
How Big is the Harry Potter Instant Pot?
The Harry Potter version has 6 quart capacity. The dimensions are 12.64″ W x 12.20″ D x 12.99″ H. It weighs 12 lb. 8 oz.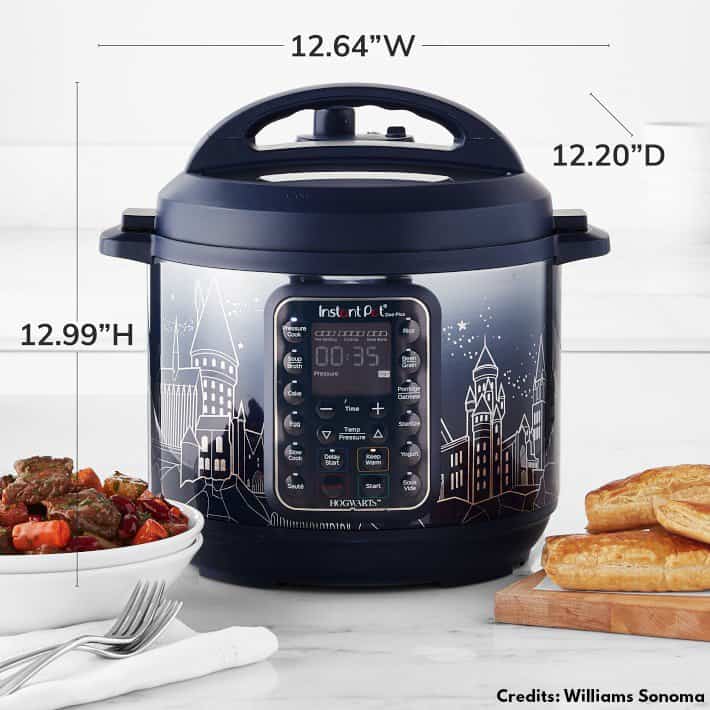 Product Highlights:
This special Harry Potter Instant Pot currently comes in one blue design.
Modeled after the upgraded Instant Pot Duo Plus 60 Pressure Cooker. It comes with the Yogurt making, Sous Vide, and Sterilize functions.
Upgraded auto-sealing lid with switch for easier pressure release.
Stainless-steel inner pot with tri-ply bottom stays in place while you sauté in the pot.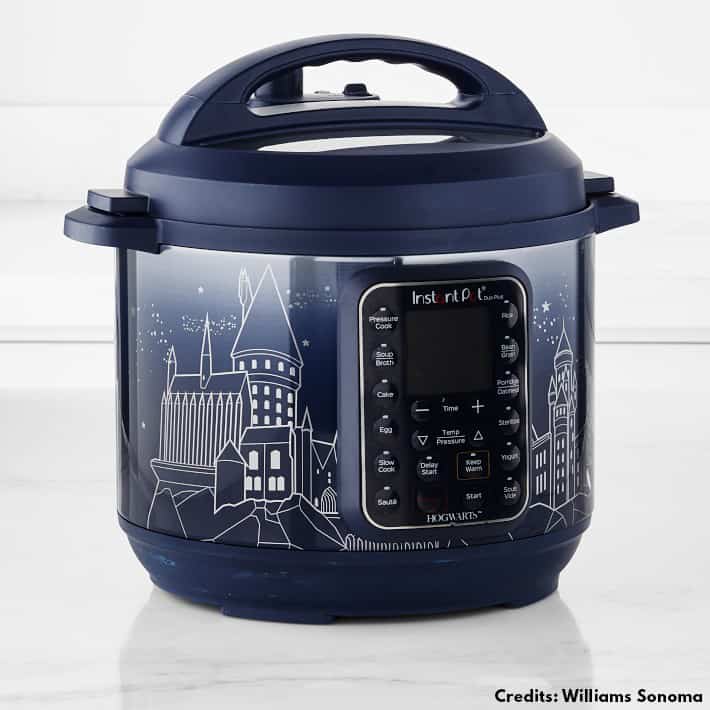 Product Specifications:
Size: 6 Quart
Weight: 12 lb. 8 oz.
Power: 1000W
Warranty: 12 Months
Functions: 9-in-1 – Pressure Cook, Slow Cook, Sauté, Sous Vide, Steam, Rice, Yogurt, Sterilize, and Keep Warm
Accessories: Extra sealing ring and stainless-steel steamer rack
Safety: Over 10 Proven Safety Features – Overheat Protection™, Safety Lid Lock, Automatic Temperature Control, and more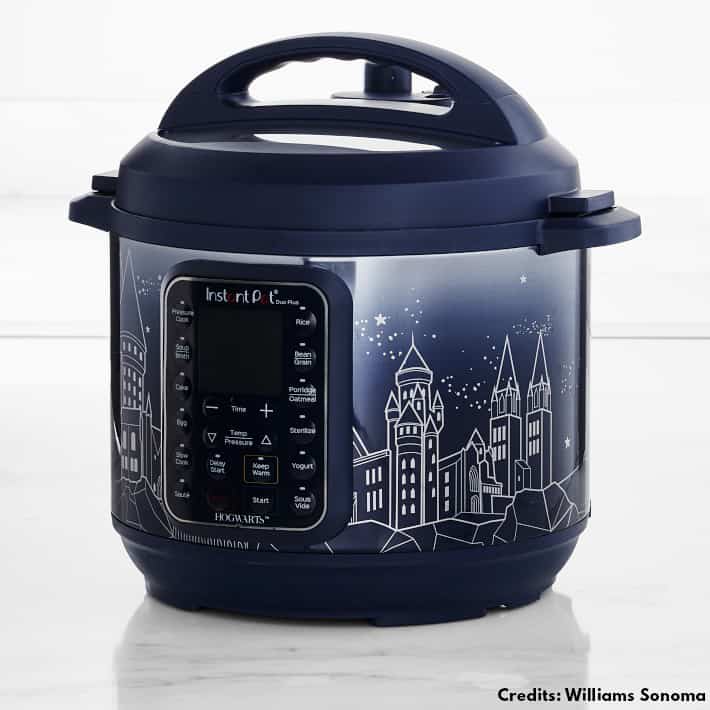 Where Can I Buy Harry Potter Instant Pot? 
This new Harry Potter Instant Pot Duo Plus Pressure Cooker is currently available exclusively at Williams Sonoma (United States) for $129.95 USD.
What do you think of this special Harry Potter design?
What other characters would you like to see featured on Instant Pot? 
Share this news with the Harry Potter lovers in your life! 🙂
Other Special Instant Pot Collections
Instant Pot realeased a Star Wars special collection for Star Wars fans!
The Instant Pot Pressure Cookers starring Chewbacca, BB-8, Darth Vader, Stormtrooper, R2-D2, and The Child Little Bounty "Baby Yoda".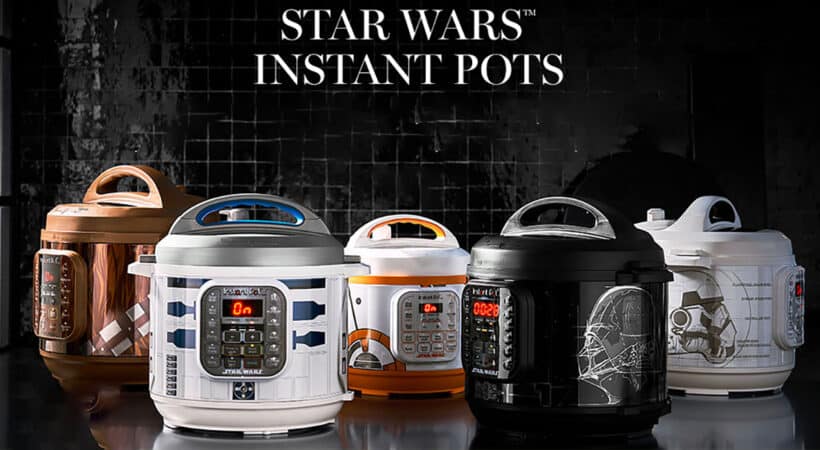 Instant Pot also released a special Disney Mickey Mouse collection with two different designs that comes in three colors.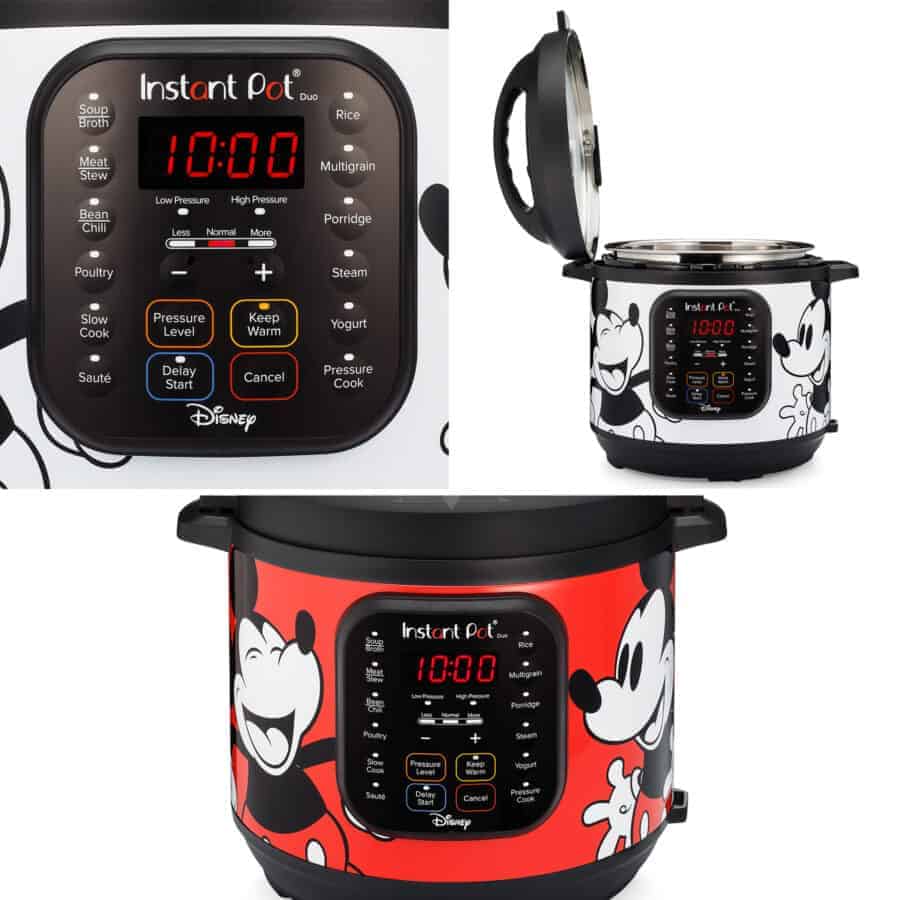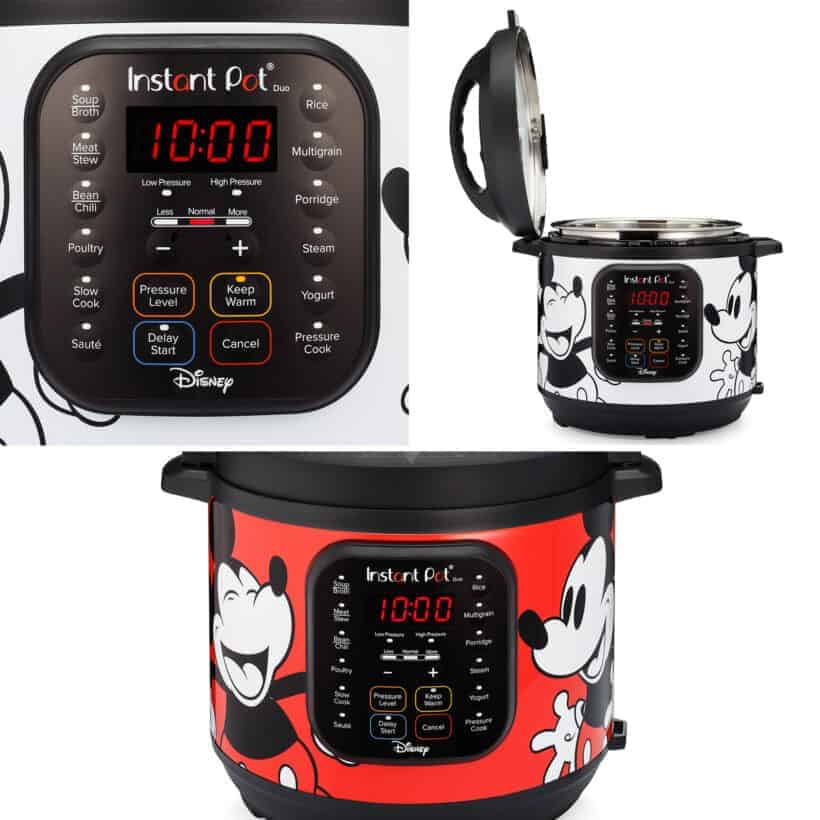 If you're looking for more Instant Pot Recipes, try Amy + Jacky's 50 Tested Beginner-Friendly Instant Pot Recipes!
Some Useful Tips & Resources
All Our Pressure Cooker Recipes
*Disclosure: We are an Amazon Influencer/Amazon Associate. This means that if you decide to purchase items or services on Amazon through our links on Pressure Cook Recipes to Amazon, Amazon will send a small commission to us at no additional costs to you. Thank you!