10 mins prep to make this Filipino signature Pressure Cooker Chicken Adobo (Instant Pot Chicken Adobo). No need to marinate ahead. A burst of sweet, savory, and sour flavors wrapped with a kick of spice. Frugal, super easy to make, and just perfect over rice.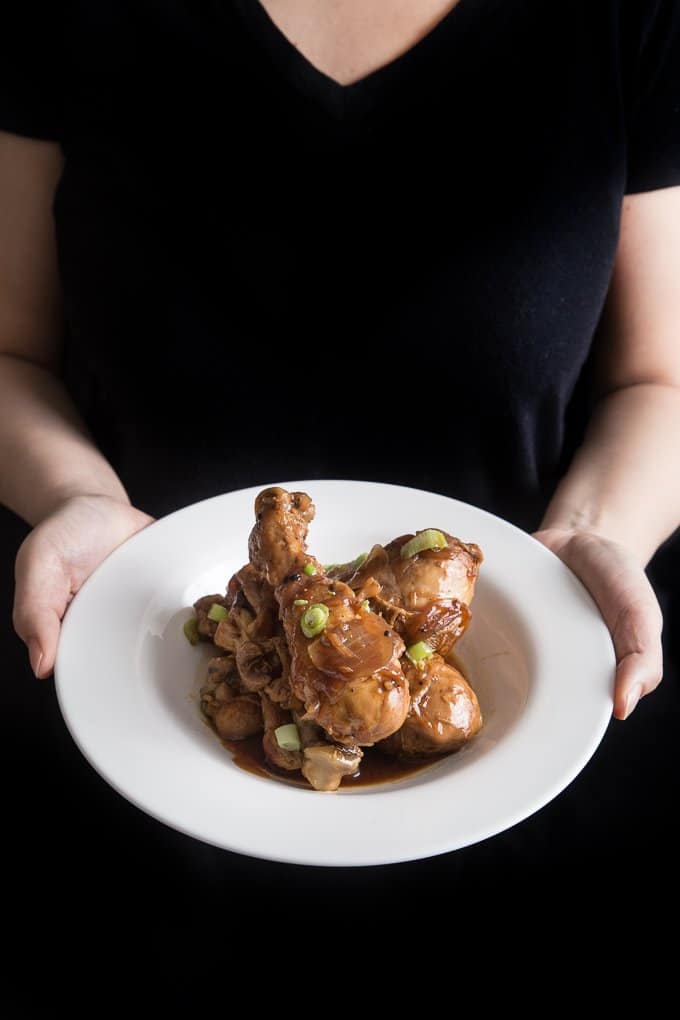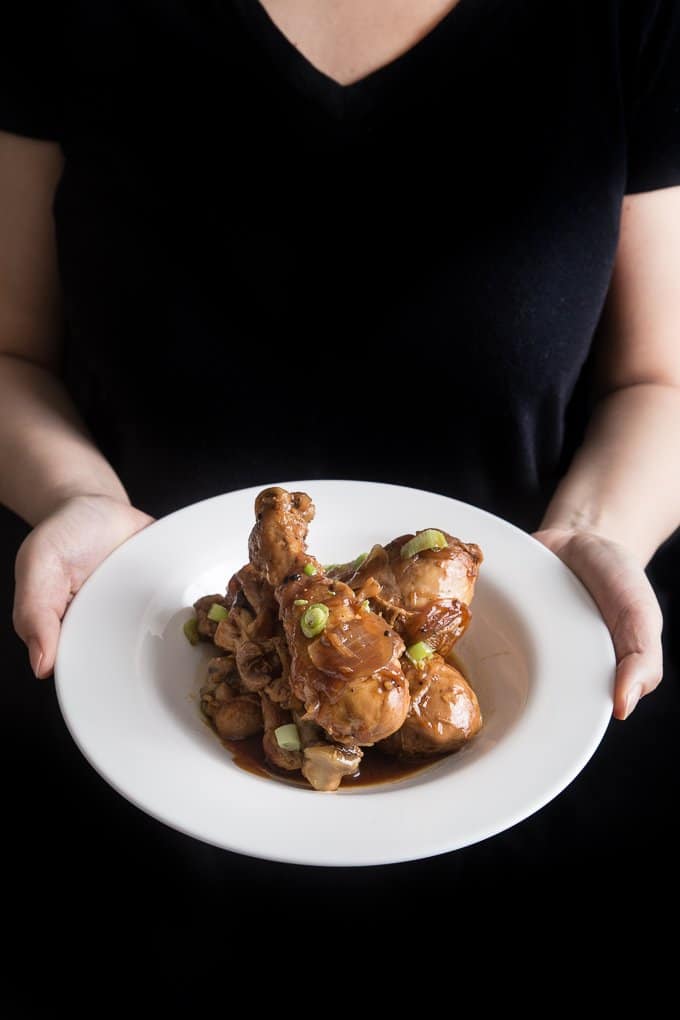 We got hooked to Filipino food all thanks to our talented Filipino chef & restaurateur client.
His thick peanut sauce meat stew kare-kare was what got us hooked. We once shamelessly ordered it three times within the same week. LOL!
If you give me a bowl of rice, I can gobble up the whole plate of sizzling sisig on my own.
My summer favorite? Halo halo – purple ice-cream with bazillion flavors and textures.
Of course, how can we forget the dish we are SO addicted to – super crispy pork hock crispy pata!
Gosh, what have we been missing out?!
Filipino food have bold flavors, is homey, and just all around delicious comfort food. If you haven't already, chicken adobo is yet another Filipino signature dish you gotta try.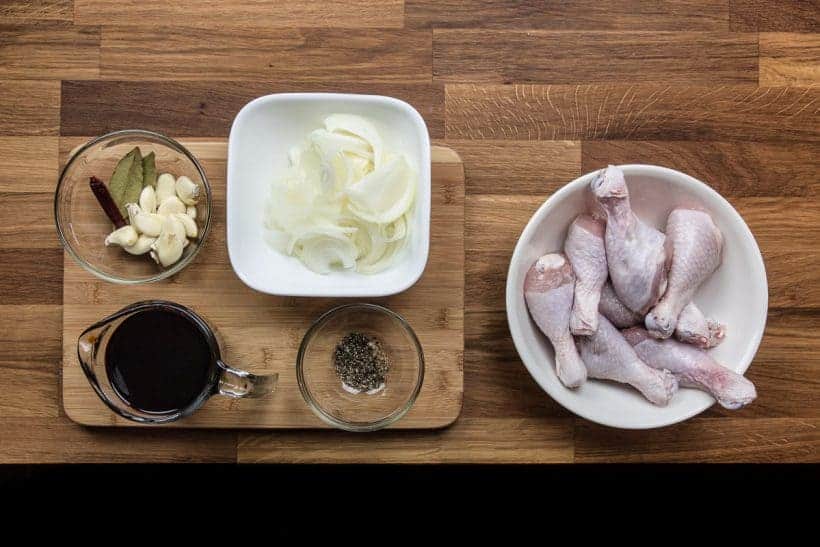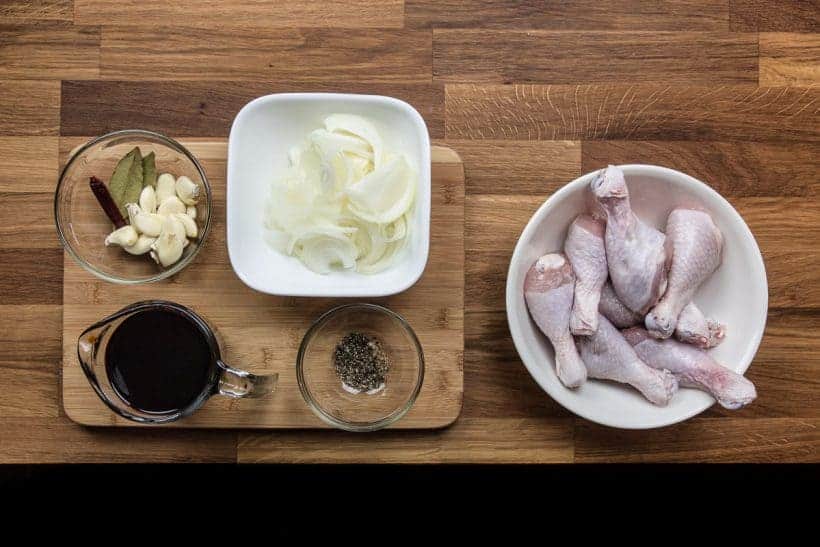 Special Sauces For Pressure Cooker Chicken Adobo Recipe:
Filipino vinegar, soy sauce, and fish sauce is the backbone of a yummy chicken adobo
Ingredients you can find online:

10 mins prep is all you need to make this delicious pressure cooker chicken adobo (Instant Pot Chicken Adobo). It's super easy to make and you don't even need to marinate it ahead.
The bold flavors of this chicken adobo are a balance of sour and savory, with a bit of sweetness and a slight kick of spiciness. It's a juicy and fulfilling dish that enhances your appetite.
Looking for more pressure cooker chicken recipes? Don't miss our One Pot Chinese Pressure Cooker Chicken and Rice.
Filipino Pressure Cooker Chicken Adobo Recipe Tips
Everyone's sour tolerance and flavor preference is different. Since the sour flavor plays a huge role in chicken adobo, remember to taste the Sauce mixture and adjust accordingly.
We've tried cooking this dish with many different combinations and portions of sauces before we hit our favorite balance of flavors. Yeah, we've been eating a LOT of chicken adobo lately. LOL~
We first created the dish with regular white vinegar, rice vinegar, and Chinese soy sauce. The flavors were out of balance and it tasted way too sour for us.
So, we played around the portions using the Filipino vinegar & Filipino soy sauce and took out the rice vinegar.
It was still too sour for our liking. Since the Filipino soy sauce tasted more sour than the Chinese soy sauce, we're finally able to achieve a balance by mixing the two soy sauces together. Try it and let us know what you think!
If you've never tried Filipino food, now it's your chance. Take out your pressure cooker and make this Filipino Pressure Cooker Chicken Adobo (Instant Pot Chicken Adobo)!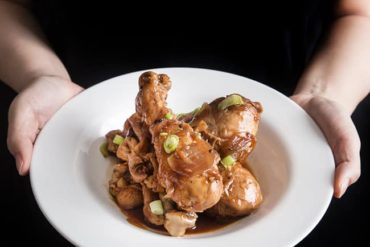 Filipino Pressure Cooker Chicken Adobo
10 mins to prep this Filipino signature pressure cooker chicken adobo. A burst of sweet, savory, and sour flavors wrapped with a kick of spice.
Subscribe for Free Recipes & Tips
Ingredients
6

(2lbs)

chicken drumsticks

1

tablespoon

oil

Green onions

, chopped for garnish
Optional: Cornstarch Mixture
♥ Share this Recipe so We can create more yummy recipes for you.  Thank you 🙂
Instructions
Make Adobo Sauce: Combine Filipino soy sauce, regular soy sauce, Filipino vinegar, fish sauce and sugar in a medium mixing bowl.

Brown Chicken: Add oil to the pot and brown the chicken for 1 to 2 minutes with the skin side down first. (Instant Pot users: press sauté button) Then, remove the chicken from the pot.

Saute Aromatics: Sauté garlic and onion in the pot until fragrant and golden in color. Then, add ground black peppercorn, red chili, and bay leaves to the pot and sauté for 30 seconds.

Deglaze: Add the Sauce mixture and deglaze the pot.

Pressure Cook Chicken Adobo: Add drumsticks back into the pot and cook at high pressure for 9 minutes with an Electric Pressure Cooker, then natural release.
Optional Steps:
Reduce Adobo Sauce: Remove the chicken from the pot. Simmer the sauce and add cornstarch mixture until the sauce is reduced (Instant Pot users: press sauté button).

Brown Adobo Chicken: Brown the chicken underneath a broiler with the skin side up for 5 minutes.

Serve Chicken Adobo: Place chicken on serving plate, pour in the Sauce mixture, add chopped green onions for garnish. Serve & enjoy~
Video
Notes
Please taste and adjust the Sauce mixture according to your preference.
*Rate Recipe: If you've tried the recipe, don't forget to Rate the Recipe in the Comments Section. Thank you!
Nutrition
Calories:
310
kcal
|
Carbohydrates:
7
g
|
Protein:
29
g
|
Fat:
18
g
|
Saturated Fat:
4
g
|
Cholesterol:
140
mg
|
Sodium:
1309
mg
|
Potassium:
431
mg
|
Fiber:
1
g
|
Sugar:
3
g
|
Vitamin A:
70
IU
|
Vitamin C:
3
mg
|
Calcium:
28
mg
|
Iron:
1
mg
Some Useful Tips & Resources
All Our Pressure Cooker Recipes
*Disclosure: We are an Amazon Influencer/Amazon Associate. This means that if you decide to purchase items or services on Amazon through our links on Pressure Cook Recipes to Amazon, Amazon will send a small commission to us at no additional costs to you. Thank you!