8 ingredients to make this Instant Pot Green Tea Creme Brulee. Including oven instructions. Creamy smooth custard paired with crackable caramelized top. Such an easy yet fancy dessert to treat your guests or indulge yourself.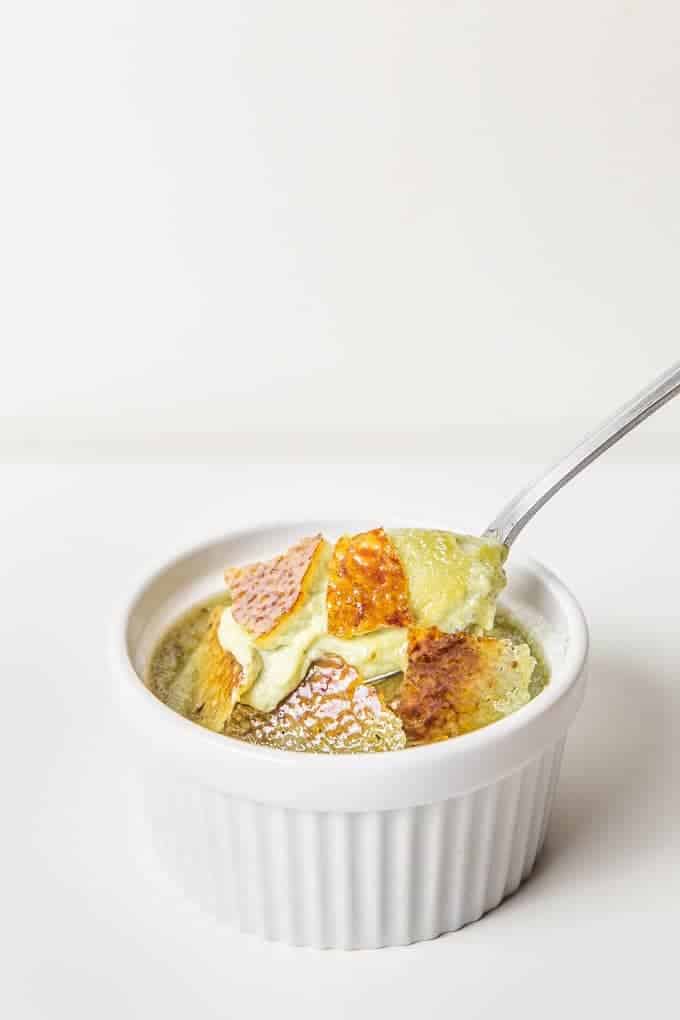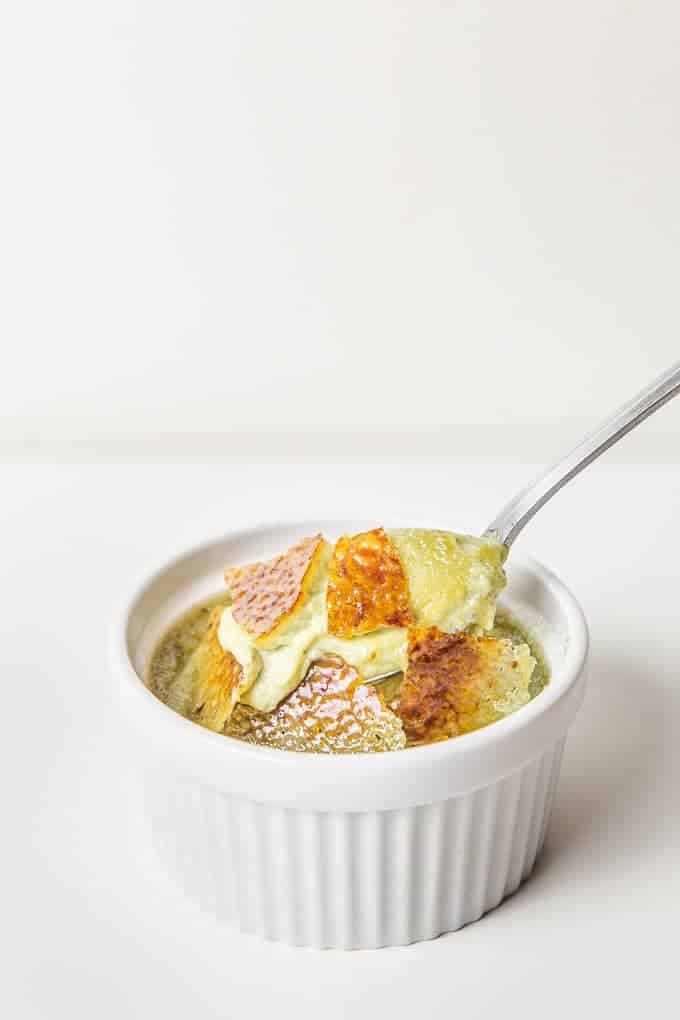 The very first time I've had creme brulee was the time Jacky surprised me with an amazing homemade dinner for my birthday.
I was so full near the end of the meal, pampered with some of my favorite food. But I always tell Jacky, I have another stomach for dessert, so there's always room for dessert. hehe~
Then came the heavenly creme brulee. So creamy smooth and divine. Just love how the elegantly sweet aroma lingers in your mouth. What not to love about you (with that perfectly caramelized top)? 😉
Make this easy creme brulee to pamper your loved ones!
Instead of the original creme brulee, we've tested this easy green tea creme brulee recipe with our pressure cooker and oven. Scroll below for the comparison results.
Ingredients for Instant Pot Green Tea Creme Brulee Recipe
---
Cream
Sea salt
Egg yolks
Sugar
Boiling water
Tools for Instant Pot Green Tea Creme Brulee Recipe
---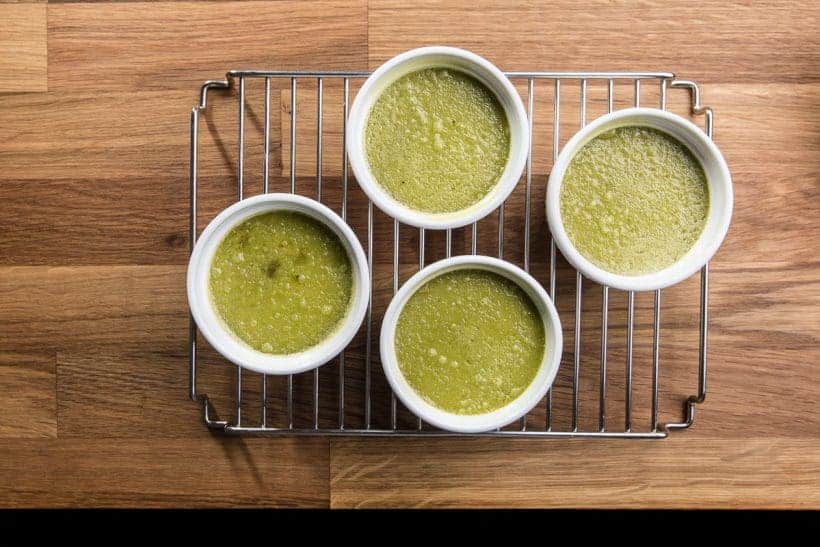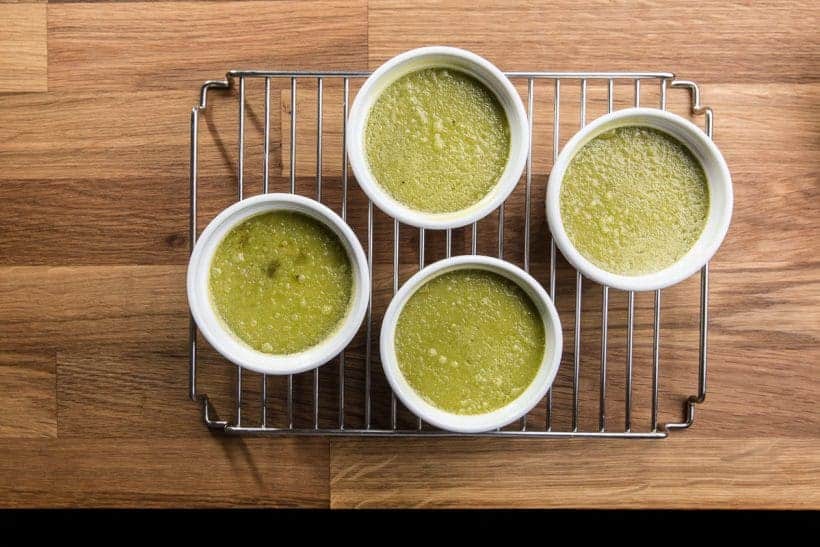 Instant Pot Green Tea Creme Brulee Recipe Experiment
---
We tested this creme brulee recipe with both the pressure cooker and the oven. As with the pressure cooker, we tried it with both low pressure and high pressure.
Yes, we ate all 8 green tea coconut creme brulees ourselves within 2 days. It's not that we didn't want to share, but we needed a taste test. 😉
Green Tea Creme Brulee Pressure Cooker vs Oven Results: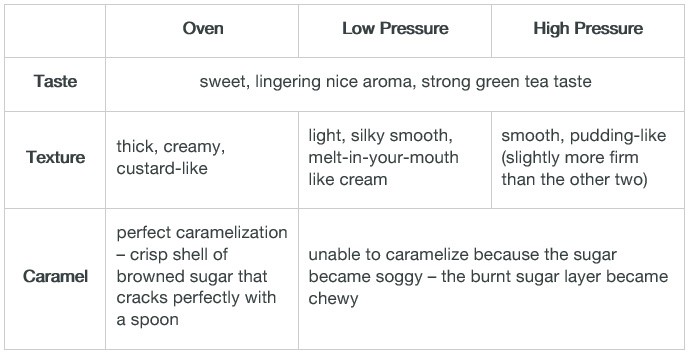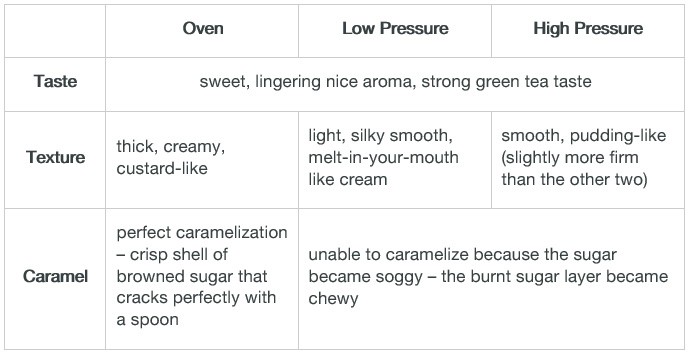 The tastes from all 3 methods were spot on. The differences were the textures and the caramel on top.
The pressure cooker creme brulees were really smooth, and the ones made with low pressure totally wins with the melt-in-your-mouth cream-like texture.
The main issue with the pressure cooker creme brulees is the top layer of sugar. It had a hard time caramelizing because the sugar absorbed a lot of moisture from the creme custard and became soggy.
So, the sugar turned out to be chewy once burnt. If you like to eat cream-like texture creme brulee skipping the hard caramel top, try making it with low pressure. The melt-in-your-mouth texture is just divine.
Green Tea Creme Brulee Recipe Experiment Conclusion:
As a conclusion for our little experiment, here are our order of preferences:
Oven Creme Brulee
Low Pressure Instant Pot Creme Brulee
High Pressure Instant Pot Creme Brulee
We tasted some creme brulees right away when it's still warm, tasted some after chilling for 4 hours, and tried the rest the next day. They all tasted better after refrigerating overnight.
*Pro Tip: So, make ahead and hold your temptations! 😀
Now it's YOUR turn to make some Instant Pot Green Tea Creme Brulee!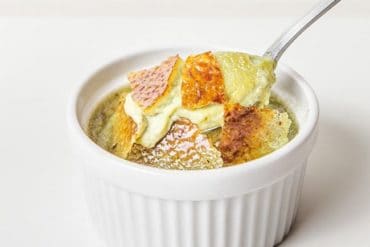 Instant Pot Green Tea Creme Brulee
15 mins prep to make this Instant Pot Green Tea Creme Brulee in pressure cooker or oven. Rich creamy custard & crackable caramel top. Easy yet fancy dessert.
Subscribe for Free Recipes & Tips
Ingredients
1 ½

cup

cream

1

cup

coconut milk

1

tablespoon

matcha green tea powder

1 ¼

teaspoon

vanilla extract

1

pinch

sea salt

6

extra large egg yolks

6

tablespoons

sugar

Boiling water
Hard Caramel
2

teaspoons

sugar per ramekins for blow torching
♥ Share this Recipe so We can create more yummy recipes for you.  Thank you 🙂
Instructions
If you are using the oven option: Preheat oven to 325°F.

Make Creme Mixture: Mix the cream, coconut milk, matcha powder, vanilla extract, and sea salt in a medium saucepan over medium-low heat. Continue to stir as it warms up.

Whisk Egg Yolks: Whisk the egg yolks with the sugar in a medium bowl until they're well blended.

Combine Creme Mixture and Whisked Yolks: Pour the warm cream mixture into the egg yolks a little at a time. Continue to whisk and temper by pouring the remaining cream into the egg yolks. Use a strainer to filter out the solids in the mixture.

Pour Creme Yolk Mixture into Ramekins: Pour the mixture into eight 125 ml individual ramekins. Then, remove all the bubbles on the surface.
USING OVEN
Create Water Bath: Form a water bath by pouring boiling water into a baking pan until it comes halfway up the sides. Then, place the ramekins onto the baking pan.

Bake Creme Brulee: Bake the crème brulee for 35 minutes until they set.

Chill & Firm Creme Brulee: Remove the ramekins from the pan, let it cool to room temperature, and then refrigerate for 4 hours until firm (preferably overnight).
USING PRESSURE COOKER
Pressure Cook Creme Brulee: Wrap the ramekins tightly with aluminum foil. Add 1½ cup of water and steamer rack in in Instant Pot Pressure Cooker. Then, put the covered ramekins on the trivet.

Pressure cook at Low Pressure for 12 minutes, then Natural Release for 10 minutes.

Chill & Firm Creme Brulee: Open the lid. Remove ramekins from the pressure cooker. Set aside to cool. Refrigerate to firm for at least 4 hours (preferably overnight).
Serve Creme Brulee
Serve: Remove the ramekins from the refrigerator, and spread the sugar evenly on top of each ramekin. Then, use a culinary torch to melt the sugar until it caramelizes evenly to form a hard crispy top.
Notes
Storage: you can store the crème brulee in the fridge for up to 3 days. *Rate the Recipe: If you've tried the recipe, don't forget to Rate the Recipe in the Comments Section. Thank you!
Nutrition
Calories:
299
kcal
|
Carbohydrates:
13
g
|
Protein:
5
g
|
Fat:
26
g
|
Saturated Fat:
17
g
|
Cholesterol:
208
mg
|
Sodium:
32
mg
|
Potassium:
110
mg
|
Sugar:
10
g
|
Vitamin A:
944
IU
|
Vitamin C:
1
mg
|
Calcium:
52
mg
|
Iron:
2
mg
Looking for more pressure cooker dessert recipes? Don't miss Easy Smooth Pressure Cooker Flan (Creme Caramel).
Some Useful Tips & Resources
All Our Pressure Cooker Recipes
*Disclosure: We are an Amazon Influencer/Amazon Associate. This means that if you decide to purchase items or services on Amazon through our links on Pressure Cook Recipes to Amazon, Amazon will send a small commission to us at no additional costs to you. Thank you!