Make this classic favorite Easy Beef and Broccoli Stir Fry recipe right at home in less than 30 mins. Deliciously tender beef and crunchy broccoli soaked in bold garlicky ginger sauce. Just perfect when you're craving Chinese food during those busy weeknights. 😀
Jump to: Cooking Tips | Experiment | Recipe
This easy beef and broccoli stir fry is definitely one of our go-to Chinese recipes. We normally make this dish with our wok, but can our pressure cooker do better? Let's find out! 😀
Ingredients for Easy Beef and Broccoli Stir Fry
The combination of garlic, ginger, sesame oil, soy sauce, sugar, oyster sauce, and Shaoxing wine is great at releasing the flavors of the beef and broccoli. You'll love this bold sauce full of Asian flavors. 😀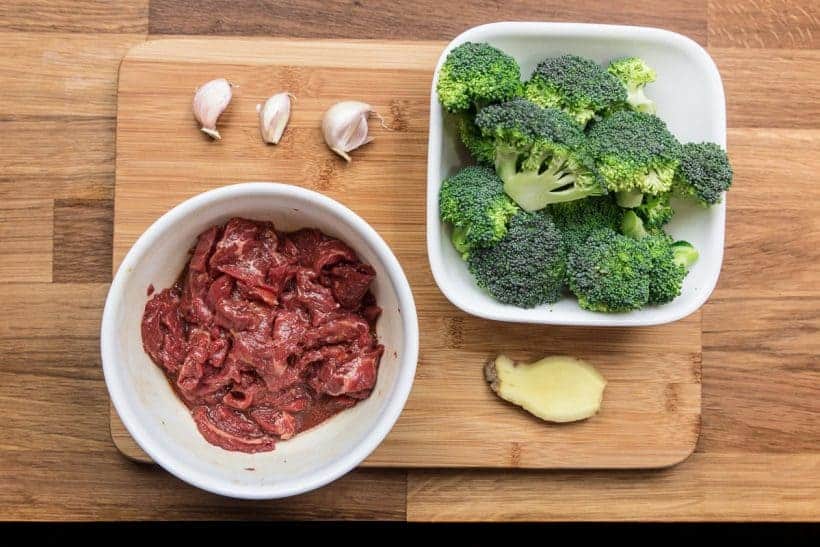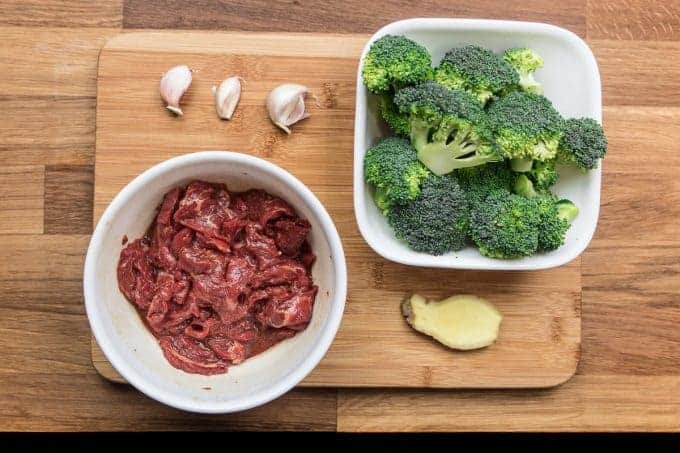 WANT NEW RECIPES WEEKLY?
Tested Recipes Delivered To Your Inbox Weekly. 100% Free!
We respect your privacy seriously.
Easy Beef and Broccoli Stir Fry Recipe Tips
The cut of beef and how you slice it will affect the tenderness of the beef when it's cooked. We normally use flank steak for beef and broccoli stir fry because of its' strong beefy flavors.
However, it's a very lean cut of beef with long muscle fibers and little marbled fat. So, it's really easy to overcook flank steak resulting in tough and dry meat. But if it's cooked and sliced properly, it can be tender and full of flavors. YUM! 🙂
So how should we do it?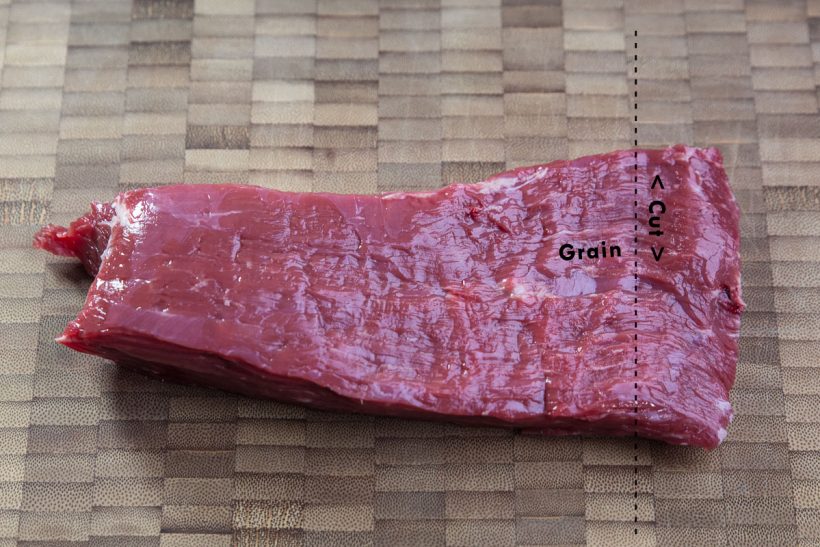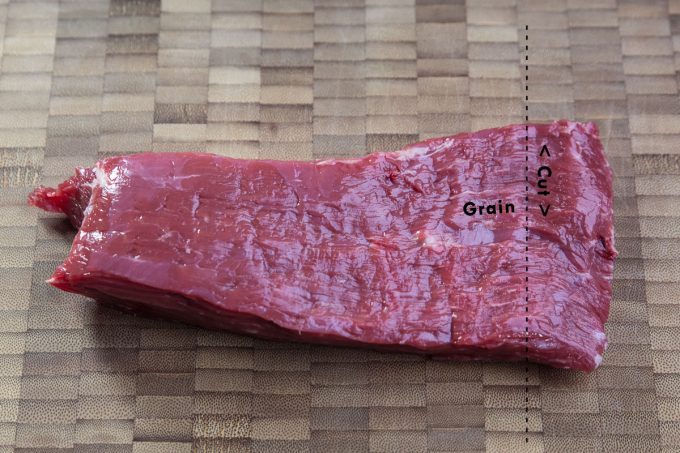 Slice the beef as thin as you can at a 20-degrees angle against the grain.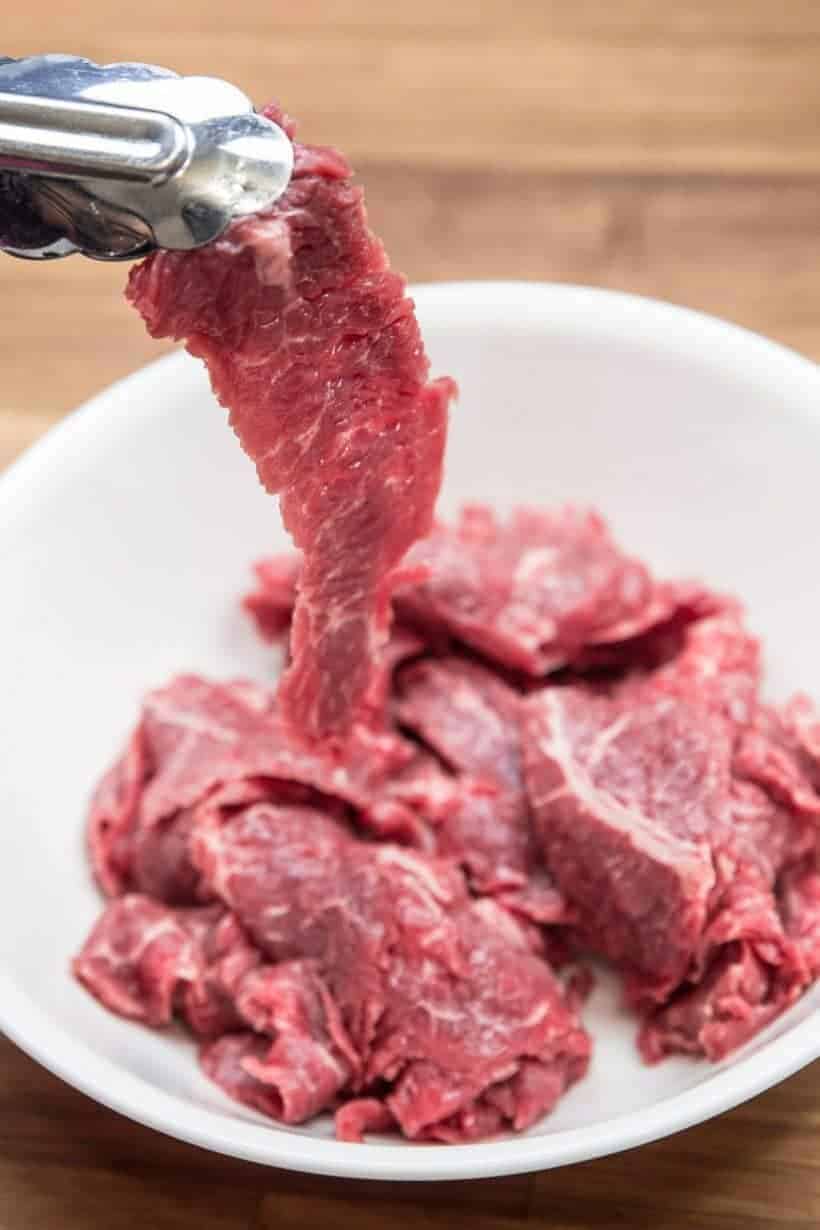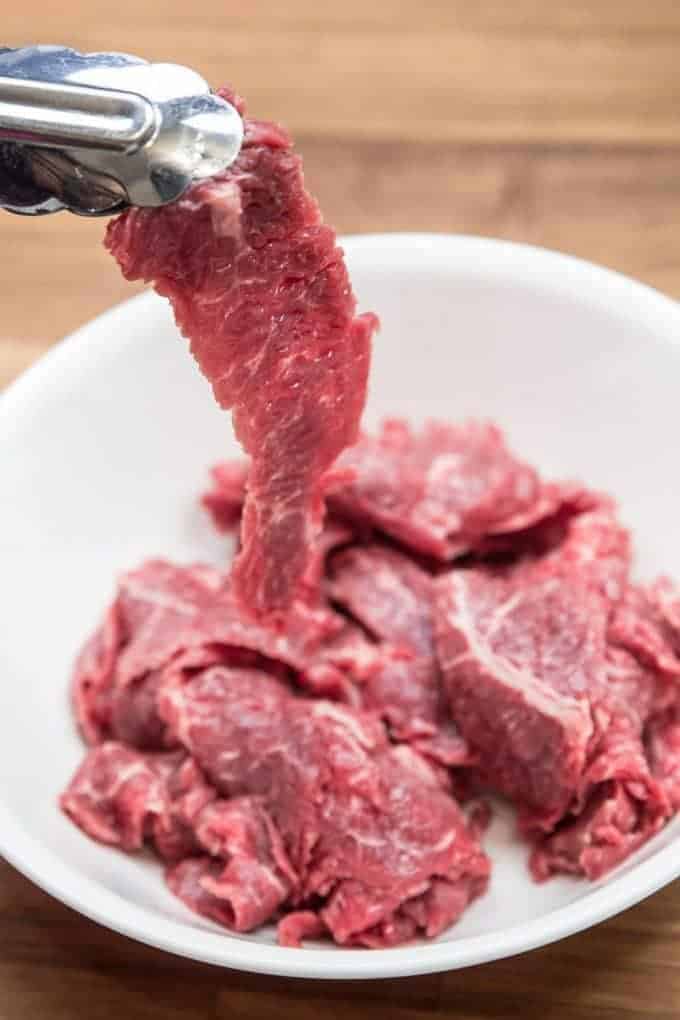 As for the broccoli, chop it into large individual florets instead of small florets. This will give you more crunch for the dish in contrast with the tender beef.
Pressure Cooking Experiment for Easy Beef and Broccoli 
We needed to find the optimal method and cooking time for tender beef before we make the actual Beef and Broccoli dish. So, we first experimented cooking the beef at high pressure with different cooking times and release methods. 
Here are the results:
1 minute, Quick Release – beef was overcooked, very chewy, and inedible
12 minutes, Quick Release – beef was overcooked, tough and chewy
15 minutes, Natural Release – beef was overcooked, tough and chewy
25 minutes, Natural Release – can finally chew the beef, but texture is similar to those of beef brisket's
35 minutes, Natural Release – beef is finally tender but the beefy flavors have gone to the sauce
Flank steak should be cooked medium-rare to medium to bring out the tenderness. However, the meat was already overcooked after 1 minute of high pressure cooking. 🙁
It was only until we've cooked at high pressure for 35 minutes plus natural release that the beef was finally tender. But don't be mistaken! It was tender only because the pressure has broken down the meat fibers to a point that they're falling apart.
The flavors and nutrients of the beef have already gone to the sauce. Thus, you'll get a rich sauce, but the beef itself will be close to tasteless. Plus, would you want to cook this dish for 35+ minutes when you can finish it in the wok in 10 minutes?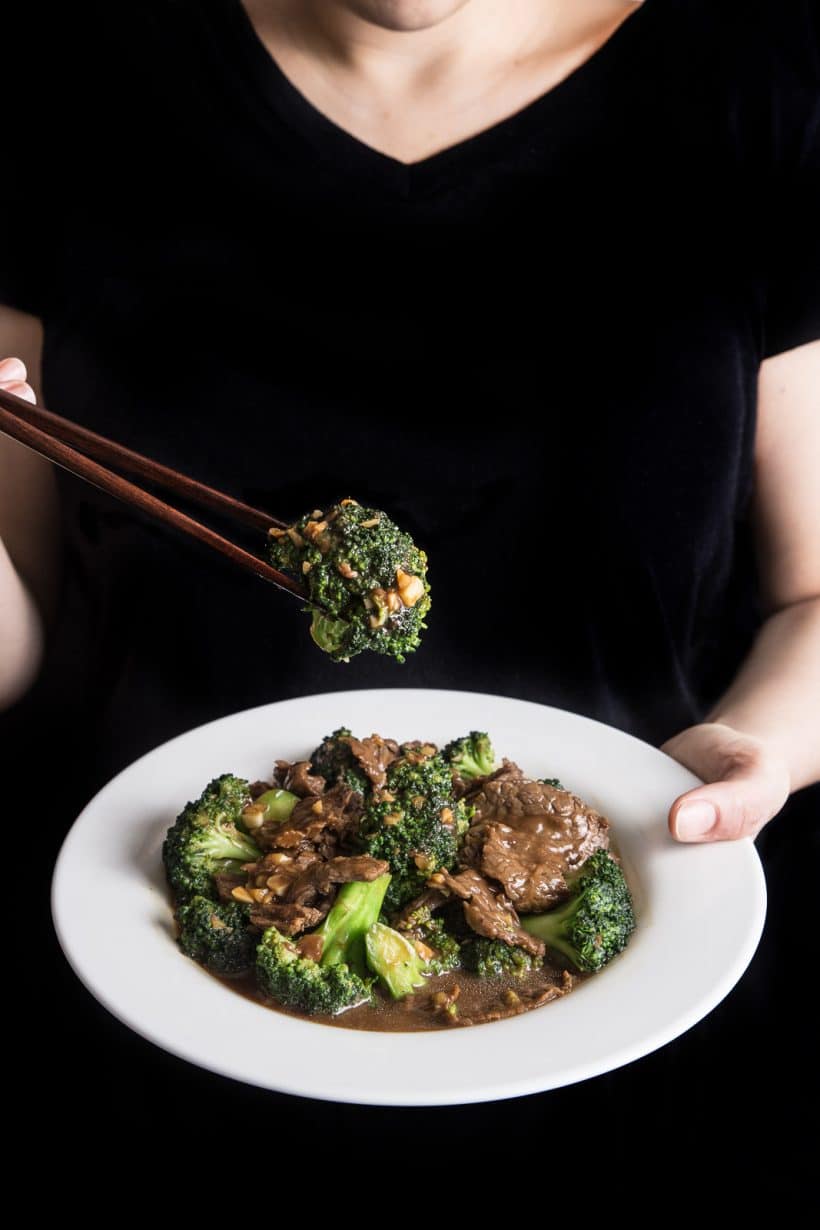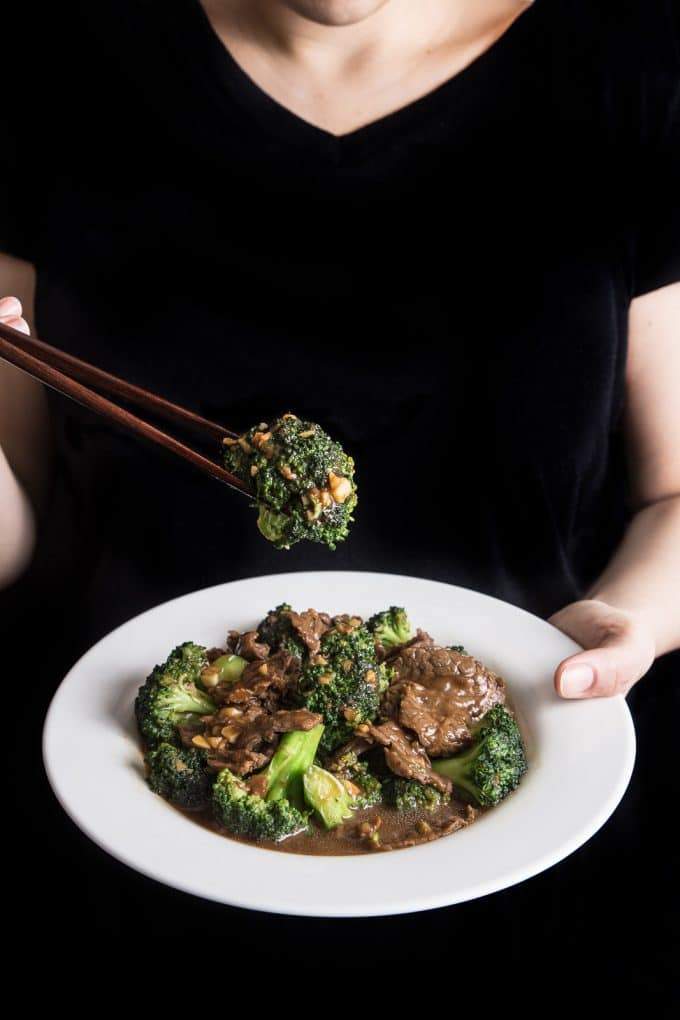 We know that not every household has a wok, so, instead of pressure cooking the flank steak, we've decided to test if the Sauté More function of our Instant Pot Electric Pressure Cooker is capable of making this stir fry dish deliciously.
The answer is YES!! The beef turned out to be very juicy, tender, and flavorful. Plus, the cooking was done in 5 minutes!!! 😀
If you still want to make this dish with pressure cooking, avoid using lean cuts like skirt steak or flank steak. Try using a fattier cut such as beef stew meat. But keep in mind that, it'll still take at least 20 minutes to cook this dish taking everything into account.
Now it's YOUR turn to cook some Easy Beef and Broccoli Stir Fry!
Craving more? Subscribe  to Pressure Cook Recipes to get our newest recipes delivered straight to your inbox.

Easy Beef and Broccoli Stir Fry
Make this flavorful Chinese Easy Beef and Broccoli Stir Fry recipe in 25 mins! Tender beef & crunchy broccoli soaked in delicious garlicky ginger sauce.
Author:
Pressure Cook Recipes
Recipe type:
Dinner, Lunch, Main Course, Meat, Quick Meals
Ingredients
1 pound flank steak, very thinly sliced against the grain
1 head broccoli, chopped into large florets
1 tablespoon corn starch
1 tablespoon salt
1 tablespoon peanut oil
1 tablespoon ginger, minced
3 cloves garlic, minced
1 tablespoon Shaoxing wine
Stir Fry Sauce:
Instructions
Marinate the beef for 20 minutes with two thirds of the Stir Fry Sauce and corn starch.
Boil water in a medium pot, add salt and blanch the broccoli for 1 minute. Then, drain the broccoli and set aside.
Heat up your pressure cooker (Instant Pot: press Sauté button and click on the adjust button to go to the Sauté More function). Make sure your pot is as hot as it can be when you place the marinated beef into the pot (Instant Pot: wait until the indicator says HOT).
Add 1 tablespoon of peanut oil into the pot. Make sure the oil is smoking hot.
Add the marinated beef into the pot, stir and cook until 80% cooked, then remove and set aside.
Add one tablespoon of peanut oil into the pot. Add garlic and ginger, then stir for 30 seconds to flavor the oil.
Add the broccoli into the pot, stir and cook for roughly 1 minute.
Add the beef back into the pot, then add Shaoxing wine, stir and cook.
Continue to stir as you add the remaining Stir Fry Sauce to the pot.
Stir and mix well, add salt to taste (please taste!).
Optional: thicken the sauce with an extra tablespoon of cornstarch mixed with 1 tablespoon of water if desired.
Serve immediately with rice.
Notes
It's very important to cut the beef as thin as you can on a 20 degree angle against the grain.

Please note: Different soy sauces have different levels of saltiness. I only needed to use 1 tablespoon of light soy sauce from my old bottle and I had to use 2 tablespoons with the new bottle I just bought. Please taste the stir fry sauce and adjust accordingly before marinating the beef.