Are you looking to buy one of the best pressure cookers in the market?
There are so many pressure cookers with different features, sizes, or prices. Oh, we know it's overwhelming to weed through all the information.
So, we've narrowed down the options for those looking to buy a new pressure cooker.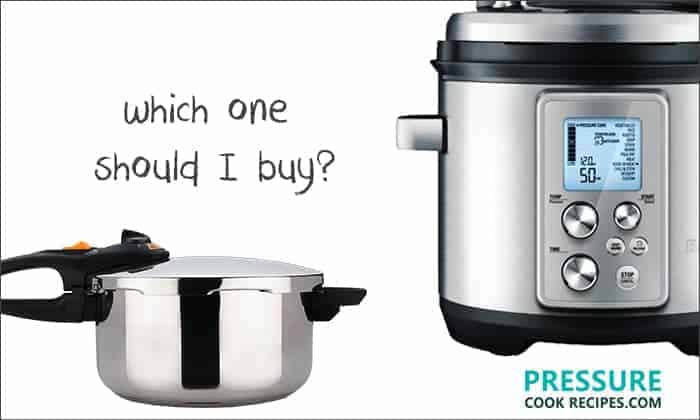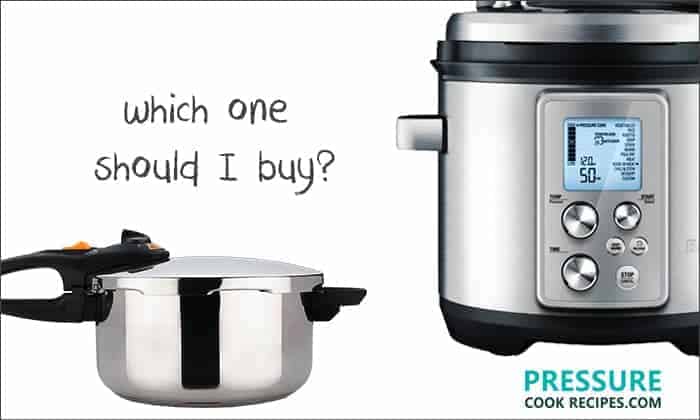 Below is a summary of the best pressure cookers categorized by types and brands:
Best Electric Pressure Cookers
Cooking with an electric pressure cooker gives you a peace of mind. Set it and forget it. No need to stand by the stove to cook for hours anymore! Yay! If you want the easy way out, this is it. Yep. 😉
Who is it for?
If you are new to pressure cooking.
If you value simplicity & convenience.
If you want a multi-functional appliance that is easy to use.
If you are busy parents, working couples, elderly, or college students.
Instant Pot Pressure Cooker
Instant Pot is currently the bestselling brand of electric pressure cookers. People love their Instant Pots. The Instant Pot ip-duo60 model alone (shown in picture) has already received over 7700 positive reviews across Amazon sites. In fact, there's a rapidly growing "pothead" cult.
Instant Pot IP-DUO60 7-in-1 Pressure Cooker – Our first electric pressure cooker! It's also our slow cooker, rice cooker, steamer, warmer, yogurt maker, and browning pan. Perfect for beginners.
Instant Pot IP-Smart Pressure Cooker – Our second pressure cooker and we just love it! We use this cooker nearly every day.
Instant Pot IP-LUX60 6-in-1 Pressure Cooker  – An older model with fewer features such as cooking at low pressure or making homemade yogurt. However, it's a great economical option.
Instant Pot IP-DUO80 – This 8-quart pressure cooker is great for those who want a bigger size!
Cuisinart Pressure Cooker
You've probably heard of the Cuisinart brand. They manufacture a range of appliances from food processors to coffee makers. Their CPC-600 model (shown in picture) has already received over 1100 positive reviews!
Conair Cuisinart CPC-600 Electric Pressure Cooker – even veteran stovetop pressure cooker users enjoy using this pressure cooker. It comes with a limited 3-year manufacture warranty.
Secura 6-quart Stainless Steel Cooking Pot – Many people bought this stainless steel pot to replace the non-stick inner housing that comes with the above pressure cooker.
Best Stovetop Pressure Cookers
Compare to electric pressure cookers, conventional stove-top pressure cookers cook faster with more pressure. The quality ones tend to be more sturdy and durable as well. Remember to buy those that are made of nonreactive stainless steel rather than aluminum.
Who is it for?
If you would like to use advanced pressure cooking techniques.
If you value durability over convenience.
If you want a multi-tasker that can also be used for regular cooking.
If you want the option to use it on multiple heat sources.
If you have limited counter space in the kitchen.
Kuhn Rikon Pressure Cooker
Kuhn Rikon 6-Quart Pressure Cooker – made in Switzerland with the highest quality 18/10 stainless steel. Quality built, easy to use, quieter than most cookers, can last for decades. No wonder it's highly recommended by pressure cooker veterans, chefs, and home cooks. It may be a bit pricey, but people testified that it was a worthy investment.
Presto Pressure Cooker
Presto 01370 8-Quart Pressure Cooker – Perfect for those looking for a budget stovetop pressure cooker. Basic, solid, easy to use and functions well.
Fagor Pressure Cooker
– America's Test Kitchen highly recommended this as a "best buy" pressure cooker. Quality built, performs well, easy to use, and reasonably priced. It also comes with a 10-year warranty.
We hope that this list of best pressure cookers is a helpful resource for those looking to buy a pressure cooker. We'll continue to update this Best Pressure Cookers page to show the most up to date products.
First time here? Hop over to our Welcome to Pressure Cook Recipes page. 🙂
If you're new to pressure cooking, these are perfect for you:
*Disclosure: If you decide to purchase items on this page, Amazon will send a small commission to support Pressure Cook Recipes at no additional costs to you. These commissions will help cover our operation costs to keep this site running. Thank you for your support!