Make this Easy Japanese-Italian Garlic Butter Tiger Prawn Instant Pot Risotto Recipe. No more mushy, gluey, or hard risotto! You'll love the bite of creamy, tender but firm risotto, paired with flavorful bouncy prawns.
Jump to: Cooking Tips | Recipe
Japanese-Italian Cuisine
Japanese-Italian food is a marriage between two unique cuisines that speak excellence.
Delicate . Simplicity . Attention to detail . Elegant . Perfection.
They also share the love of fresh, seasonal, & quality ingredients.
Japanese cuisine have often been creative in adding twists to cuisines from other cultures to make it uniquely Japanese.
In the post war years, Italian cuisine caught the hearts of Japanese chefs.
Fusing Japanese cooking techniques, seasonal ingredients, and flavors into well-loved Italian dishes like pasta, carpaccio, pizza, ravioli, and risotto.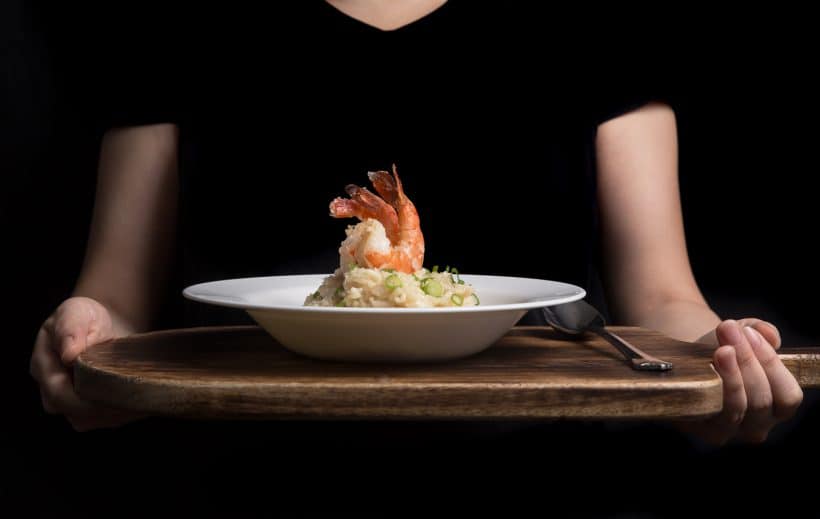 We were thrilled to work with one of the Japanese-Italian restaurants backed with 40+ years of history.
What often puts us in awe is how strict they are on the execution of every dish: timing, temperature control, flavors, ingredients, aroma, and texture.
Highly influenced by their passion for food and strive for excellence, we're sharing our very first Japanese-Italian recipe on Pressure Cook Recipes.
Get a taste of this deliciously unique cuisine with our Garlic Butter Tiger Prawn Instant Pot Risotto!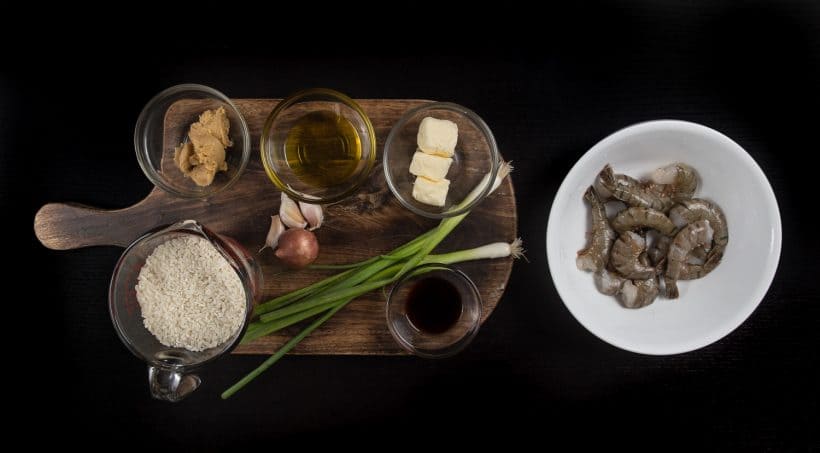 You'll Enjoy Tiger Prawn Instant Pot Risotto Because:
Easy to make – no need to tend the pot, stir it often, or worry about temperature control, when to add how much stock, what type of pot to use…
No more mushy, gluey, or hard risotto
Unique in meshing Japanese & Italian flavors & textures
Simple, elegant, and delicious meal

Rich, creamy sauce with body
Tender but firm to the bite risotto
Bouncy, buttery garlic tiger prawns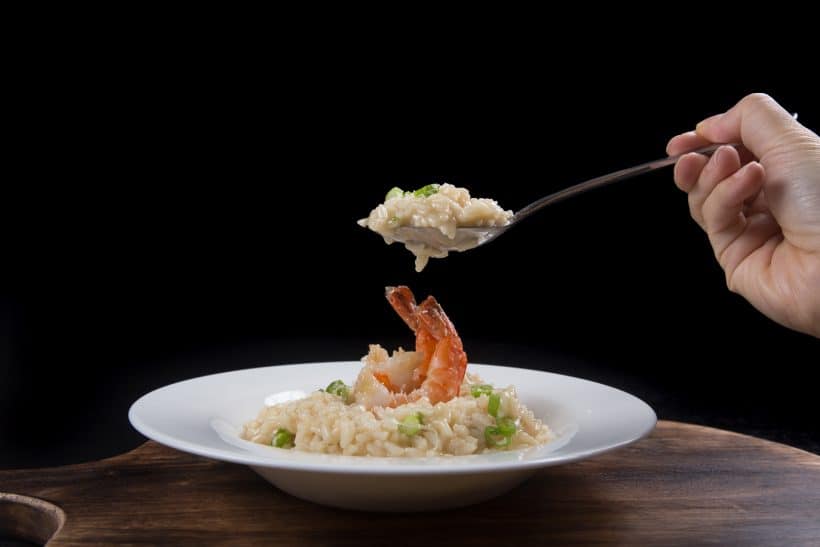 Tools for Tiger Prawn Instant Pot Risotto
Cooking Tips for Tiger Prawn Instant Pot Risotto
1. Can I substitute Chicken Stock for the Fish Stock?
We tested this recipe with Unsalted Japanese fish stock, Unsalted Korean Fish Stock, and Homemade Unsalted Chicken Stock. While all three were tasty (clearly biased 😛 ), the best tasting ones were made with Unsalted Japanese Fish Stock, with the Unsalted Korean Fish Stock ones as close seconds. Unsalted Chicken Stock will be a good substitution if Unsalted Fish Stock is not available.
2. What is a good substitution for Cooking Sake?
If you don't have cooking sake, you can substitute with dry sherry wine or Chinese cooking wine.
3. What is the purpose of dry brining the tiger prawns?
It's optional. But if you want amazing texture, try it! The tiger prawns will remain bouncy and firm.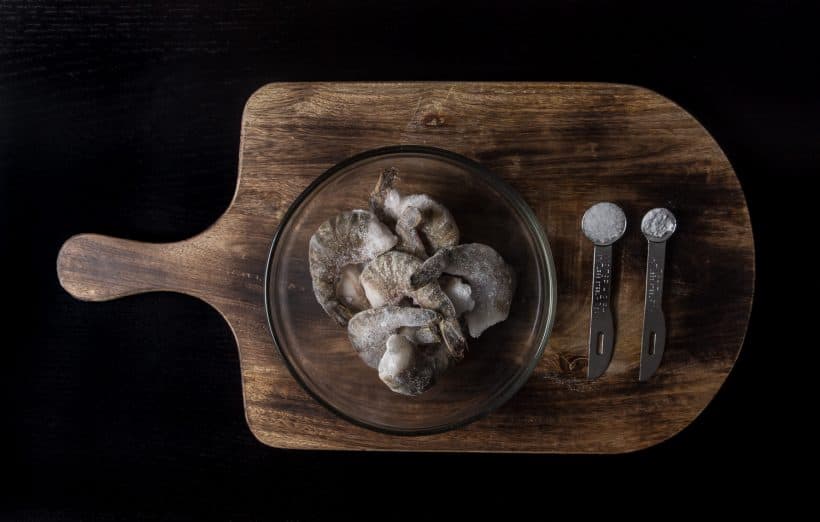 4. Why don't you peel the prawns beforehand?
The shell acts as a protective layer for the tiger prawns. It helps the prawns retain more moisture and prevents overcooking them.
Craving more? Subscribe  to Pressure Cook Recipes to get our newest recipes delivered straight to your inbox.


Tiger Prawn Instant Pot Risotto
Make this Easy Japanese-Italian Garlic Butter Tiger Prawn Instant Pot Risotto Recipe. You'll love the creamy, tender but firm risotto, with bouncy prawns.
Author:
Amy + Jacky | Pressure Cook Recipes
Recipe type:
Dinner, Lunch, Main Course, Pasta, One Pot Meals, Rice, Easy
Cuisine:
Japanese-Italian
Prep:
 | 
Cook:
 | 
Total:
Serving:
2 - 4
Ingredients
3 tablespoons (45ml) olive oil
4 tablespoons (57g) unsalted butter
1 medium (50g) shallot, minced
3 medium cloves (10g) garlic, minced
2 cups (400g) Arborio rice
¾ cup (188ml) cooking sake
2 teaspoons (10ml) Japanese soy sauce
2.5 tablespoons (45g) yellow or white miso paste
4 cups (1L) homemade unsalted fish stock (Japanese Dashi or Korean Yuksu)
½ pound (227g) tiger prawns or shrimp, frozen, unpeeled
⅛ teaspoon (0.75g) baking soda
½ teaspoon (3g) kosher salt
20 grams Parmesan cheese, finely grated
1 – 2 stalk green onions, thinly sliced
Garnish:
5 grams Parmesan cheese, finely grated
Instructions
Optional: Dry Brine the Tiger Prawns: Thaw ½ lb (227g) frozen prawns under cold running water for a few minutes. Dry well with paper towels. In a medium mixing bowl, mix ⅛ tsp (0.75g) baking soda and ½ tsp (3g) kosher salt with the well dried prawns. Place in the fridge and dry brine for 30 minutes.
Prepare the Pressure Cooker: Heat up your pressure cooker (Instant Pot: press Sauté button and Adjust once to Sauté More function) over medium high heat. Ensure your pot is as hot as it can be (Instant Pot: wait until indicator says HOT).
Sauté Shallots, Garlic and Tiger Prawns: Pour in 3 tbsp (45ml) olive oil, 4 tbsp (57g) unsalted butter to the pot. Ensure to coat oil over whole bottom of the pot. Sauté minced shallots (50g) and minced garlic (10g) until soften and fragrant. Add in dry brined tiger prawns. Cook for about 1 minute per side until the prawns are about 80% cooked. Remove prawns and set aside to allow the residual heat to finish cooking them.
Add Rice and Season: Add 2 cups (400g) Arborio rice into the garlic butter oil. Stir until rice is evenly coated with the oil. Continue to stir the rice. After 2 – 3 minutes, the edges of the Arborio rice should become translucent, while the center remains white. Pour in 2 tsp (10ml) Japanese soy sauce and 2.5 tbsp (45g) white or yellow miso paste. Mix well with the rice.
Deglaze: Pour in ¾ cup (188ml) cooking sake, fully deglaze the bottom of the pot with a wooden spoon. Stir and let the sake boil for roughly a minute allowing the alcohol to evaporate.
Pressure Cook the Risotto: Pour in 4 cups (1L) homemade fish stock. It is a good time now to make sure no rice or shallot pieces stick to the sides of the pot. Close lid and pressure cook at High Pressure for 5 minutes + Quick Release. Open the lid carefully.

Softer Risotto: This cooking time will produce al-dente risotto. If you prefer softer risotto, add an extra minute or two on the cooking time.
Peel Prawns: While the risotto is pressure cooking, peel the tiger prawns.
Optional Step: Warm serving plates in the oven (Hot serving plates will ensure the best consistency).
Reduce the Risotto: Your pressure cooked risotto should look runny. Stir to combine with a silicone spatula to form a creamy and smooth consistency. If it is too runny, stir and cook for a few minutes longer over medium heat (Instant Pot: Press Sauté button). Add in 20g Parmesan cheese and thinly sliced green onions. Mix well. Taste and season with kosher salt and black pepper.
Serve: Place cooked tiger prawns on top and serve immediately with more parmesan cheese 🙂
♥
Make a Difference
by sharing this recipe on your favorite social media channels ~ Thank you 🙂
Stay in touch with us on Facebook, Twitter, Pinterest, Instagram, and Youtube
Subscribe & Never Miss a Recipe!
Tested Pressure Cooker Recipes Delivered To Your Inbox Weekly. 100% Free
* Disclosure: If you decide to purchase items on this page, Amazon will send a small commission to support Pressure Cook Recipes at no additional costs to you. These commissions will help cover our operation costs to keep this site running. Thank you for your support!