Creamy Pressure Cooker Mashed Sweet Potatoes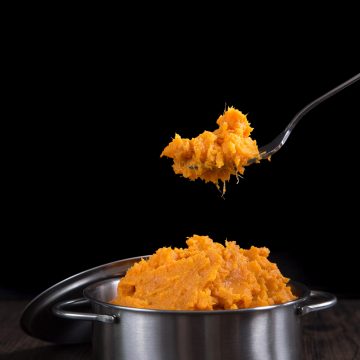 Author:
Pressure Cook Recipes
2 pounds garnet sweet potatoes, cut into 1" chunk
2 - 3 tablespoons unsalted butter
2 tablespoons maple syrup
¼ teaspoon nutmeg
1 cup cold running tap water
Fine sea salt to taste
Peel and Cut: Peel and cut the sweet potatoes into 1" chunks.
Pressure Cook the Sweet Potatoes: Pour 1 cup of cold running tap water and place a steamer basket into the pressure cooker. Place sweet potato chunks into the basket. Close lid and cook at High Pressure for 8 minutes. Turn off the heat and carefully do a quick release. Open the lid.
Mash the Sweet Potatoes: Place the cooked sweet potatoes in a large bowl. Use a potato masher to partially mash the potatoes. Add ¼ tsp nutmeg, 2 – 3 tablespoons of unsalted butter, and 2 tablespoons of maple syrup to the sweet potatoes. Mash and mix the sweet potatoes into desired consistency. Taste and season with a pinch of fine sea salt.
Serve: Serve the sweet potatoes as side dish. We love it with seared flank steaks, pork loins, and ducks. Enjoy~ :)
Sweet Potatoes Sizes: 1" chunks or cubes bring the best results. They cook faster and more evenly.

Seasoning: In step 3, season with salt to enhance the flavors and balance out the dish.
Recipe by
Pressure Cook Recipes
at https://www.pressurecookrecipes.com/pressure-cooker-mashed-sweet-potatoes/