Pressure Cooker Turkey Legs and Turkey Gravy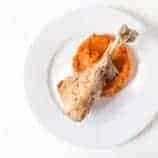 Author:
Pressure Cook Recipes
2 turkey legs
1 tablespoon olive oil
1 small onion, sliced
3 cloves garlic, roughly minced
1 celery stalk, chopped
A pinch of rosemary
A pinch of thyme
A dash of sherry wine
1 tablespoon light soy sauce (not low sodium soy sauce)
Kosher salt and ground black pepper to taste
Prepare the turkey legs: Season the turkey legs with generous amount of kosher salt and ground black pepper.
Prepare the pressure cooker: Heat up your pressure cooker (Instant Pot: press Sauté button and click the adjust button to go to Sauté More function). Make sure your pot is as hot as it can be when you place the turkey legs into the pot (Instant Pot: wait until the indicator says HOT). This will prevent the legs from sticking to the pot. Add 1 tablespoon of olive oil into the pot. Ensure to coat the oil over the whole bottom of the pot. Add the seasoned turkey legs into the pot, then let it brown for roughly 2 - 3 minutes per side. Remove and set aside.
Saute the onion and garlic: Reduce the heat to medium (Instant pot: press cancel button and press Sauté button). Add the sliced onion and stir. Add a pinch of kosher salt and ground black pepper to season if you like. Cook the onions for roughly one minute until soften. Add garlic, then stir for 30 seconds until fragrance.
Add celery and herbs: Add in chopped celery and cook for roughly one minute. Optional layer seasoning: add a pinch of kosher salt and ground black pepper to season. Add 2 bay leaves, a pinch of rosemary and thymes, then give it a quick stir (rub the herbs with your fingers to "activate" them).
Make sauce: Add in a dash of sherry wine, deglaze the bottom of the pot with a wooden spoon. Allow it to cook for a moment for the alcohol to evaporate. Add chicken stock and light soy sauce, then taste the seasoning. Add in more salt and pepper if desired.
Pressure cook the turkey legs: Place the turkey legs into the pot, then close lid. Pressure cook at high pressure for Electric pressure cooker: 18 minutes – 20 minutes Stovetop pressure cooker: 15 minutes – 17 minutes Natural release for 10 minutes and release the remaining pressure.
Serve: Remove the turkey legs and filter the turkey gravy if desired. Optional: Mix 3 tablespoons of cornstarch with 1 tablespoon of water, then mix it into the turkey gravy ⅓ at a time until desired thickness. Drizzle the turkey gravy over the turkey legs & side dishes and serve immediately!
Recipe by
Pressure Cook Recipes
at https://www.pressurecookrecipes.com/pressure-cooker-turkey-legs-turkey-gravy/