Make this super EASY 5-ingredient Chinese Steamed Eggs (Savory Egg Custard 蒸水蛋) Recipe. Silky smooth eggs literally melt in your mouth. Serve over rice to make a quick and easy dinner that the whole family will love! 😀
Jump to: Cooking Tips | Recipe | Video
After being blown away by how ridiculously silky smooth our Pressure Cooker Flan (Crème Caramel) turned out, I immediately told Jacky the pressure cooker's moist cooking environment would be perfect for making Chinese Steamed Eggs too. So, we've been really eager to try it out! 😀
Chinese Steamed Eggs is one of those dishes that you can find in almost every home in Hong Kong. Though this homey dish is super simple and easy to make, there has always been a debate among the Chinese community about "How to make smooth Steamed Eggs?" LOL~
Growing up, I often listened to many aunties and uncles' share their secrets to making smooth Chinese Steamed Eggs, but never had I tried one that's as smooth as this pressure cooker one. Sorry uncles and aunties, but this one is sooo smooth that it's even smoother than silken tofu and tofu pudding!! You seriously have to try it out.
You can make this Chinese Steamed Eggs when you're looking for something easy, quick, frugal, requires little ingredients, and great for kids and family.
Ingredients for Steamed Eggs (Savory Egg Custard) Recipe
Tools for Steamed Eggs (Savory Egg Custard) Recipe
Shallow dish that fits in the pressure cooker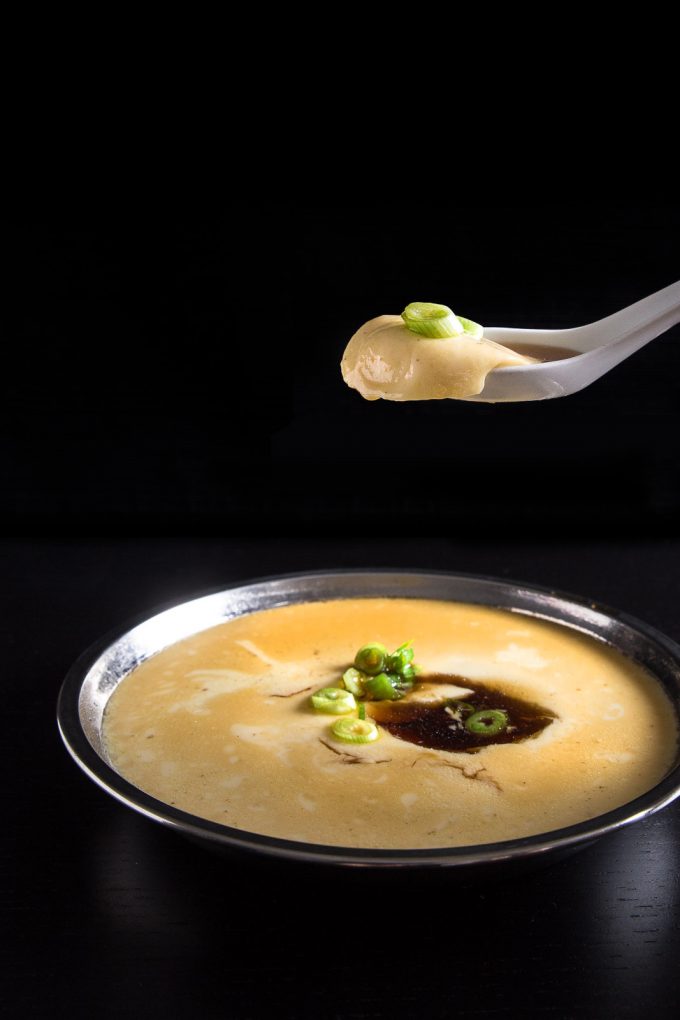 Tips for Steamed Eggs (Savory Egg Custard) Recipe
Important Tip: In Step 3, remember you MUST cover the dish tightly with aluminum foil before cooking. It makes a huge difference! If you don't wrap the dish, the steamed eggs will turn out firm and crumbly. 🙁
We've tested the recipe with the same cooking time and method but with 2 different Eggs to Chicken Stock Ratios:
1:2 Eggs to Chicken Stock Ratio: the steamed eggs have super smooth texture that melt in your mouth (even smoother than Silken Tofu or Tofu Pudding/Douhua 豆腐花). The dish has light egg fragrance and taste.
1:1 Eggs to Chicken Stock Ratio: the steamed eggs have slightly stronger egg taste and the texture is a bit more firm. Though the texture is not as silky smooth, the steamed eggs were still very smooth. It didn't melt in our mouths like the 1:2 ratio though.
We both prefer the 1:2 Eggs to Chicken Stock Ratio more as the melt-in-your-mouth smooth steamed eggs are really addictive to eat! So, use between 1:1 to 1:2 Eggs to Chicken Stock Ratio depending on your preference. Just make sure the total volume is at least 370 ml.
*Did you notice there are a few slight cracks in the steamed eggs in the photo? These "cracks" were caused by the pressure from me gently pouring the sauce! YES!! The steamed eggs were THAT crazy soft!!!
UPDATE: One of our readers' pressure cookers doesn't have the Low Pressure Setting, so we've decided to go back to the kitchen and try cooking it at High Pressure.
Method: High Pressure for 4 mins, then full Natural Release – The result is still good and silky smooth! We've noticed there's a bit of water that's separated from the steamed eggs. The taste is also slightly different and it tasted somewhat like an hard-boiled egg. So, you can use this cooking time and setting if Low Pressure is not an option for you. 🙂
Watch How To Make This Steamed Eggs (Savory Egg Custard) Recipe Video:
Can't see the cooking video? Watch it here.
Now it's YOUR turn to take out your pressure cooker and make some Steamed Eggs (Savory Egg Custard) Recipe!
Craving more? Subscribe  to Pressure Cook Recipes to get our newest recipes delivered straight to your inbox.


Steamed Eggs (Savory Egg Custard 蒸水蛋) in Pressure Cooker
Make this super EASY 5-ingredient Chinese Steamed Eggs (Savory Egg Custard 蒸水蛋) Recipe. Silky smooth eggs literally melts in your mouth.

Author:
Pressure Cook Recipes
Recipe type:
Breakfast/Brunch, Dinner, Lunch, Main Course, Quick Meals, Side Dish, Super Easy
Cuisine:
Chinese
Prep:
 | 
Cook:
 | 
Total:
Serving:
2
Ingredients
2 extra large eggs (~120 ml in volume)
¼ teaspoon Sea Salt (Optional, taste & adjust the soy sauce mixture if adding salt)
Green onions, chopped for garnish
Soy Sauce Mixture (see notes):
Instructions
Beat the Eggs: In a 2 cups glass measuring cup, beat 2 extra large eggs until egg yolks and egg whites have fully blended.
Mix in the Chicken Stock: Slowly pour 1 cup of chicken stock into the well beaten egg mixture as you continue to mix. Optional: Add in ¼ teaspoon of sea salt. Mix well.
Filter the Egg Mixture: In a shallow dish, pour the chicken stock egg mixture through a strainer. Remove the air bubbles on the surface with a spoon or a blowtorch. Tightly cover the dish with aluminum foil.
Pressure Cook the Eggs: Place a trivet in the pressure cooker and pour in one cup of water. Carefully place the egg dish onto the trivet. Close lid and cook at Low Pressure for 6 minutes, then Full Natural Release (roughly 6 minutes).
Serve: Open the lid. Carefully remove the aluminum foil. Garnish with green onions and pour the Soy Sauce Mixture onto the steamed eggs. Serve immediately.
♥
Make a Difference
by sharing this recipe on your favorite social media channels ~ Thank you 🙂
Notes
In Step 3: Covering the dish tightly with aluminum foil before cooking is a MUST!! The steamed eggs will turn out firm and crumbly if you don't wrap it with aluminum foil.

It's important to taste & adjust the sauce according to your preference as different bottles of soy sauce or fish sauce (even for the same brand) have different level of saltiness. This will effect the taste of the final dish.
Looking for more pressure cooker eggs recipes?
Stay in touch with us on Facebook, Twitter, Pinterest, Instagram, and Youtube
Subscribe & Never Miss a Recipe!
Tested Pressure Cooker Recipes Delivered To Your Inbox Weekly. 100% Free
* Disclosure: If you decide to purchase items on this page, Amazon will send a small commission to support Pressure Cook Recipes at no additional costs to you. These commissions will help cover our operation costs to keep this site running. Thank you for your support!