Make this Easy Honey Soy Chicken Wings Recipe with only 10 mins prep! These super flavorful and tender honey garlic chicken wings are perfect for quick dinners. You can also make a big batch for parties, picnics, or BBQ. 😀
Jump to: Cooking Tips | Recipe | Video
Chicken wings are the ultimate finger food. So simple yet sooo delicious. I just can't get enough of them! Maybe it's just me, but somehow eating with my hands make the food a wee bit more delicious. 😀
This time, we've made these sweet Honey Soy Chicken Wings with our pressure cooker. And the chicken wings were unbelievably moist, fall-off-the-bone tender, and packed with flavors! You'll love the sweet and fragrant honey soy marinade. I can easily eat the whole bowl myself without even knowing it! But of course, I did generously share some with Jacky. Hehehe~ 😛
Make these if you're looking for something quick & easy, healthy, and kid-friendly. Though it's often made as a finger food for parties and gatherings, it's also great for an easy family dinner. Enjoy!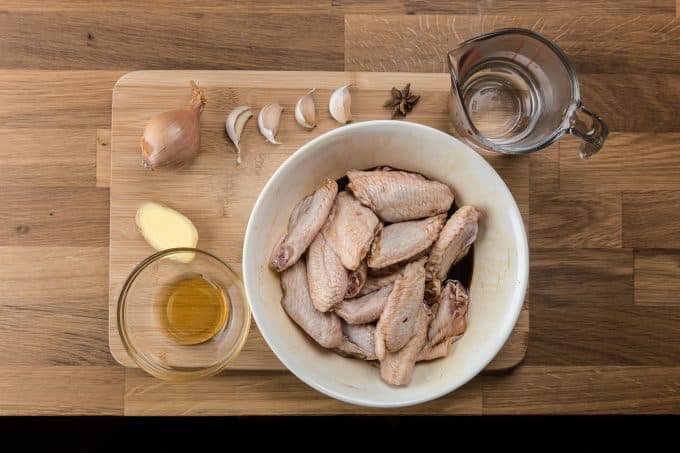 Ingredients for Honey Soy Chicken Wings Recipe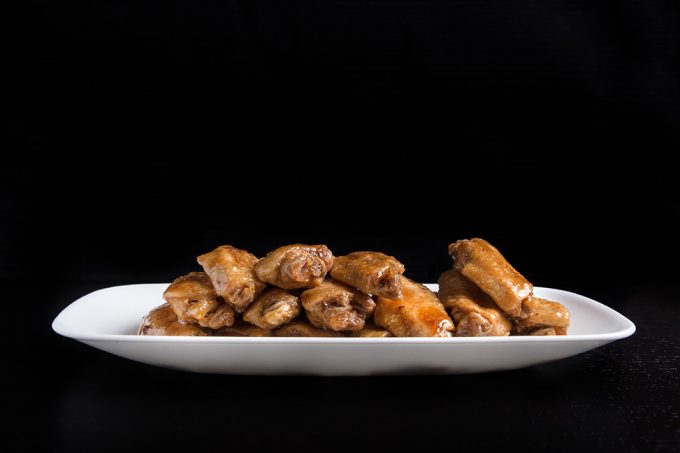 Tips for Honey Soy Chicken Wings Recipe
In Step 3: Remember to flip the marinated chicken wings as you brown them in the pressure cooker because the soy sauce and sugar can burn easily.
Important Tip: Kids would be all over these sweet and tender Honey Soy Chicken Wings! Jacky and I were totally fighting over them. Hahaha~ So, remember to grab yours before they're gone. 😉
Watch How To Make This Honey Soy Chicken Wings Recipe:
Can't see the cooking video? Watch it here.
Now it's YOUR turn to take out your pressure cooker and make some Honey Soy Chicken Wings! 
Craving more? Subscribe  to Pressure Cook Recipes to get our newest recipes delivered straight to your inbox.


Honey Soy Chicken Wings
Make these Honey Soy Chicken Wings with 10 mins prep! Super flavorful & tender honey garlic chicken wings are great for dinners, parties, picnics or BBQ.

Author:
Pressure Cook Recipes
Recipe type:
Appetizer, Dinner, Lunch, Main Course, Meat, Quick Meals, Sauce, Snack, Super Easy
Cuisine:
Chinese
Prep:
 | 
Cook:
 | 
Total:
Serving:
2 - 4
Ingredients
1 ½ pound chicken wings
4 cloves garlic, roughly minced
½ large shallot or 1 small shallot, roughly minced
1 – 2 star anise
1 tablespoon ginger, sliced
1 tablespoon honey
½ cup warm water
1 tablespoon peanut oil
1 ½ tablespoon cornstarch
Chicken Wing Marinade
Instructions
Marinate the Chicken Wings: Marinate the chicken wings with the Chicken Wing Marinade for 20 minutes.
Heat Up the Pressure Cooker: Heat up your pressure cooker (Instant Pot: press Sauté button and click the adjust button to go to Sauté More function). Make sure your pot is as hot as it can be when you place the chicken wings into the pot (Instant Pot: wait until the indicator says HOT). This will prevent the chicken wings from sticking to the pot.
Brown the Chicken Wings: Add 1 tablespoon of peanut oil into the pot. Ensure to coat the oil over the whole bottom of the pot. Add the marinated chicken wings into the pot (do not discard the chicken wing marinade). Then, brown the chicken wings for roughly 30 seconds on each side. Flip a few times as you brown them as the soy sauce and sugar can be burnt easily. Remove and set aside.
Sauté the Shallot, Star Anise, Ginger, Garlic: Reduce the heat to medium (Instant pot: press cancel button, then press sauté button). Add the minced shallot, star anise and sliced ginger, then stir for roughly a minute. Add the minced garlic and stir until fragrant (roughly 30 seconds).
Deglaze the Pot: Mix 1 tablespoon of honey with ½ cup of warm water, then add it into the pot and deglaze the bottom of the pot with a wooden spoon.
Pressure Cook the Chicken Wings: Place all the chicken wings with all the meat juice and the leftover chicken wing marinade into the pot. Close lid and pressure cook at High Pressure for 5 minutes (Electric or Stovetop pressure cookers). Turn off the heat and fully Natural Release (roughly 10 minutes).
Taste and Season: Open the lid carefully and taste one of the honey soy chicken wings and the honey soy sauce. Season with more salt or honey if desired.
Thicken the Honey Soy Sauce: Remove all the chicken wings from the pot and set aside. Turn on the heat to medium (Instant pot: press sauté button). Mix 1 ½ tablespoon of cornstarch with 1 tablespoon of cold running tap water. Keep mixing and add it into the honey soy sauce one third at a time until desired thickness.
Coat and Serve: Turn off the heat and add the chicken wings back into the pot. Coat well with the honey soy sauce and serve immediately!
♥
Make a Difference
by sharing this recipe on your favorite social media channels ~ Thank you 🙂
Notes
Remember to flip the marinated chicken wings while browning as the soy sauce and sugar can be burnt easily.

*Total cooking time does not include the inactive time required for marinating the chicken wings.
Stay in touch with us on Facebook, Twitter, Pinterest, Instagram, and Youtube
Subscribe & Never Miss a Recipe!
Tested Pressure Cooker Recipes Delivered To Your Inbox Weekly. 100% Free
* Disclosure: If you decide to purchase items on this page, Amazon will send a small commission to support Pressure Cook Recipes at no additional costs to you. These commissions will help cover our operation costs to keep this site running. Thank you for your support!